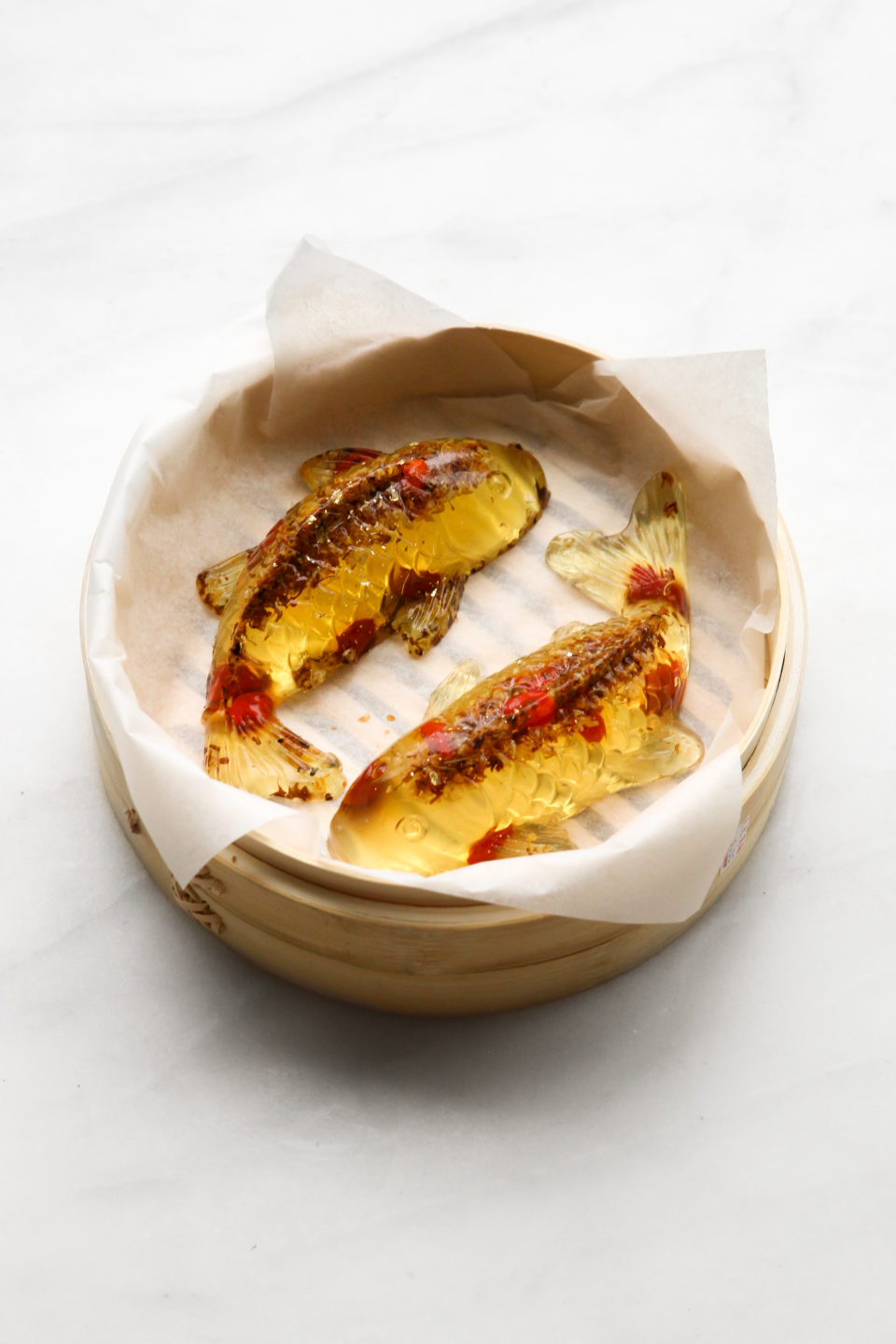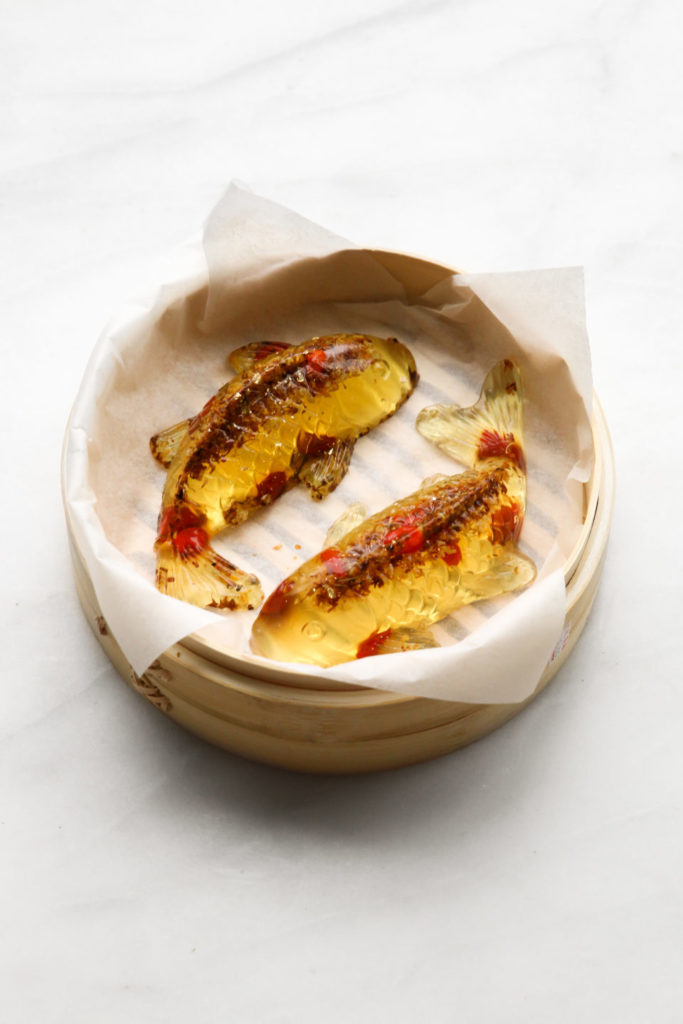 Chinese New Year is just around the corner and I have been making all the Chinese desserts (like these grilled rice cakes) in anticipation of the big day. The fact that Chinese New Year is a 16 day celebration means I get to share even more Chinese desserts with you. Osmanthus flower jelly is not traditionally a new year treat, but letting the jelly set in a koi fish mold and adding edible gold leaf to it makes it a new year-worthy dessert. If you're not familiar with Chinese New Year, there are certain dishes that are eaten on new year's eve or day for their symbolic meaning. The auspicious symbolism of these traditional foods is based on their pronunciations or appearance. For example, noodles symbolize longevity, sweet rice balls is suppose to represent family togetherness, mandarin oranges for fullness and wealth, new year cake (nian gao) symbolize progress, and whole fish is served to bring surplus the following year. There are many fish motifs around the holiday, whether it is a whole steamed fish at one of the main dinner dish or fish-shaped nian gao for breakfast or dessert. If you like to make sure you get all the luck and surplus in the new year, you're suppose to leave a little bit of the fish remaining on the plate as you finish dinner, which expresses the hope that the year will start and finish with surplus. In other words, you want to make sure 年年有余.
Even though my family is not extremely superstitious, we do follow the basic new year traditions of eating nian gao, steamed fish, sweet rice balls, and not washing your hair on new year's day (it has to do with not washing away all luck that the new year will bring). This year, I'm hoping to bring extra luck to the table by making koi fish-shaped osmanthus flower jelly for dessert. I've seen lots of fish-shaped nian gao growing up but finding the fish mold is a whole different story. The koi fish molds are not things you could find at any kitchen store. I was so lucky that when I was strolling in Chinatown one day that I came across an old Chinese kitchen and restaurant supply store that had a good assortment of traditional Chinese kitchen supplies and bakeware like koi fish molds, wooden mooncake paddles, and cookie stamps. I bought three small fish molds (because three is a lucky number in Chinese culture) and one large fish mold, knowing that they would come in handy for Chinese New Year.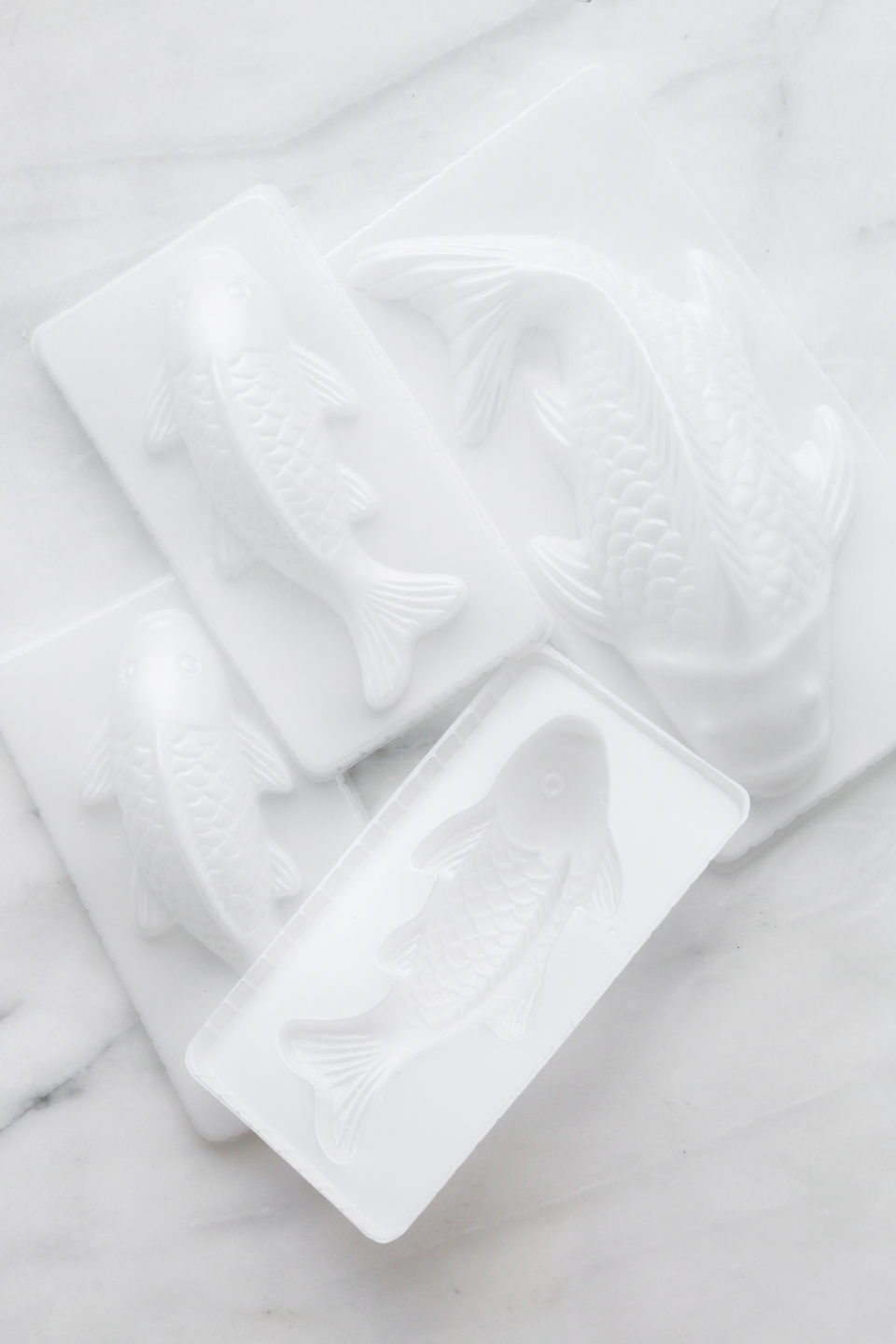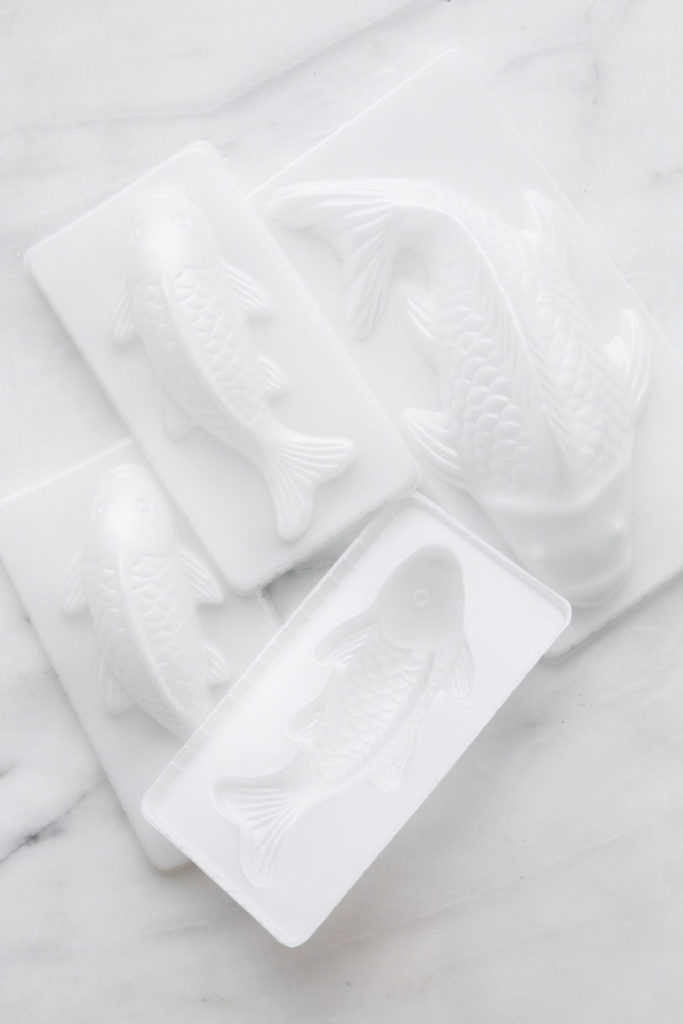 What makes osmanthus jelly so special is… the use of osmanthus flowers. Osmanthus (桂花) that is an edible flower that's quite common in Chinese desserts and tea blends. It's hard to describe the flavour of osmanthus — it has its very own unique floral flavours that aren't as 'soapy' as other edible flowers like lavender or rose. Osmanthus flower is often paired with goji berries in desserts. You can find dried osmanthus flowers and goji berries at your local speciality Asian grocery store. I got mine in Chinatown.
The osmanthus jelly is quite easy to prepare. You steep the dried osmanthus flowers in hot water as if you are steeping tea and add the tea mixture to a mixture of hot water, gelatin, and sugar. You add the goji berries in last and allow the mixture to set as if you are making jello. The jelly is served chilled and is great with a cup of tea. If you don't have a koi fish-shaped mold, the osmanthus flower jelly will be just as delicious in any jello mold or pan.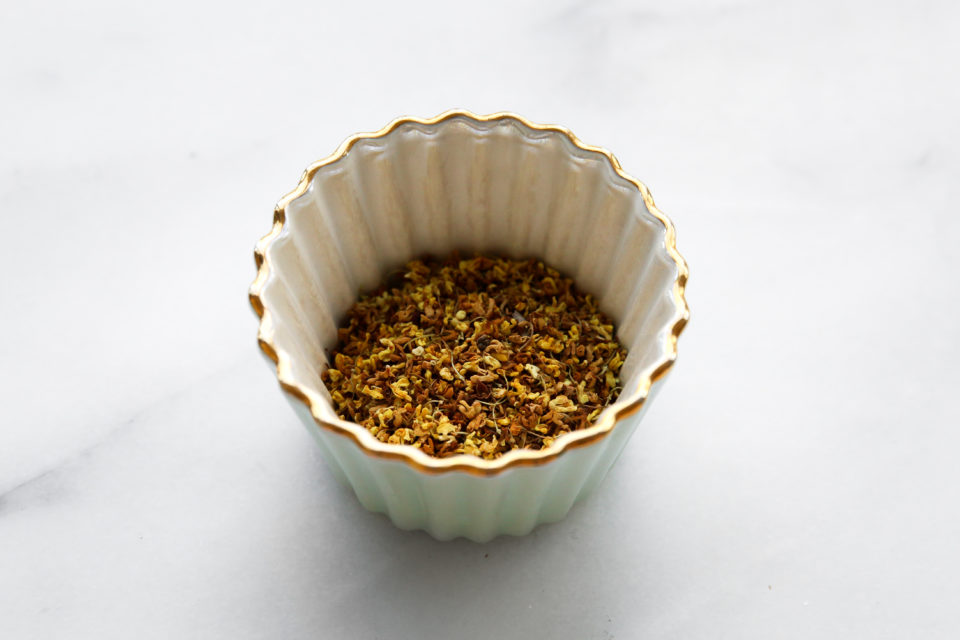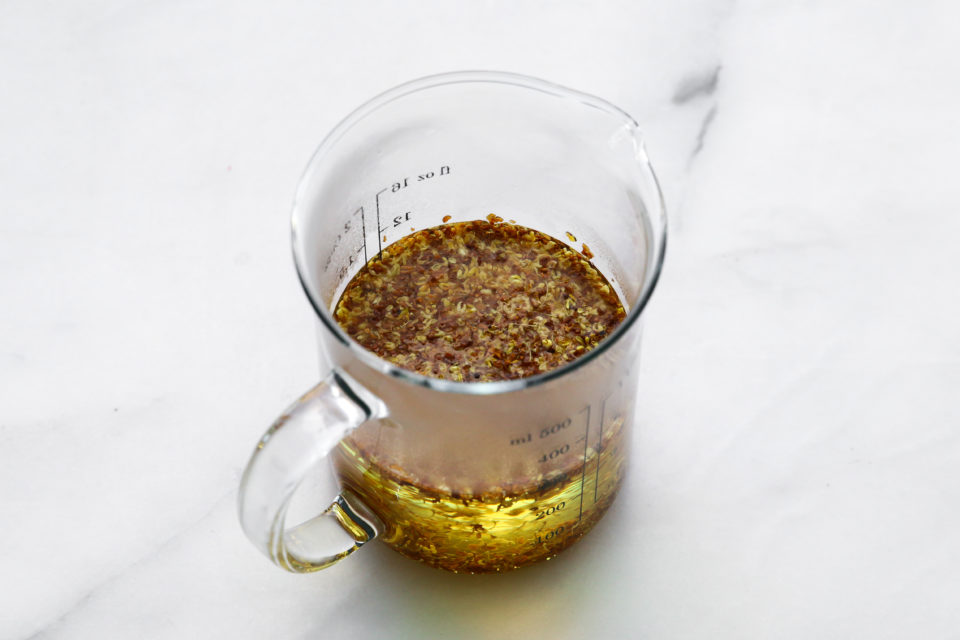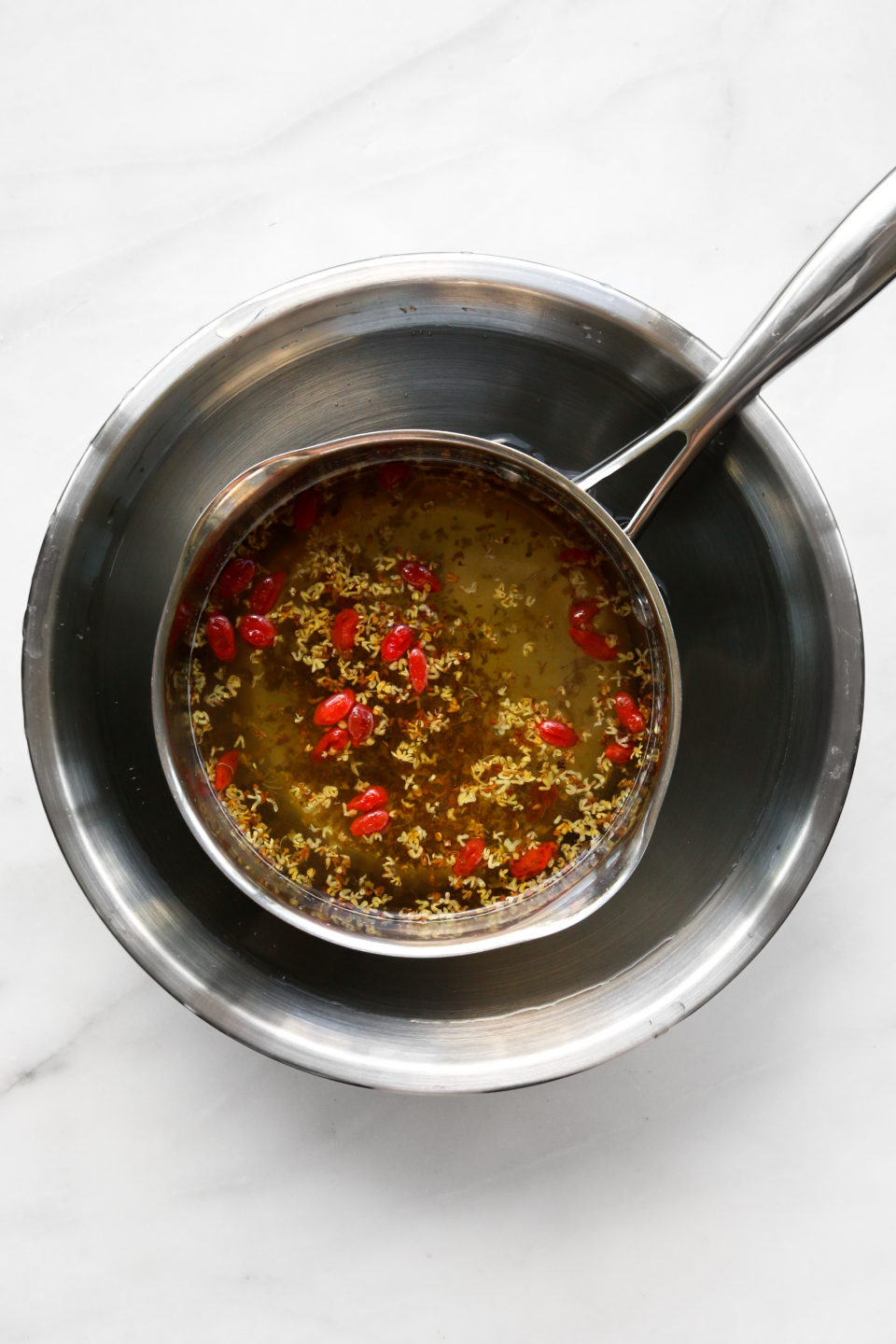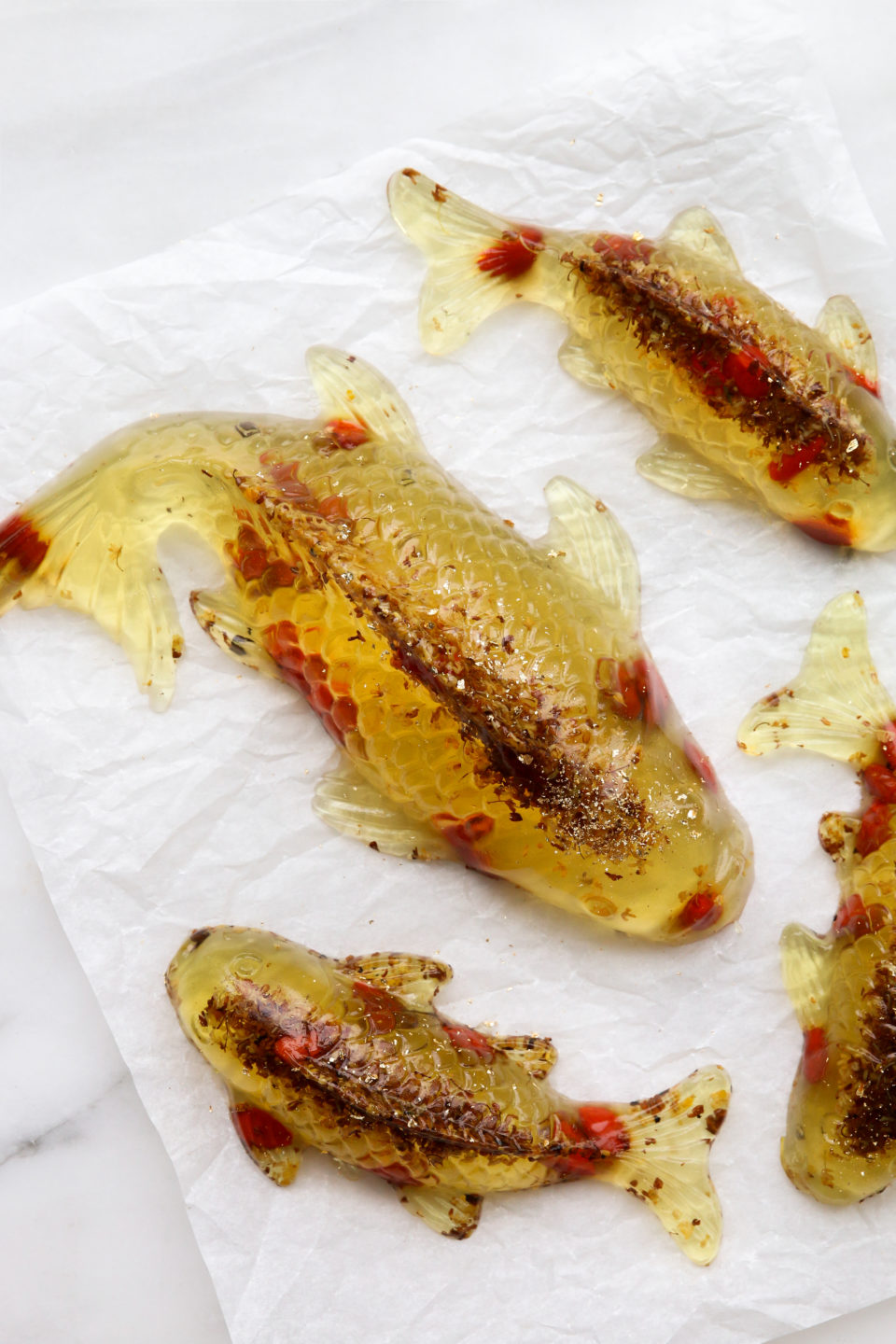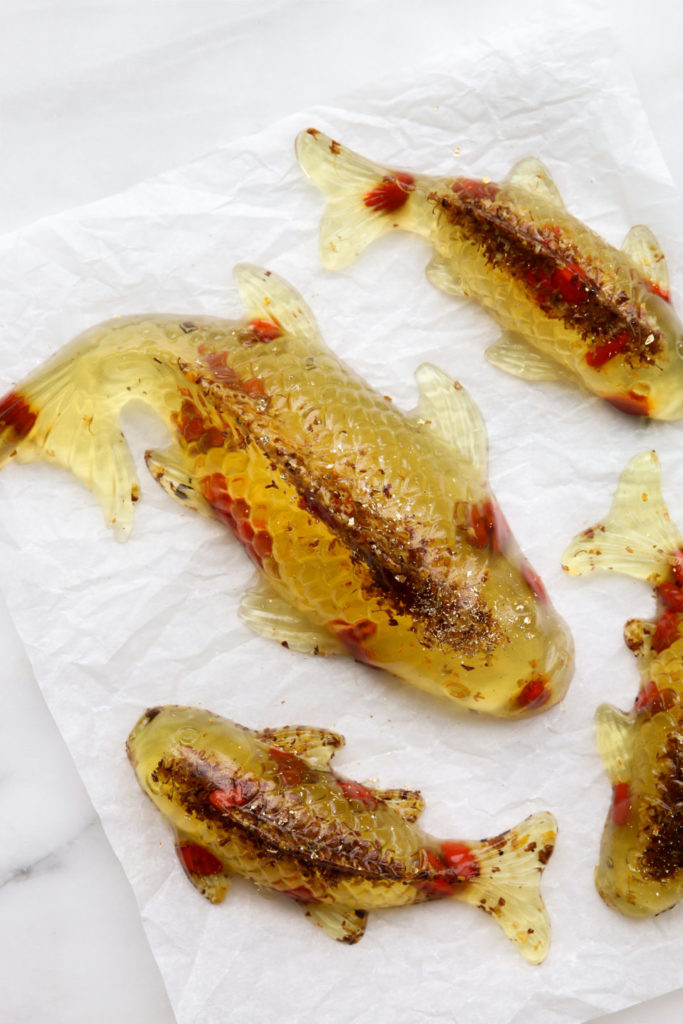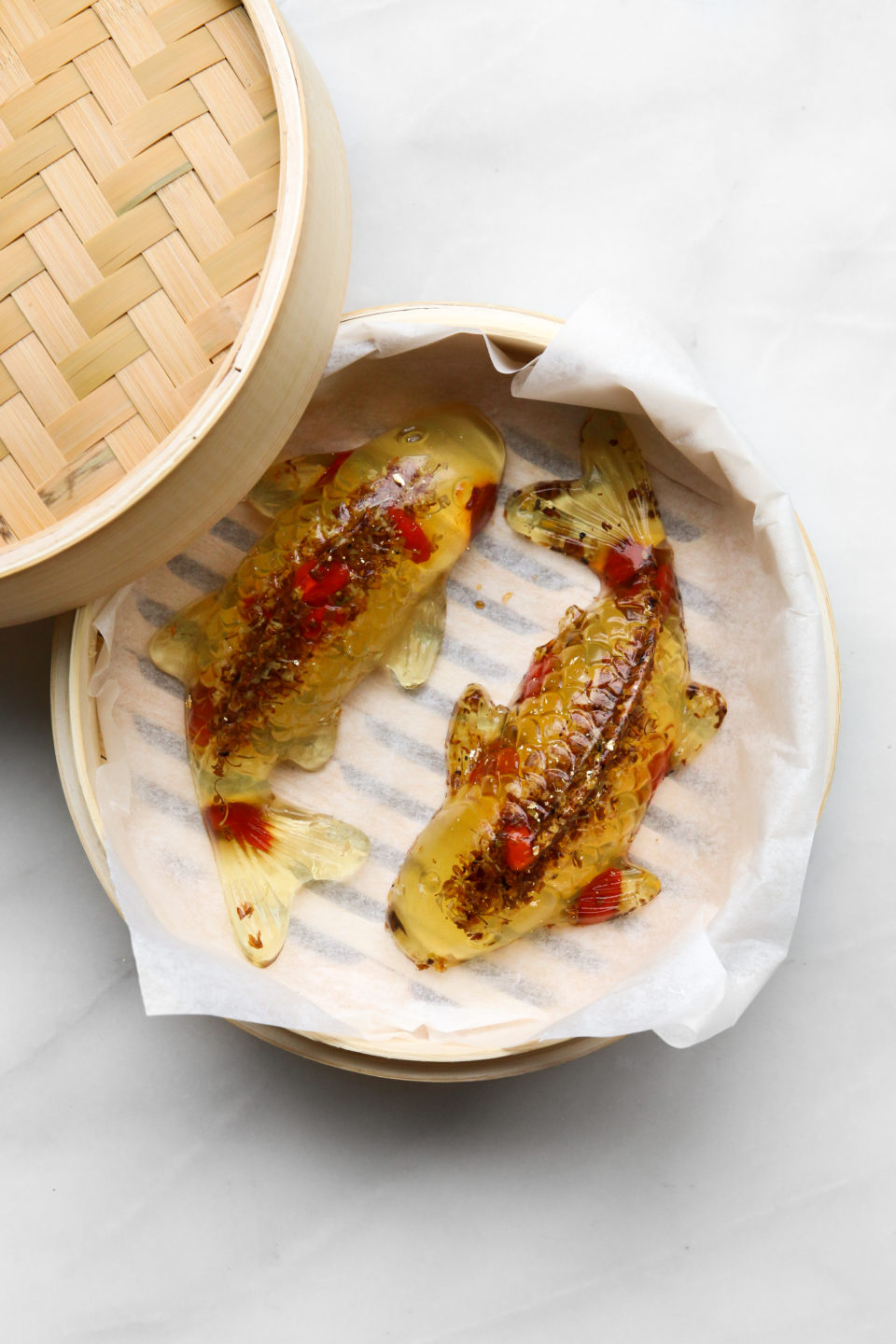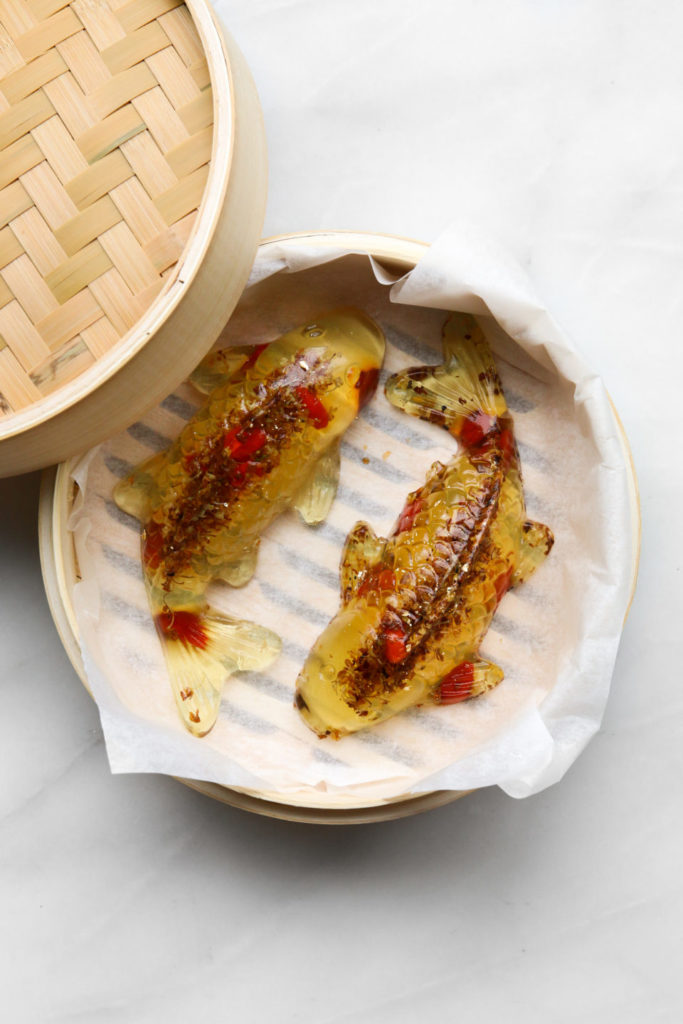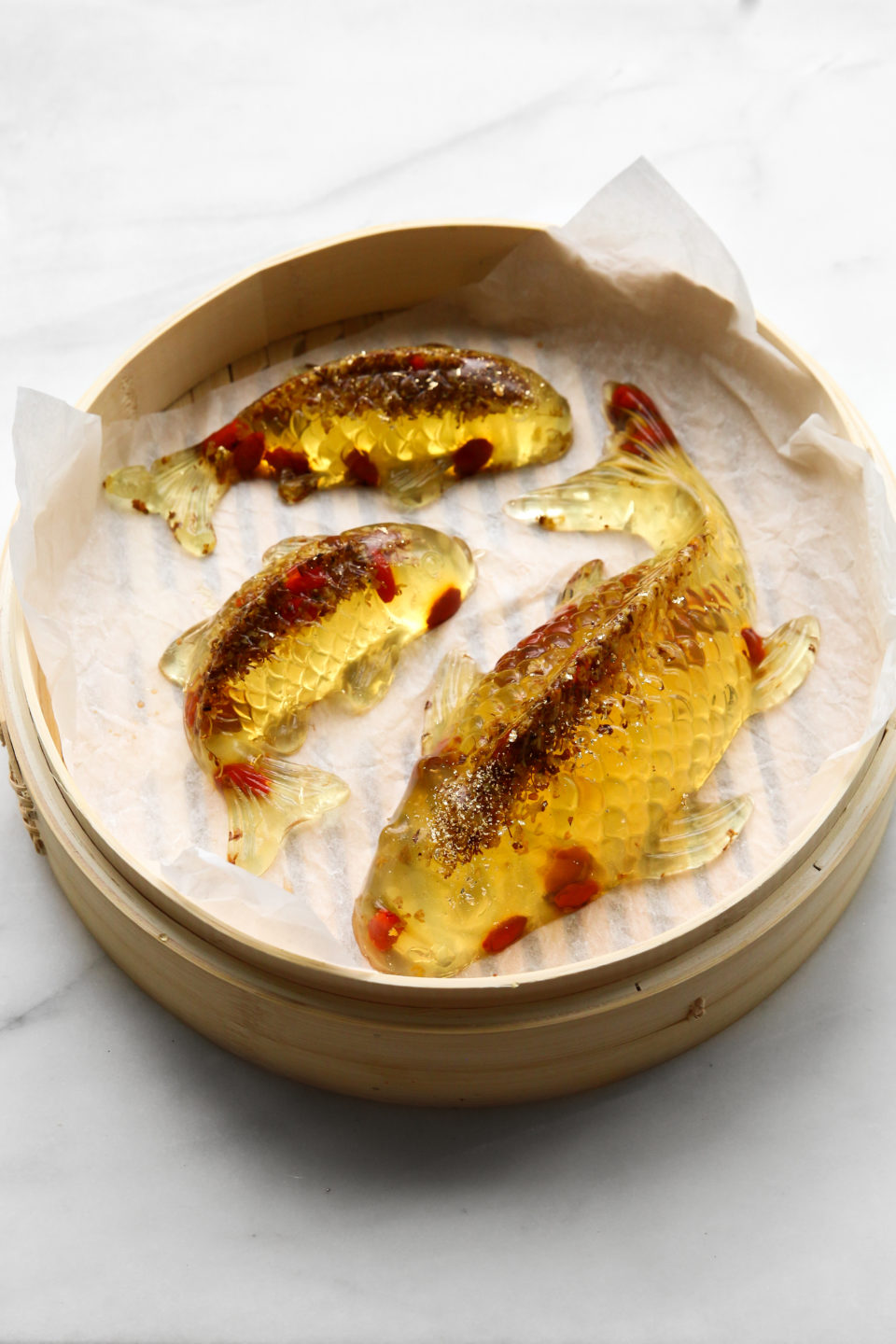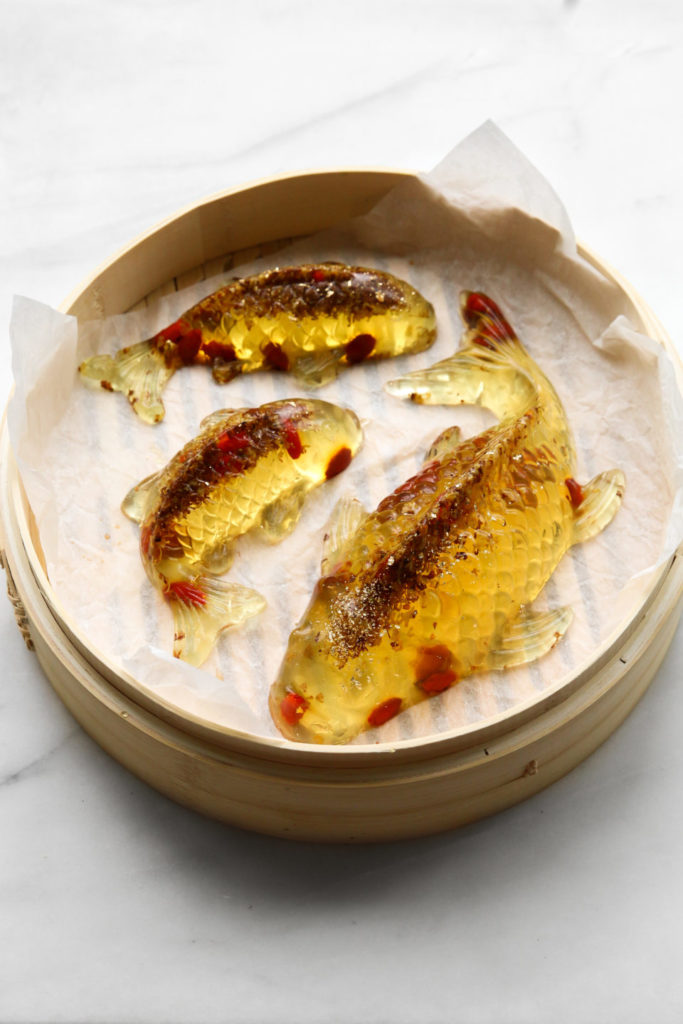 Osmanthus Flower Jelly (桂花糕)
A lightly sweetened osmanthus scented jelly studded with goji berries. It is a common dessert at dim sum but we're making it in a koi fish-shaped mold for Chinese New Year!
Ingredients
20 – 25

goji berries

,

pre-soaked in warm water

2

tbsp

dried osmanthus flowers

600

ml

(2 1/2 cup) hot water

90

g

(1/4 cup and 3 tbsp) granulated sugar

20

g

gelatin powder
Instructions
In a small bowl, soak goji berries in warm water for 2 – 3 minutes. Drain and set aside.

In a medium pot, bring half of the water (300ml) to a boil. Add the dried osmanthus flowers to the hot water and allow to steep for 5 minutes (like you're steeping tea). Transfer the liquid to a bowl and set aside.

In the same pot, add the remaining water (300ml) and bring to a boil over medium heat. Using a ladle or big spoon, transfer a big spoonful of the water into a bowl. Add gelatin powder to the bowl of hot water and stir until gelatin has melted. (Note: don't skip this step and add gelatin powder directly in the big pot of water; this will cause the gelatin to get clumpy and it will not fully dissolve.) Return the gelatin mixture to the pot. Add granulated sugar and stir with a wooden spoon until all the sugar and gelatin has dissolved. Turn off the heat.

Strain the osmanthus flower water into the pot. Add 1/4 of the strained flowers (not all) into the pot. Add goji berries.

Allow your jelly mixture to cool slightly before transferring to the jelly mold. You can speed this process up by using an ice bath for the pot.

Carefully pour the jelly mixture into your mold of choice. Transfer the molds to the fridge and allow the jelly to set fully, about 4 – 5 hours but preferably overnight.

Once the jelly has fully set, dip the mold into hot water for 30 seconds to loosen the jelly from the mold. Flip the mold onto a large plate to release the jelly. Serve chilled.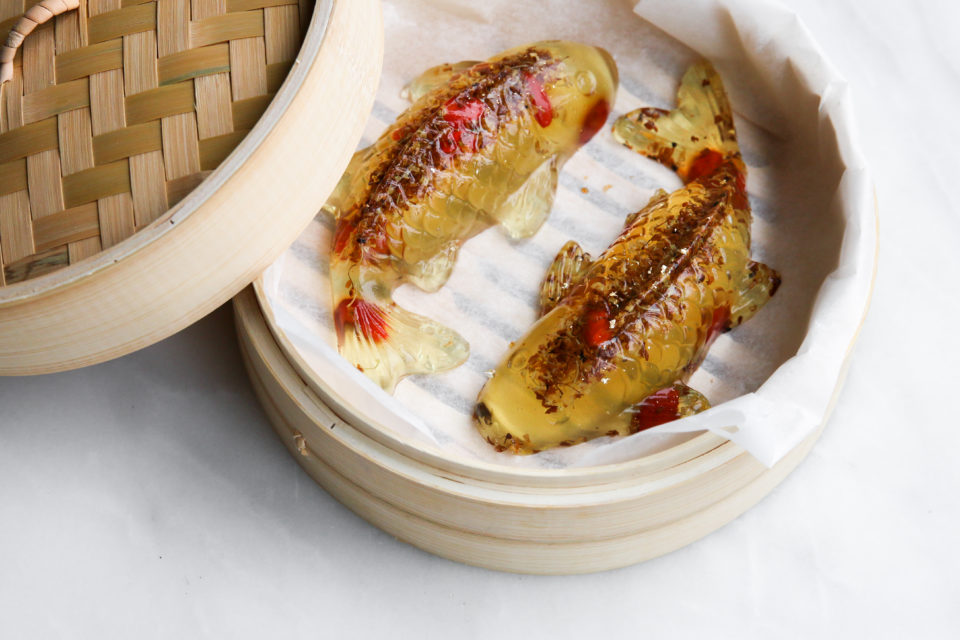 Reader Interactions