Unless it is Alison Roman's the cookies or the stew 1.0, I rarely participate in viral recipes or trends. I will watch the videos of it, acknowledge it, and admire the ingenuity of it but will rarely try to recreate it. I say that but I am also here now trying to show you a cream puff inspired by the Dalgona Coffee trend that started about two weeks. So I guess I am that person that tries out the viral recipes.
In case you are not familiar with Dalgona Coffee, here are a few articles to help you catch up:
National Post: How dalgona coffee became the beverage of choice for the socially distant
SCMP: Story behind dalgona coffee, coronavirus social media craze with roots in South Korea
Bon Appetit: I Gave In And Tried the Frothy Coffee Thing
New York Times: How to Make Frothy Coffee
Good ol' recap from Wikipedia: Dalgona Coffee
When I first saw the Dalgona Coffee videos on TikTok (yes, I have Tik Tok and no, I am not making dancing videos yet) and Instagram, I did not really believe in it. I generally prefer my coffee unsweetened and definitely not frothy, so Dalgona Coffee was basically the antithesis of that. I also very rarely use instant coffee — the only time you see instant coffee on my counter top is when I need a cup of it for a chocolate cake I am making. Then I kept seeing it more and more — from my parents texting me photos of their own frothy coffee creations, to my friends' blogs (like Michelle's and Steph's), to countless IGTV tutorials, and now it is featured on sites like Bon Appetit. So I caved. I caved and made Dalgona Coffee, which follows a very easy-to-remember recipe of equal parts instant coffee, granulated sugar, and hot water. I made the components of the viral frothy coffee but assembled it as a cream puff because we are cream puff central™ here on Constellation Inspiration. While we are here following all the trends, we might as well fill that Dalgona cream puff with some boba, right?
So here we are — Dalgona Coffee-inspired cream puffs filled with unsweetened vanilla whipped cream (the coffee fluff has plenty of sweetness already), topped with cloud-like Dalgona Coffee fluff, and filled with boba that is lightly sweetened with a bit of brown sugar. A little note: Dalgona Coffee fluff is always served on top of plain milk because the fluff is very strong in coffee flavour and quite sweet. So we are pairing the fluff with some unsweetened whipped cream to balance it out. Do not be tempted to fill your entire puff with just the Dalgona fluff. The boba is optional but it is fun and adds texture to these airy puffs.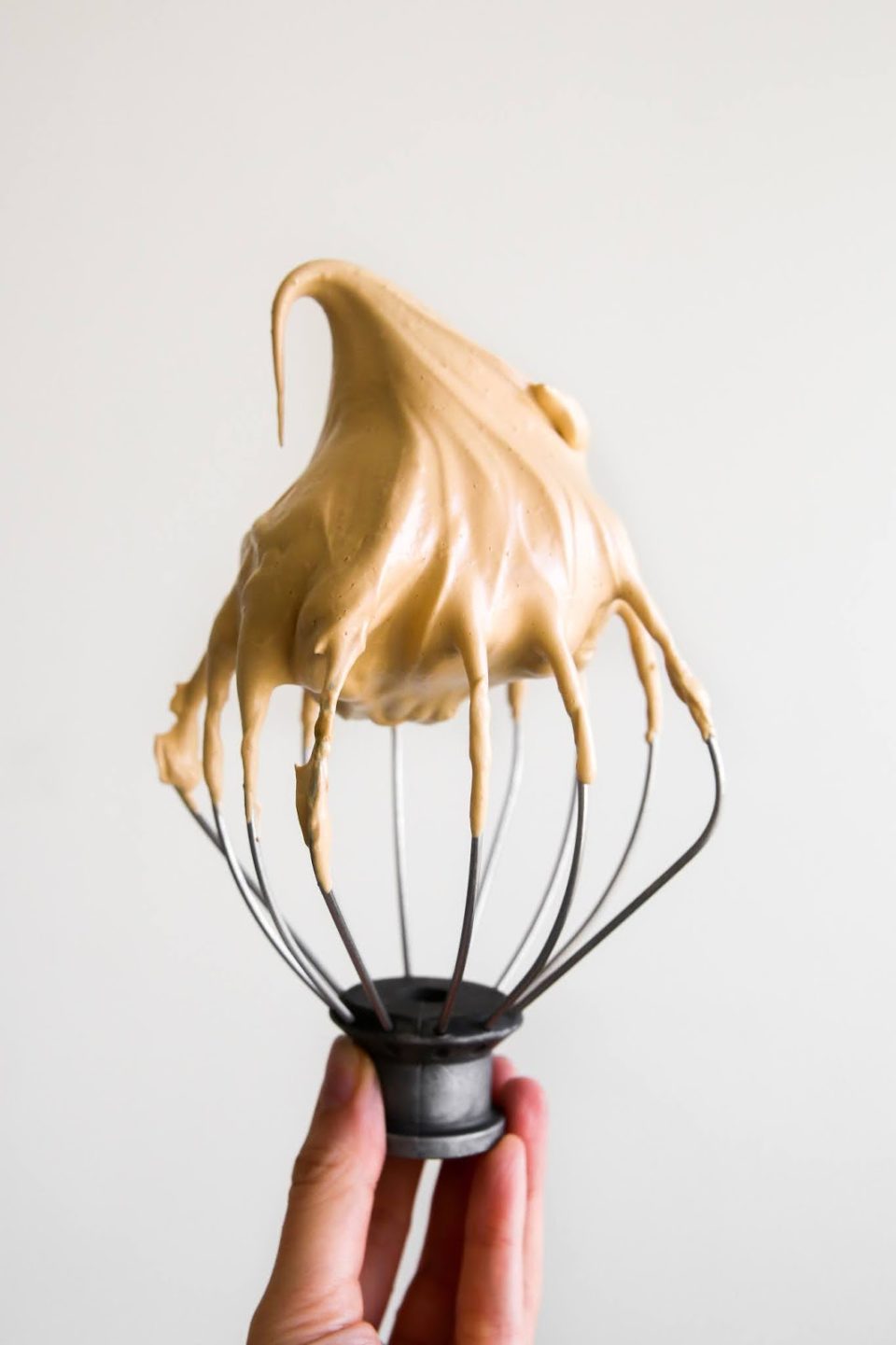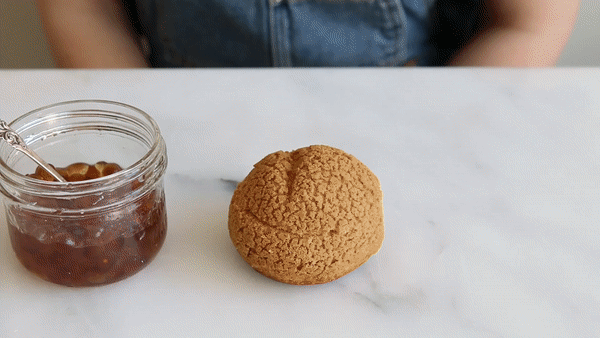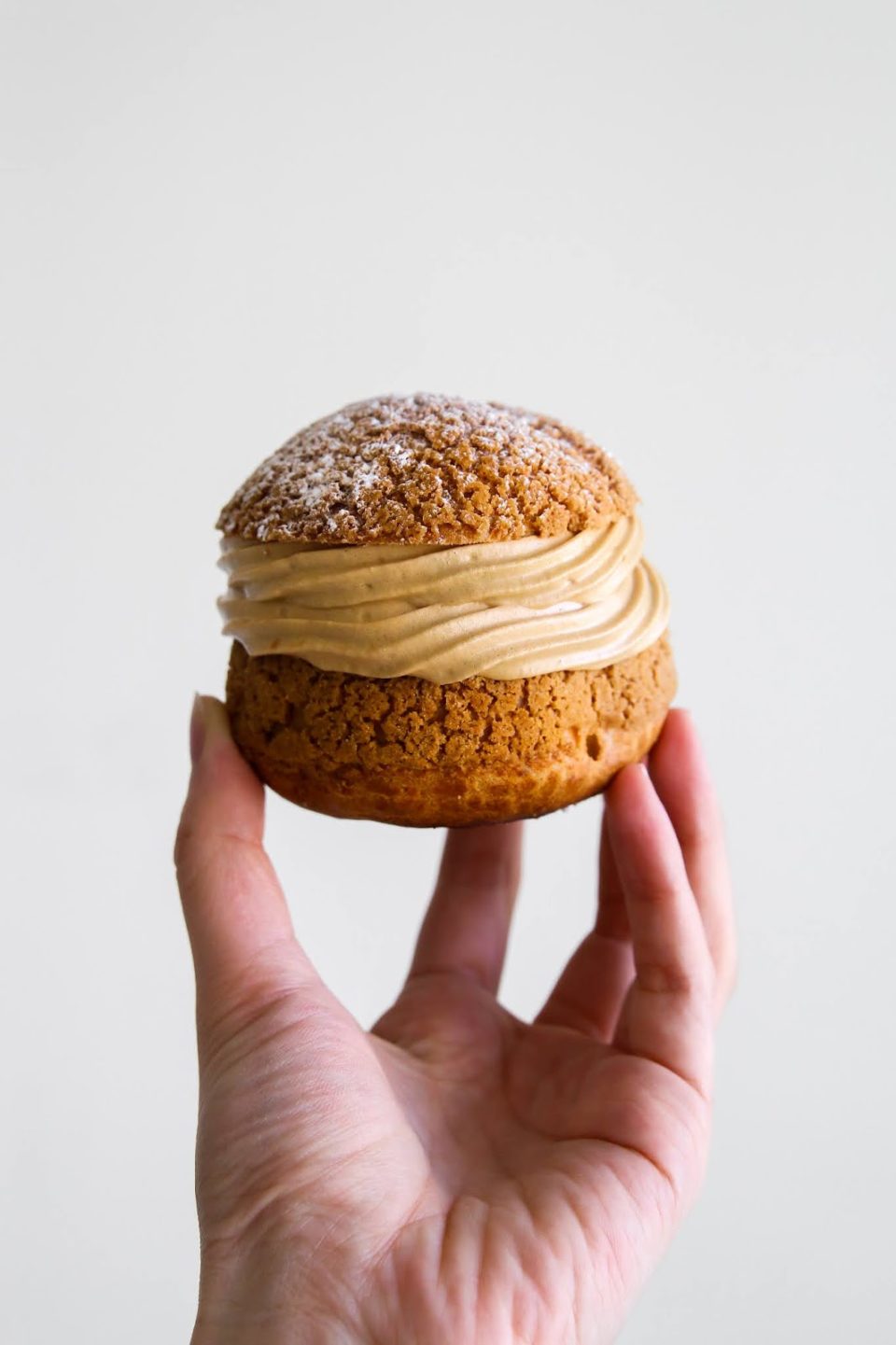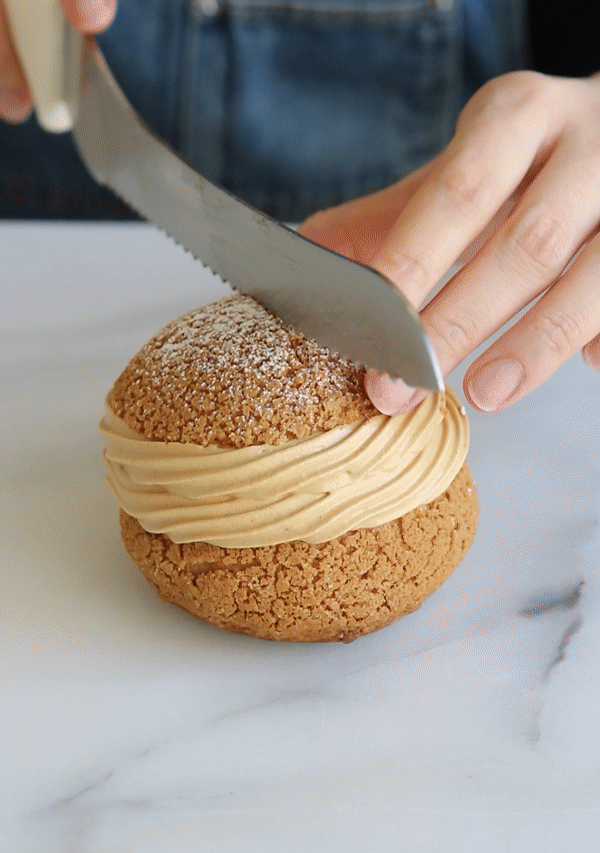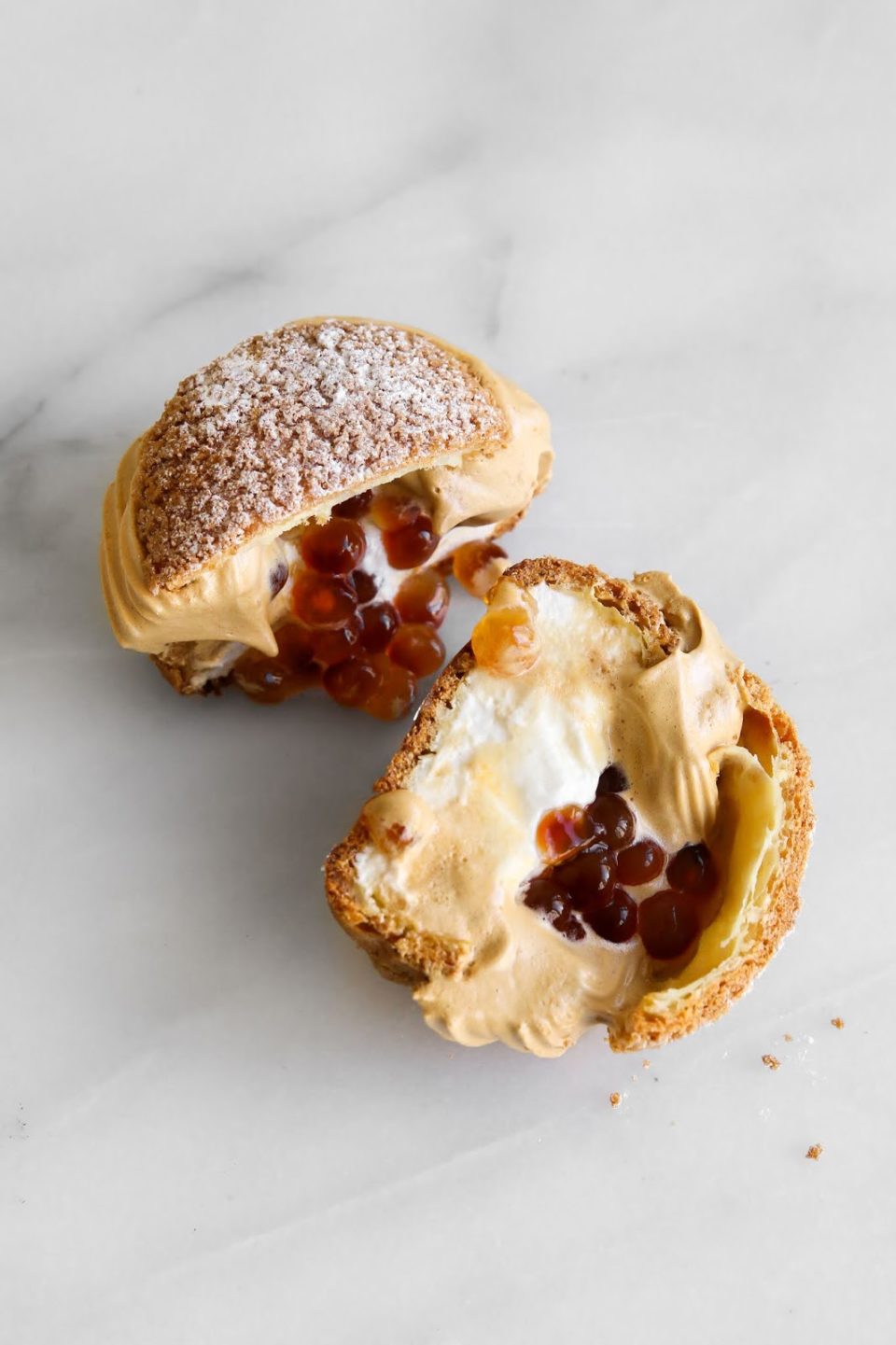 Happy baking!
Ingredients
Pâte à Choux
57

mL

(1/4 cup) water

57

mL

(1/4 cup) whole milk

1/2

teaspoon

sugar

1/2

teaspoon

salt

57

g

(1/4 cup) unsalted butter

70

g

(1/2 cup and 2 tbsp) all-purpose flour

110

g

(~2 1/2 eggs) large eggs, lightly beaten
Dalgona Coffee Fluff
1/4

cup

instant coffee granules

1/4

cup

granulated sugar

1/4

cup

hot water

A pinch of salt
Vanilla Whipped Cream
2

cups

heavy cream

1

tablespoon

vanilla
Brown Sugar Boba
2/3

cup

uncooked boba pearls

2

tablespoons

brown sugar
Instructions
Pâte à Choux
Preheat oven to 350F.

In a saucepan, combine the water, milk, sugar, salt, and butter. Bring to a light boil, remove from heat, and immediately add in all the flour. Quickly stir in the flour, using a rubber spatula, and return saucepan back over medium-high heat.

Continue to stir the mixture, without stopping, until the paste is smooth, about 1-2 minutes. It will pull away from the sides of the pan and leave a thin coating of cooked paste on the bottom when ready. The texture should resemble dry mashed potatoes.

Transfer the paste to a stand mixer bowl fitted with the paddle attachment. Mix on low for the choux to cool down.

While the mixer is running on medium, gradually stream in the lightly beaten eggs. Mix until well combined.

Transfer the pâte à choux to the prepared piping bag with a round tip. Pipe out 12 choux mounds onto the prepared baking sheet, leaving roughly 2 inches between each puff. If you are making choux with a craquelin top, this is when you want to add the craquelin to the choux mounds.

Place the baking sheet in the oven and immediately bake choux puffs for 35 minutes. Rotate the baking sheet and turn down the oven to 325F, then bake for 10 minutes more until choux are deeply golden. Remove from oven and set on cooling rack to cool.
Dalgona Coffee Fluff
*Dalgona Coffee fluff is made with 1:1:1 ratio of coffee, sugar, and hot water. You can make more or less of the fluff but remember to keep that ratio.

In the bowl of a stand mixer fitted with a whisk attachment, whisk all the ingredients together on high speed until stiff peaks form, about 1 – 2 minutes. Chill the coffee fluff in the refrigerator until it is no longer warm.
Vanilla Whipped Cream
In the bowl of a stand mixer fitted with a whisk attachment, whisk heavy cream on medium-high speed until medium-stiff peaks form.
Brown Sugar Boba
Cook boba according to the instructions on the packaging.

Strain the boba and transfer to a bowl. While the boba is still warm, mix in brown sugar.

Allow boba to cool completely before filling the puffs.
Assembly
Trim the tops off of the cooled choux pastry with a sharp serrated knife. Set the tops aside.

Transfer the whipped cream into a piping bag fitted with a large round piping tip. Alternatively, you can use a spoon to to fill the puffs. Pipe the whipped ream into the puffs until it reaches the brim.

Transfer the Dalgona fluff into a piping bag fitted with a large open star tip. Pipe a ring of coffee fluff on top of the whipped cream, leaving a cavity in the middle. Fill the cavity with cooled boba pearls.

Place choux hat on top. Serve immediately.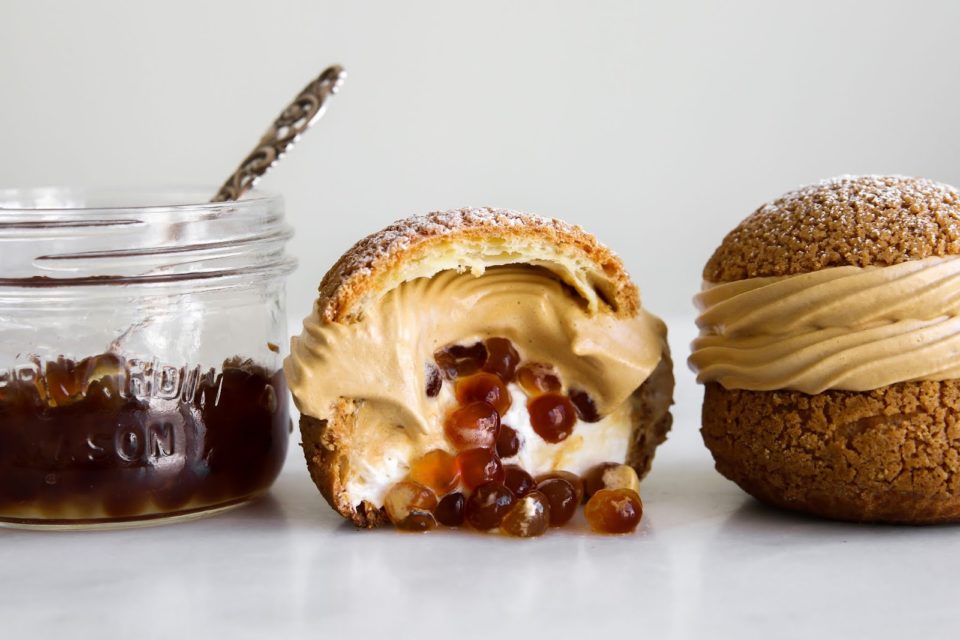 Reader Interactions