It feels so silly to be sharing cream puffs made with cereal milk. It feels silly to tell you that brown sugar makes a better craquelin on choux pastry and it seems extra silly to tell you that the consistency of your choux batter should resemble dried mashed potatoes. At a time like this, anything that is covered in lucky charms marshmallows just seems so trivial and I'm not sure if it is appropriate to be sharing it on this platform.
Then I realized that just because this is a time of great uncertainty, conversations should not be cancelled, self-care should not be cancelled, hope should not be cancelled, and it is okay to share a little bit of magic that can help remind people that good things remain, even in times of darkness.
So here are some cream puffs filled with cereal milk pastry cream, topped with raspberry whipped cream, and studded with some lucky marshmallows. You might not have all the ingredients to make these today or tomorrow, but I promise you that even if you make them a later date, the magic still remains.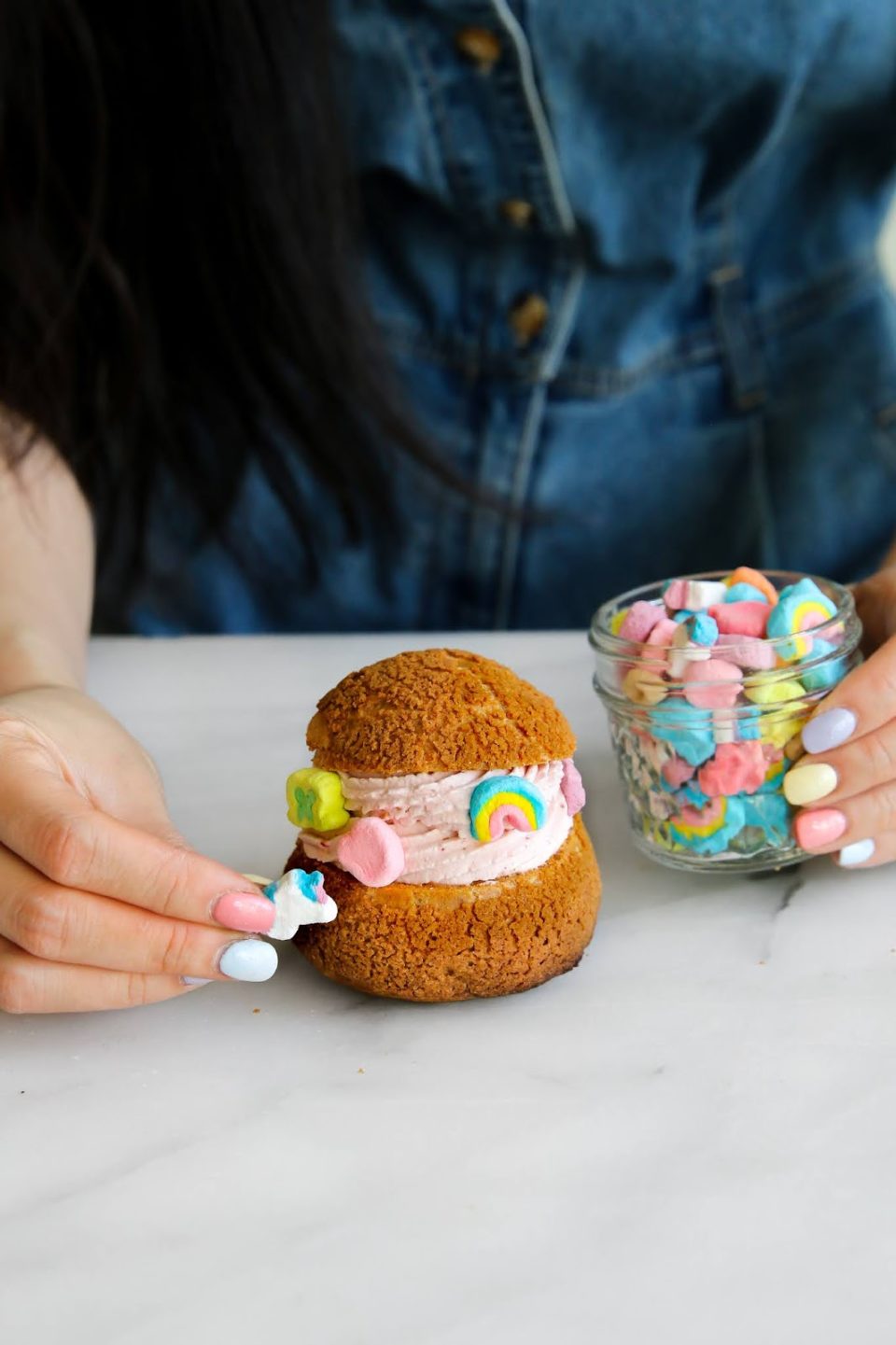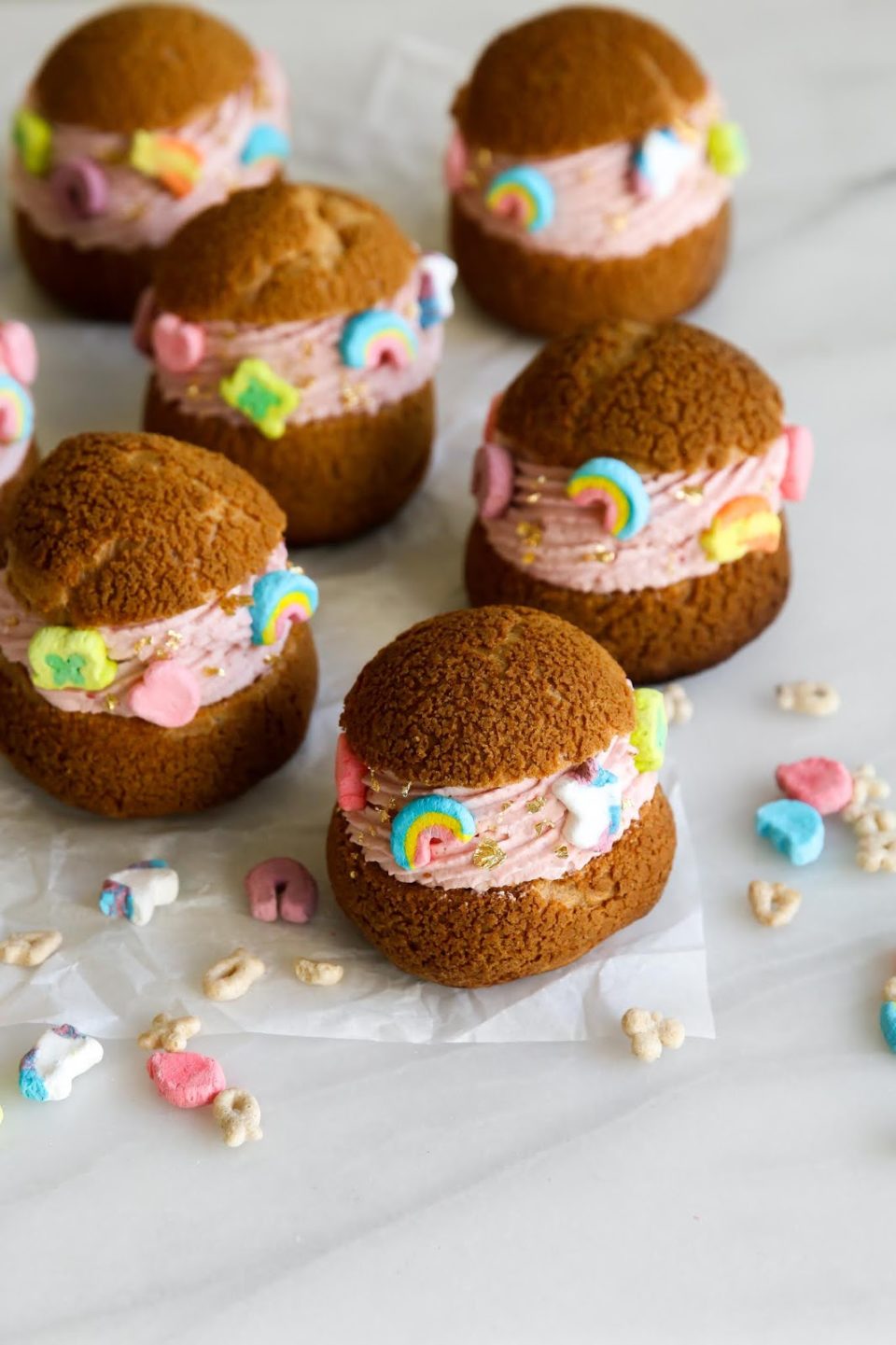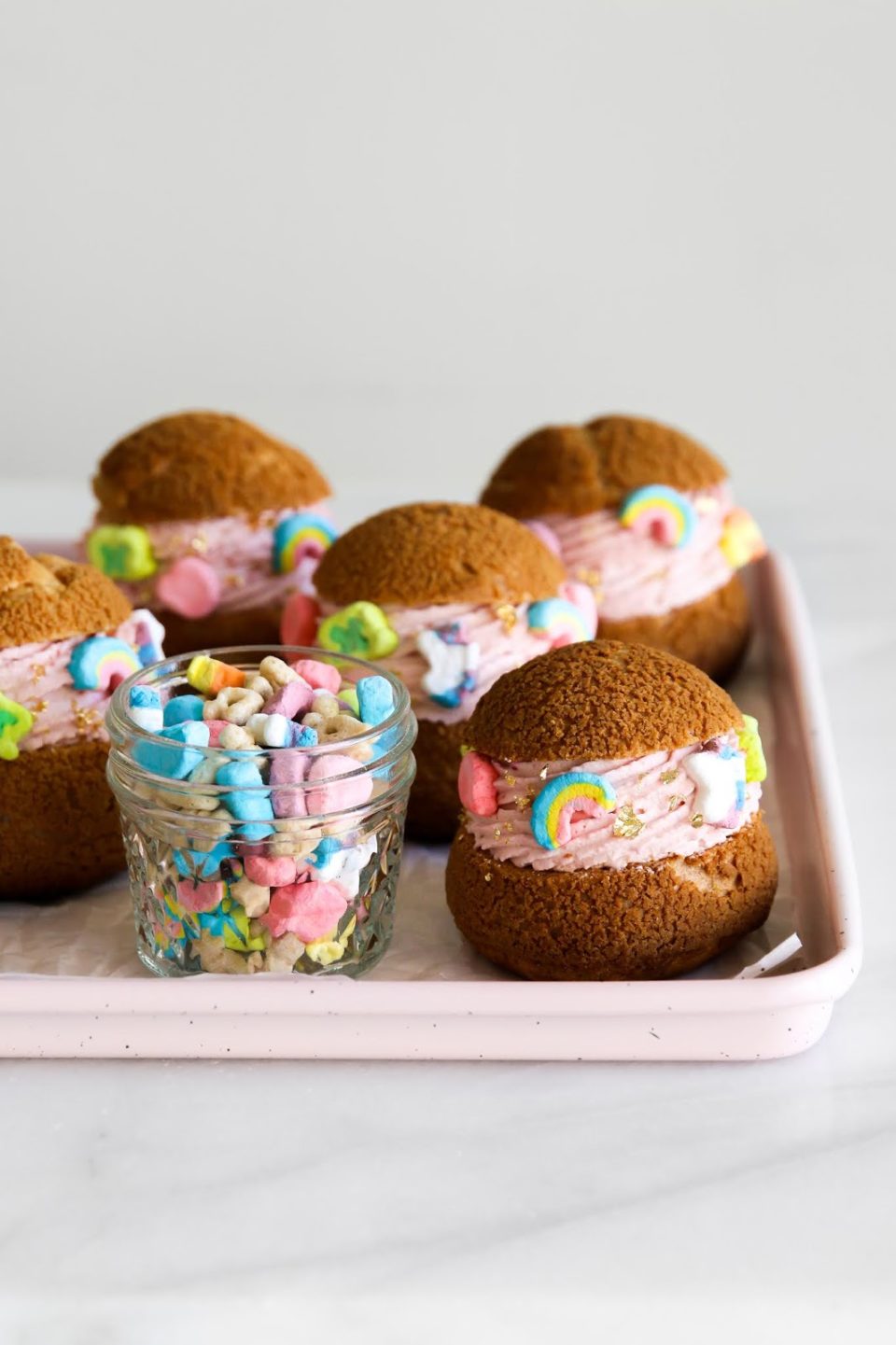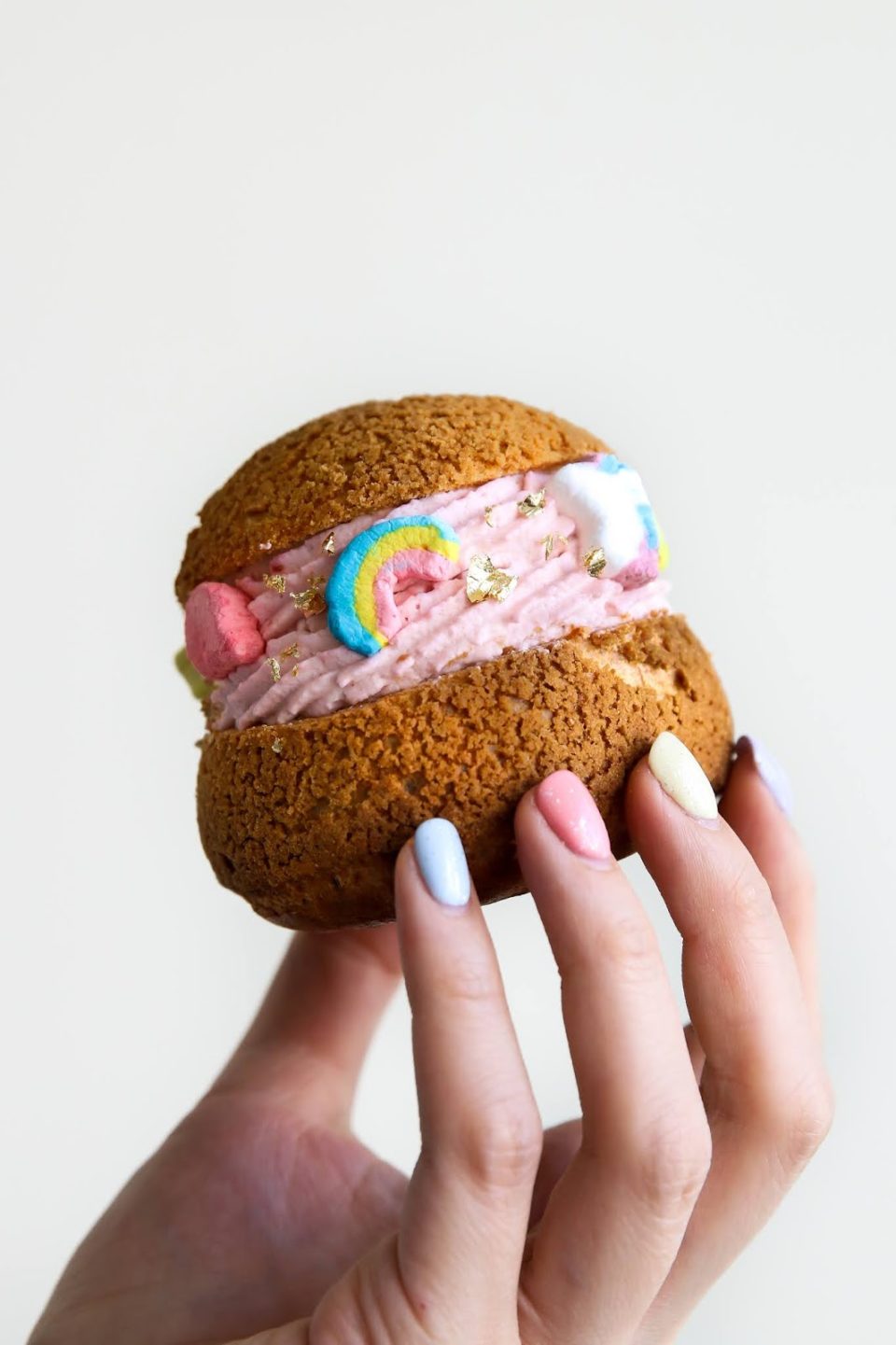 Stay safe and healthy. Sending many air hugs,
Amy
Ingredients
Cereal Milk
100

g

(about 3 cups) Lucky Charms cereal without the marshmallows

330

ml

(1 1/3 cups) whole milk

160

ml

(2/3 cup) heavy cream

1/4

teaspoon

salt
Cereal Milk Custard
480

ml

(2 cups) cereal milk

1

vanilla bean

4

egg yolks

50

g

(1/2 cup) granulated sugar

1

tablespoon

cornstarch
Craquelin
25

g

(2 tbsp) unsalted butter, softened

25

g

(2 tbsp) brown sugar

25

g

(4 tbsp) all-purpose flour
Pâte à Choux
57

mL

(1/4 cup) water

57

mL

(1/4 cup) whole milk

1/2

teaspoon

sugar

1/2

teaspoon

salt

57

g

(1/4 cup) unsalted butter

70

g

(1/2 cup and 2 tbsp) all-purpose flour

110

g

(~2 1/2 eggs) large eggs, lightly beaten
Raspberry Whipped Cream
2

cups

heavy cream

3/4

cups

powdered sugar

2

tablespoons

freeze-dried raspberry powder
Instructions
Cereal Milk
Place cereal into the bottom of a pitcher. Pour milk and heavy cream into the pitcher and stir vigorously. Let steep for 25 minutes at room temperature.

After the cereal steps, strain the mixture through a fine-mesh sieve, collecting the milk in a medium bowl.  Using the back of a spoon or a rubber spatula, press down on the wet cereal gently to release any addition milk. Stir in salt until dissolved.
Cereal Milk Custard
Pour cereal milk in a medium pot. Using a sharp knife, split vanilla bean in half lengthways and scrape out seeds. Add bean and seeds to cereal milk mixture. Place over medium heat and cook until it reaches a light simmer (do not allow to boil). Remove pot from heat.

Whisk egg yolks, sugar, and cornstarch, in a large heatproof bowl until well combined. Slowly pour hot cereal milk mixture over egg yolk mixture, whisking constantly.

Return mixture to the pot over low heat. Cook, stirring constantly, for 6 – 8 minutes, or until custard thickens and coats the back of a metal spoon.

Transfer the custard into a large bowl and place a piece of plastic wrap directly onto the custard (to prevent a film from forming). Transfer the bowl into the fridge and chill for 3 hours, or until the the custard is no longer hot.
Craquelin
In a medium bowl, combine all ingredients and mix with rubber spatula until smooth.

Roll out the craquelin dough to 1/8-inch in thickness. Use a cookie cutter and cut out 12 2-inch circles. Set aside.
Pâte à Choux
Preheat oven to 350F.

In a saucepan, combine the water, milk, sugar, salt, and butter. Bring to a light boil, remove from heat, and immediately add in all the flour. Quickly stir in the flour, using a rubber spatula, and return saucepan back over medium-high heat.

Continue to stir the mixture, without stopping, until the paste is smooth, about 1-2 minutes. It will pull away from the sides of the pan and leave a thin coating of cooked paste on the bottom when ready. The texture should resemble dry mashed potatoes.

Transfer the paste to a stand mixer bowl fitted with the paddle attachment. Mix on low for the choux to cool down.

While the mixer is running on medium, gradually stream in the lightly beaten eggs. Mix until well combined.

Transfer the pâte à choux to the prepared piping bag with a round tip. Pipe out 12 choux mounds onto the prepared baking sheet, leaving roughly 2 inches between each puff. If you are making choux with a craquelin top, this is when you want to add the craquelin to the choux mounds.

Place the baking sheet in the oven and immediately bake choux puffs for 35 minutes. Rotate the baking sheet and turn down the oven to 325F, then bake for 10 minutes more until choux are deeply golden. Remove from oven and set on cooling rack to cool.
Raspberry Whipped Cream
In the bowl of a stand mixer fitted with a whisk attachment, whisk heavy cream on medium-high speed until soft peaks form.

Add powdered sugar and raspberry powder to the cream. Mix on slow speed until incorporated.

Turn the mixture back on high until stiff peaks form.
Assembly
Trim the tops off of the cooled choux pastry with a sharp serrated knife. Set the tops aside.

Transfer the chilled cereal milk custard into a piping bag fitted with a large round piping tip. Alternatively, you can use a spoon to to fill the puffs. Pipe the custard into the puffs until it reaches the brim.

Transfer raspberry whipped cream into a piping bag fitted with a large open star tip. Pipe two rings of whipped cream on top of the custard. Place choux hat on top.

Decorate with marshmallows and gold leaf. Serve immediately.
Reader Interactions