I originally did not plan on doing a Valentine's Day post because I did not want to make something overly 'gimmicky' that was only relevant for a day or so. I also did not plan on making heart-shaped treats for the blog because I just did not plan properly in advance. I got too caught up filling cookies with isomalt and multi-coloured sprinkles and spending a large amount of my waking hours being obsessed with Japanese slice-and-bake cookies that I stumbled upon one day. (That obsession resulted in a 3-hour 'quick browse' of Amazon Japan to find cookie making books that apparently only has instructions written in Japanese but hopefully has lots of photos and diagrams that overrides my ability to understand Japanese.) Lately, I feel like my interests in baking are always shifting — I will want to make see-through cookies one hour, intricately-piped and animal-shaped butter cookies the next, and then something that resonates more with what I have done on the blog in the past. Then I get a bit overwhelmed by all of it and end up not baking anything. That has been the theme lately. I am finding it a bit of a struggle to find a balance between baking 'fun' things covered in sprinkles and decorating romantic layer cakes with fresh flowers. I even feel a bit guilty for making too many fun and gimmicky cookies and neglecting the type of baking that this blog started with.
Despite all that, I mustered up some motivation and made some cookies to take my mind off of it. I used my cut-out friendly sugar cookie recipe for the majority of the cookies in the tin. One of my favourite 'hacks' for making an assorted cookie box or tin is to use one base recipe for different types of cookies. Sugar cookie dough and shortbread dough lend themselves well to many different kinds of cookies — cut outs, sandwich cookies, linzers, stamped cookies. I always try to add at least another type of cookie in there for greater variety. Today's addition is this super chocolately shortbread cookie. In addition to the cocoa powder in the dough, finely chopped bittersweet chocolate is added in there for more depth. If you have espresso powder handy, a little bit of that does wonderful things to these (and other) chocolate cookies. The chocolate shortbread cookies were cut into simple heart shapes but they would also be lovely as sandwich cookies (with a peanut butter or nutella cream filling!) or linzers. I added a white chocolate drizzle and pearl sprinkles to mine for a decorative touch.
Share your cookies with your valentine, your friends, or with just yourself — making them is a treat in itself.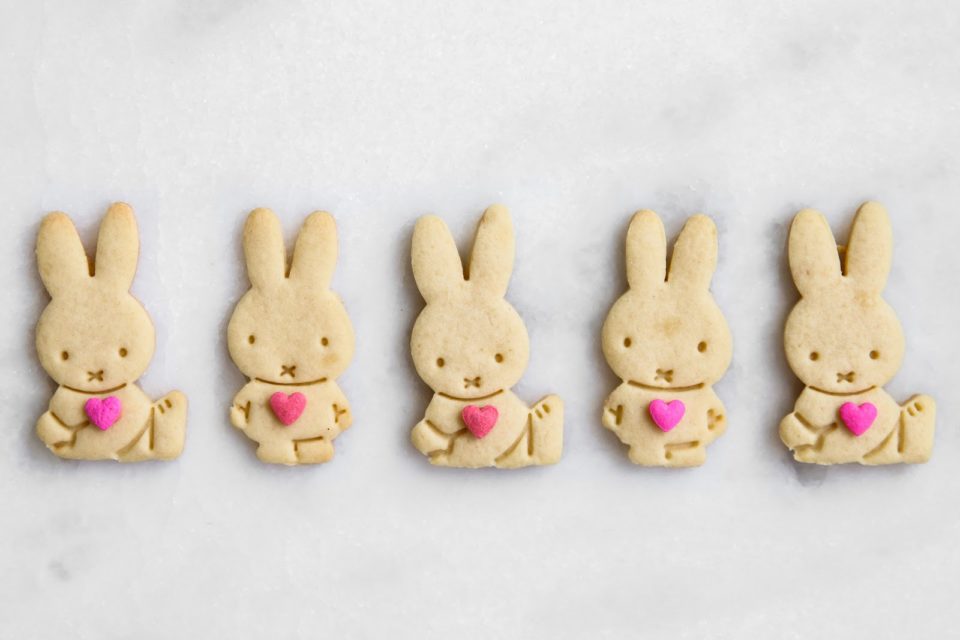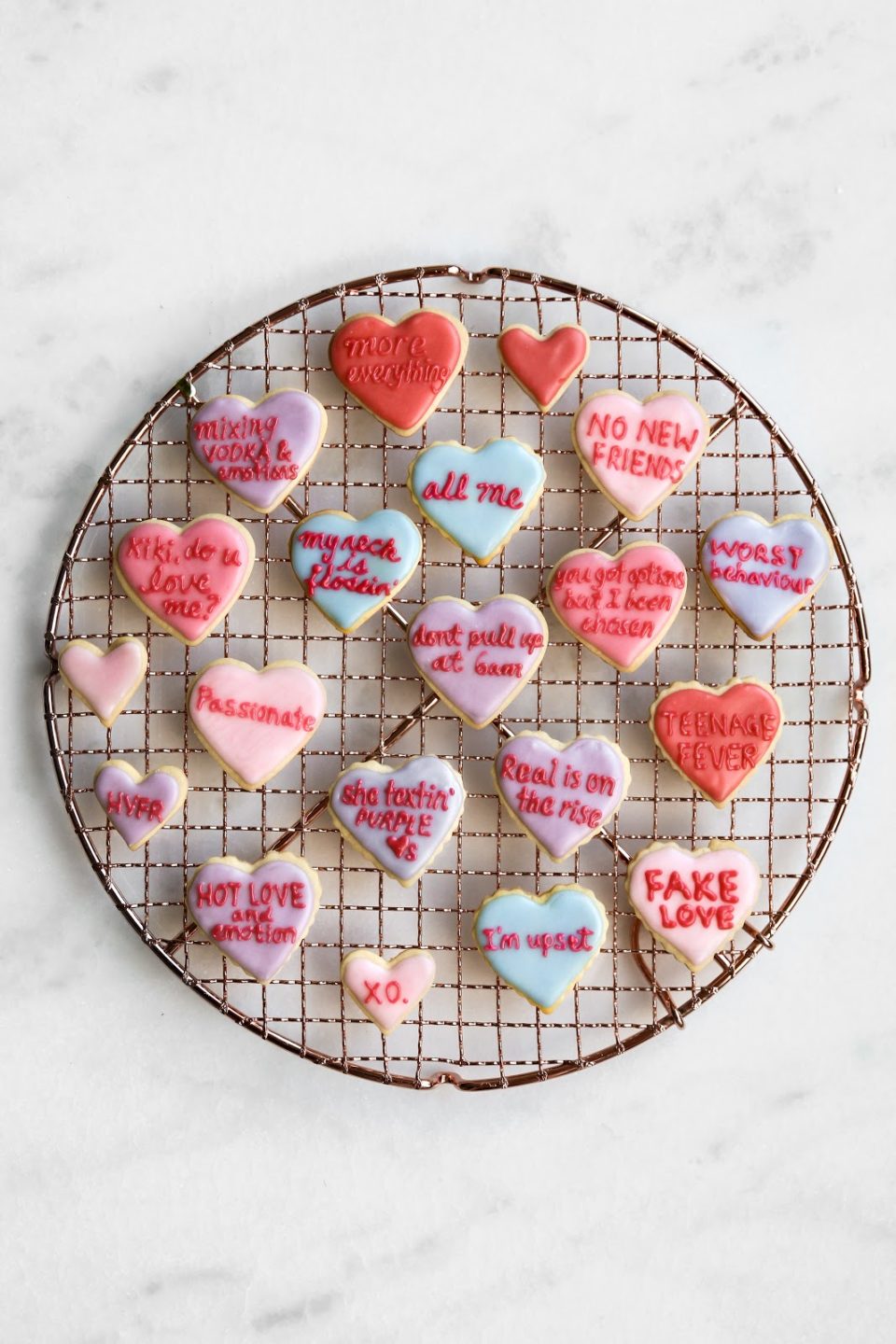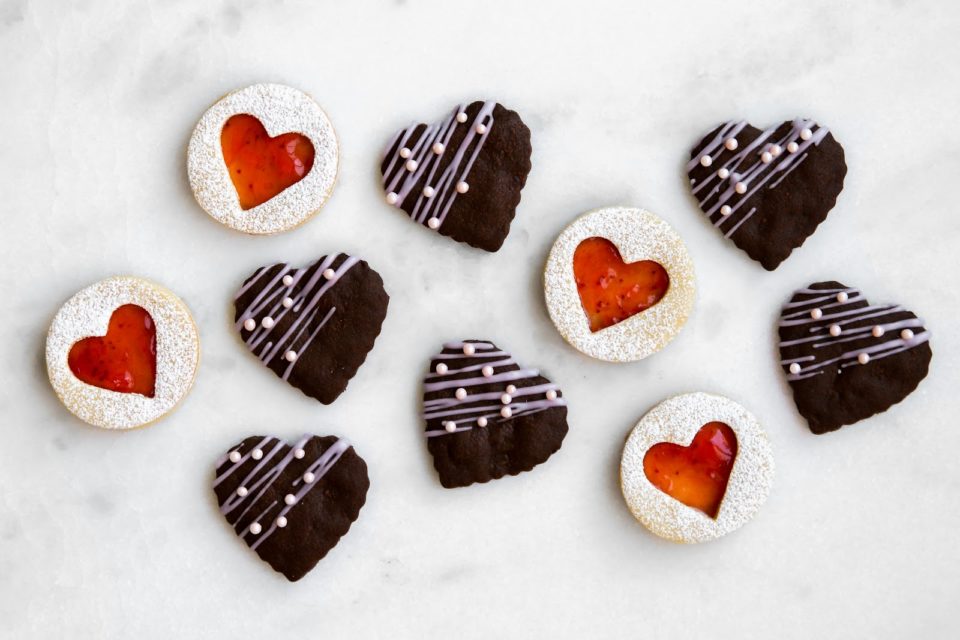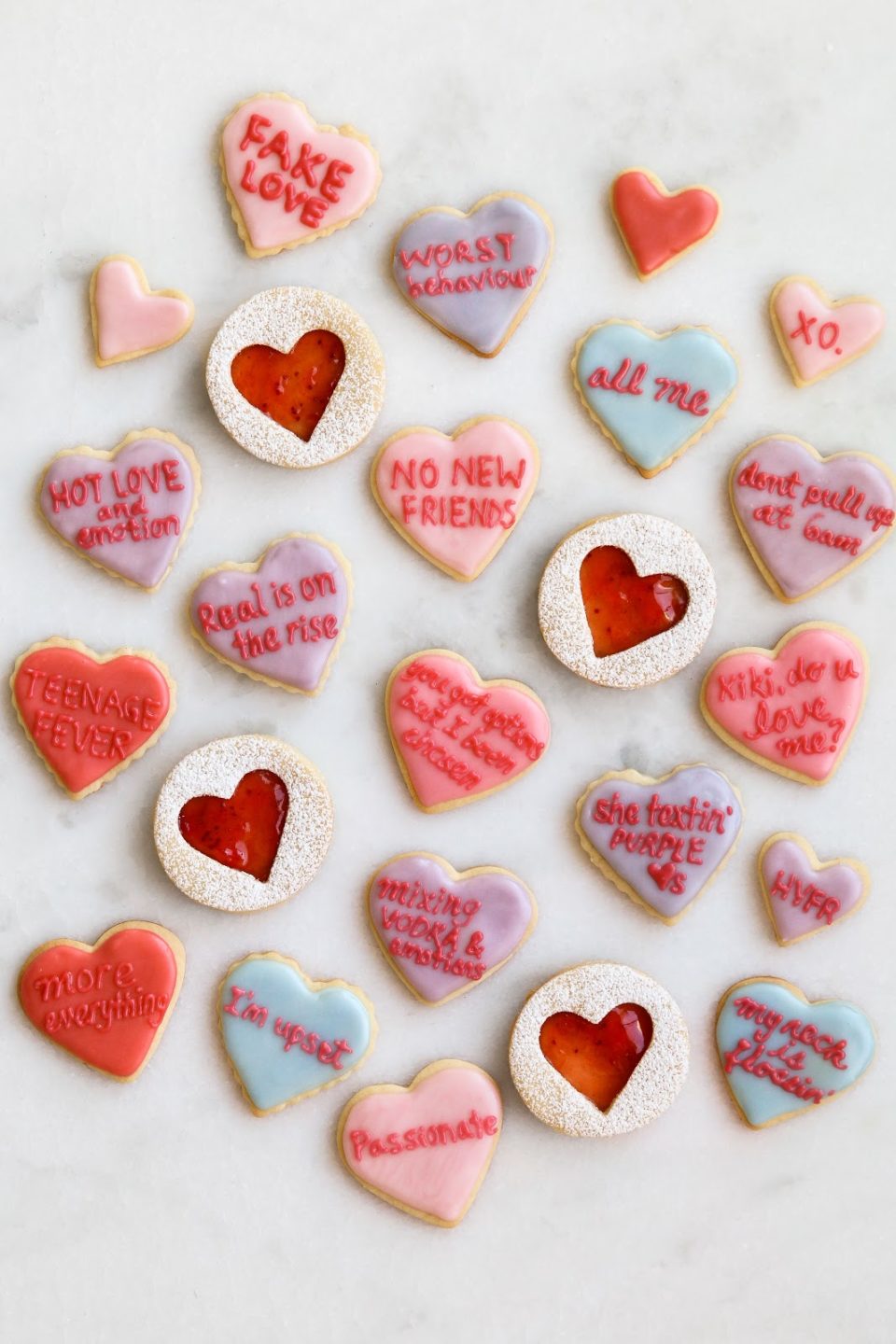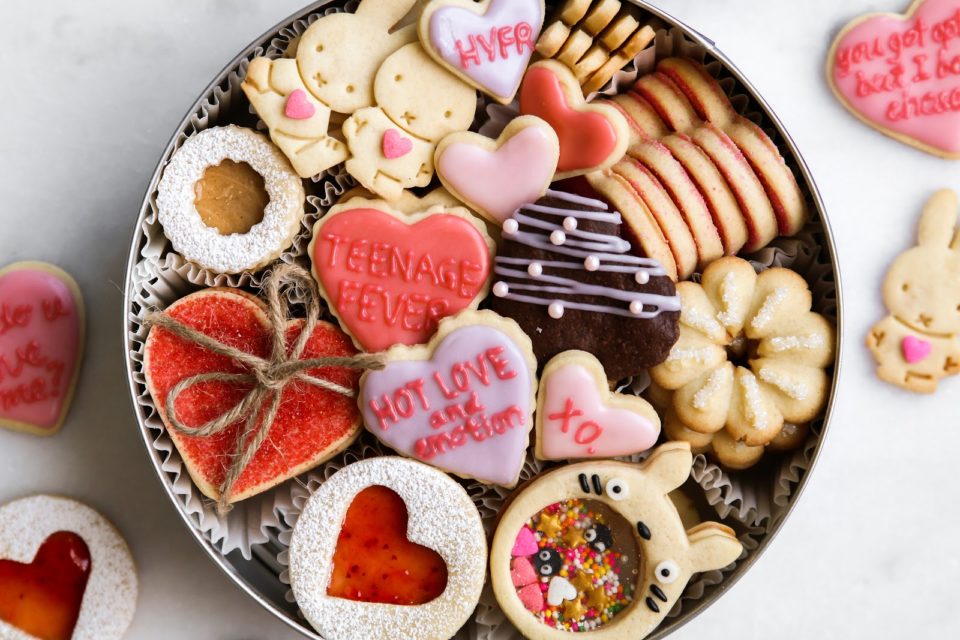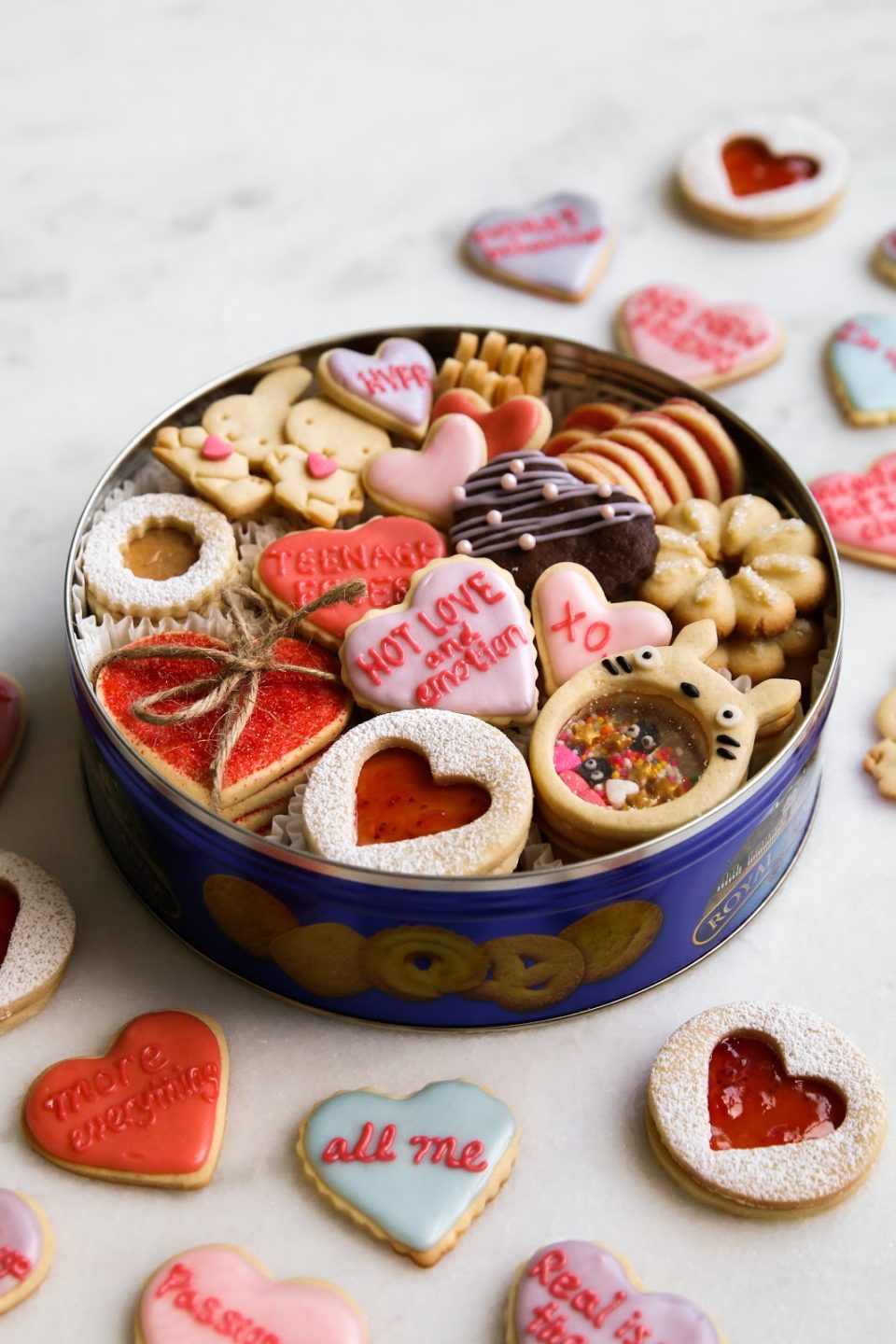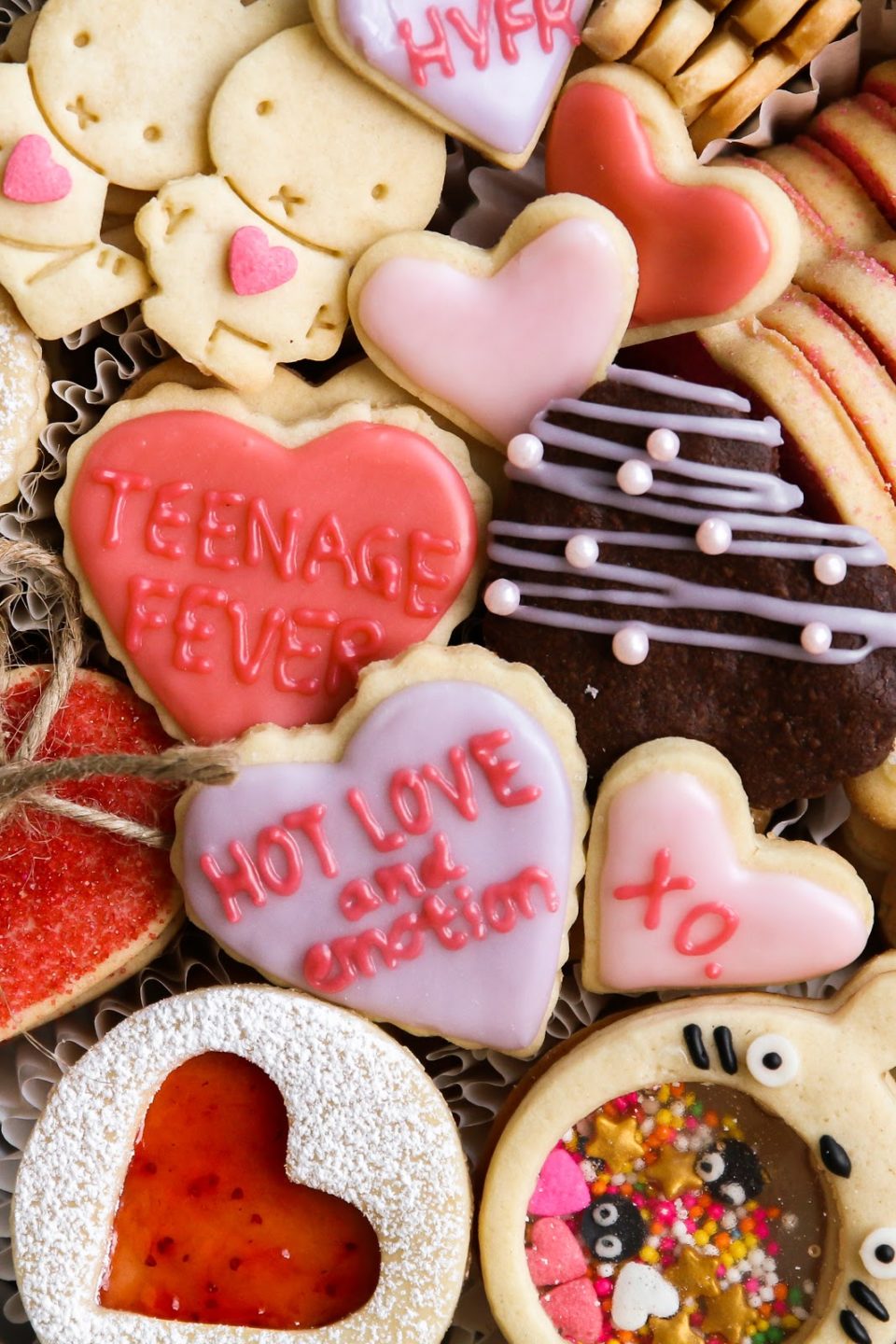 In this box…
Classic Sugar Cookies (for hearts, linzers, bunny cookies)
Happy baking!
Ingredients
1

cup

all-purpose flour

1/3

cup

cocoa powder

1/2

teaspoon

espresso powder

,

(optional)

2

tablespoons

cornstarch

1/4

teaspoon

baking soda

1/3

teaspoon

salt

1/2

cup

unsalted butter

,

at room temperature

1/2

cup

granulated sugar

1

large egg yolk

1

teaspoon

vanilla extract

75

g

bittersweet chocolate

,

finely chopped
Instructions
In a medium-sized bowl, whisk together flour, cocoa powder, espresso powder, cornstarch, baking soda, and salt.

In the of a mixer, cream together butter and sugar until smooth. Add egg yolk and vanilla. Mix until fully incorporated.

Add the dry ingredients to the butter mixture. Mix until just combined.

Fold in chopped chocolate.

Shape the dough into a disc, wrap the dough in saran wrap, and chill the dough for at an hour.

Once the dough is chilled, preheat oven to 350 and roll out the dough to 1/8-inch in thickness. Cut out shapes with cookie cutter.

Place cookie cut-outs on a baking sheet lined with parchment and space them an inch apart.

Bake for 9 to 11 minutes. Leave cookies on baking sheets out of the oven for a couple minutes before carefully transferring them to cooling racks.

Eat them plain or decorate with a few chocolate drizzles.
Notes
Yields 3 dozen cookies, depending on size of cutter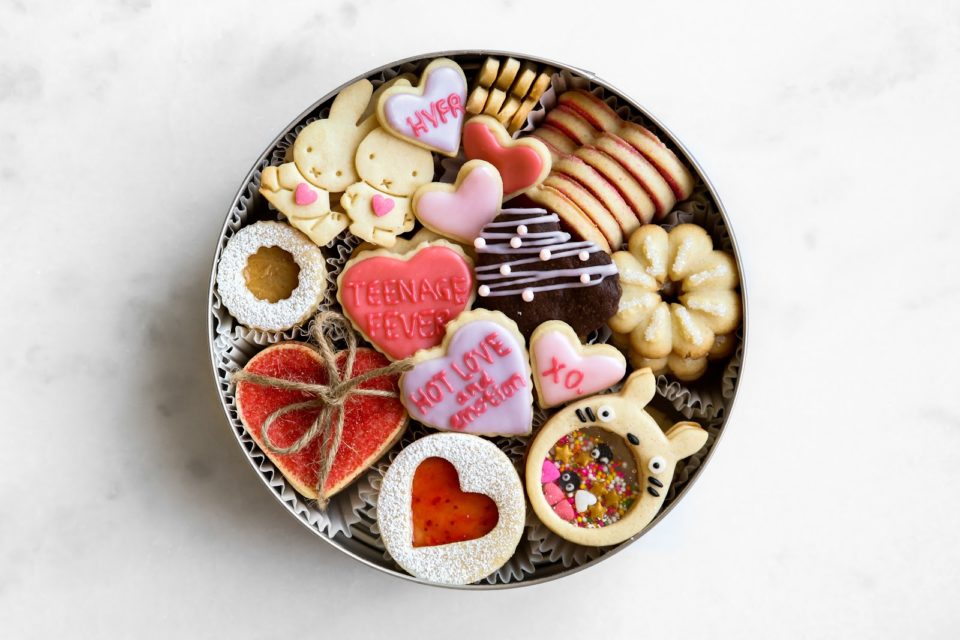 Reader Interactions