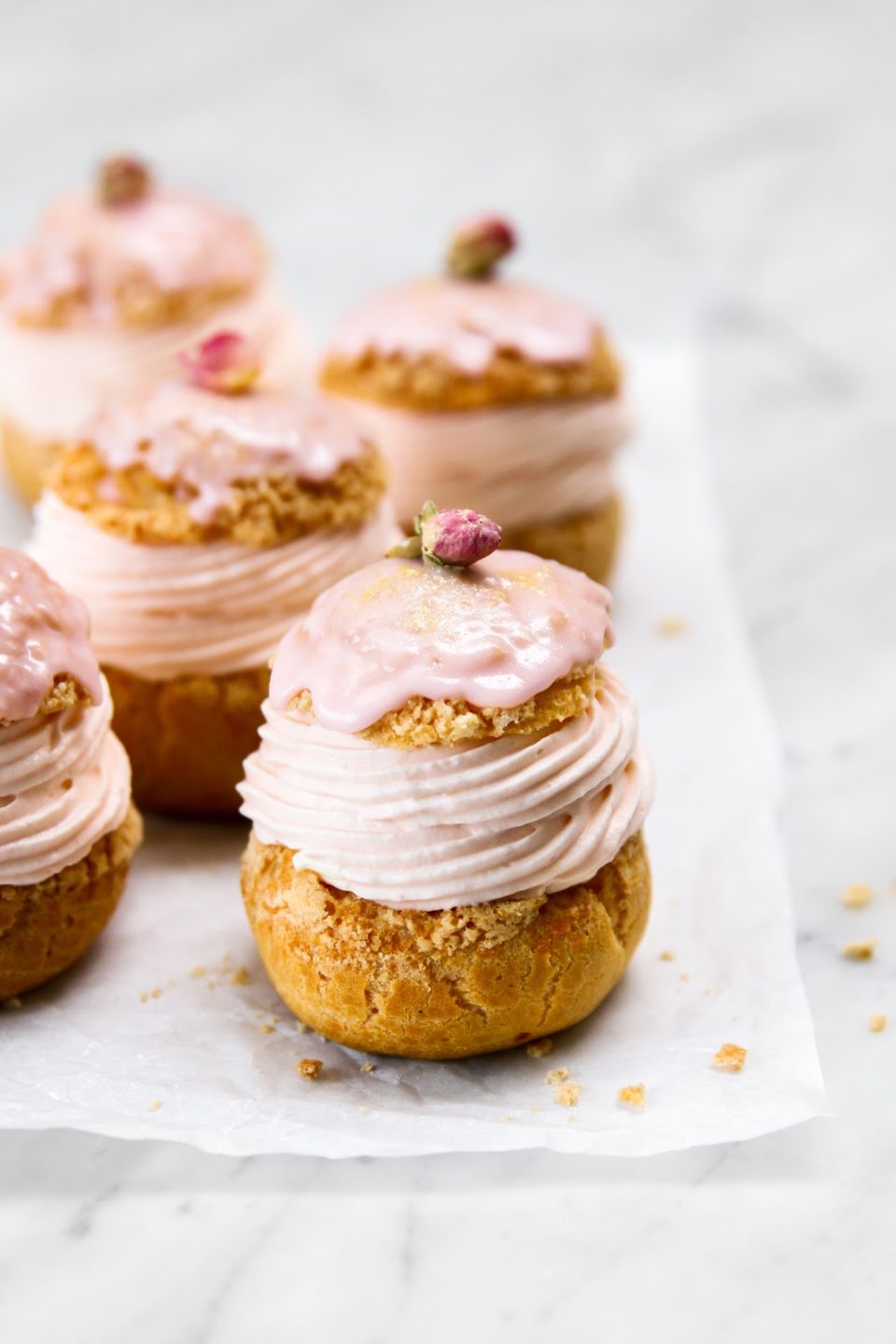 One of the goals I set for myself at the beginning of 2018 was to bake more things that are not just layer cakes. Layer cakes will always have a special (and largest) place in my heart but I wanted to learn more about pastry. I decided to start with choux because it is the base of many great pastries like cream puffs, éclairs, and impressive croquembouche towers. I also want to be able to make Totoro cream puffs like the ones from Shirohige's Cream Puff Factory in Japan. Once I get the hang of making choux, you bet there will be many Totoros all over my Instagram. I did not start making choux pastry until a few months ago because it has always seemed like a very daunting baking task. What do you mean I have to cook the batter on the stove before I bake it off? How can you tell the batter is 'cooked' enough? What if my choux pastries do not puff up? What if it spreads too much?
Since making my first cream puff, I have made so many more. I have been playing around with the ratios of ingredients to see what yields the perfect puff. Based on the amount of choux I have made in the last little while, I could start a blog dedicated to cream puffs. I could call the blog Choux Corner, If the Choux Fits, or some other terrible pun involving the pronunciation of 'choux' (which actually sounds a lot like 'shoo' than 'cho').
These cream puffs are some of the best ones I have made so far. They filled with everything I want in a dessert:
— an airy whipped strawberry cream cheese filling that is reminiscent of a ultra fluffy cheesecake slice
— a whipped white chocolate ganache that is like a more indulgent form of sweetened whipped cream but more tame than a white chocolate buttercream
— great texture and crunch from craquelin, a cookie like dough that is baked on top of each puff
— a simple rosewater glaze and a rose petal for a gentle floral note
— gold luster dust for that extra sparkle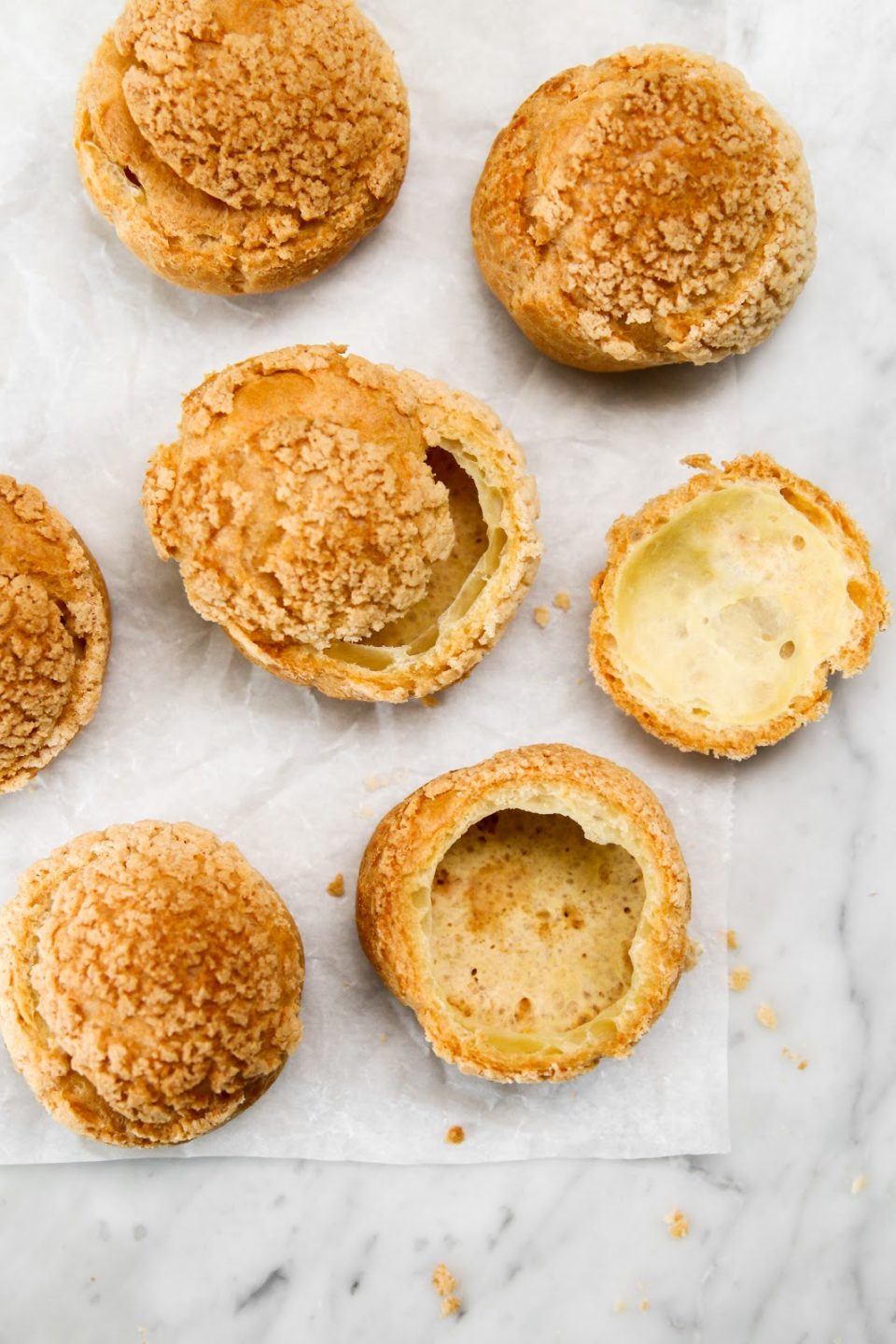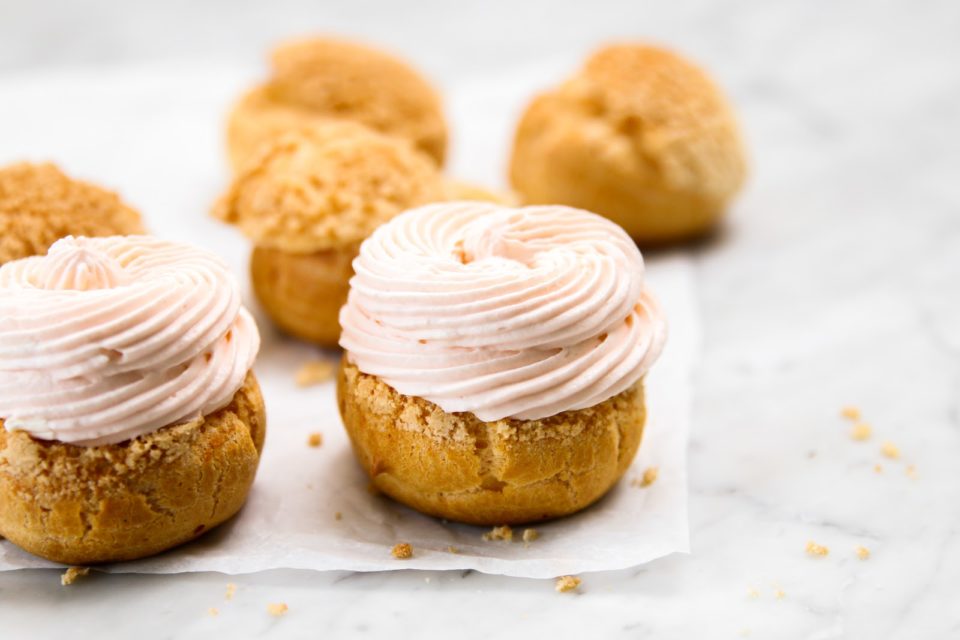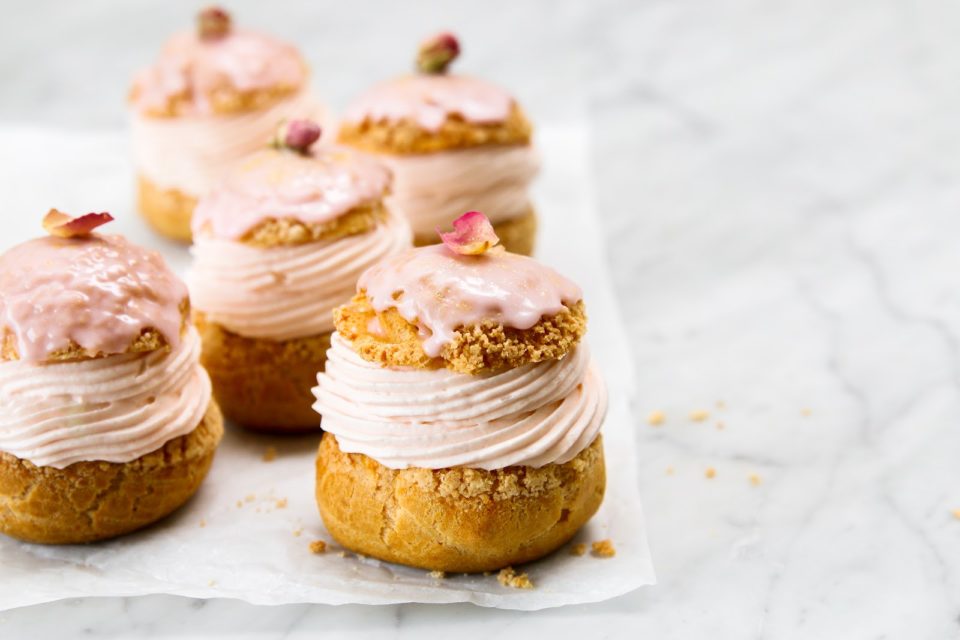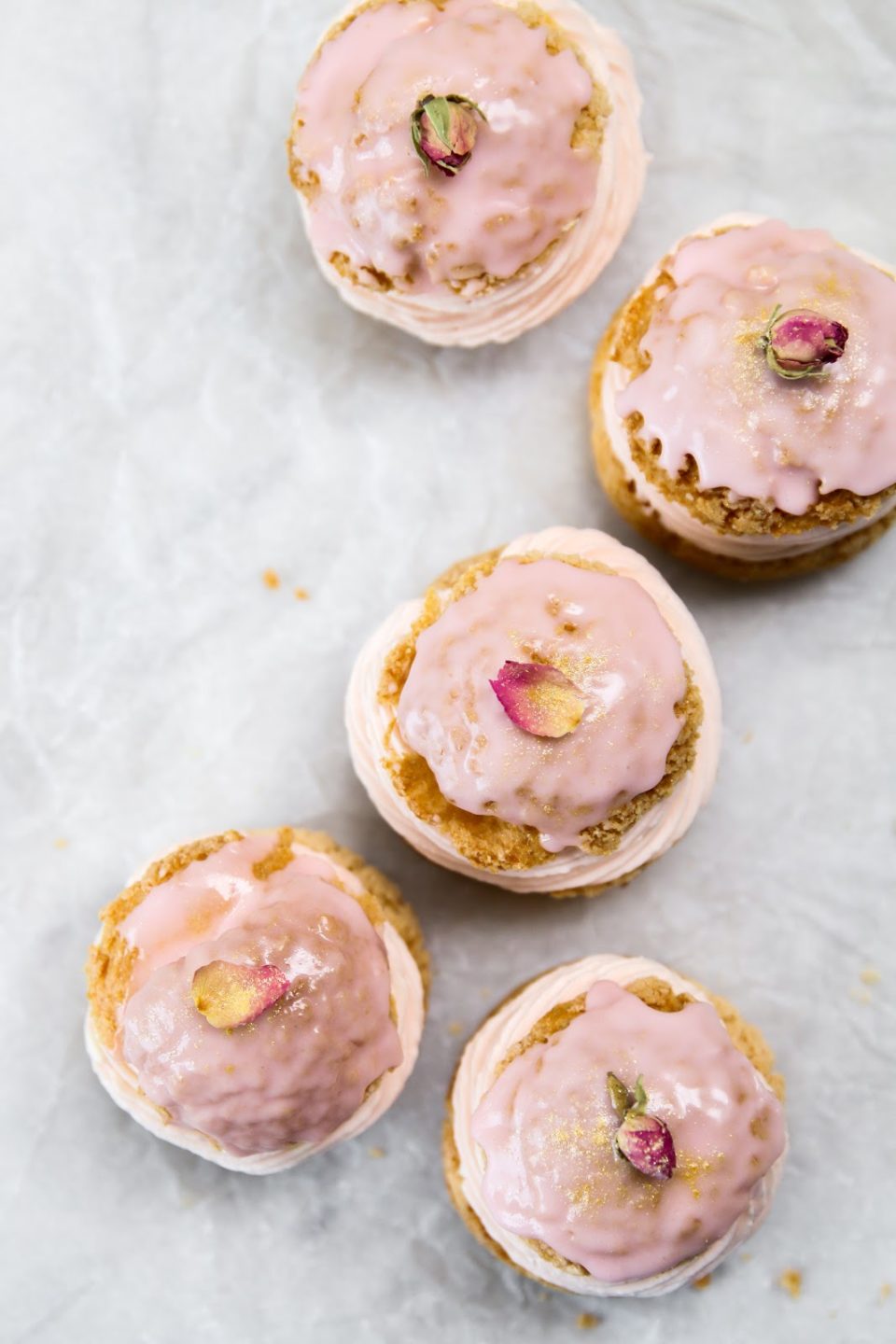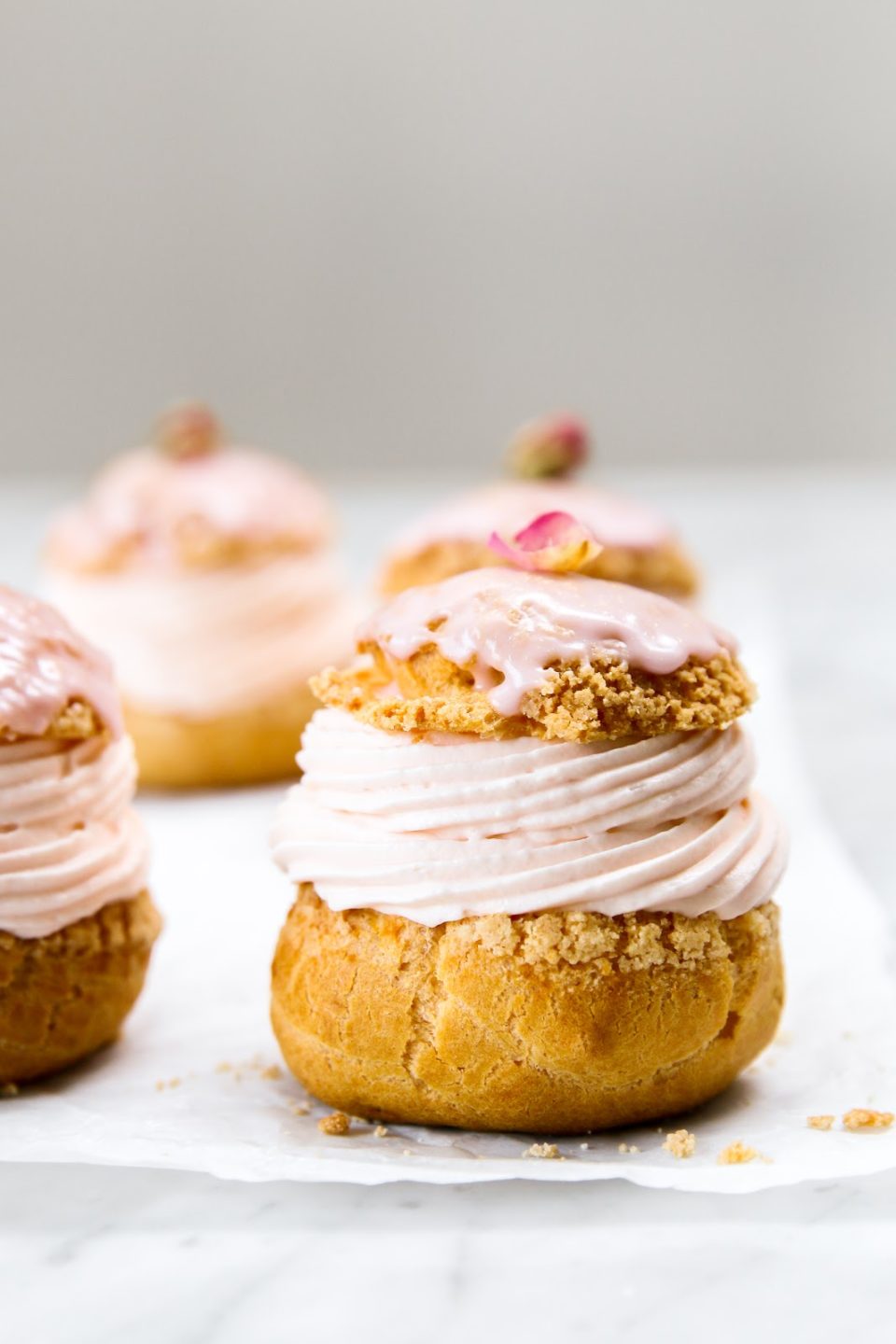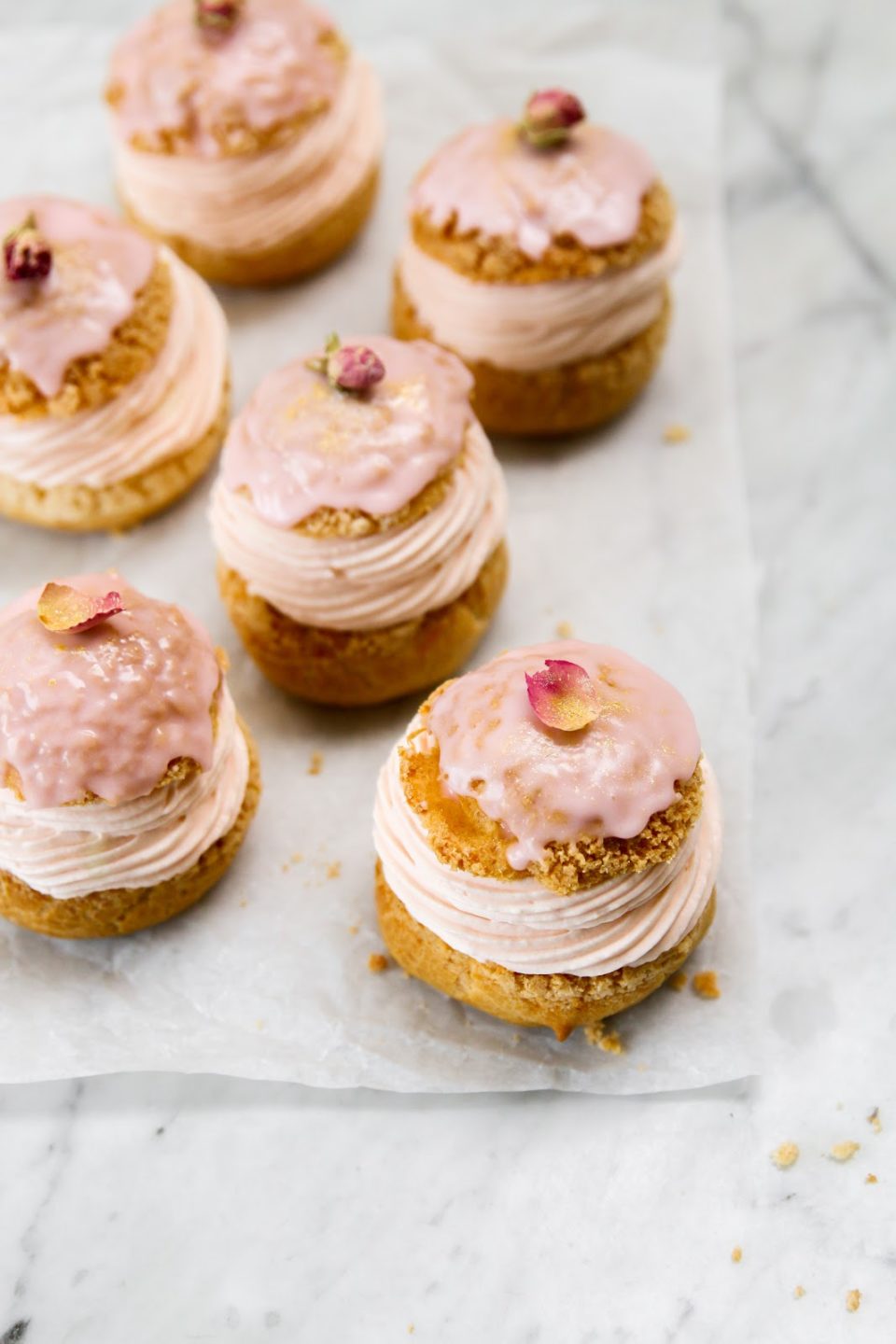 Ingredients
Craquelin
25

g

unsalted butter

,

softened

25

g

brown sugar

25

g

all-purpose flour
Pâte à Choux
57

mL

water

57

mL

whole milk

1/2

teaspoon

sugar

1/2

teaspoon

salt

57

g

unsalted butter

70

g

all-purpose flour

110

g

large eggs

,

lightly beaten
Whipped White Chocolate Ganache
114

g

white chocolate chocolate

228

g/1 cup heavy cream
Whipped Strawberry Cream Cheese
228

g/1 cup heavy cream

228

g

cream cheese

,

softened

1

tablespoon

sugar

1

vanilla bean

,

split and seeds scraped

1/4

cup

freeze dried strawberry powder
Instructions
Craquelin
In a medium bowl, combine all ingredients and mix with rubber spatula until smooth.

Roll out the craquelin dough to 1/8-inch in thickness. Use a cookie cutter and cut out 12 2-inch circles. Set aside.
Pâte à Choux
Preheat oven to 350F.

In a saucepan, combine the water, milk, sugar, salt, and butter. Bring to a light boil, remove from heat, and immediately add in all the flour. Quickly stir in the flour, using a rubber spatula, and return saucepan back over medium-high heat.

Continue to stir the mixture, without stopping, until the paste is smooth, about 1-2 minutes. It will pull away from the sides of the pan and leave a thin coating of cooked paste on the bottom when ready. The texture should resemble dry mashed potatoes.

Transfer the paste to a stand mixer bowl fitted with the paddle attachment. Mix on low for the choux to cool down.

While the mixer is running on medium, gradually stream in the lightly beaten eggs. Mix until well combined.

Transfer the pâte à choux to the prepared piping bag with a round tip. Pipe out 12 choux mounds onto the prepared baking sheet, leaving roughly 2 inches between each puff. If you are making choux with a craquelin top, this is when you want to add the craquelin to the choux mounds.

Place the baking sheet in the oven and immediately bake choux puffs for 35 minutes. Rotate the baking sheet and turn down the oven to 325F, then bake for 10 minutes more until choux are deeply golden. Remove from oven and set on cooling rack to cool.
Whipped White Chocolate Ganache
Finely chop the white chocolate and place into a bowl.

In a saucepan, bring the heavy cream to a boil. Once mixture has boiled, pour milk mixture over the chopped chocolate and let sit for 1 minute.

Whisk the chocolate mixture until thoroughly melted and combined. Set in the refrigerator to chill, at least 4 hours.

Once chilled and ready to use, transfer the ganache to the bowl of stand mixer fitted with the whip attachment. Whip ganache to medium-stiff peaks. Transfer to a piping bag fitted with a medium round pastry tip to pipe into choux pastries once baked.
Whipped Strawberry Cheesecake
In the bowl of a stand mixer with a whisk attachment, whisk cream cheese on medium speed until smooth and fluffy, 2 -3 minutes.

Add heavy cream, cream cheese, sugar, and vanilla bean seeds and whip until it reaches to medium-stiff peaks.

Transfer the whipped cheesecake cream to a piping bag fitted with a large star pastry tip.

Keep whipped cheesecake cool until ready to use.
Assembly
With a sharp serrated knife, cut choux as you would a sandwich.

Pipe the choux cavity with whipped ganache until it reaches the brim of the bottom choux half.

Pipe two layers of whipped cheesecake on top of the whipped ganache.

Top cream puff with other choux half like a hat.

Optional: drizzle a simple glaze and top with dried rose petal.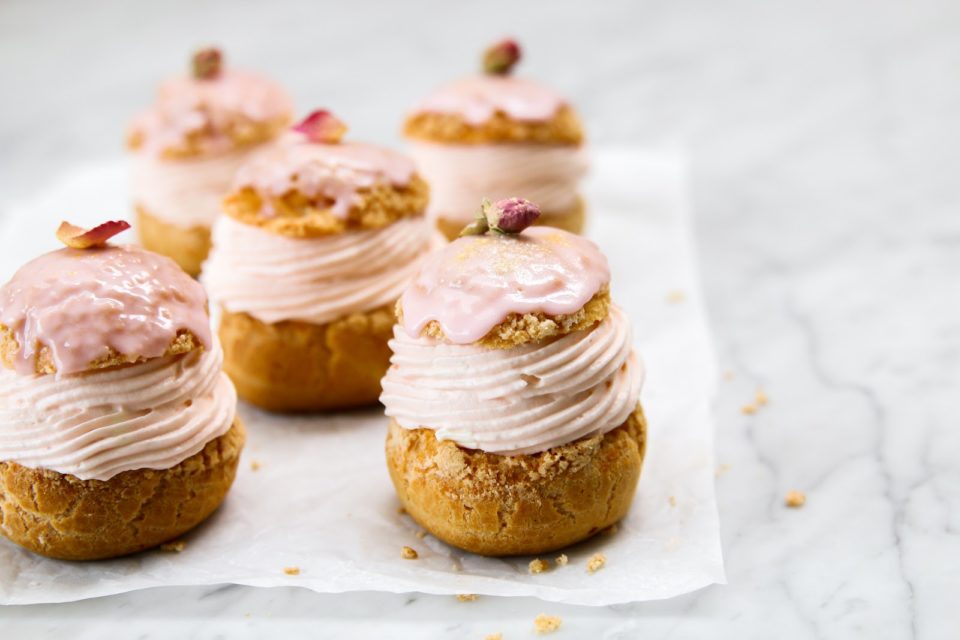 Reader Interactions