I am not opposed to vegetables in pastries, not at all. Some of the most unforgettable desserts I have had include a piece of spring pea cake from Rose's Luxury (which inspired this one here), a corn cookie from Mr. Holmes Bakehouse, and a sweet but almost savoury zucchini tea cake from a local coffee shop. I am a fan of vegetable-forward desserts and do not mind when the vegetables actually contribute in flavour, not just moisture.
Chocolate and zucchini has always been a classic combination. When it is peak zucchini season, I always see many variations of chocolate zucchini cake or bread in magazines, blogs, and wherever recipes are shared. The addition of zucchini adds an insane amount of moisture to a cake and I wanted to create the same kind of lushness to a non-chocolate spiced cake. I made this zucchini cake in peak zucchini season but got distracted by trying to master choux pastry, arranging apple roses, and making flamingo doughnuts that are even more out of season. This cake is one of those cakes that are great, no matter what season it is. I never have trouble finding zucchini throughout the year so this recipe is something I will be making again and again. Besides the flavour of the cake, one of my favourite things about this zucchini cake is that you can see little flecks of green dotted throughout layers. The recipe calls for two cups of grated zucchini — that might seem like a lot but I promise you that it does not impart any vegetal flavours to the cake. The grated zucchini simply adds a softness and lushness unlike any other. The cake is frosted with a lemon cream cheese frosting to add brightness to every bite.
This zucchini cake would taste just as good un-iced, but I decided to have some fun with the frosting and pipe a pair of swans on the sides. I coloured the majority of my frosting a light purple and left the remainder white for the swans. I fitted a piping bag with a leaf tip and piped at the base and pulled away to create the feathers. A little bit of frosting coloured orange and black adds the facial details to the swan. This recipe would be great as a sheet cake as well (bake time will have to be adjusted, of course).
Happy baking!
Ingredients
Zucchini Cake
3

cups

all-purpose flour

2

teaspoon

baking powder

1

teaspoon

baking soda

2

teaspoon

ground cinnamon

1

teaspoon

salt

1

cup

unsalted butter

,

melted

2/3

cup

packed brown sugar

2/3

cup

granulated sugar

2

large eggs

,

at room temperature

1

tablespoon

vanilla extract

2

cups

shredded zucchini

3/4

cup

whole milk
Lemon Cream Cheese Frosting
1

(8 oz) package cream cheese, softened

1/4

cup

unsalted butter

,

room temperature

2

tablespoons

fresh lemon juice

2

teaspoons

lemon zest

1

teaspoon

vanilla extract

4 – 
5

cups

confectioners' sugar
Instructions
Zucchini Cake
Preheat oven to 350F and prepare three 6-inch cake pans.

In a large bowl, whisk together the flour, baking powder, baking soda, salt, and cinnamon. Set aside.

In a medium bowl, whisk together the melted butter, brown sugar, granulated sugar, eggs, and vanilla. Whisk in the shredded zucchini.

Pour the wet ingredients into the dry ingredients and mix with rubber spatula until just combined.

Gently fold in the milk with the spatula.

Divide the batter into the three prepared pans.

Bake for 33-35 minutes or until a toothpick inserted in the center of the cake comes out mostly clean with no wet batter.
Lemon Cream Cheese Frosting
In the bowl of a mixer, beat together cream cheese and butter until creamy on medium until smooth and uniform.

Add lemon juice, lemon zest, vanilla extract and mix well.

With the mixer low, slowly add in the confectioners' sugar.  Once incorporated, beat the buttercream on medium-high until light and fluffy, 3 – 5 minutes.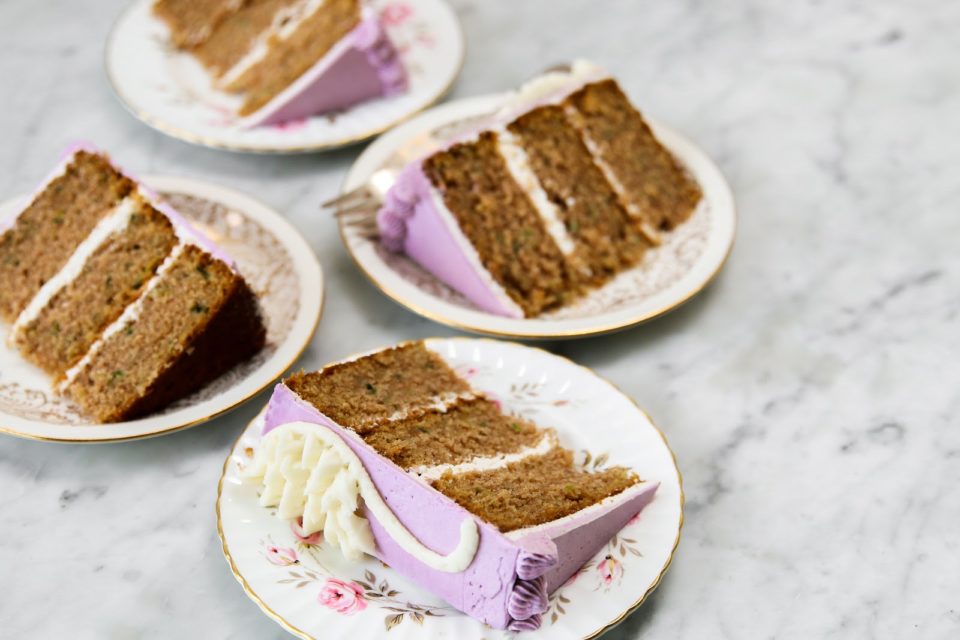 Reader Interactions