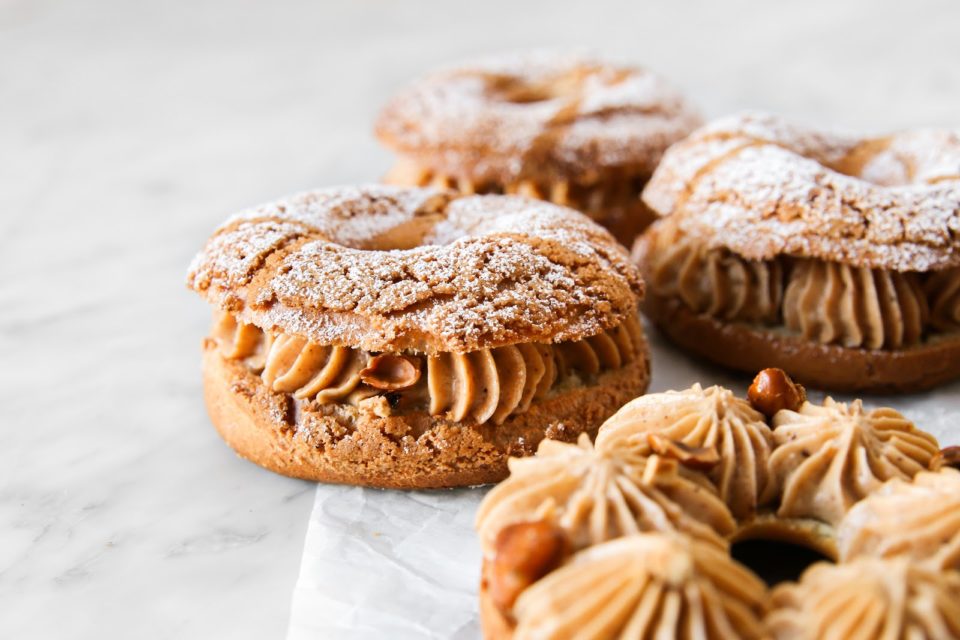 Going to Beaucoup Bakery to start my morning has always been one of my favourite things to do on a Sunday. Beaucoup is the home to one of my favourite pastries, in Vancouver and every where else, the kouign amann. To me, the kouign amann is an extremely underrated pastry.  It is made of viennoiserie dough, containing layers of butter and sugar folded in, similar in fashion to puff pastry. The sugar in between the layers and at both ends of the pastry caramelized beautifully and provides an extra crunch and flavour. At Beaucoup, they sprinkle on a generous amount of flakey salt which I think completes the pastry. Many other kouign amanns I have had lacked the salt element I always search for (which is a simple fix because I carry a small container of Maldon sea salt in my purse in most days, just in case I need to salt a KA or a chocolate brownie) or they are overbaked, rendering the pastry of caramelized sugar too hard to bite into. If i had to choose a spirit animal pastry, it would be a KA.
Through the years I have visited Beaucoup Bakery, I have met and developed friendships with people who work there. When I was having trouble finding Valrhona's Blond Dulcey 32% Chocolate, one of the owners generously packed me a little bag of those caramelized white chocolate féves. When I heard that one of the owners of Beaucoup Bakery (it is owned by a brother and sister duo, Jacky and Betty!) was releasing a cookbook, I was thrilled that I can finally recreate some of their signature and new pastries in my own kitchen. Betty's new book, French Pastry 101, as its name suggests, covers all the basics of French Pastry. There is a chapter focusing on French custards, one one choux pastry, another on pâte feuilletée, among many others. My favourite chapter so far has been choux because of my new found love of making choux pastry, but I cannot wait to dig into the yeasted pastry section. The yeasted pastry chapter shares the recipe for the KA that I love (evident via my butter-sugar monologue above).
Due to my recent choux obsession, I choux (ha!) to make the Paris Brest. Beaucoup offers a beautiful Paris Brest in the fall season and I am so happy that I get to make it myself. The Paris Brest is pastry of two airy choux rings sandwiching a dreamy praliné mousseline. The recipe was labour-intensive, because there were may components to make, but Betty explains each step so clearly that it was extremely manageable. For this recipe I had to make: choux pastry, crème pâtissière, and hazelnut praliné (caramelized hazelnut paste). The hazelnut praliné get folded into the crème pâtissière to create the praliné mousseline filling which is then piped into between the choux. It was first time making a Paris Brest and it turned out perfectly.
Congratulations Betty on your new book and I cannot to wait to bake my way through it!
You can find French Pastry 101 wherever books are sold.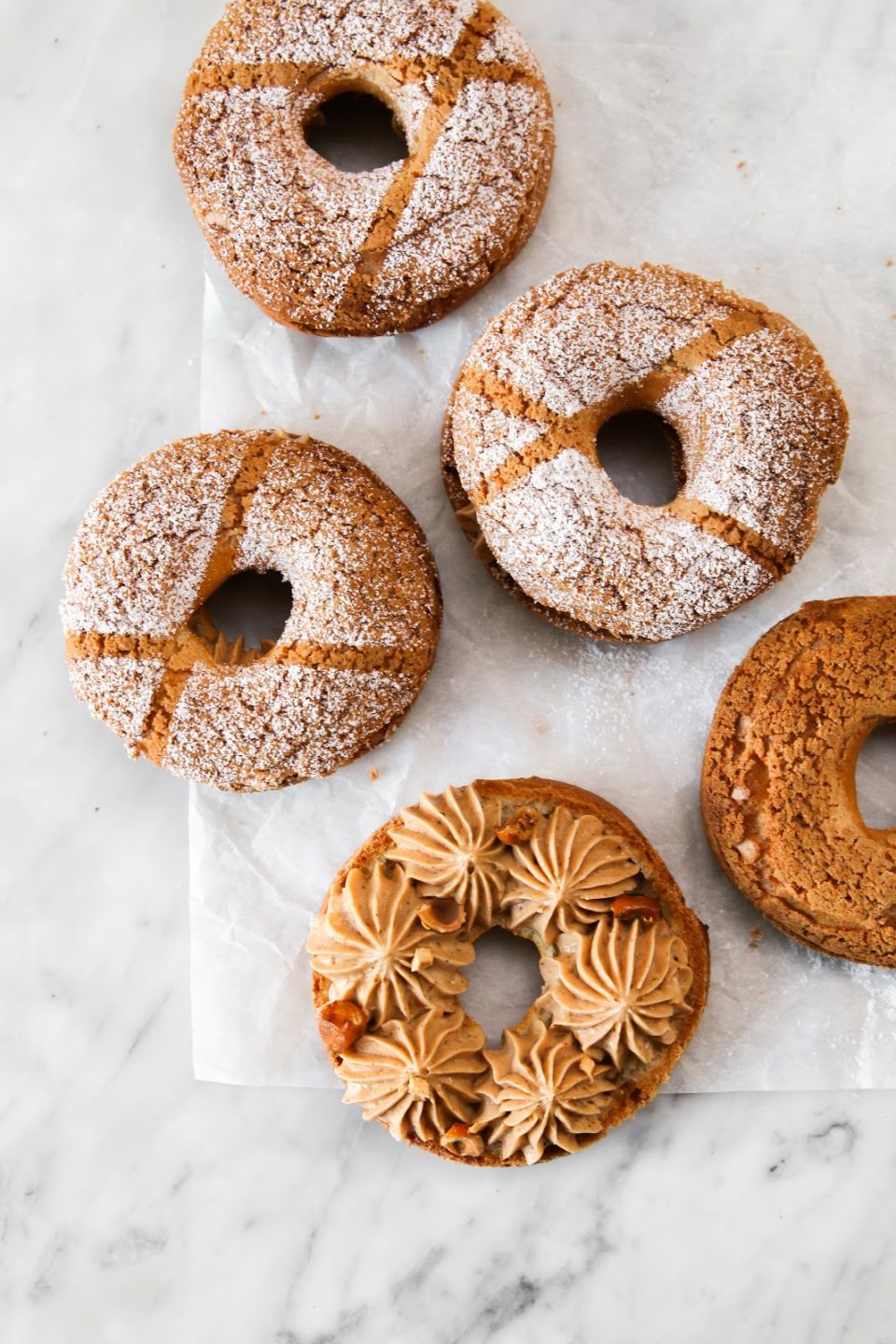 Happy baking!
Ingredients
Choux Pastry
1/4

cup

(60g) water

1/4

cup

60g whole milk

1

tablespoon

(15g) granulated sugar

1/2

teaspoon

salt

4

tablespoon

(60g) unsalted butter, room temperature

1/2

cup

(70g) all-purpose flour

2 1/2

(125g) large eggs, well whisked
Hazelnut Praline
3/4

cup

skinned hazelnuts

1/4

cup

+ 1 tablespoon sugar

1

tablespoons

water

1/4

teaspoon

salt

1/4

vanilla bean
Pastry Cream
1 1/4

cups

whole milk

2

tablespoon

+ 1 1/2 tablespoons granulated sugar

,

divided

1/2

vanilla bean

,

split and seeds scraped

4

egg yolks

3

tablespoon

cornstarch

Pinch

of salt

2

tablespoon

unsalted butter

,

softened
For assembly
7

tablespoons

unsalted butter

,

softened (for mousseline)

2

tablespoons

crushed hazelnuts

,

for garnish

Powdered sugar

,

to dust
Instructions
Choux Pastry
Preheat oven to 400F

In a saucepan, combine the water, milk, sugar, salt, and butter. Bring to a boil, remove from heat, and immediately add in all the flour. Quickly stir in the flour, using a rubber spatula, and return saucepan back over medium-high heat.

Continue to stir the mixture, without stopping, until the paste is smooth, about 1-2 minutes. It will pull away from the sides of the pan and leave a thin coating of cooked paste on the bottom when ready. The texture should resemble dry mashed potatoes.

Transfer the paste to a stand mixer bowl fitted with the paddle attachment. Mix on low for the choux to cool down.

While the mixer is running on medium, gradually stream in the lightly beaten eggs. Mix until well combined. The choux should be shiny at this point.

Transfer the pâte à choux to the prepared piping bag with a round tip. Pipe out ten 2 1/2-inch choux rings onto the prepared baking sheet, leaving roughly 2 inches between each ring.

Bake the choux at 400F for five minutes, then lower the temperature to 350F and bake for 35 – 40 more minutes. They are ready when golden brown, and their insides are no longer wet. Let pastries cool before filling them.
Hazelnut Praline
Line a baking sheet with parchment paper and set aside.

In a medium saucepan, combine sugar and water. Heat the sugar on medium heat until it boils, for about 3 minutes. Add the nuts and stir to coat them wit the syrup. Do not stop mixing the nuts. The sugar will start to crystallize, covering the nights after 5 – 7 minutes. Continue stirring.

As the sugar caramelizes, keep an eye on it; you want to cook it to a deep amber colour. When the sugar has reached a deep amber colour, 7 – 8 minutes, take the pot off the heat and spread the nuts onto the parchment-lined baking sheet. Do this quickly as the caramel will harden as it cools.

After cooling, process the nuts with salt and vanilla in a food processor. It will take about 5 minutes for the nuts to become powdery and then turn into a paste.
Pastry Cream
In a small saucepan, heat milk on medium heat with 2 tablespoons of sugar and vanilla bean until it starts to simmer. Turn off heat, cover pot, and let mixture steep while preparing eggs.

In a medium bowl, whisk together yolks, the remaining sugar, cornstarch, and salt. Slowly pour in the hot milk while whisking the egg mixture, this will prevent the eggs from cooking.

Return mixture to the pot, while turning back the heat to medium-low. Keep whisking the mixture as it thickens, 3 – 4 minutes. The pastry cream is ready when it starts to boil.

Take the pot off the heat and whisk in the softened butter. Strain the pastry cream into a clean bowl. Cover bowl with plastic wrap to prevent a skin from forming. Let pastry cream cool before using.
Praliné Mousseline
Beat pastry cream in a medium bowl with a whisk until it is soft and creamy. Whisk in the praline paste until well combined. Whisk in 7 tablespoons of softened unsalted butter until mixture is creamy and blended. Fill a piping bag with star or plain tip with the mousseline and set aside until you are ready to fill the pastries.
Assembly
Slice choux pastries in half as you would for a sandwich. Pipe the mousseline on the bottom half and place the top half back on. Decorate the sides with the crushed hazelnuts. Dust the tops lightly with powdered sugar before serving.
Notes
From French Pastry 101 by Betty Hung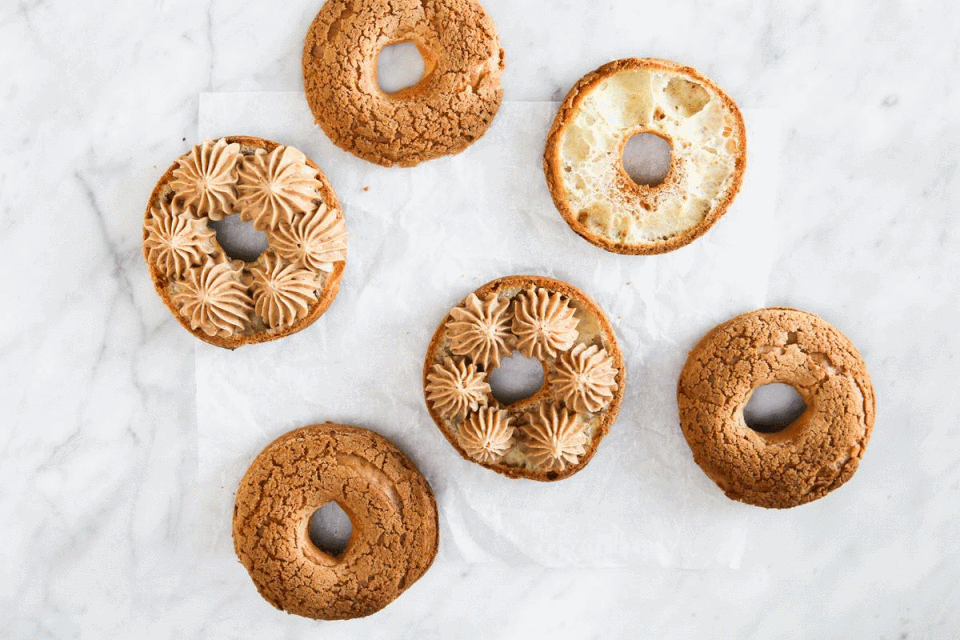 Reader Interactions