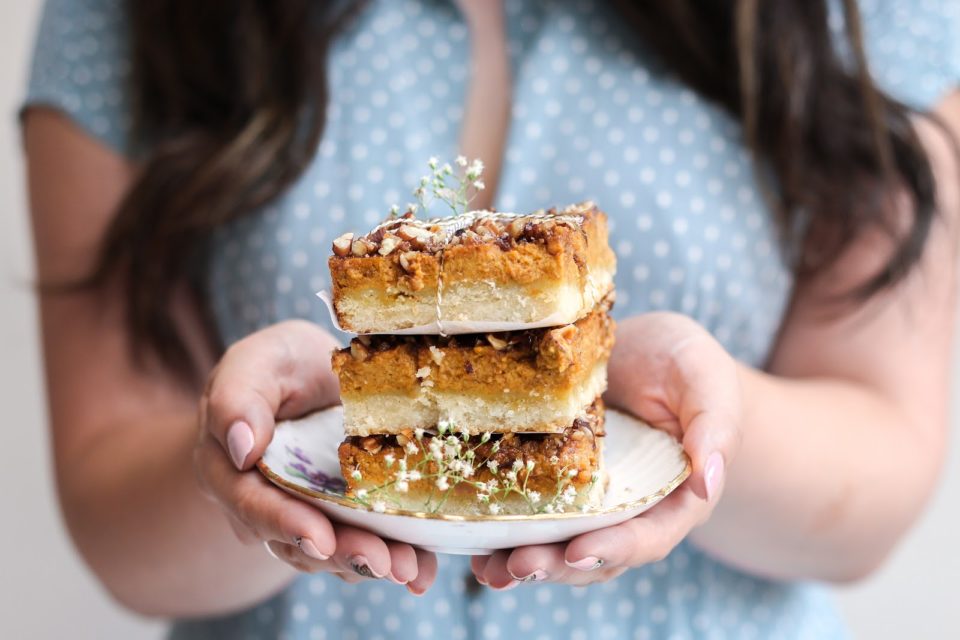 The debut of a pumpkin pie on this blog means I have committed to fall right? It means that I cannot go back to rhubarb and sweet summer berries until next summer? This could have easily been a pumpkin pie recipe. It could have been a full 10-inch pie with cute leaf-shaped cut-outs but I chose not to do that. I chose to make pumpkin pie bars because it sounds much less committal than an entire pie. Bars are easy. They are portable, they are a great snack, and they feel less like an ordeal than a whole pie. I will also feel less guilty finishing a few bars than an entire pie myself.
I never had pumpkin pie growing up. The first bite of pumpkin pie I had was when I was 16, working in a grocery store as a cashier. The grocery store's employees' lounge was always filled with day old baked goods. Day old apple strudels and Nanaimo bars always made an appearance. When fall came around, there were pies. Apple pies and pumpkin pies. I decided my first bite of pumpkin pie would be a day-old (but probably two-day old) grocery store pumpkin pie, retail price of around $4.99. I took a small sliver from the aluminum tray of "real butter" crust pumpkin pie. Hm. It was okay. I did not love it but I did not hate it. After that first bite of pumpkin pie I have had many more slices of pumpkin pie. Not necessarily of the $4.99 day-old variety but more of the worth-your-calories variety. I think the reason why I was never keen on pumpkin pie is because I never really liked the texture, or lack there of. So if I were to make pumpkin pie myself, it would be a texture bomb. A rich buttery shortbread crust, classic pumpkin pie filling, topped with the most textural pecan and hazelnut streusel. It is nutty, it is creamy, it is fall. These bars are extremely easy to make and you can whip up a batch real quick, just in time for your Thanksgiving dinner. Cut them up into squares or even triangles and serve à la mode.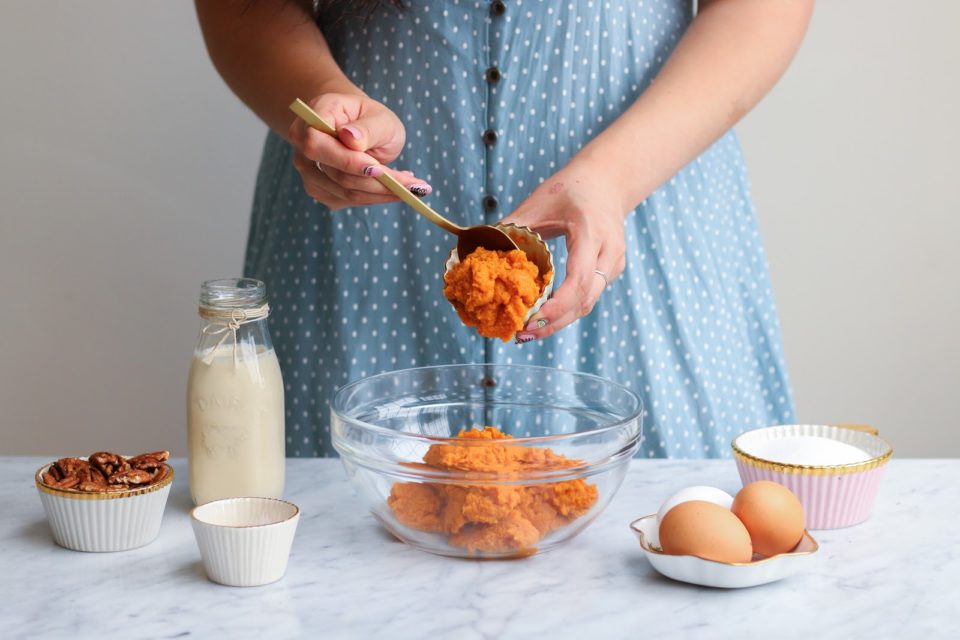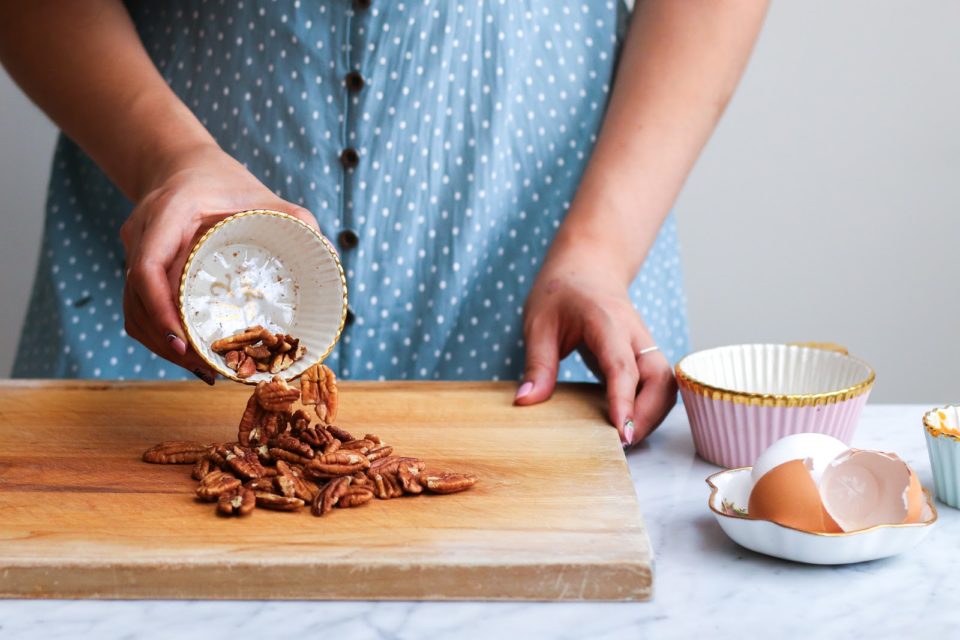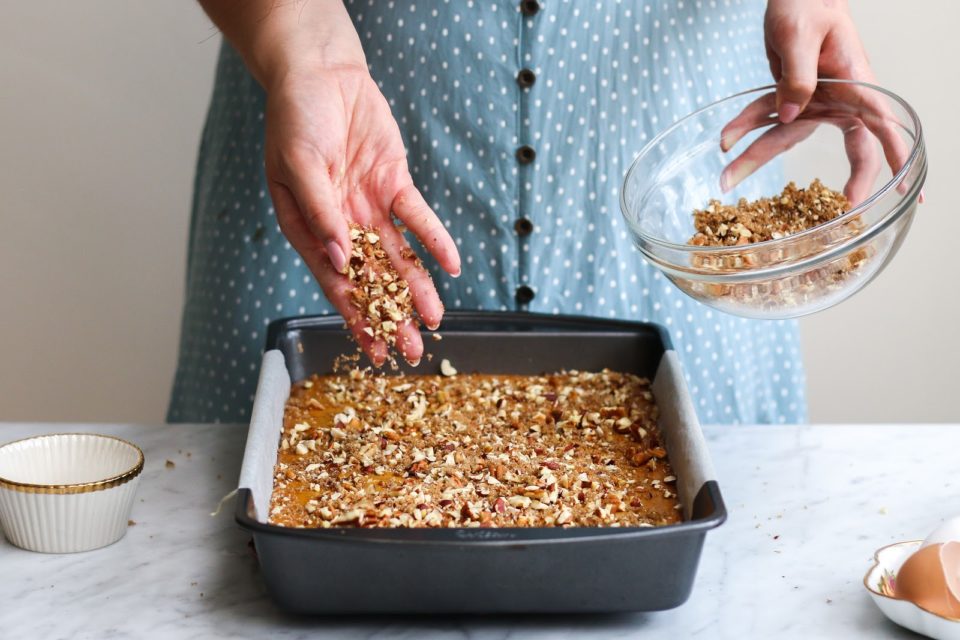 Happy baking!
Ingredients
Shortbread Base
1

cup

unsalted butter

,

melted

1/2

cup

granulated sugar

2

teaspoon

vanilla extract

1/2

teaspoon

kosher salt

2

cups

all-purpose flour
Pumpkin Pie Filling
3/4

cup

granulated sugar

1

(15 oz) can pure pumpkin purée

1

(12 oz) can evaporated milk

2

large eggs

2

teaspoon

pumpkin pie spice
Pecan Hazelnut Topping
1/2

cup

pecans

,

chopped

1/4

cup

hazelnuts

,

chopped

1/4

cup

brown sugar
Instructions
Shortbread Base
Preheat oven to 300°F. Line the bottom and sides of 9×13-inch baking pan with parchment paper, leaving overhang on all sides.

In the bowl of a stand mixer fitted with a paddle attachment, combine butter, sugar, vanilla and salt. Add flour and mix on low speed until everything is combined. Press the mixture evenly into prepared baking pan. Bake for 15 minutes, until dry to the touch. Reserve for second baking with filling.

Increase oven temperature to 350°F.
Pecan Hazelnut Topping
In a medium bowl, combine nuts and brown sugar. Set side.
Pumpkin Pie Filling
In a blender or food processor or large bowl, combine all filling ingredients and blend until smooth.

Evenly pour filling over the baked shortbread base and smooth top with a spatula.

Bake at 350ºF for 20 minutes. Sprinkle reserved pecan hazelnut topping an bake for additional 15 – 20 minutes, until pumpkin pie filling has set.

Remove from the oven and cool for at least 1 hour at room temperature. Lift the parchment out of the pan using overhang, and transfer onto a cutting board. Cut into 12 to 16 bars or squares.
Reader Interactions