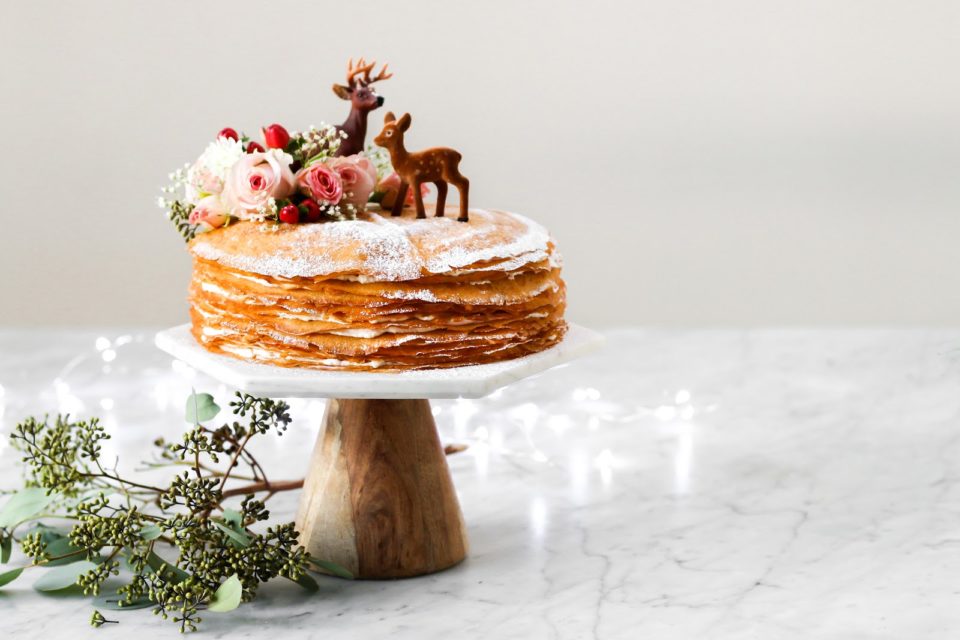 When I was in Paris two springs ago, I ate so many crêpes that it started to become embarrassing to still be keeping count. Is that a very cliché thing to do? My mom and I would go to the markets everyday, pick up whatever produce was in season (lots of white asparagus!) and turn it into a savoury crêpe/galette situation that evening. We would try out different coffeeshops and restaurants during the day, but the evening was reserved for enjoying the freshest produce we could find in the market. It was so lovely.
Back here in Vancouver, my crêpe count has not been as high and I am always looking for a way to change that. I would occasionally visit a Japanese crêpe shop for a crêpe filled with some sort of mochi-matcha-cream concoction but my go-to place for crêpes in Vancouver is Le Marché St. George. I would spend hours at Le Marché enjoying my crêpe, sipping on my cafe au lait, and soaking in the jazz they have playing in the background.
Though I have eaten quite a number of crêpes, making them has never been high on my to-do list. I constantly feared that my attempt at making them would translate into a sad reality of a pile of overly thick crêpes or overly thin pancakes. It was not until I started noticing the influx of cafés offering beautiful crêpe cakes that I thought I should finally try and make my own. Before you make a crêpe cake you should know that it takes a lot of time and patience. It is not overly difficult to execute but you have to be prepared to stand by the stove repeating the batter ladling wrist movements about twenty five times. And yes, I am finally sharing this crêpe cake recipe. I posted a photo of it back in January and many of you were super excited about getting the recipe. Unfortunately my hard drive crashed and I lost all the content I have been working on for the last few months. The only fortunate thing from that entire situation is that I managed to retrieve one set of photos — this one. So please, carve out some time on a weekend afternoon to make a crêpe cake. It is quite fun, but more importantly it is mighty delicious.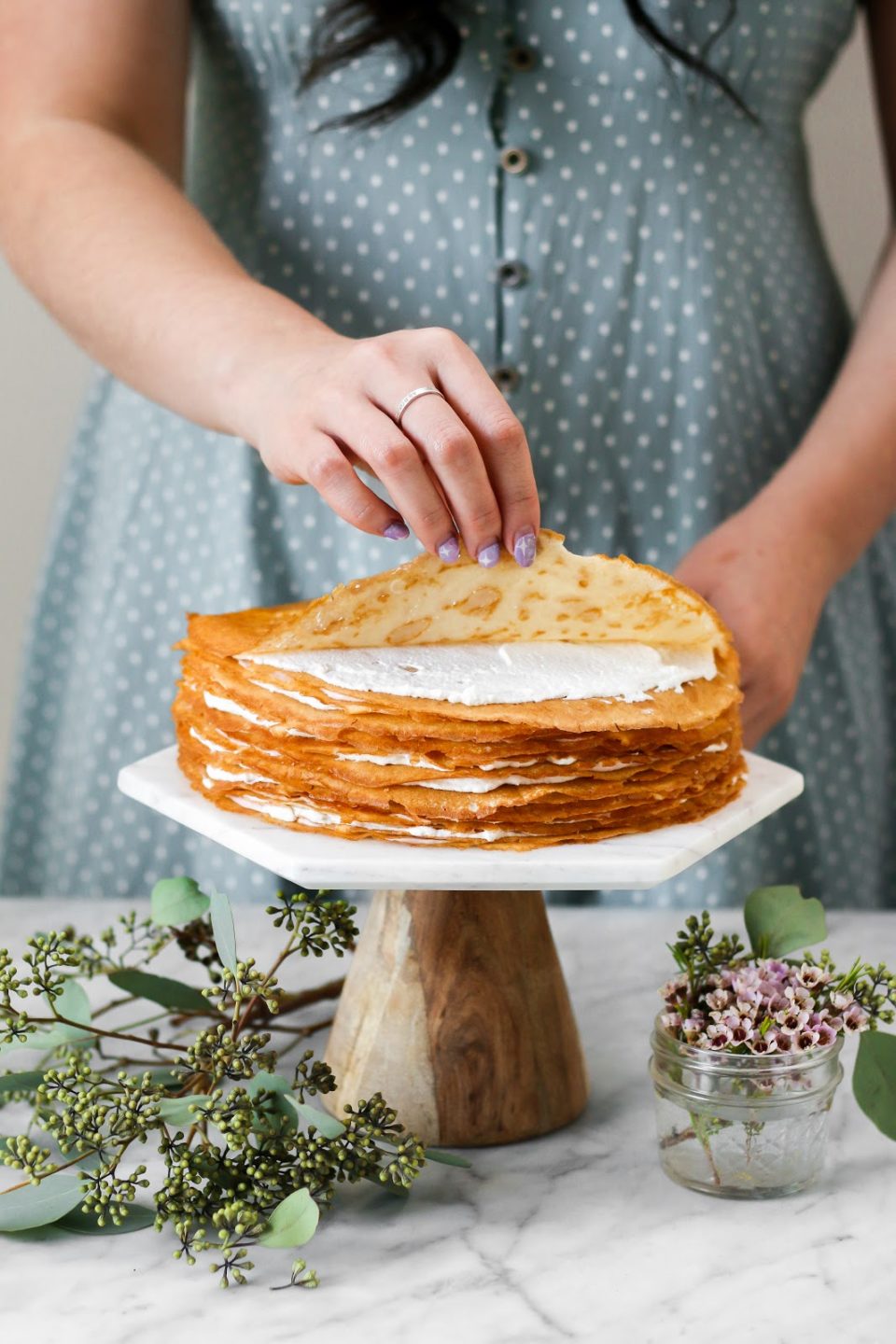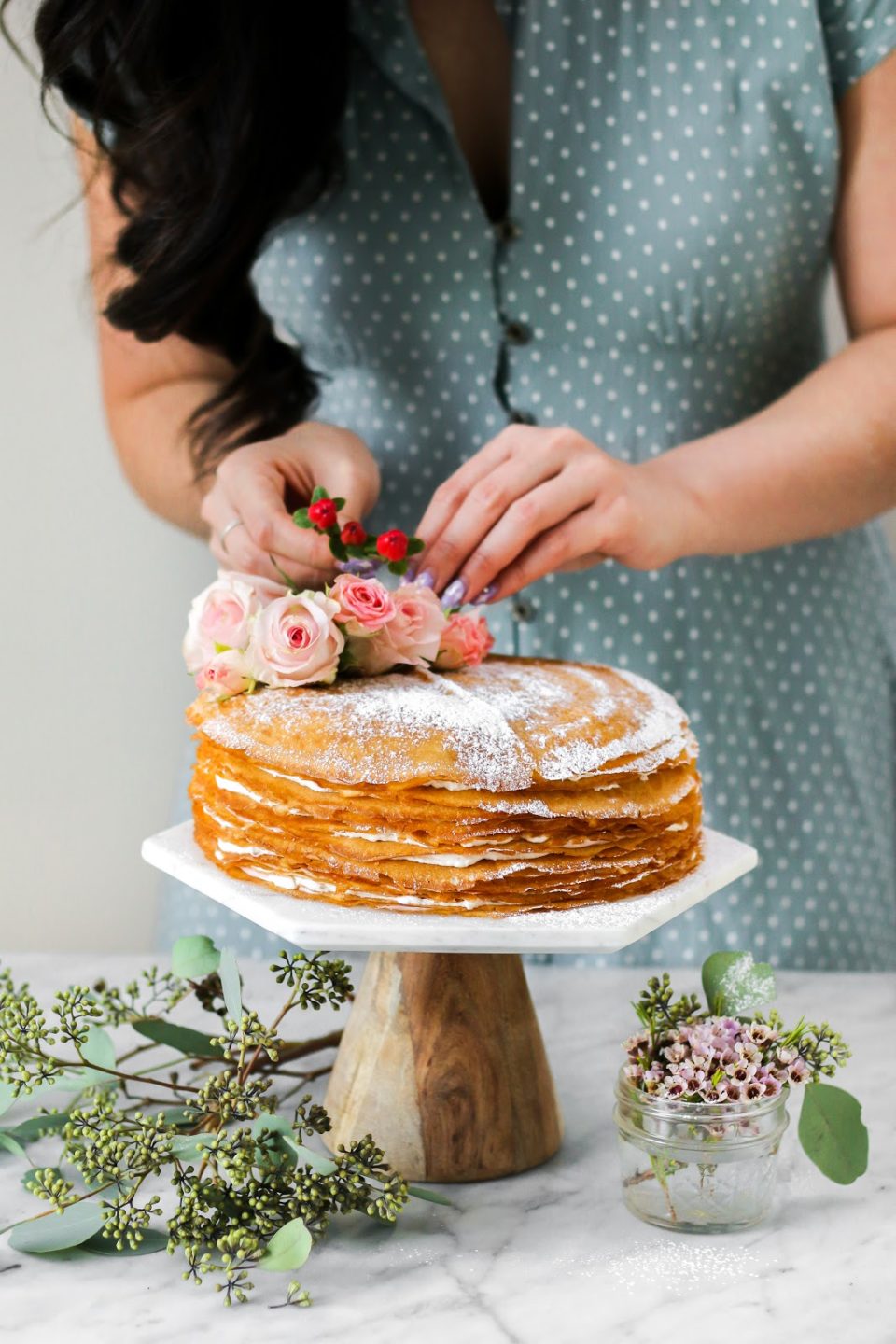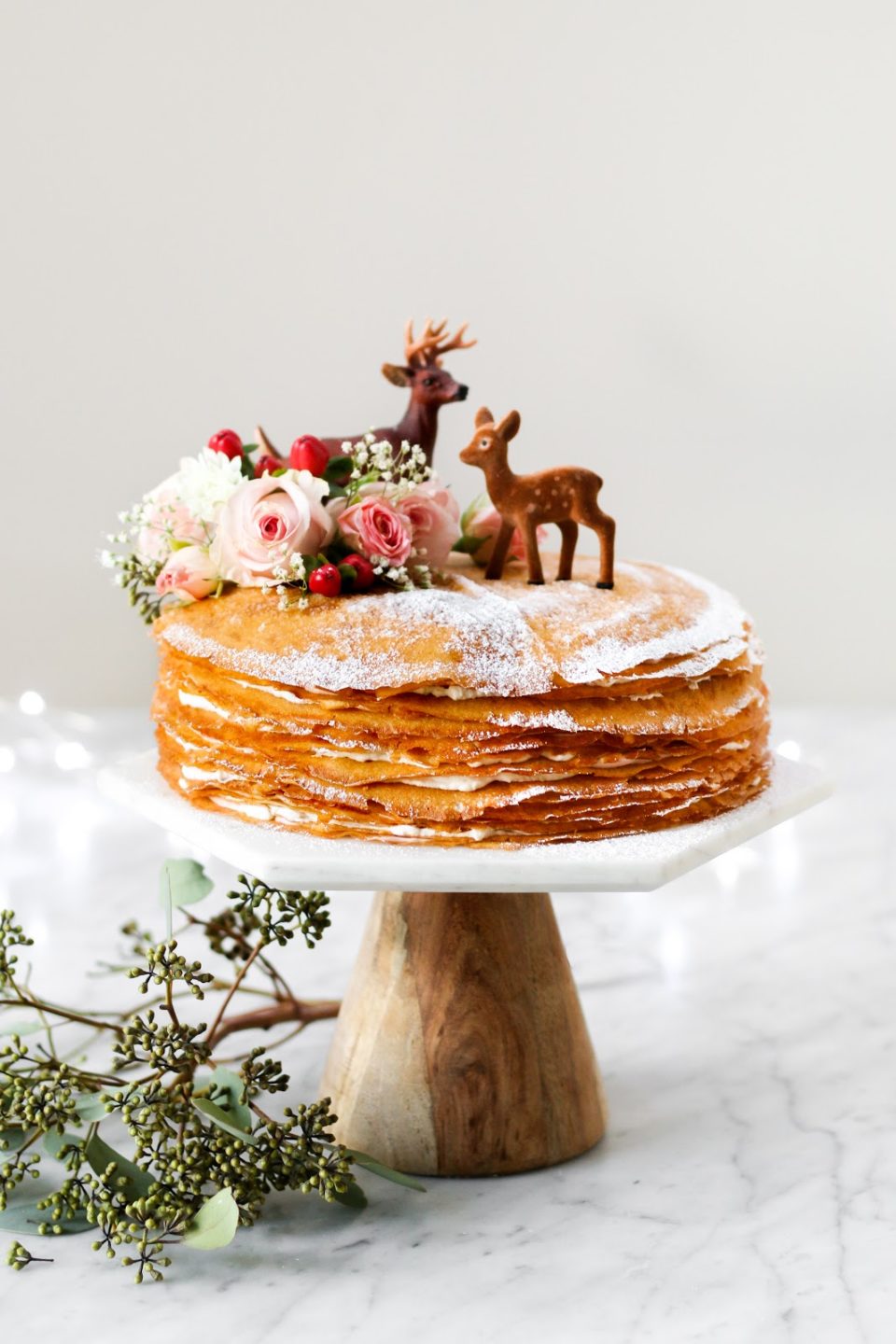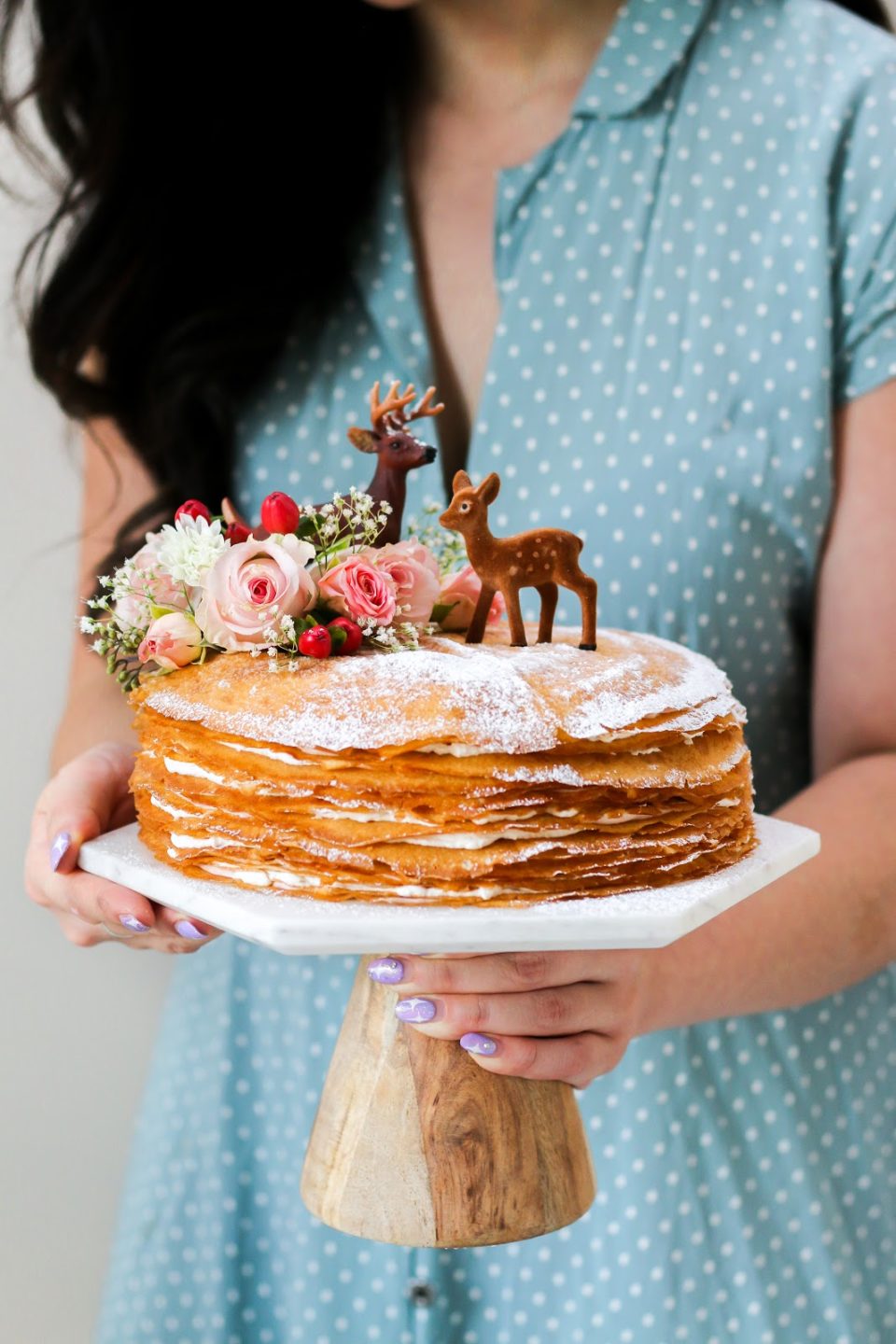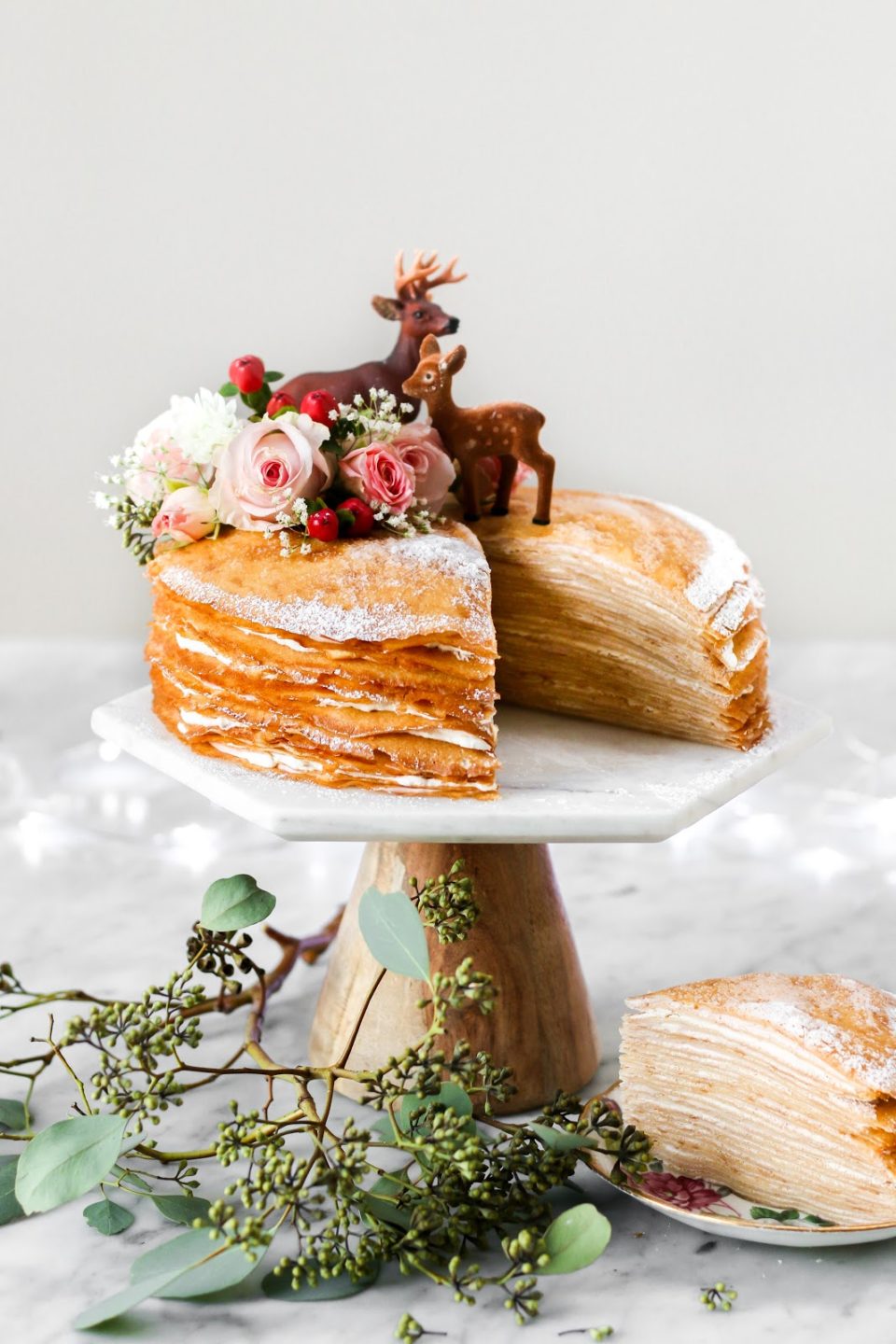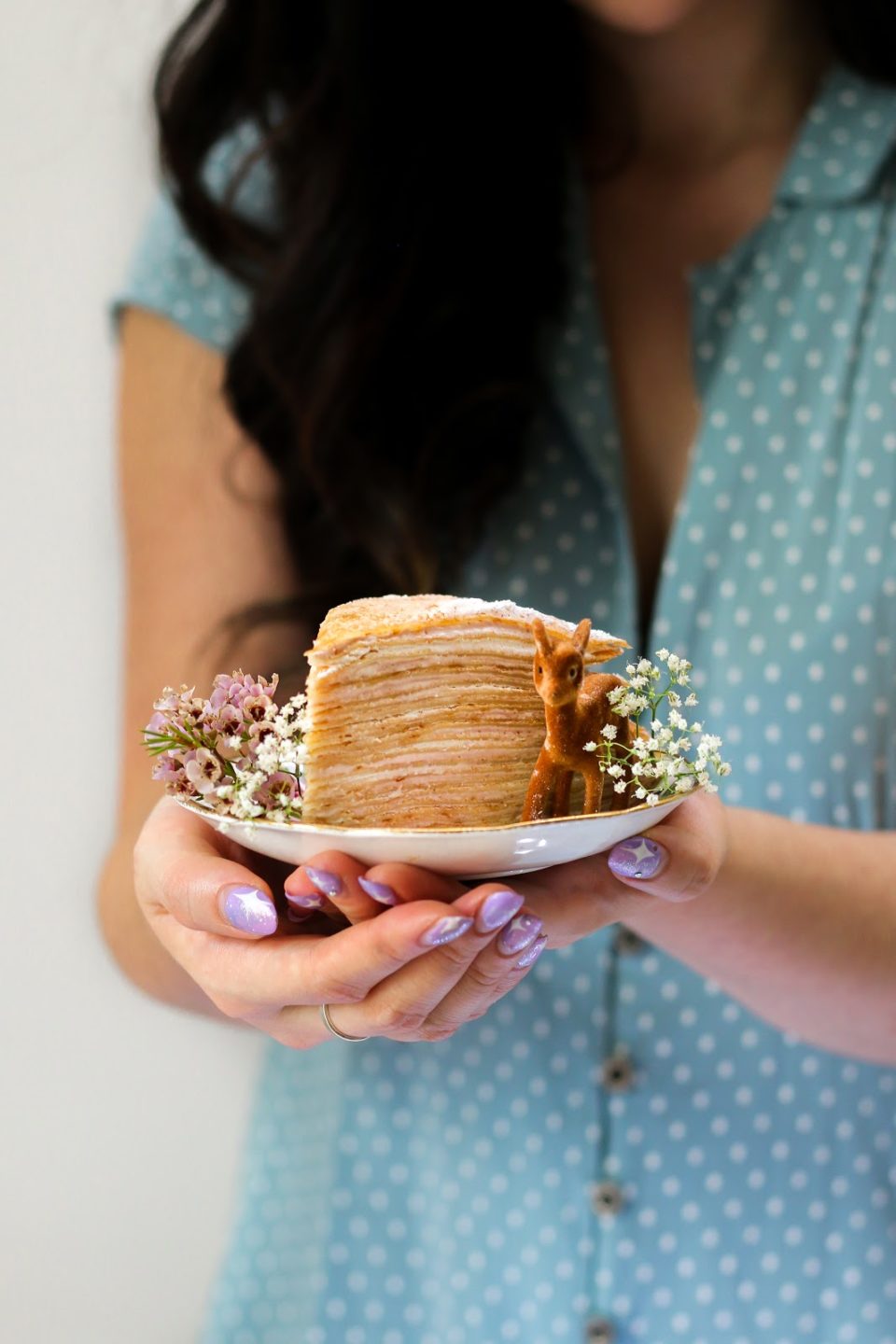 Happy baking!
Ingredients
Crêpes
4

large eggs

,

room temperature

4

cups

whole milk

2/3

cup

granulated sugar

1

teaspoon

vanilla extract

2 1/3

cups

all-purpose flour

1/2

teaspoon

kosher salt

Butter for the pan
Whipped Strawberry Cheesecake Filling
1 1/2

cups

heavy whipping cream

275

g

full-fat cream cheese

,

at room temperature

3 – 4

tablespoons

your favourite strawberry jam

,

(without fruit)
Whipped Cream
1

cup

heavy whipping cream

1

teaspoon

vanilla extract
Instructions
Crêpes
Blend eggs, milk, granulated sugar, and vanilla in a blender until smooth and frothy. Add flour and salt and blend just to combine.

Transfer batter to a large measuring cup, cover, and chill at least 1 hour.

Heat a large nonstick skillet over medium, then brush lightly with some butter.

Whisk batter to reincorporate. Ladle quarter-cupful into skillet.

Working quickly, swirl pan to evenly coat and cook crepe, reducing heat if browning too quickly, until bubbles form on surface and edges are light golden, about 2 minutes.

Slide a spatula underneath to loosen and carefully flip. Cook on other side until a few brown spots appear, 15–30 seconds; transfer to a flat plate.

Repeat with remaining butter and batter, stacking crepes on plate as you go. Let crêpes cool.
Whipped Strawberry Cheesecake Filling
Pour heavy whipping cream into bowl of standing mixer. With the whisk attachment whisk the whipping cream until it becomes fluffy and forms medium peaks. Transfer whipped cream into a clean bowl.

With a paddle attachment on your standing mixer, beat cream cheese until light and fluffy. Gradually add in three tablespoons of strawberry jam and beat until well-combined. In the same bowl, gently fold in the whipped cream with a rubber spatula.
Whipped Cream
Pour heavy whipping cream into bowl of standing mixer. With the whisk attachment whisk the whipping cream until it becomes fluffy and forms medium peaks.
Assembly
Place one of the cooled crêpes on a cake stand or plate.

Put a large dollop (3 – 4 tablespoons) of whipped strawberry cream cheese filling on crepe. Use an offset spatula to even out the filling.

Place second crêpe on top of the filling layer you just smoothed out. Place large dollop (3 – 4 tablespoons) of whipped cream on crêpe and smooth out with spatula.

Repeat process with remaining cheesecake filling and whipped cream, alternating between the two fillings.

Place remaining crepe on top, wrap in plastic, and let cake chill in refrigerator for 1.5 – 2 hours

When ready to serve, remove plastic wrap and dust with icing sugar.
Reader Interactions