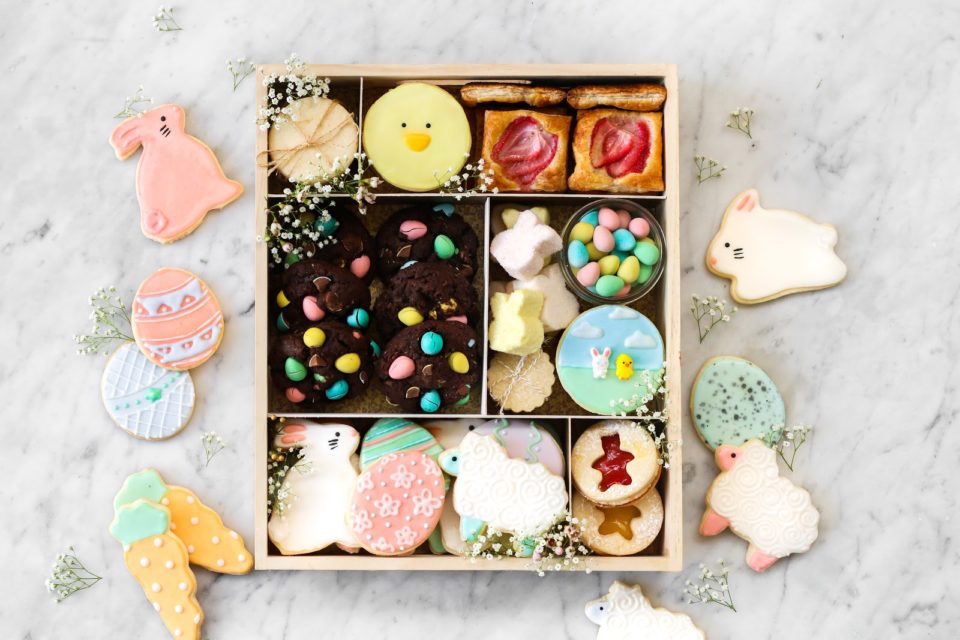 Making a cookie box is one of those things that really tests your commitment levels. I originally struggled with committing to making an Easter cookie box this year because it is a project that takes many hours of both active labour and many hours of patience while waiting for icing to set and dry. Nonetheless, I really wanted to leave you with all with some Easter cookie box inspiration for this upcoming holiday. I am sharing my favourite sugar cookie recipe as well as a recipe for fudgey almost-brownie-like cookies studded with mini eggs and chocolate chunks.
I have always had a soft spot for intricately decorated sugar cookies. It really is one of those treats that show that you can make something so spectacular out of a simple recipe. A classic sugar cookie dough only calls for ingredients that you probably already have in your pantry. I never fail to enjoy a classic sugar cookie, even if it from a grocery store. It is the mixture of the sugar, butter, and nostalgia that gets me every time. I decorated my first sugar cookie about two years ago. I was at my aunt's house for the winter holidays and she had all the tools (and all the piping tips) needed to decorate sugar cookies with any design one can possibly dream of. We started baking the cookies early in the morning and did not finish decorating all big batch until after dinner. It was a whole day affair. You have to bake the cookies, let them cool, make icing of different consistencies, and wait for the icing to dry before you have a finished cookie. It took many, many hours but I had so much fun the entire time. My aunt generously shared her recipe with me and it is now my go-to recipe for a classic sugar cookie. I might or might not have increased the amount of butter the recipe calls for to make the cookie even richer (I did not think it was possible). This melt-in-your-mouth sugar cookie is vanilla-y, extremely buttery, and very delicate.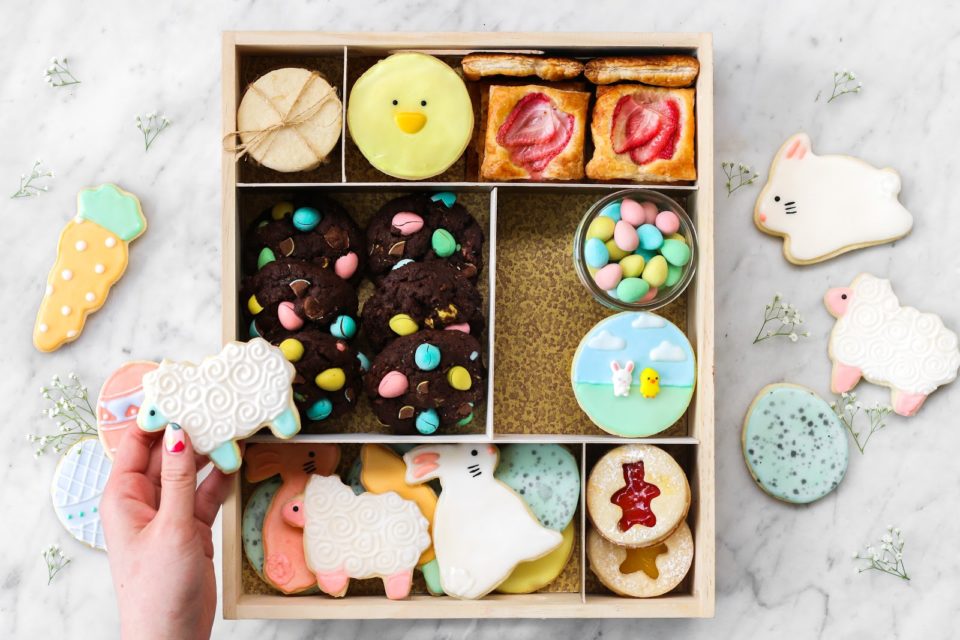 An Easter cookie box is much like a Christmas cookie box. You can fill it with whatever types of treats you like but the key is to have a good variety. I always like to have the classics in there — sugar cookies or shortbread, but decorated to fit the seasonal occasion. I traded in the peppermint sugar cookies for pastel-hued iced ones and icing sugar dusted crinkles for mini egg studded cookies. Then I like to incorporate a more seasonal cookie. It was ginger molasses cookies for my Christmas cookie box and this time it is a mini strawberry danish for Easter. A sweet treat (that I do not have to make) is always a good filler… like a small jar these mini eggs! Last time it was marshmallows. And there you have it. An Easter cookie box that you can make any time for Spring…or any season because no one will ever say no to a box of treats.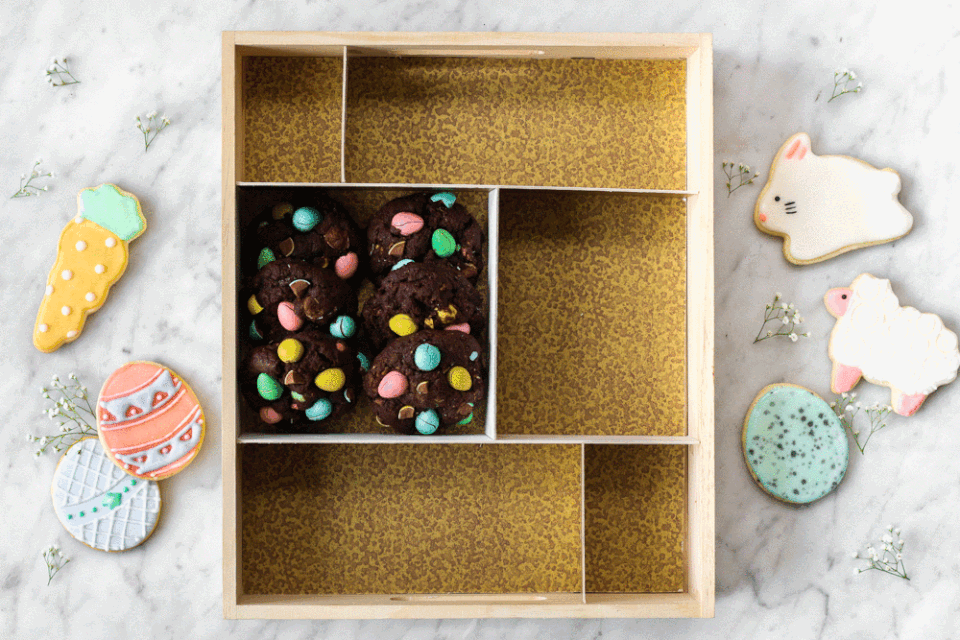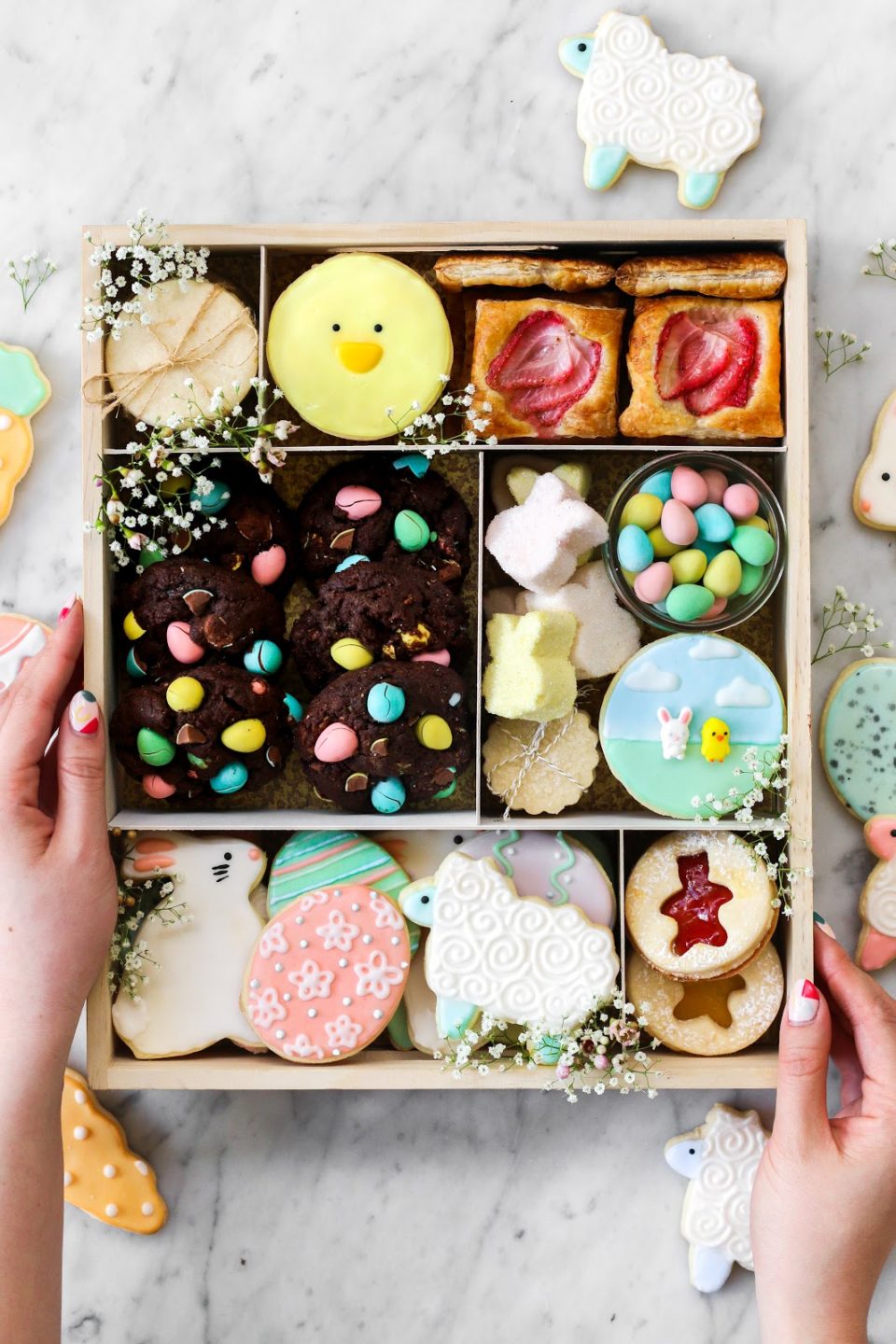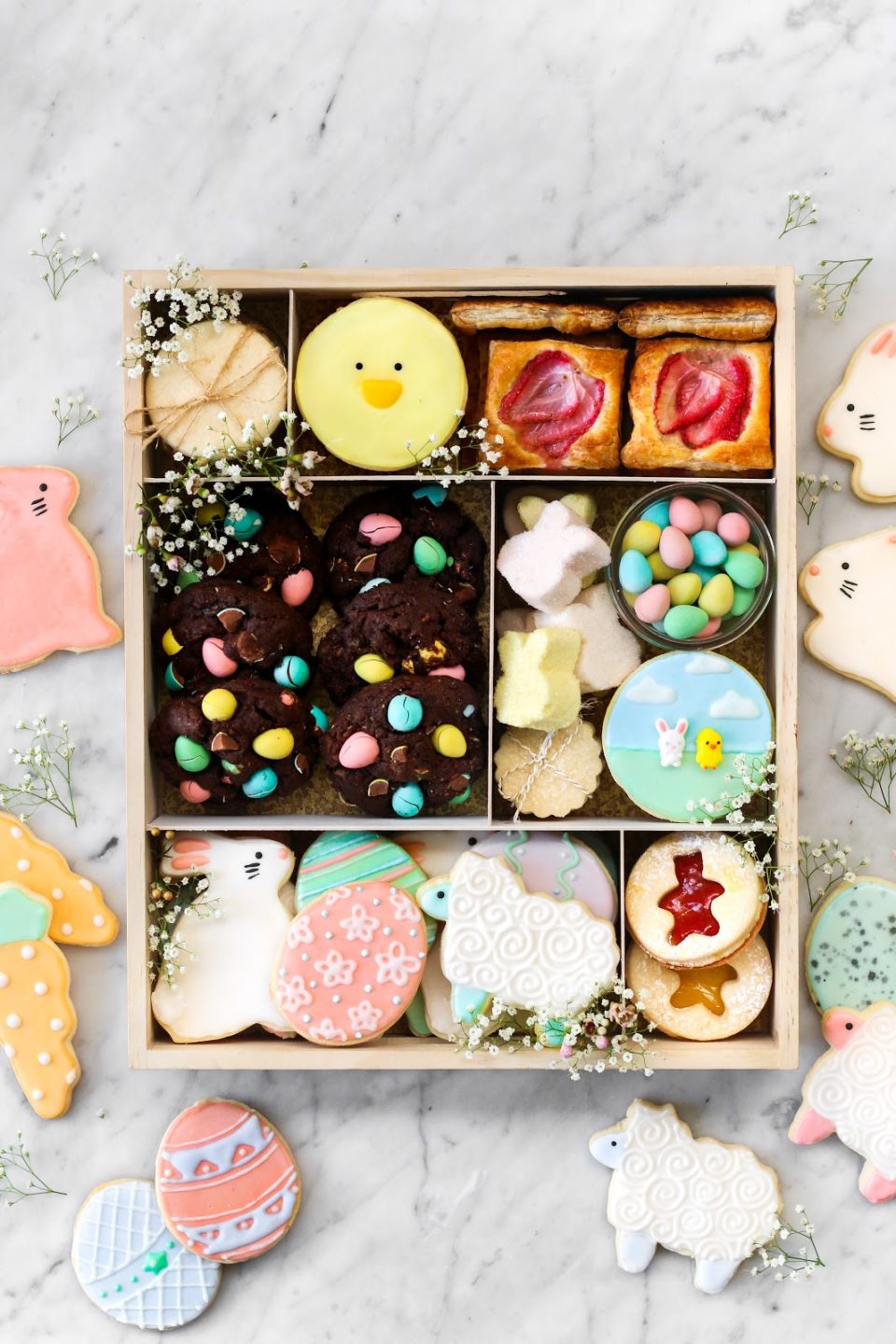 Happy Easter and happy baking!
Ingredients
The Best Sugar Cookies
1 1/3

cup

unsalted butter

,

softened

1/2

cup

granulated sugar

2

large egg yolks

1

teaspoon

vanilla

2 1/2

cup

all-purpose flour
Royal Icing
3

tablespoons

meringue powder

4

cups

(about 1 lb.) confectioners' sugar

5 – 6

tablespoons

warm water

,

For stiff icing, use 1 tablespoon less water; To thin icing, add 1/2 teaspoon water at a time until you reach proper consistency

1/2

cup

unsalted butter

,

softened

1/2

cup

packed brown sugar

6

tablespoons

granulated sugar

1

large egg

,

at room temperature
Instructions
The Best Sugar Cookies
In a bowl of a standing mixer, beat together butter and sugar on medium speed until smooth.

Beat in egg, one at a time. Add vanilla and beat until well-incoporated.

With the mixer on slow, add the flour. Mix until just incorporated. Do not overmix.

If the dough is too soft as this point, chill the dough in the refrigerator until dough is not too sticky to the touch.

Roll out the dough in between two sheets of parchment paper to 1/4 inch in thickness. Use cookie cutters to cut out desired shapes.

Chill the cut outs in the fridge for at an hour to prevent the cookies from spreading when baking.

Bake at 315F for 12-14 minutes, just until the edges are golden brown.

Let cookies cool completely before decorating with royal icing.
Royal Icing
In a large bowl, combine all the ingredients and mix until no lumps of sugar remain.

Portion out icing into smaller bowls and colour with gel food colouring.

Using a piping tip, pipe out desired design. Let the designs fully dry before stacking the cookies.
Notes
Find the updated fudgey mini egg bwrownie cookies recipe here!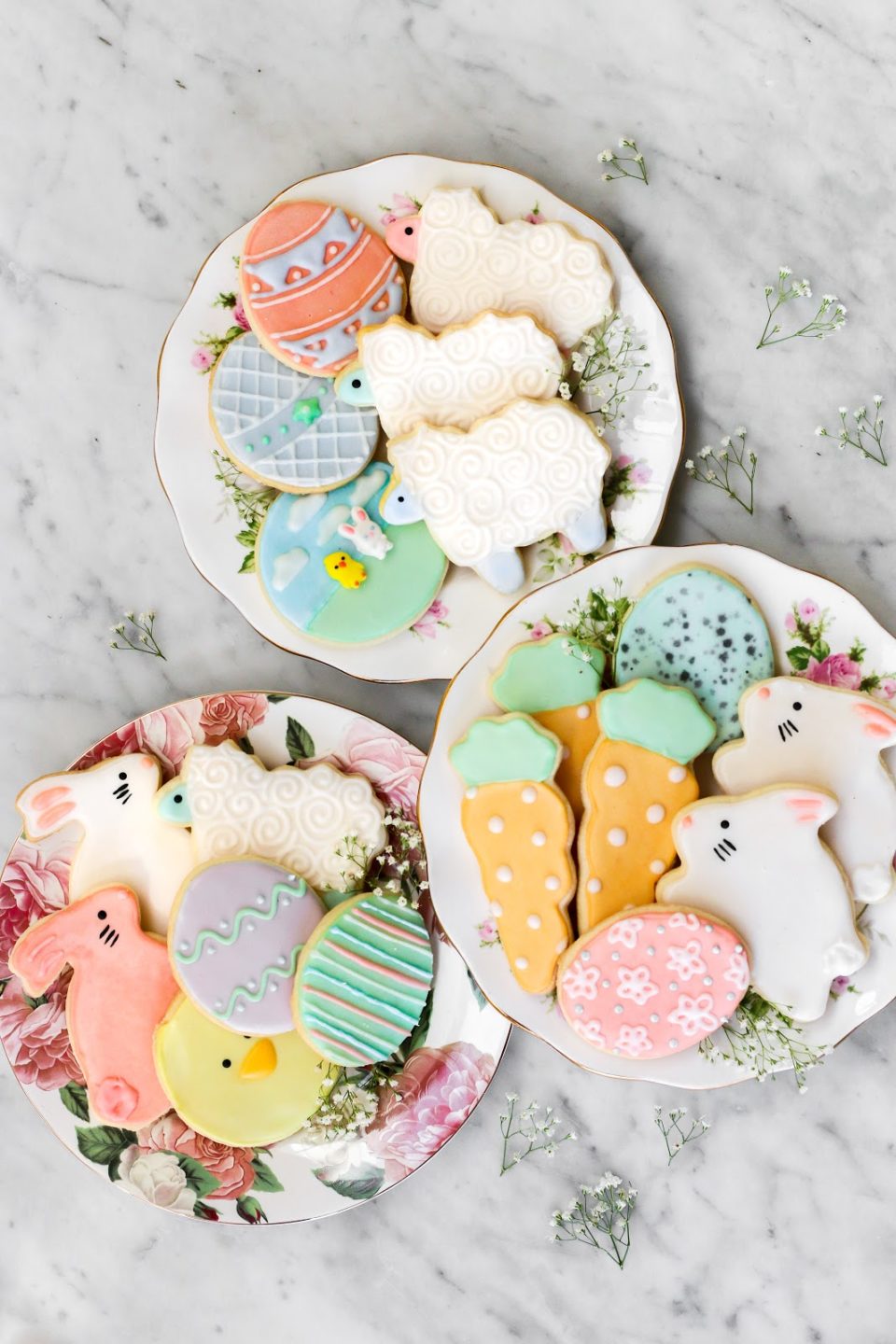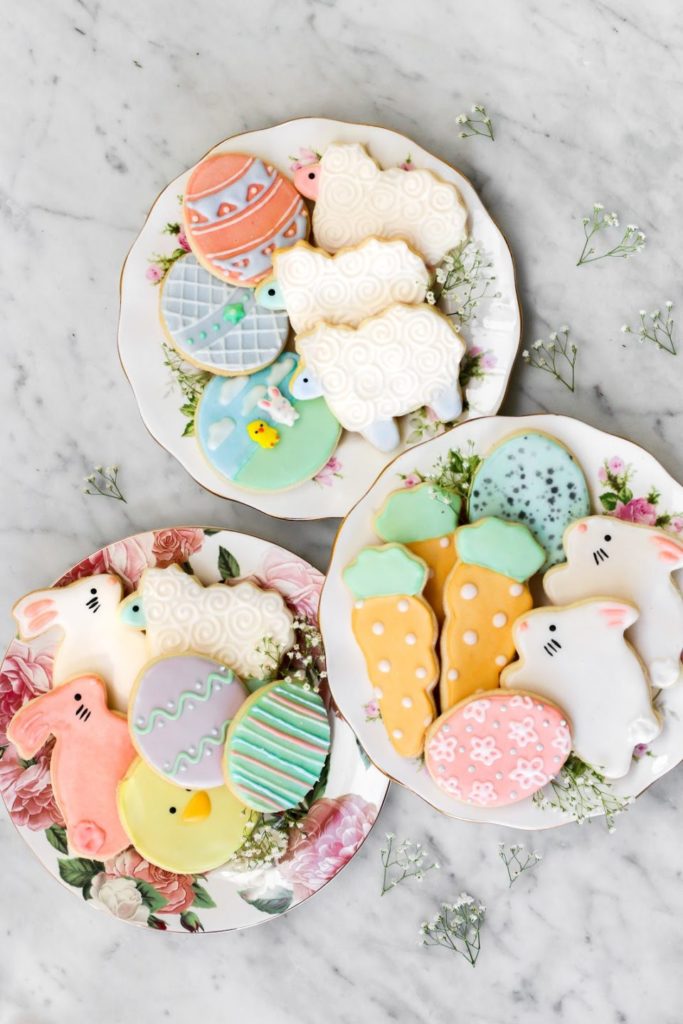 Reader Interactions