One day you will wake up, look across the empty room, and not feel like a piece of your heart is missing. One day you your feelings of incompleteness will dampen. The incompleteness will still gently echo dully inside but will not thud constantly like a steady metronome. One day the first few moments upon waking will not be the toughest and the scent of morning coffee will not remind you of them. One day the details will start to intertwine and you will find it hard to single out every moment that was once so hard to forget. Everyday you will look look in the mirror and find more pieces of you returning to the places they once were; one day you will find yourself whole again. Until then there is healing. And there is this cake, which also heals when you need it to. This subtly sweet but deeply buttery and flavoured vanilla butter cake with strawberry buttercream is so good no matter the occasion.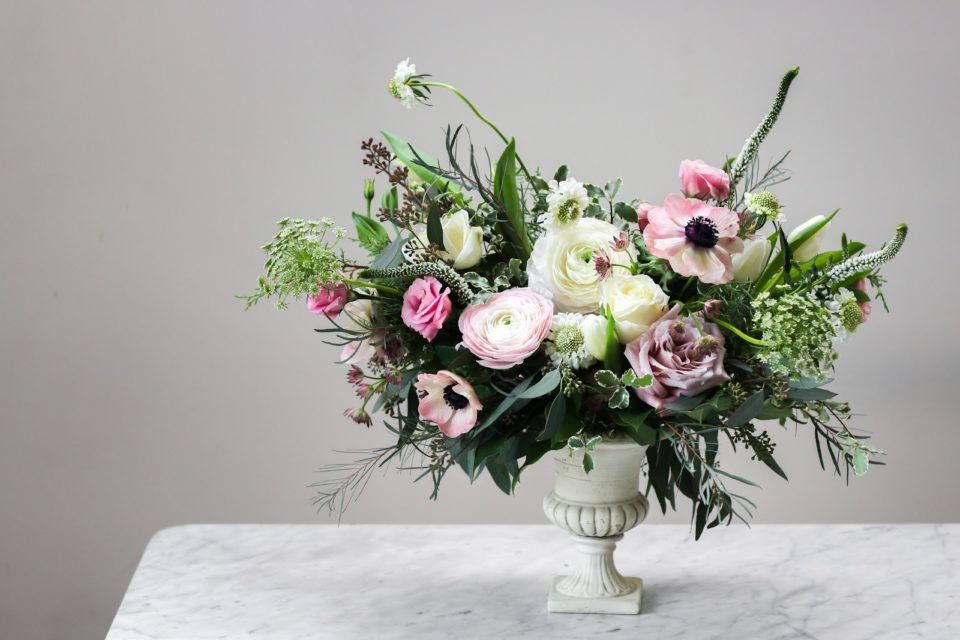 Kelsey (you might not her as The Farmer's Daughter) came over a few weeks back to go to Le Marché St. George and make a cake together. It is been quite a while since we made something together. The last time we collaborated was almost a year ago when she came over for a visit to celebrate my birthday — she made a cake for me and we decorated it together. Kelsey came over on a Saturday morning and we met up at Le Marche. We shared a seasonal fruit crêpe, an almond croissant, and coffee. It was so lovely, as always. We drove back to my house after our coffee date to create the cake together. When we arrived at my house Kelsey took out the most beautiful arrangement of flowers by Confetti Floral in Abbotsford. Confetti Floral kindly created and arrangement and a few loose stems for us to decorate our cake. The flowers were romantic and in different shades of blush and pink — perfect for our Valentine's Day themed cake.
Kelsey made a buttercream which we flavoured and coloured with freeze-dried strawberry powder and I made a vanilla butter cake I have been dying to try. We leveled the cake layers, smoothed out the buttercream, and started to do what we like best — decorate. The flowers were more than perfect and Kelsey even made little pink macarons to match the cake. We added more greenery to this cake and I would not have it any other way. After photographing, we cut out a few slices and share this cake that we have been planning to make together for months. The cake was almost as sweet as the day we spent together.
PS. It is our two year friendiversary today! We have made many sweet things together since.
Coconut Cake with Miso Buttercream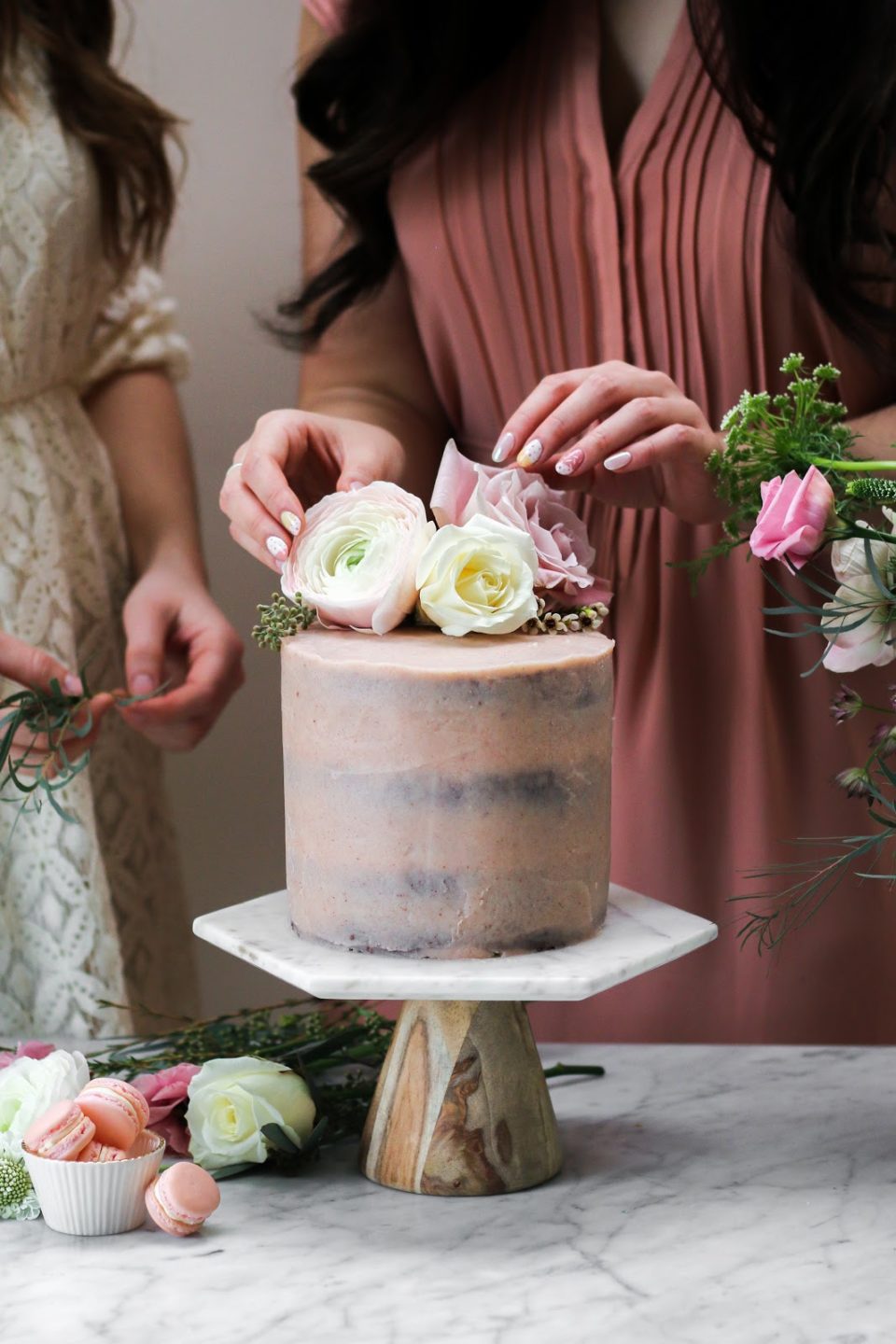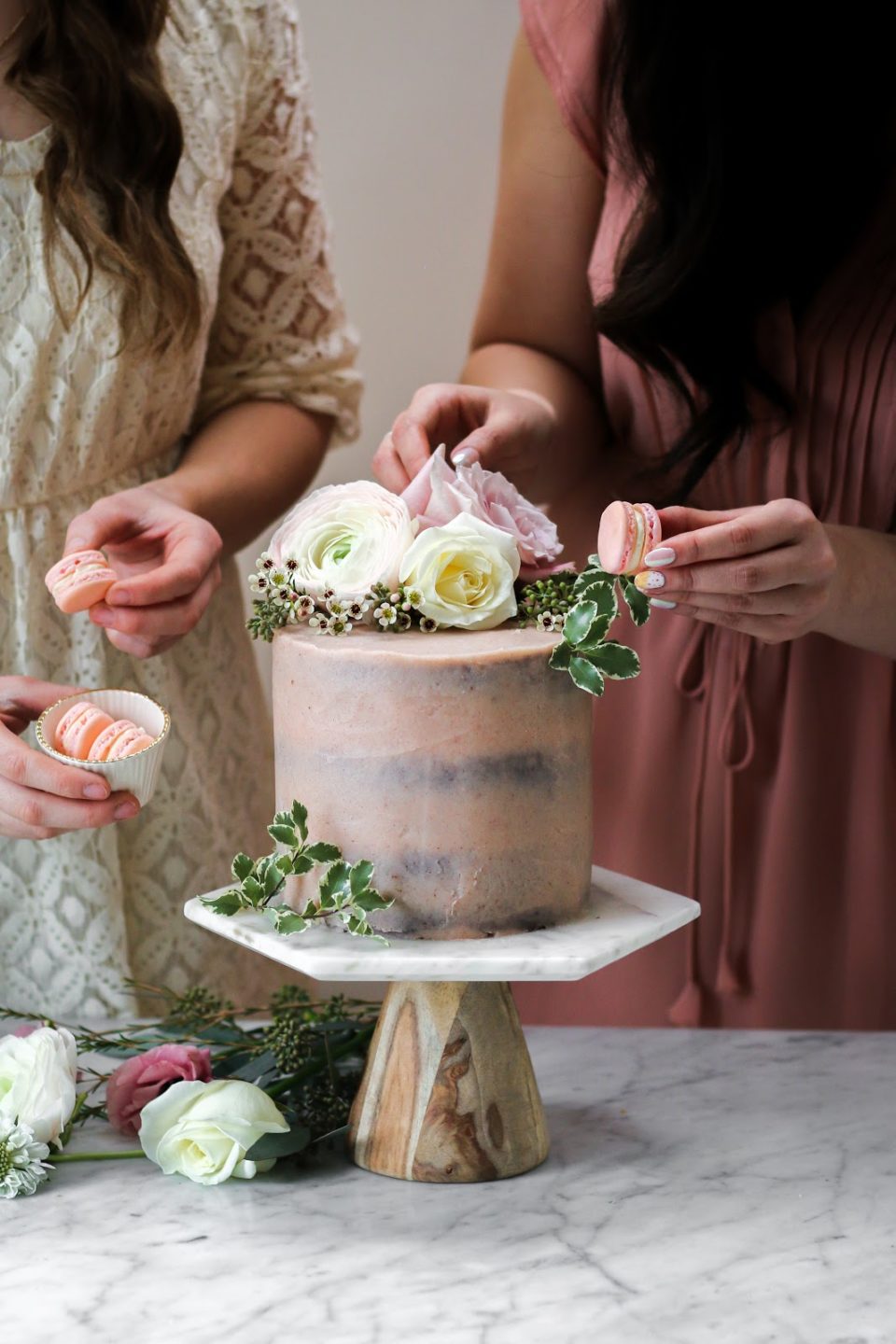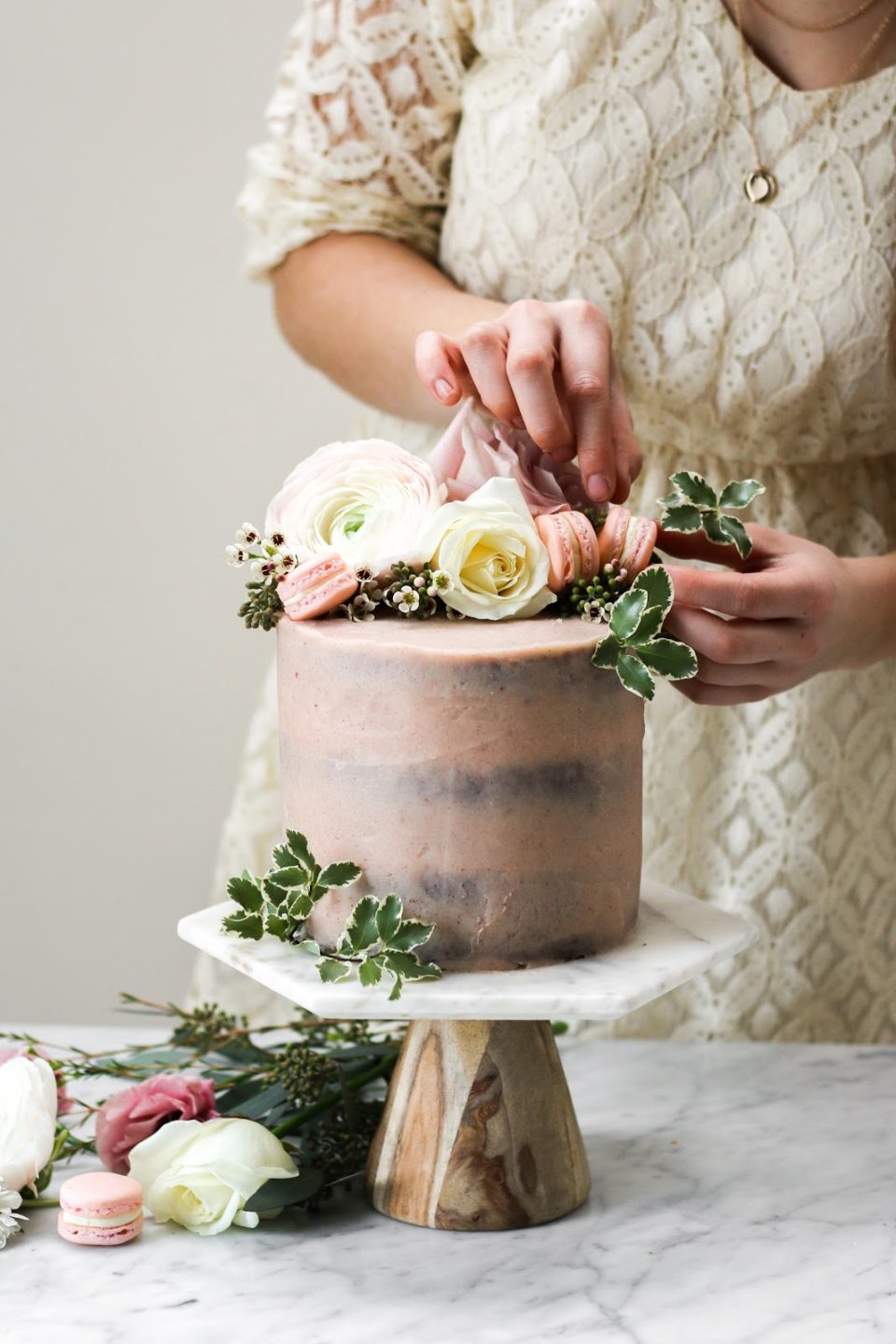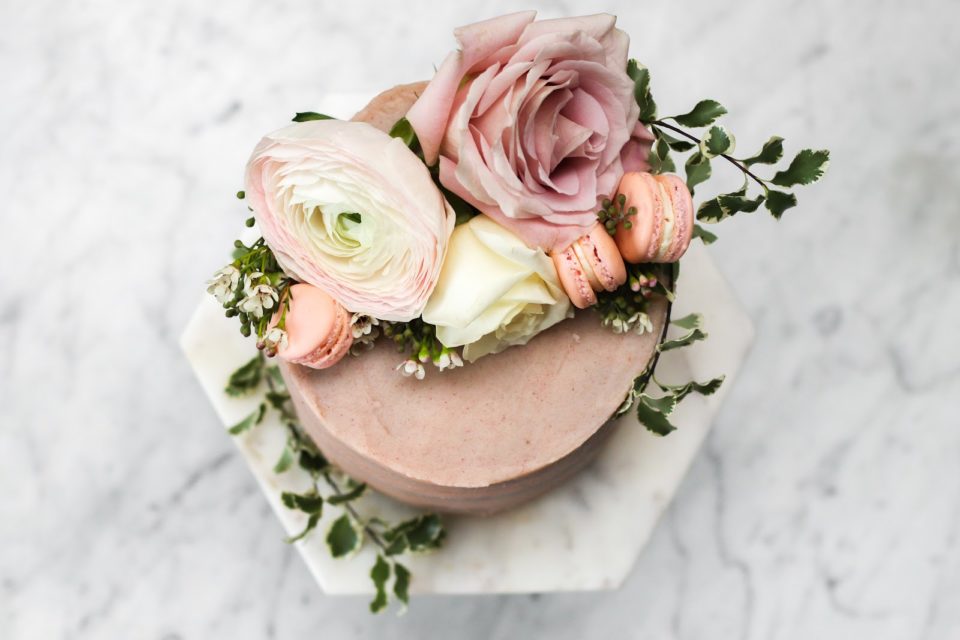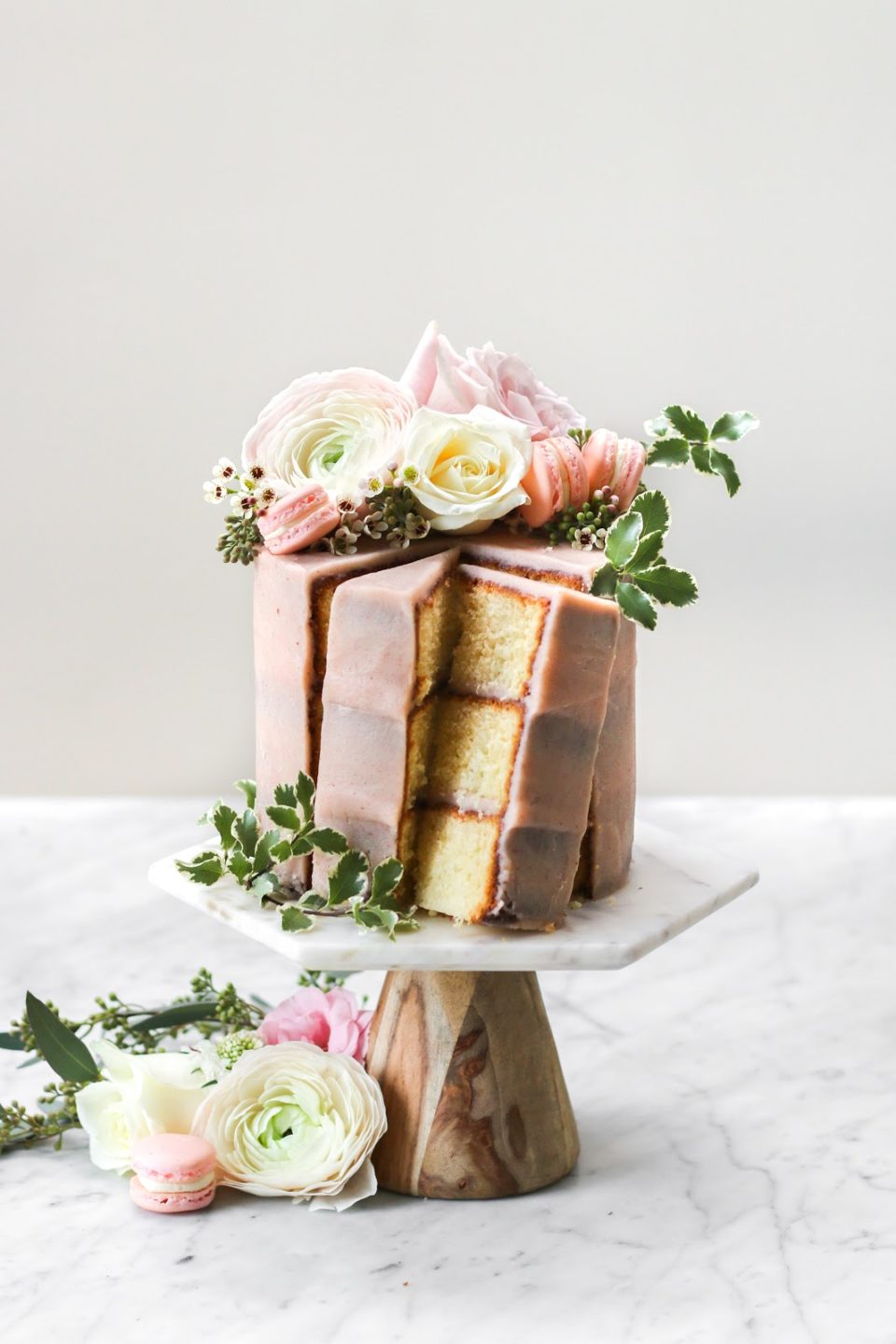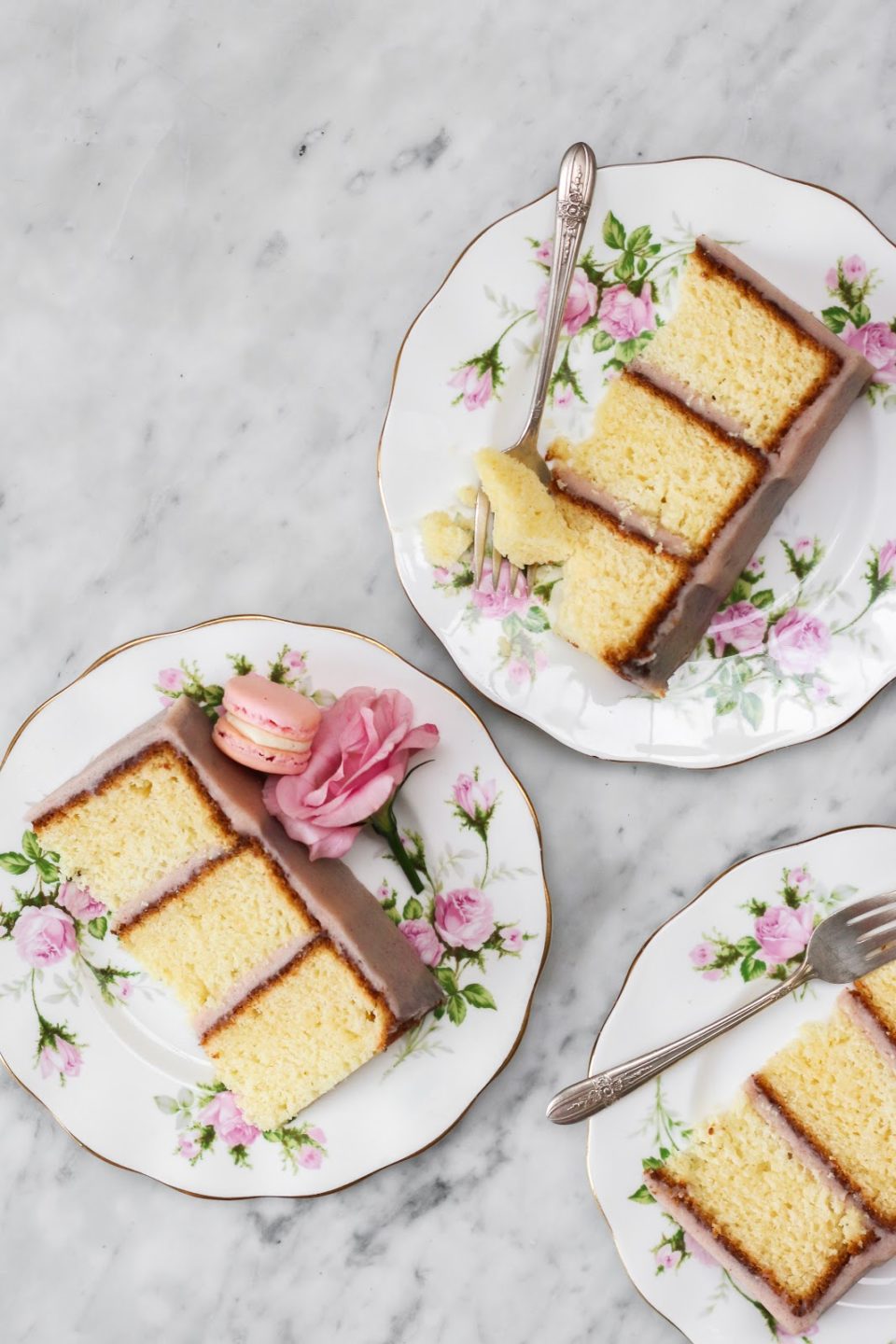 Happy baking!
Ingredients
Vanilla Butter Cake
3

cups

minus 2 tablespoons all-purpose flour

2

tablespoon

cornstarch

1

tablespoon

baking powder

3/4

teaspoon

salt

1/2

teaspoon

baking soda

1/2

cup

sour cream

1

cup

whole milk

1

cup

unsalted butter

,

room temperature

2

cups

sugar

1

tablespoon

vanilla extract

2

eggs

3

egg yolks
Instructions
Vanilla Butter Cake
Preheat oven to 350°F.  Grease and flour three 6-inch round cake pans and set aside.

In a large bowl, whisk to combine dry ingredients together.

In a separate bowl, combine sour cream and milk.

In the bowl of a stand mixer beat butter until smooth. Add sugar and beat until pale and fluffy.

Add eggs and eggs yolks, one at a time, beating on low speed until incorporated. Add vanilla extract.

Alternating half the flour mixture and half milk mixture to the butter. Mix on low speed until milk is absorbed. Add remainder of ingredients and mix until just incoporated.

Pour batter into prepared cake pans. Bake for 38 to 40 minutes or until wooden pick inserted in centre comes out clean.

Cool cakes before levelling and decorating.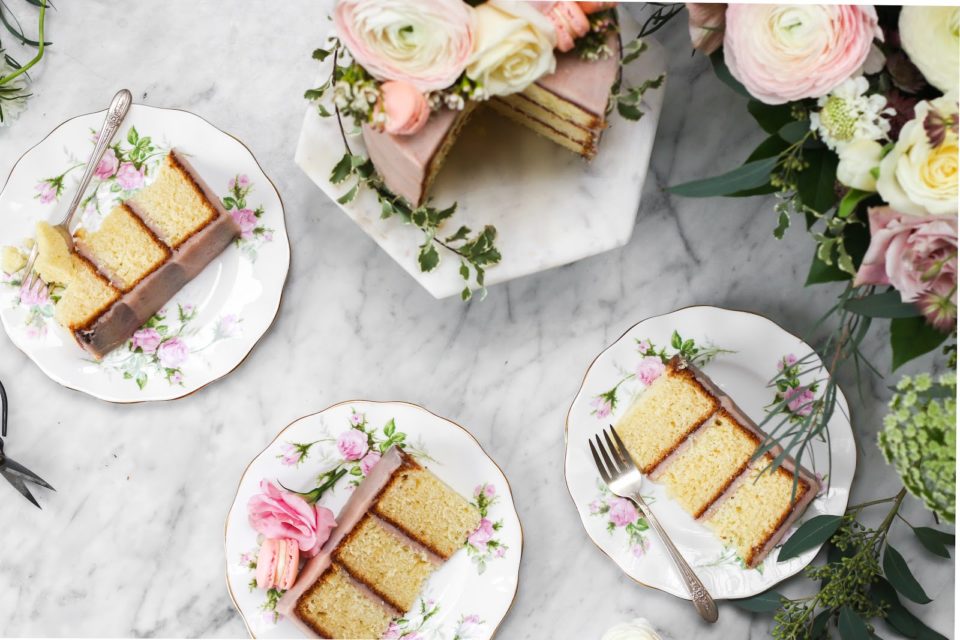 Thank you Confetti Floral for the beautiful flowers we used to decorate this cake!
Reader Interactions