It snowed heavily yesterday. It fell heavily and it fell rapidly, but at the same time it felt soft and calm. It interrupted my plans for the day but it gave way to something much needed. I made coffee at home, I worked, I read, I baked a cake, and the scent of an orange butter cake lingered all throughout the evening. From time to time I would look out the window to watch the snow fall, adding to the already plush blanket it has created earlier in the day. Originally I had a rough idea about how I was going to describe this four-layer tall cake — I was going to tell you why I named it a celebration cake and what it is celebrating. I was going to say that any cake that is this tall, blush-toned, adorn with this many delicate blooms is worthy of the title and requires a special occasion to be made. But today I am going the more predictable (which does not make it any less true) route and say there is always something worth celebrating. Make it when you are snowed in. Make it on rest days that you did not know you needed. Make it on days to remind you that even the most mundane everyday things you did not notice before are worth celebrating. Make it on days when you want to celebrate simple ingredients that when put together can make something unbelievably beautiful.
I have always wanted to make a strawberry cake but the fear of adding the least amount of extra liquid without compromising on strawberry flavour has always deterred me from doing so. The strawberry cake layer are light but they are plush. The strawberry flavour comes from both a concentrated strawberry purée and freeze-dried strawberry powder, with the latter being one of my favourite ingredients to use to achieve strawberry flavours without changing too much of the ratio of a trusted recipe. The cake layers sandwich a blood orange buttercream which is also in an appropriate shade of pink. Blood oranges are less acidic than their navel counterparts and often carry a berry overtone. If you would like a more "true" orange flavour in your buttercream, opting for half blood orange and half navel orange would be a lovely substitute. Decorate the cake with whatever you like — keep it simple or decorate it with your favourite blooms. The flowers on my cake were part of a special bouquet I received so I wanted to make a cake as special as the blooms to match.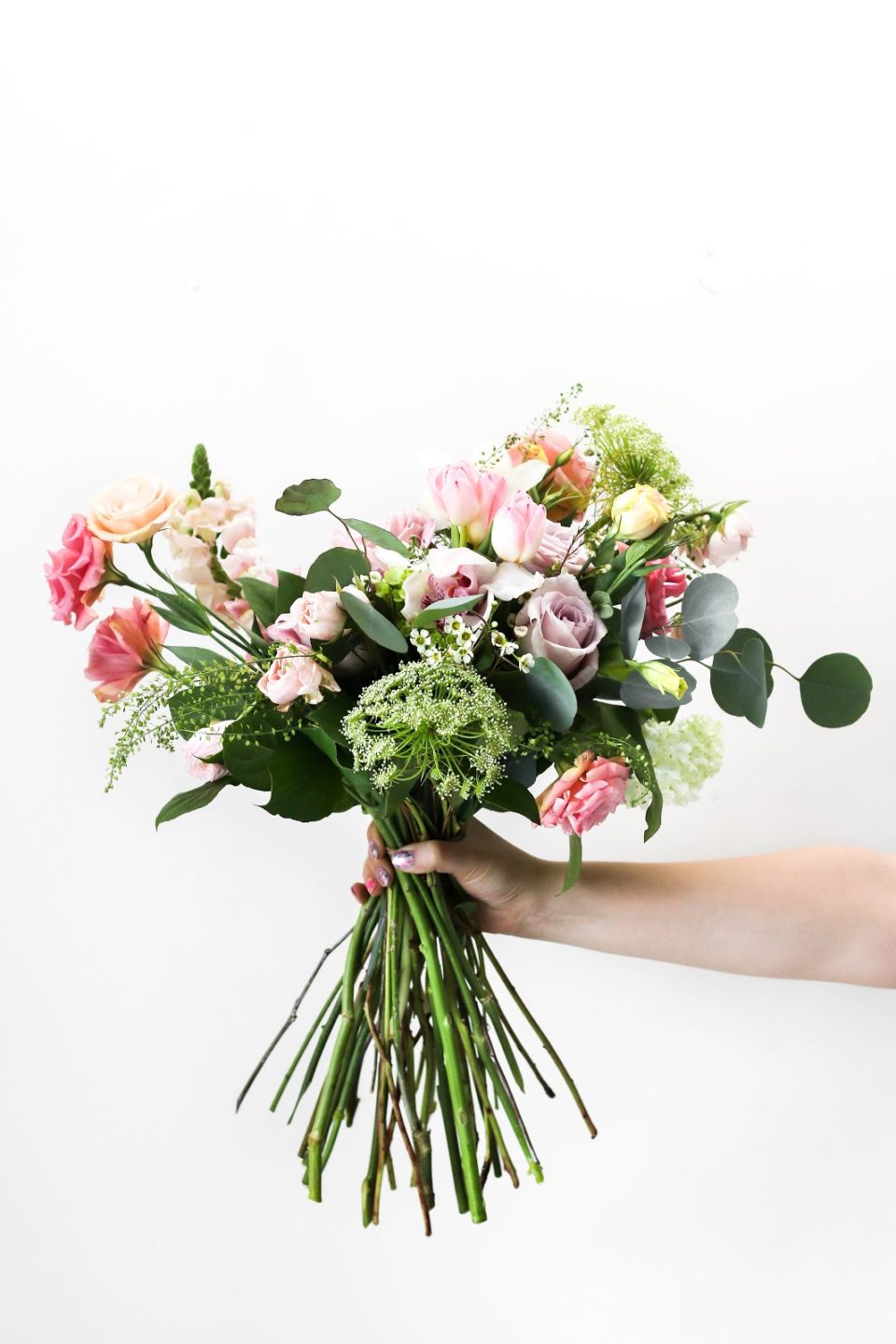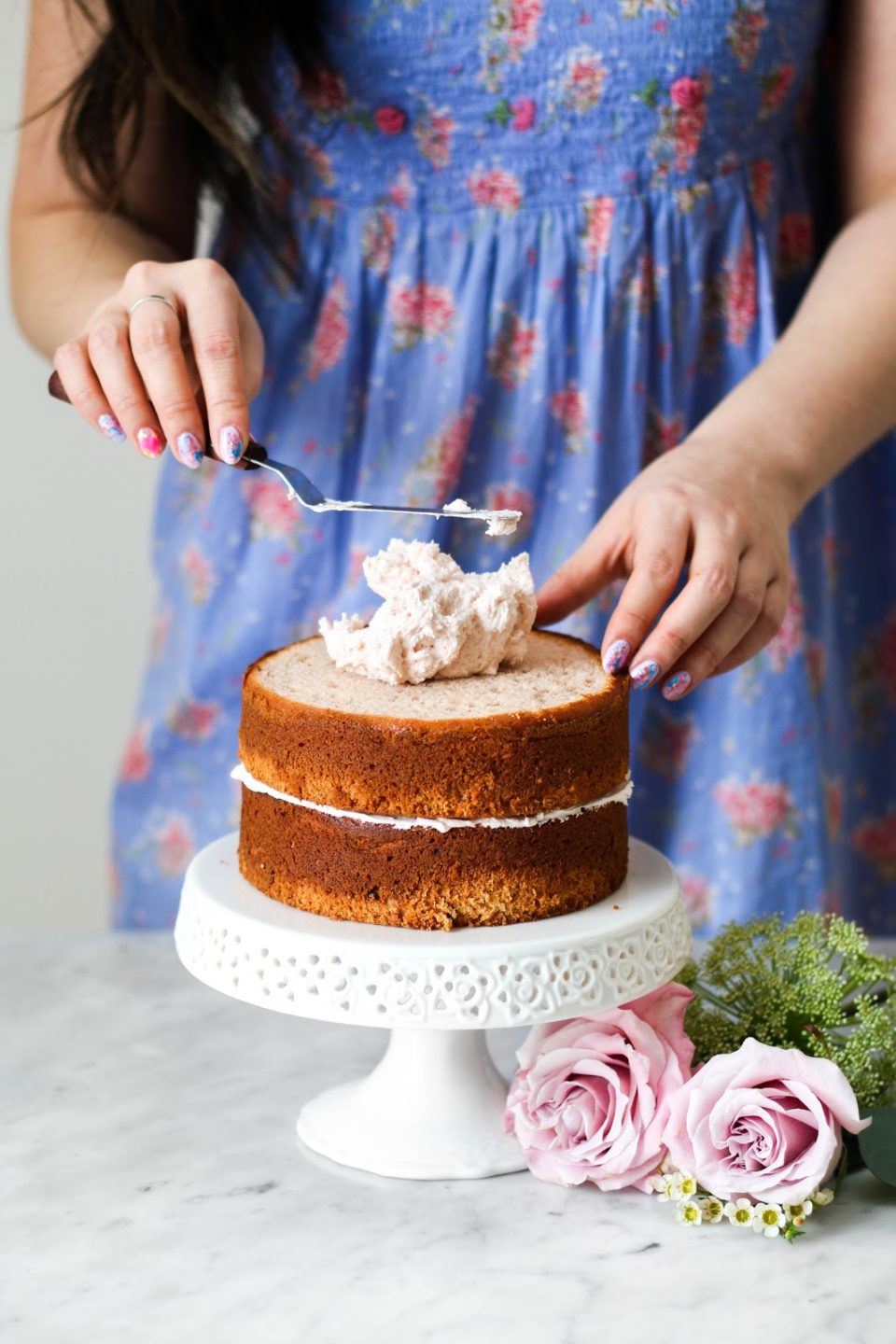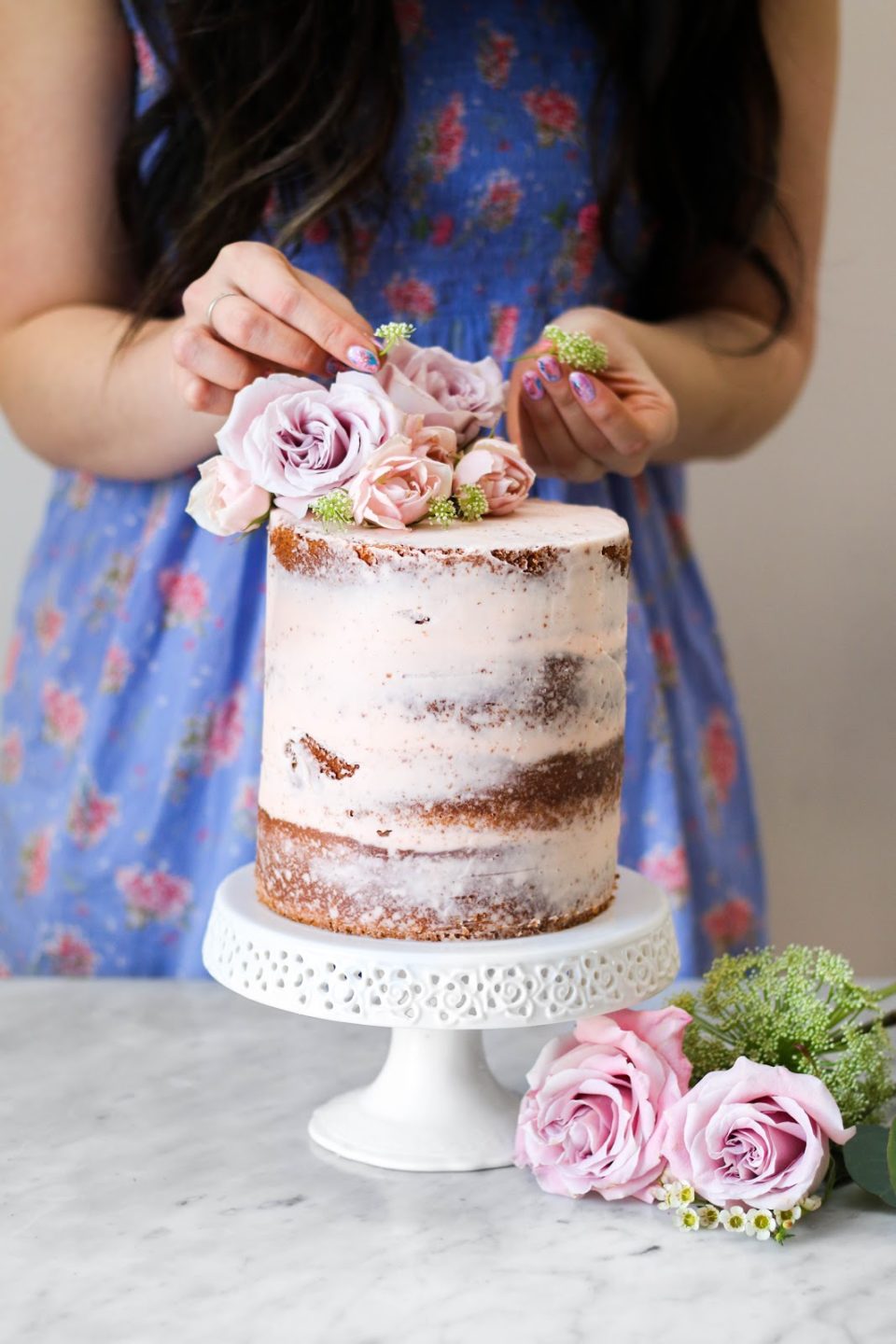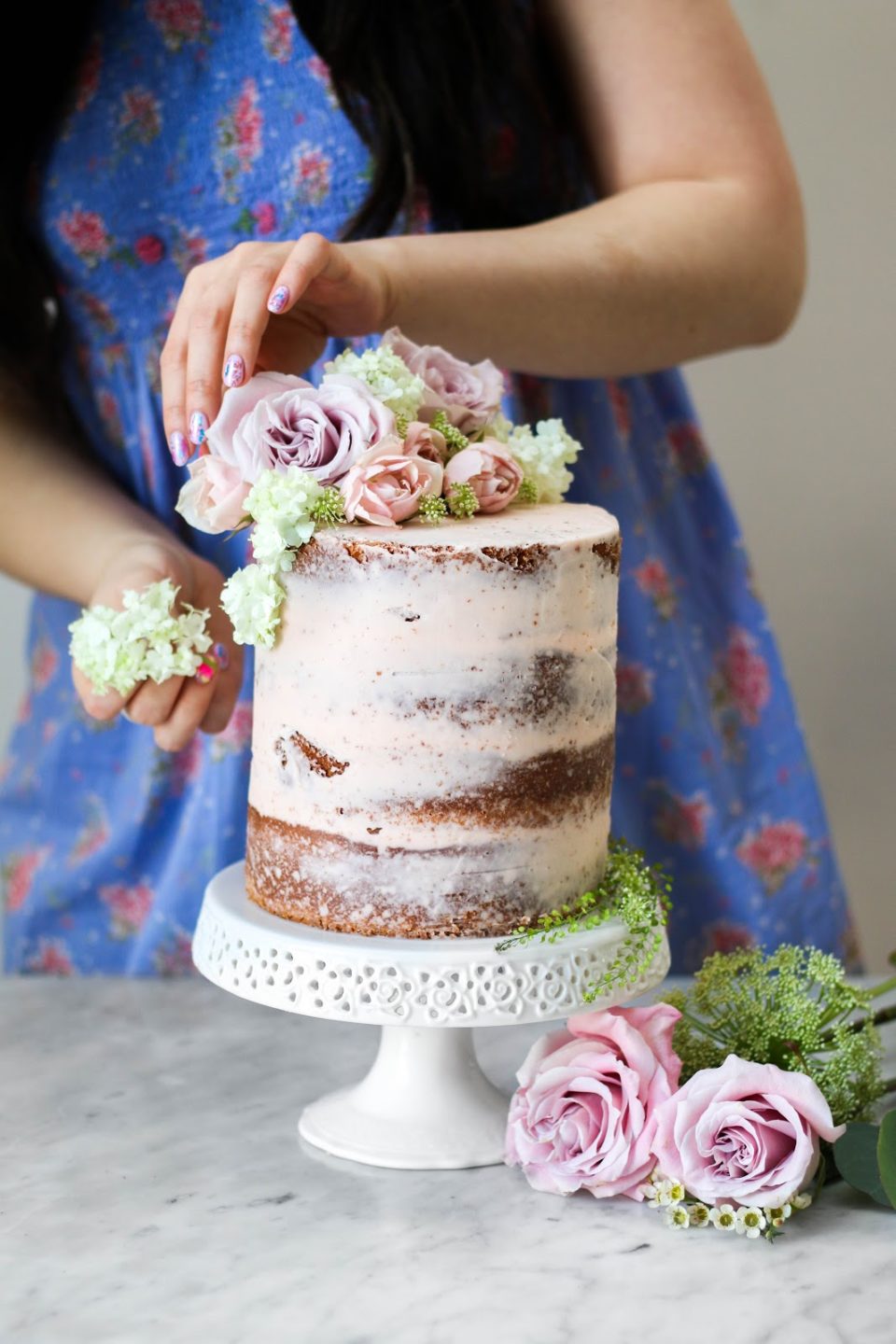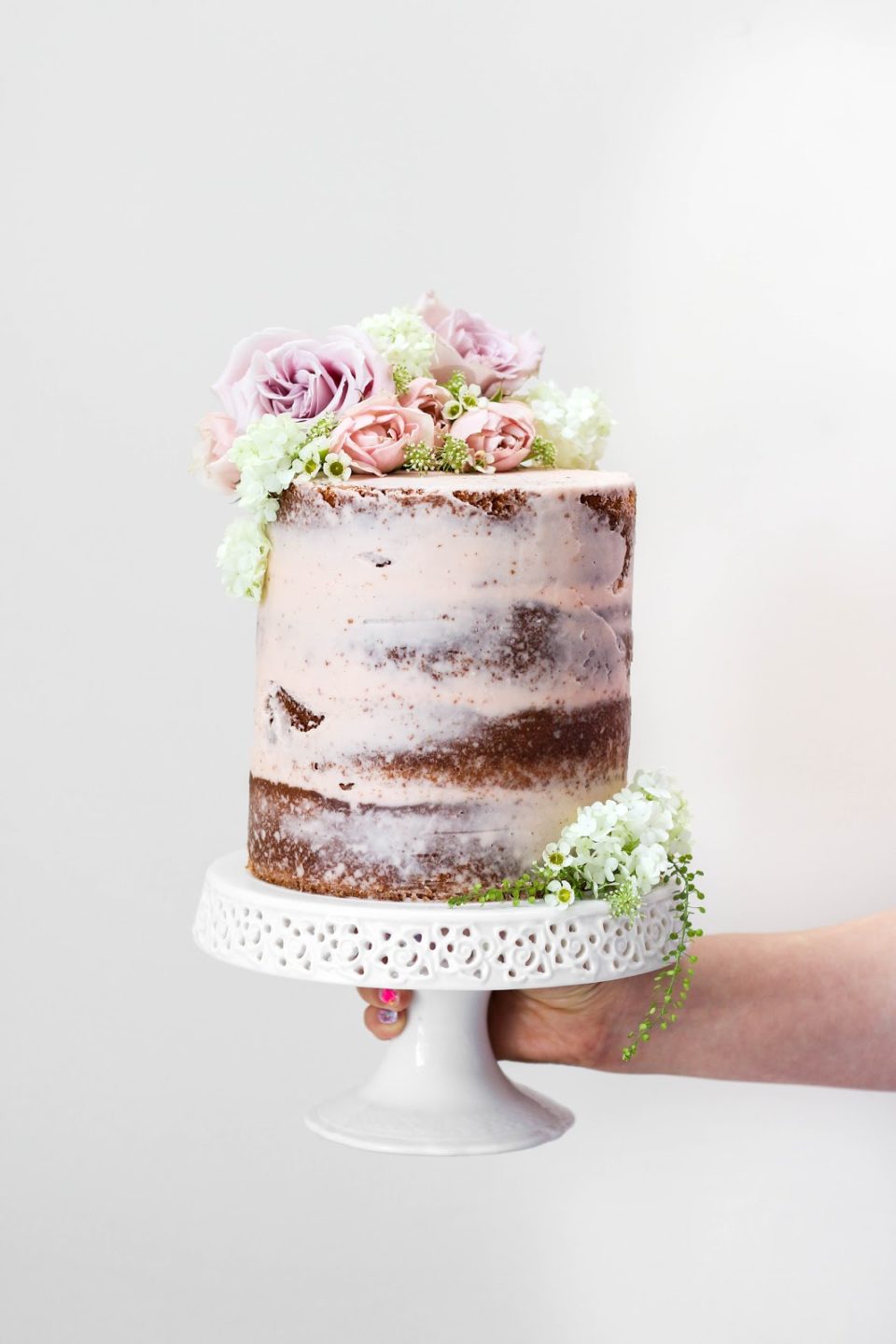 Happy baking!
Ingredients
Strawberry Purée
1

pound

strawberries

,

stemmed halved

2

tablespoon

granulated sugar
Strawberry Cake
3 3/4

cup

cake flour

1

tablespoon

baking powder

3/4

teaspoon

baking soda

1 1/2

teaspoon

salt

1

cup

and 2 tablespoons unsalted butter

,

room temperature

2 1/3

cup

granulated sugar

7

egg whites

1/2

cup

full-fat sour cream

1 1/2

tablespoon

vanilla

3/4

cup

whole milk

3/4

cup

reduced strawberry purée

1/3

cup

freeze dried strawberry powder
Blood Orange Buttercream
1

cup

unsalted butter

,

room temperture

3 1/4

cup

powdered sugar

4

tablespoon

reduced blood orange juice

,

from about two oranges
Instructions
Strawberry Purée
In a food processor, purée strawberries. You should have a little over 1 cup.

Add sugar to the purée.

Cook the purée over low-medium heat for 30 minutes until you're left with 3/4 cup or a little over 3/4 cup. Allow to cool completely before using in cake batter.
Strawberry Cake
Preheat oven to 350F and prepare four cake pans.

In a large bowl, whisk together cake flour, baking powder, baking soda, and salt. Set aside.

In the bowl bowl of a standing mixer with the paddle attachment, beat the butter and sugar until light and fluffy, about 2 to 3 minutes.

Beat in the egg whites on high speed until combined. Then beat in the sour cream and vanilla extract.

Turn the mixer to low speed and, alternating between the dry ingredients and the milk, add the them butter/sugar mixture until the batter is relatively smooth. Do not over-mix. Whisk in 3/4 cup of reduced strawberry puree and discard any extra.

Evenly divide the batter into the four cake pans and transfer to the oven to bake for 28 – 30 minutes, until a skewer inserted into the centre comes out clean.
Blood Orange Buttercream
Juice two blood oranges. Pour the blood orange juice into a small saucepan and bring to a boil. Cook until reduced by half and syrupy, about 10 minutes. Remove from the heat and let cool completely.

In a stand mixer fitted with the paddle attachment, cream the butter on medium-high until fluffy.

Add reduced blood orange juice, and beat to incorporate.

Add the confectioners' sugar into the creamed butter one cup at a time. Beat until fluffy.
Reader Interactions