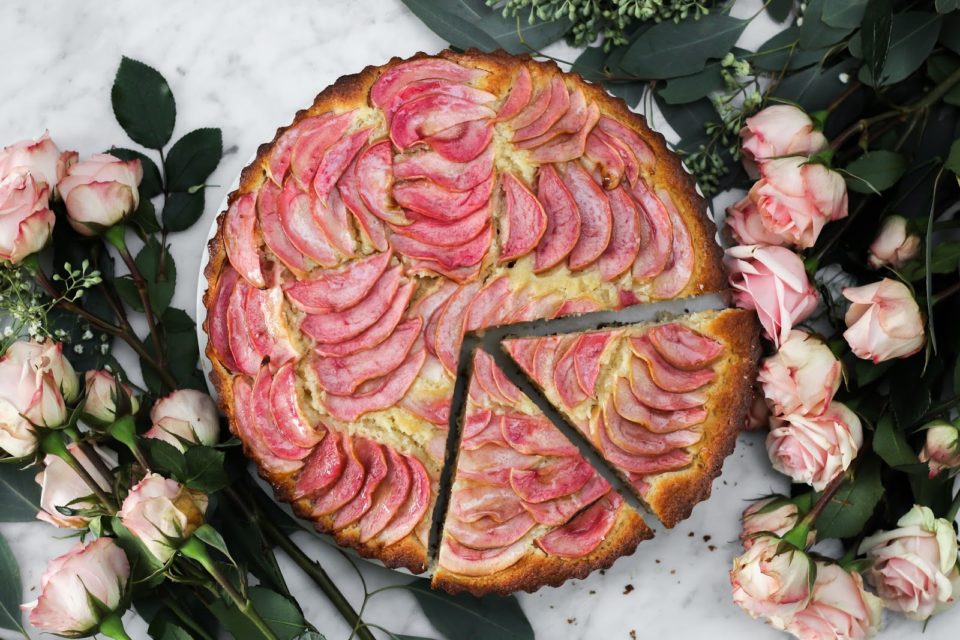 I am not sure when I fell in love with the rain. It could be the rainy afternoon in Le Marais which rendered walking the cobblestone streets of the third arrondisement with a few books in hand un petit peu difficile. The rain forced, well not exactly 'forced,' but allowed me to discover coffee-perfumed shelter inside a cafe that made the perfect cafe allongé. I read as the rain fell. The rain's hum was like a metronome, calm but constant. That is possibly when I fell in love with the rain. I also fell in love with the rain when rain equated to an afternoon making this cake. It is a simple single layer cake with the most delicate crumb. Jewel-toned slices of pink pearl apples adorn the cake in a nonsystematic yet uniform way. It also is not just about the cake but rather celebrating that the cake is something greater than the sum of its simple parts of flour, butter, and sugar. It is the gratification of creation. A sweet and buttery creation.
You do not have to use pink pearl apples for this recipe. You can choose any apple, but make sure it is not the kind that will get too mealy or mushy when baked. There's quite a long story behind these pink-fleshed apples. Before now, the closest I have ever gotten to pink pearls was through looking at photos of them on social media that other bloggers have posted. Pink pearl apples are hard to find, especially in Vancouver. After doing some research, I found out that the closest place to get these apples was from a farm on an island that was a ferry ride away from Vancouver. This island, Salt Spring Island, holds a yearly apple festival for one day only where local growers/farmers showcase all the apple varieties that the island has to offer. There was one farm on the island (apparently just one?) that had a few trees of pink pearl apples. When I arrived at the farm I bought all the pink pearls that the farm had. I have never been so happy to hold a $30 bag of apples. I do not know why it has taken me this long to share this cake with you but here it is. A few of you had asked me where I got my pink pearl apples so I hope you find this helpful. You can also look forward to a pink pearl frangipane tart in the very near future — I promise.
Happy baking!
Ingredients
1/2

cup

unsalted butter

,

room temperature

1

cup

granulated sugar

2

large eggs

1

egg yolk

1 1/4

cup

all-purpose flour

1/2

cup

+ 1 tablespoon almond flour

1 1/2

teaspoon

baking powder

1/4

teaspoon

salt

1/2

cup

ricotta

30

mL

milk

1

teaspoon

vanilla

4

medium sized apples

,

halved, sliced thinly

1/4

cup

apple or apricot jelly

,

to glaze
Instructions
Preheat oven to 350F and grease a 9-inch cake pan.

In a stand mixer with the paddle attachment, cream together the butter and sugar until mixture becomes light and fluffy. Add in the eggs, one at a time and mix until well-combined. Add vanilla.

In a separate bowl, combine flour, almond flour, baking powder, and salt. Whisk together.

In large measuring cup, combine the ricotta and milk.

Add half the dry ingredients and half of the ingredients in them measuring cup to the butter-sugar mixture. Mix together lightly. Add the remainder of the ingredients and mix until just combined.

Arrange apple slices on top of the batter.

Bake cake for 40 – 45 minutes, until a skewer inserted into the middle comes out clean. If the apples are browning too quickly, place a sheet of foil on top while the cake continues to bake.

Once cake is ready, take the cake out of the oven. Allow cake to cool for 30 minutes before glazing with a pastry brush.

Serve warm.
Reader Interactions