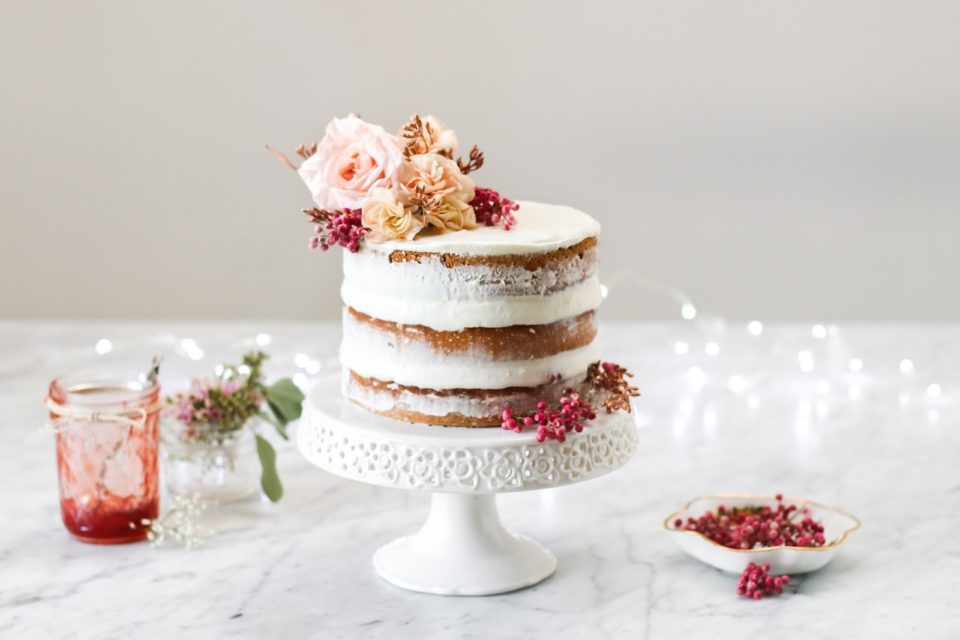 As you may know, I am not a huge fall baker — I do not really like pumpkin (sorry!), fall spices are not my favourite, and making apple pie still makes me nervous. I feel like everyone's mom or grandma's apple pie will always be the best apple pie and my feeble attempt of making a pie that will impress you will pale in comparison. Christmas baking is a whole different story. I love the idea of making a bûche de noel (note: idea of, not actual execution), only feeling a little bit bad for indulging in a rich cheesecake soon after I make it, and the first 30 minutes of sugar cookie decorating before I hate it for the remaining seven hours of royal icing induced labour. Festive holiday cookie decorating is my favourite thing to do during the winter holidays even though you may hear me complaining how I do not have enough fine piping tips and that my royal icing is taking forever to set.
There are so many types holiday treats that I often get torn on what to make for the season. I contemplating making the cookie box again this year because so many of you loved it last year. It was a lot more feasible last year because I had a better functioning kitchen then and I had a lot more help with the cookie making. The thought of making eight to ten different types of cookies by myself within a short period of time (to make sure the cookies stay fresh after the photos for snacking!) and making all the cookies after work in the evening seemed like an extremely daunting task. I also wanted to make blueberry oatmeal cookies, decorated shortbread houses in a jar, a crêpe cake,and this cake for you, so the cookie box got left on the back burner. Don't worry though, I still have a variation of a cookie box coming your way. I promise it'll be worth waiting for!
Back to this cake. This cake is three layers of a subtly spiced chai cake with a thin layer of raspberry jam in between the cake layers. Also in between each cake layer is whipped cream cheese frosting which makes it all even more dreamy. The warm spices make it holiday-ready and it lends itself to being even more festive depending on how you decorate the cake. I opted for some roses, carnations, and dried pink peppercorn bunches. My florist also gave me some bronze-coloured seeded eucalyptus for an extra dose of holiday cheer.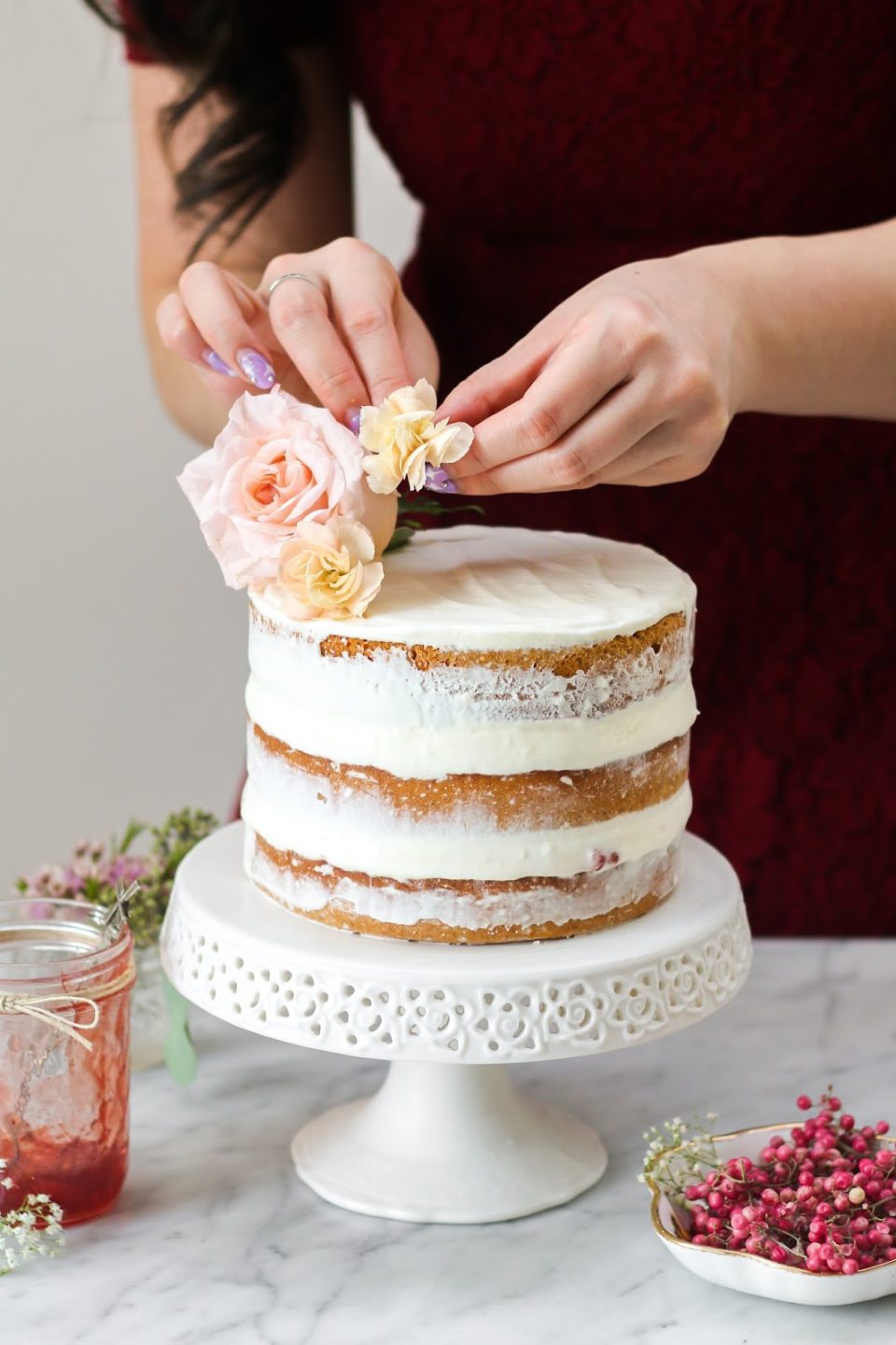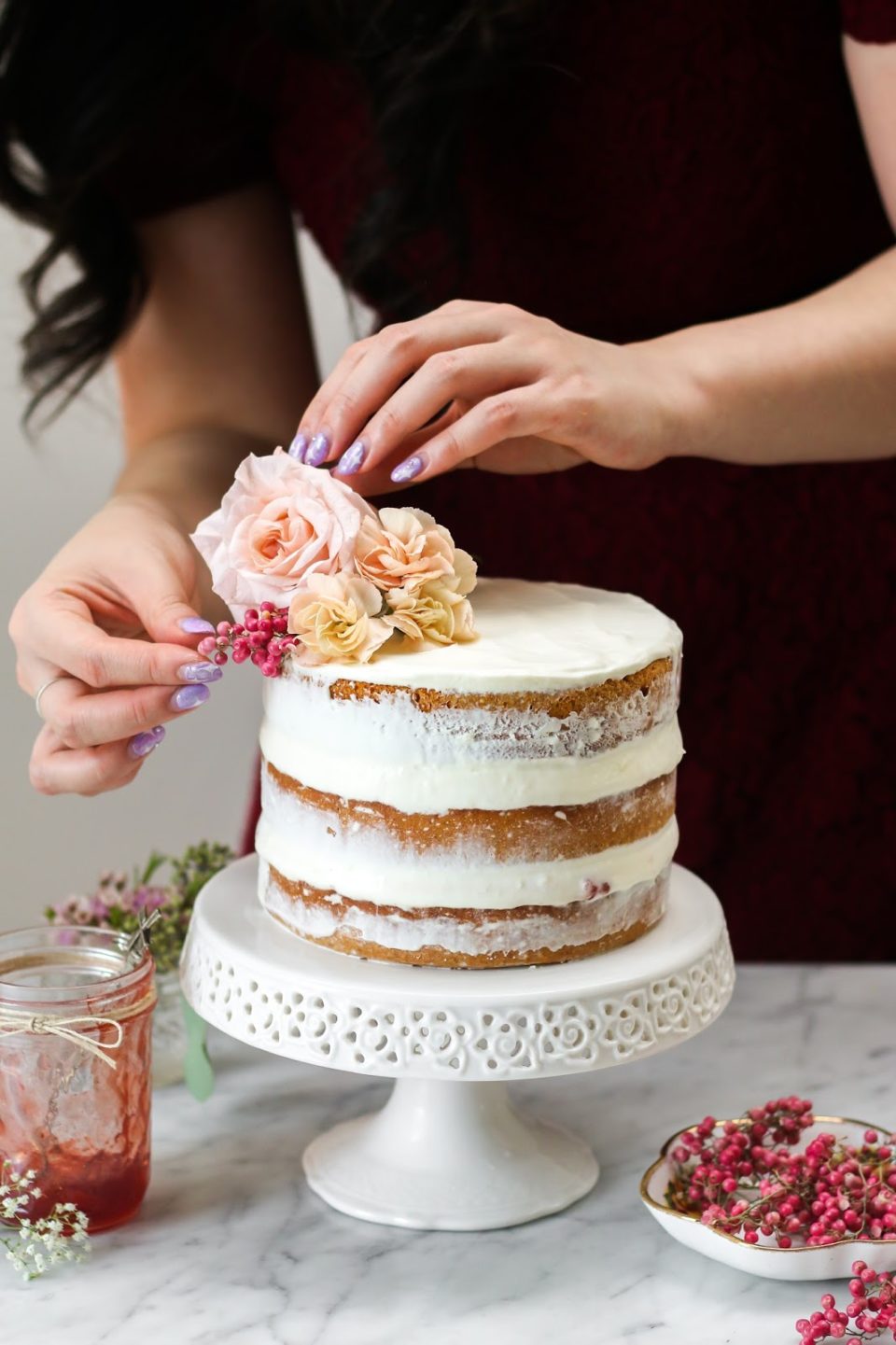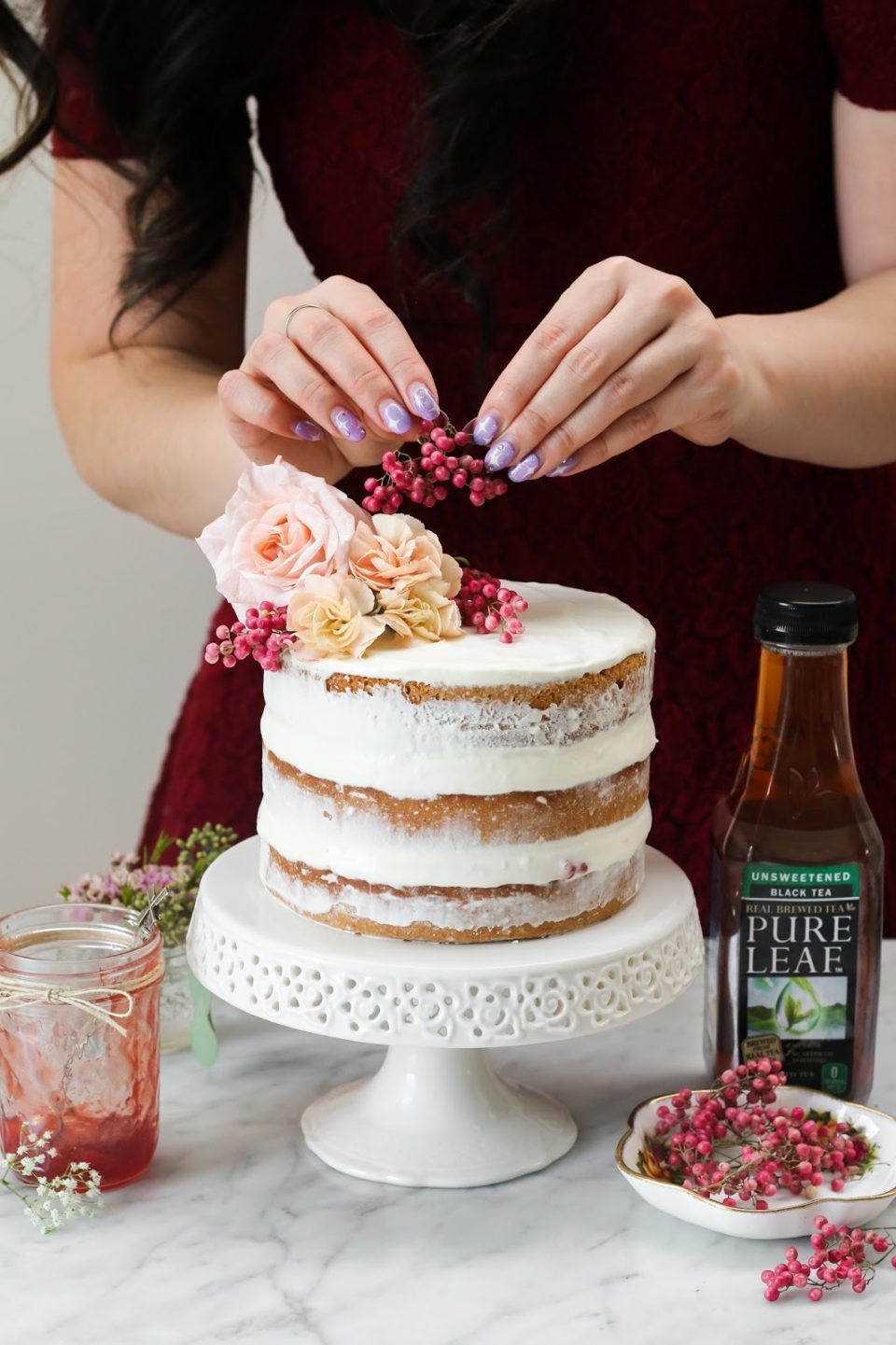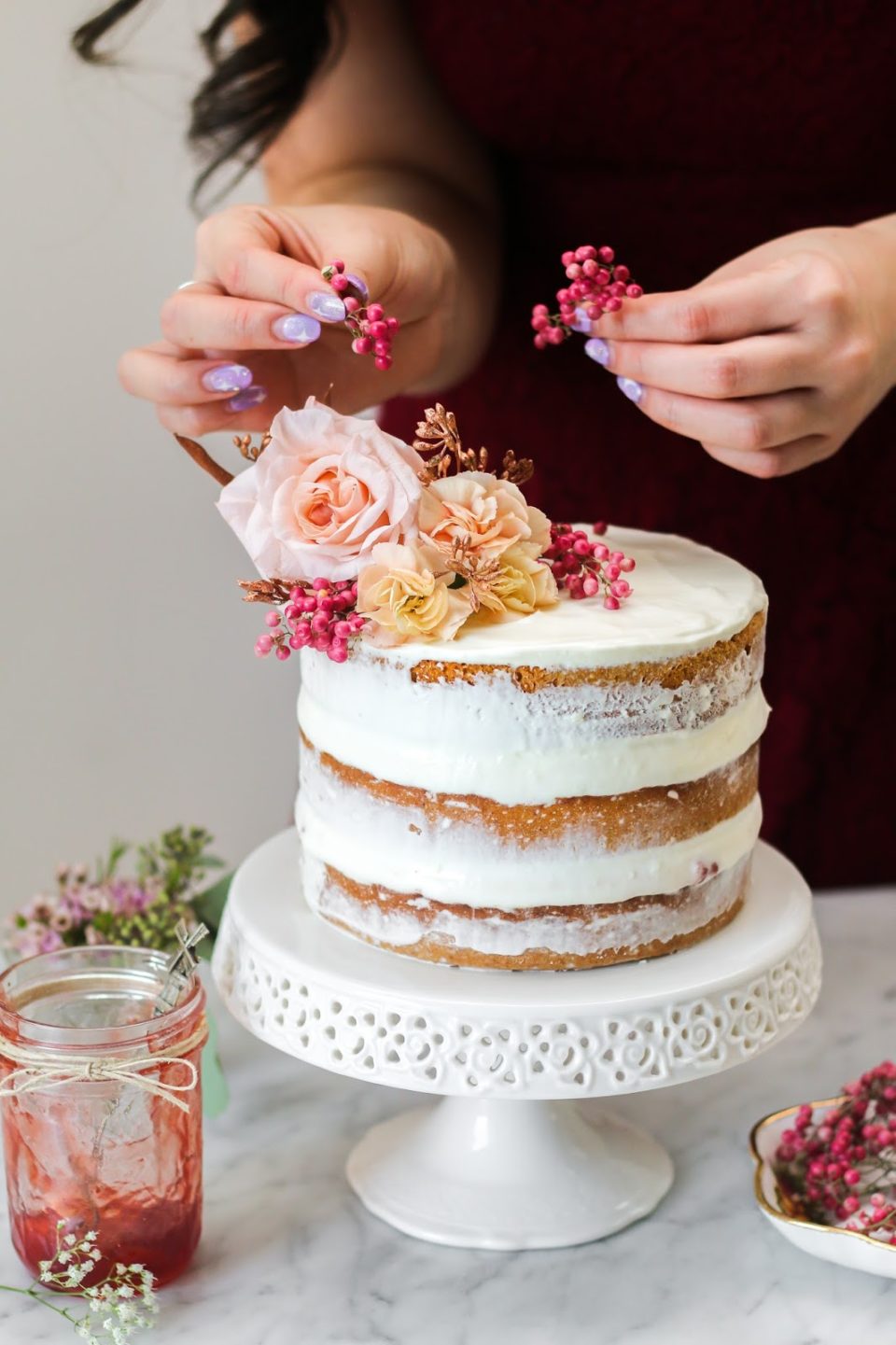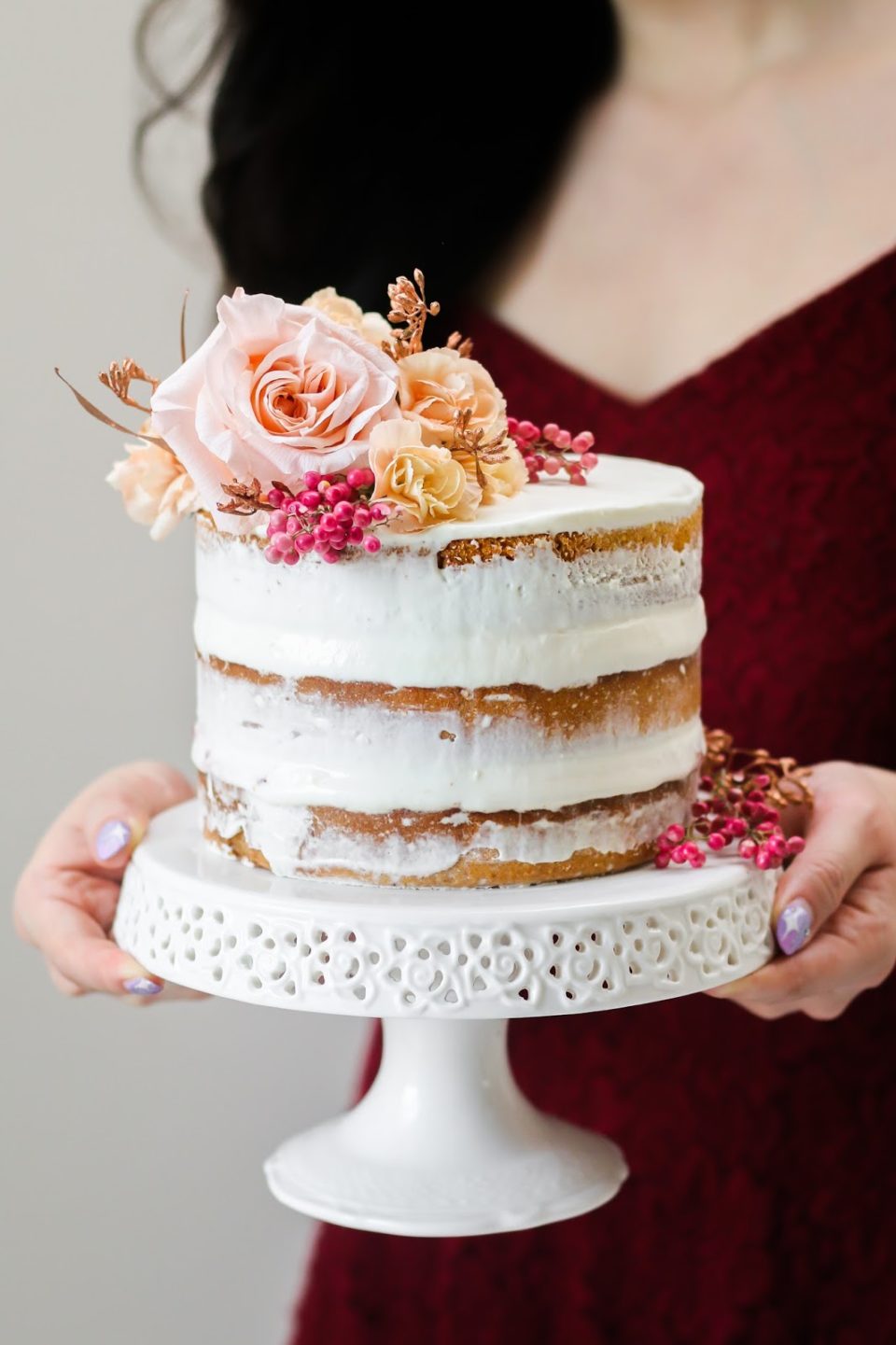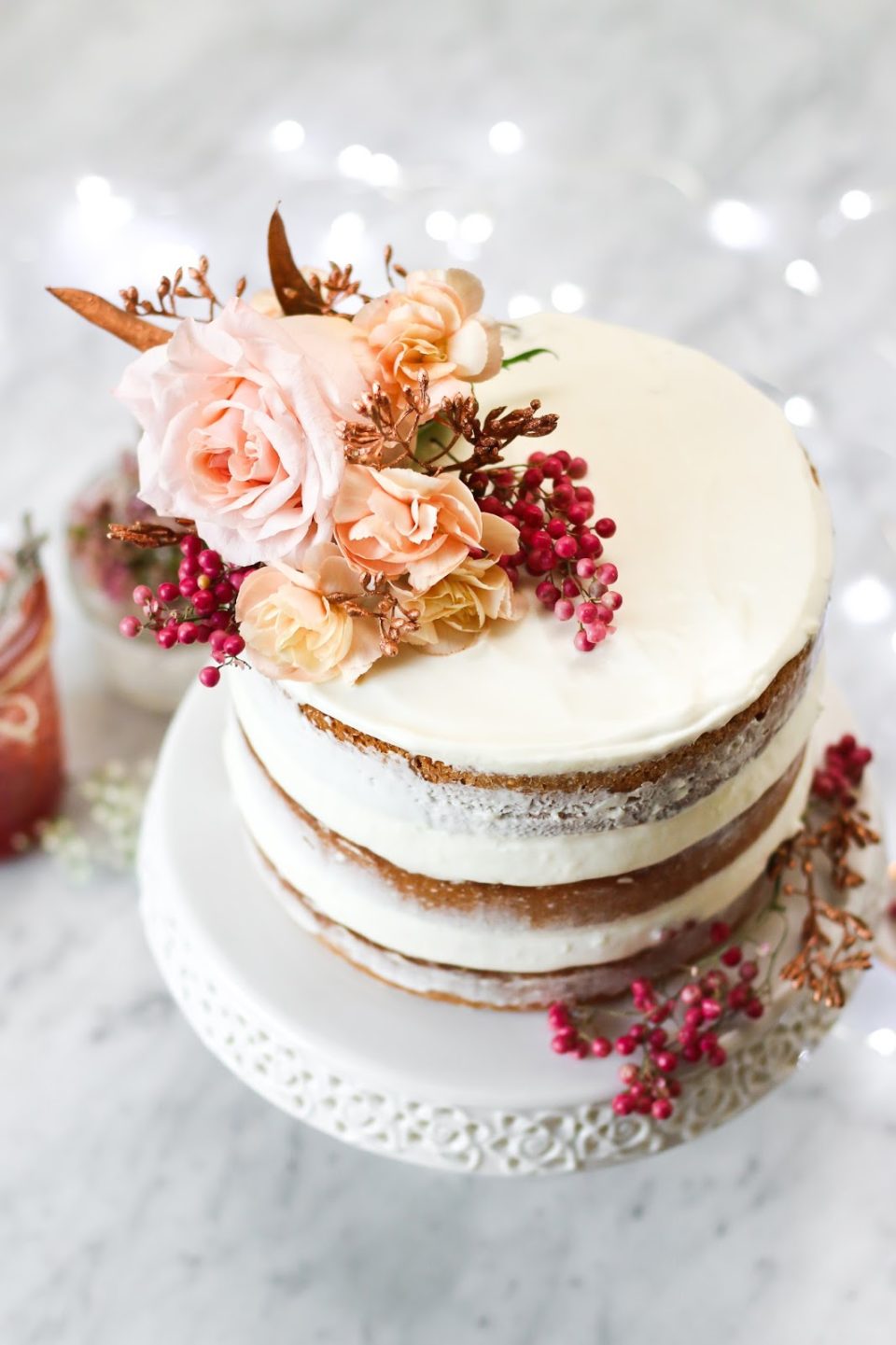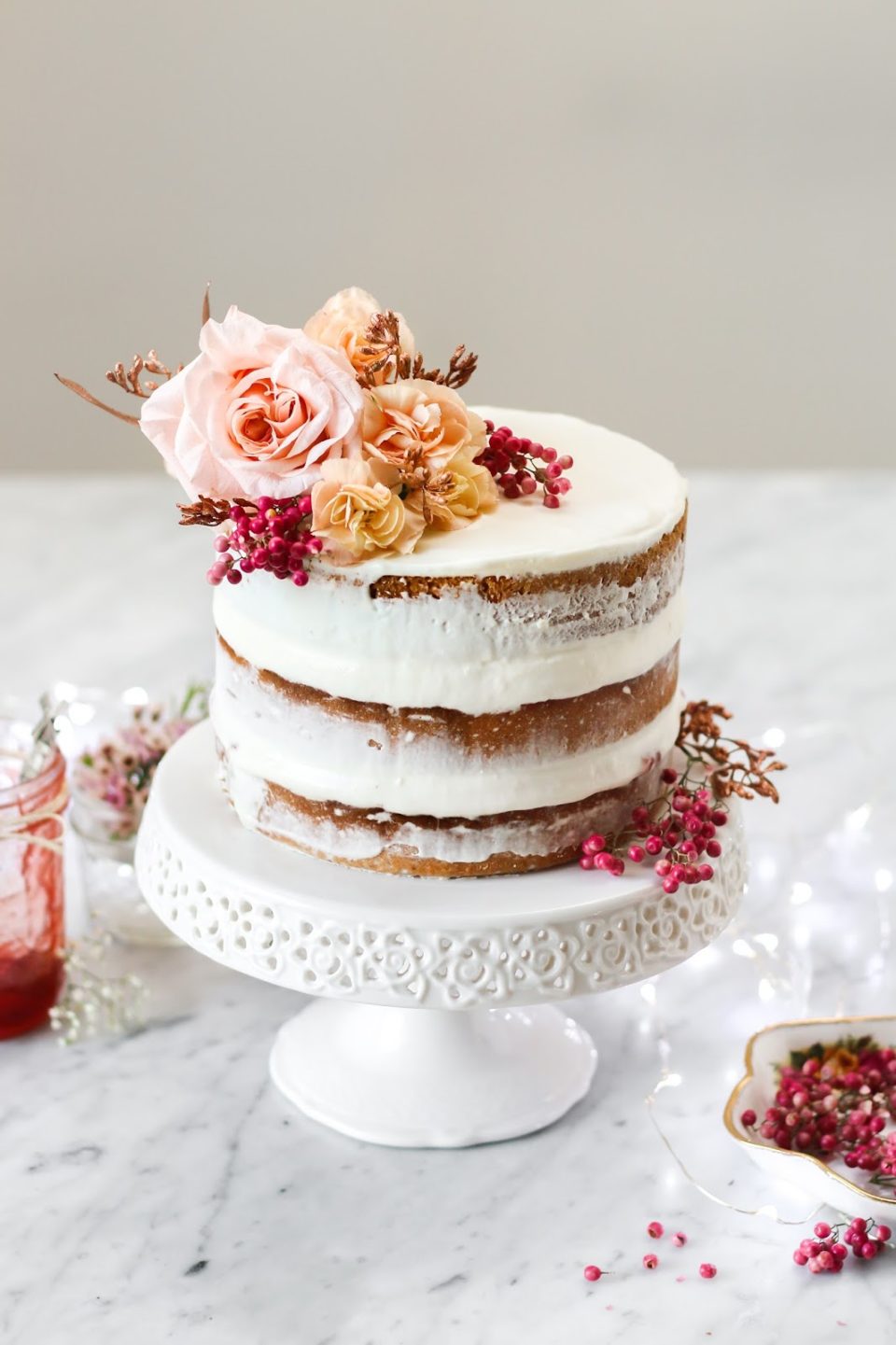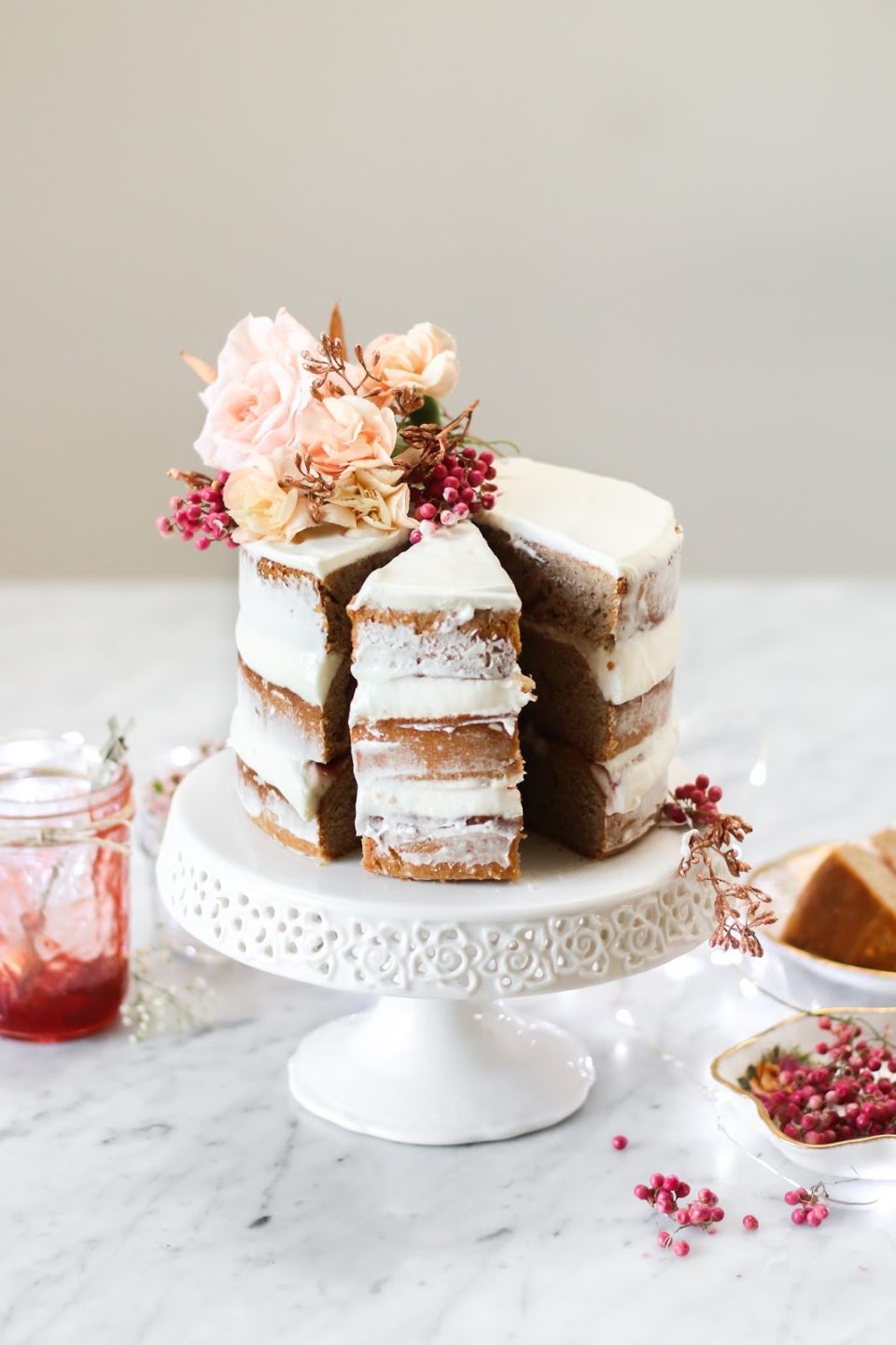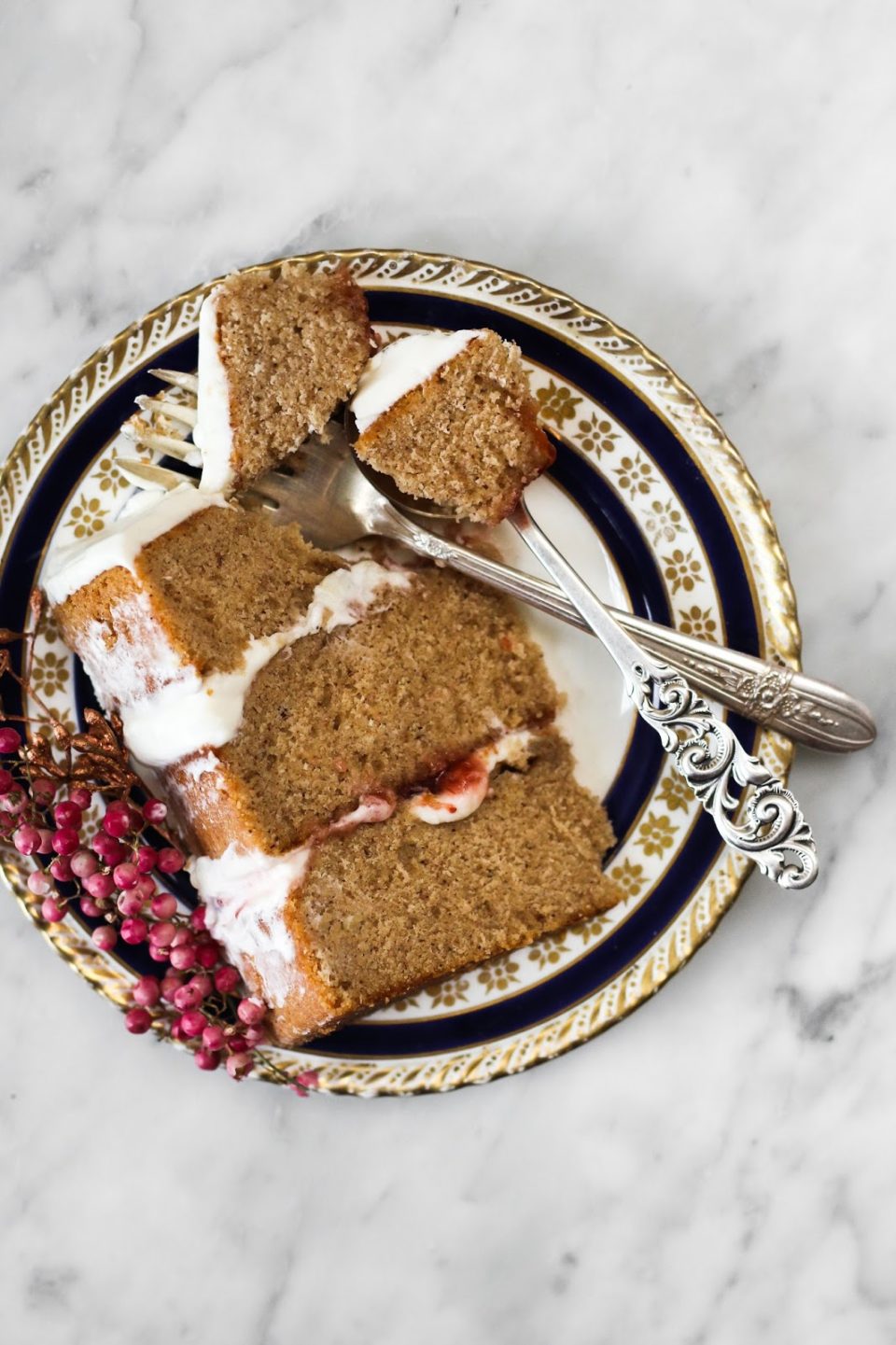 Happy baking!
Ingredients
Chai Black Tea Cake
3/4

cup

unsalted butter

,

at room temperature

1

cup

granulated sugar

1/2

cups

brown sugar

3

large eggs

,

room temperature

2 1/4

cups

all-purpose flour

2

teaspoons

baking powder

1/2

teaspoon

salt

1 1/2

teaspoons

ground cinnamon

1

teaspoon

ground cardamom

1/4

teaspoon

ground nutmeg

1/4

tteaspoon ground cloves

1

teaspoons

ground ginger

1

teaspoon

vanilla

1/3

cup

Pure Leaf Unsweetened Black Tea

2/3

cup

whole milk
Raspberry Jam
1/2

cup

your favourite raspberry jam
Whipped Cream Cheese Frosting
1

cup

heavy whipping cream

250

g

cream cheese

,

at room temperature

1

cup

powdered sugar

1

teaspoon

vanilla
Instructions
Chai Black Tea Cake
Preheat oven to 350F. Prepare three cake pans.

In a medium bowl, whisk flour, baking powder, spices, and salt until well combined. Set aside.

Using a stand mixer fitted with a paddle attachment, cream butter and sugars until pale and fluffy. Reduce speed and add eggs one at a time fully incorporating after each addition.

Alternate adding flour mixture and liquid ingredients, beginning and ending with flour (3 additions of flour and 2 of milk). Fully incorporating after each addition.

Bake for 30 – 35 mins or until a toothpick inserted into the center comes out clean.

Place cakes on wire rack to cool for 10 minutes then turn out onto wire rack. Allow to cool before frosting.
Whipped Cream Cheese Frosting
Pour whipping cream into bowl of standing mixer. With the whisk attachment whisk the whipping cream until it becomes fluffy and forms stiff peaks. Transfer whipped cream into a different bowl.

With a paddle attachment on your mixer, beat cream cheese and powdered sugar until light and fluffy. Add vanilla and mix until fully incorporated.

In the same bowl, gently fold in the whipped cream.

Keep whipped cream cheese frosting chilled until ready to use.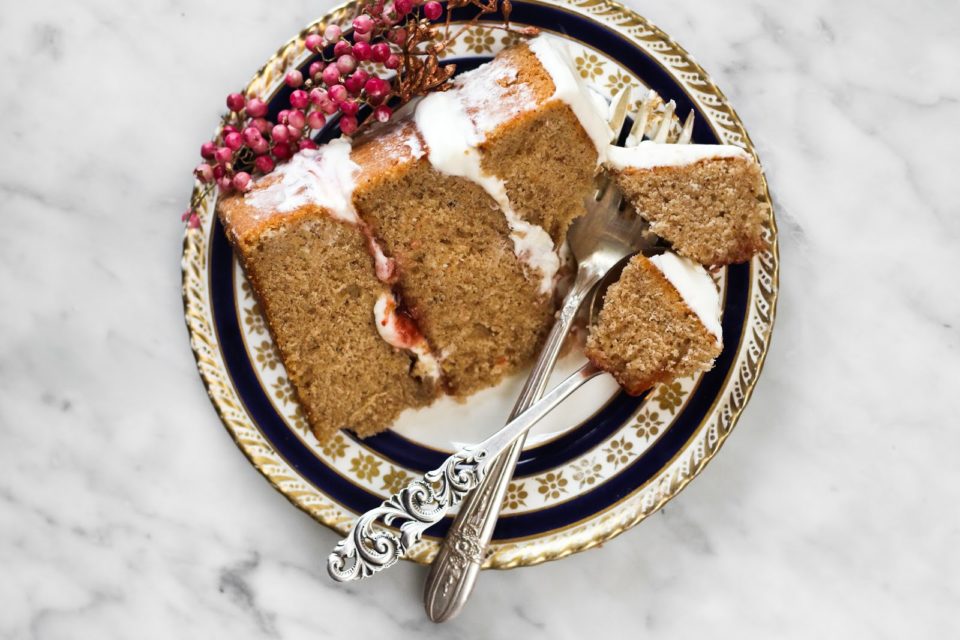 Thank you Pure Leaf for supporting Constellation Inspiration!
Reader Interactions