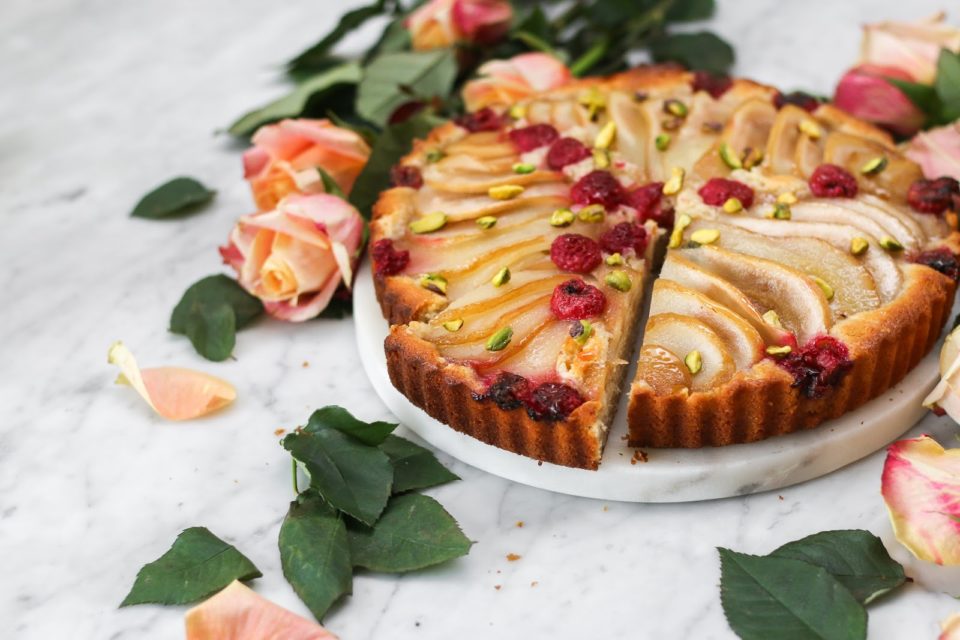 There are only so many things that I am sure of —
– If you spend too long making browned butter too many times, there comes a point where you will actually get sick of the smell of browned butter. That aversion will linger.
– A warm croissant and a cup of coffee will make most, if not all, mornings better.
– Sometimes what we thought in absolutes turn out to be conditional. But then there's you, the unconditional that I did not know I was searching for all along.
– And this cake. This cake is something I am definitely sure of.
I have made many variations of this cake a dozen of times. I have used ricotta instead of sour cream (so good!), and I have used plain greek yogurt if that was what I had handy at the time. I've also doubled the recipe to make it a layered cake and substituted almond flour with freshly ground pistachios or hazelnuts. Which every variation I have chosen, I have loved. This version. This version though, is one of the top contenders. It has poached pears. Delicate and soft tea-poached pears nestled in a pistachio flour batter. There is a scattering of raspberries for a slight pop of tartness. The pears are poached in raspberry black tea to complement the jewel-toned berries that stud the cake. Any black tea would work, I just happened to have raspberry black tea in my pantry.
This cake comes together extremely easily. You can poach the pears and make the entire cake in the late afternoon and have it all ready before dinner even starts. If your pears are on the riper side, I suspect that you can even skip the poaching step if you do not mind losing the additional tea flavour steeped into the fruit. You could always add the tea leaves (grounded up) to the batter instead for a stronger tea flavour that way. You could also swap out the raspberries for cranberries and you would then have the most perfect Christmas dessert, though it might be a tad too early to be thinking about that. Then again, I am the one that started listening to the She & Him Christmas album and making gingerbread cookies last week.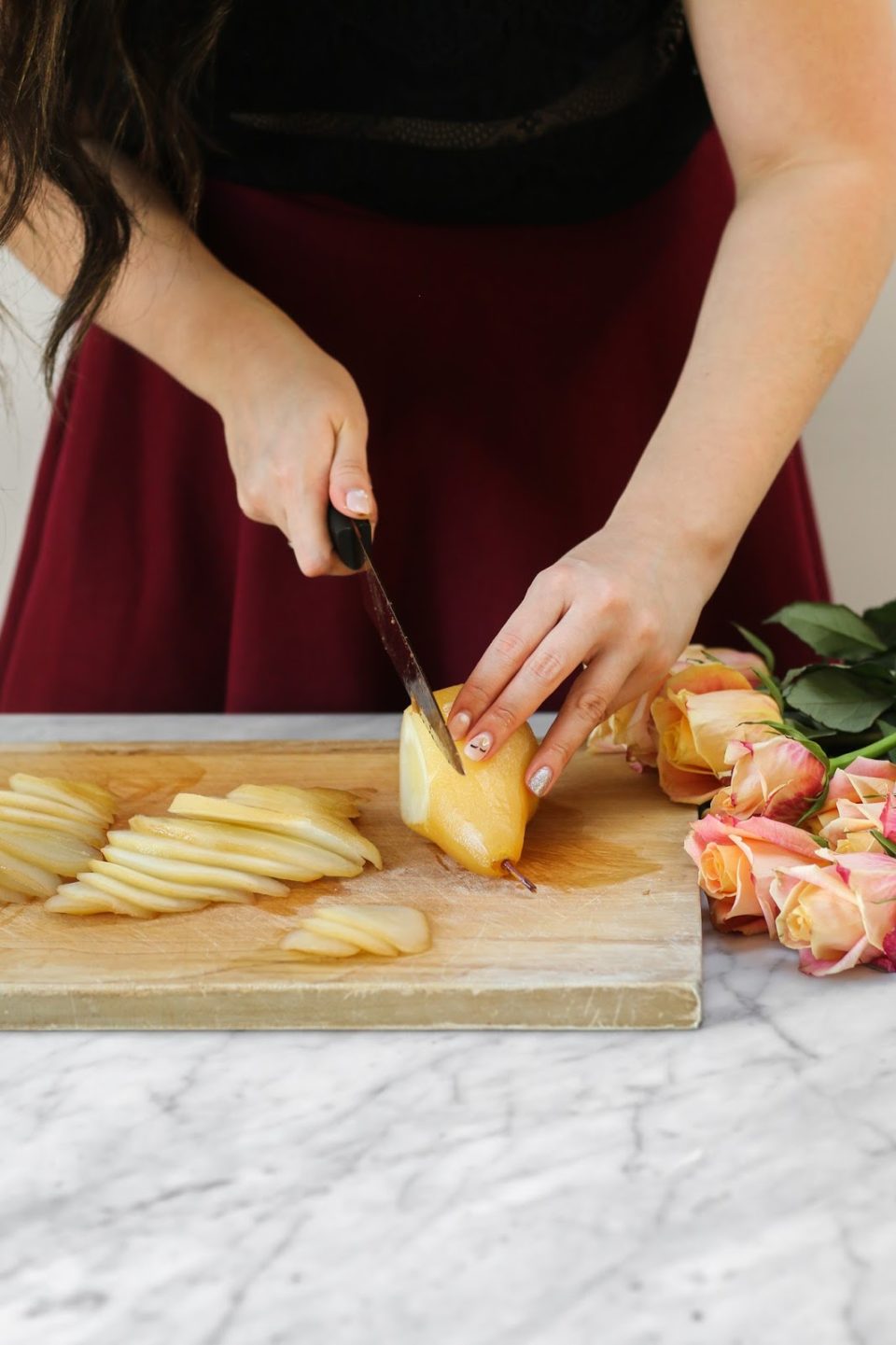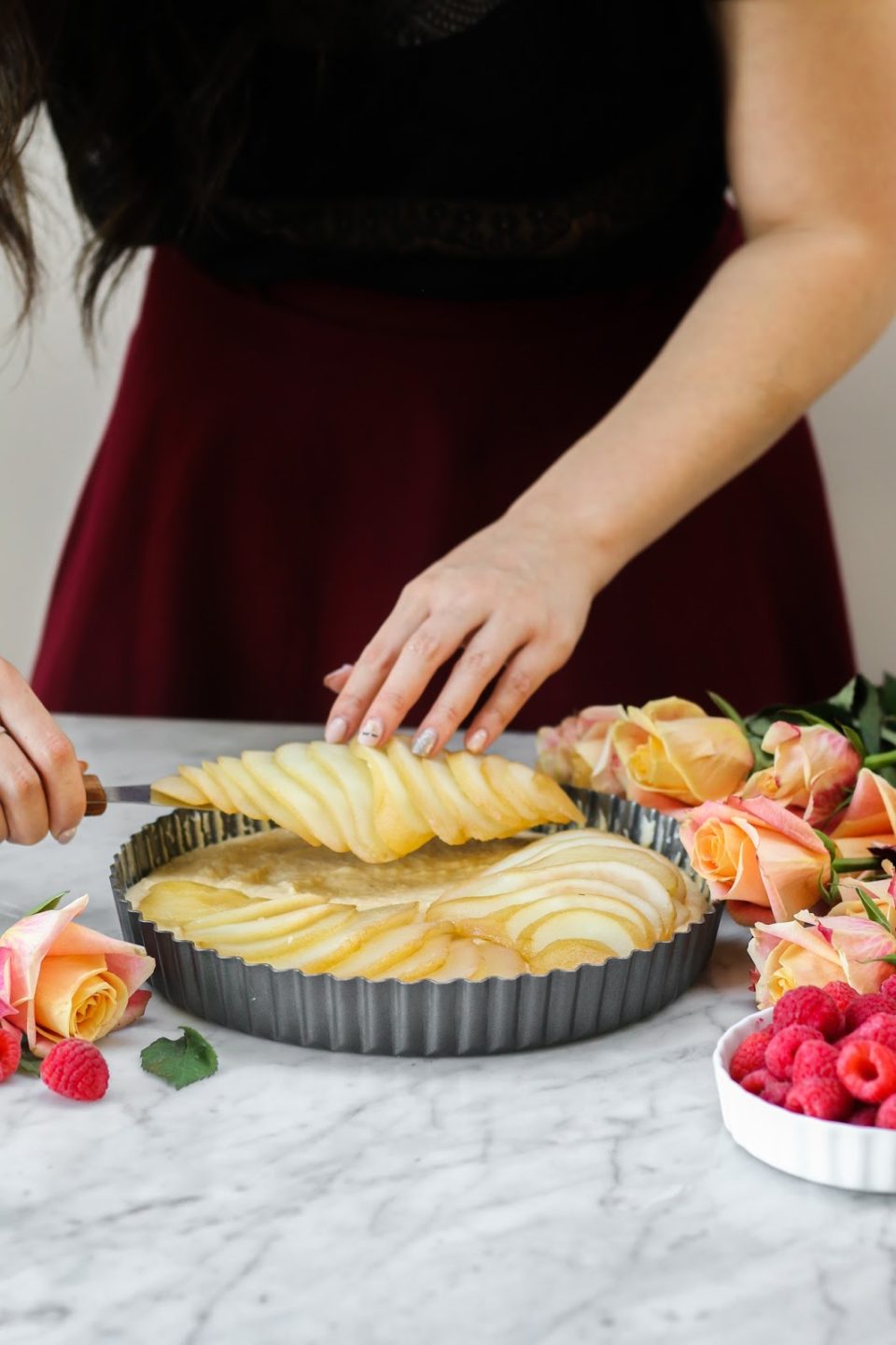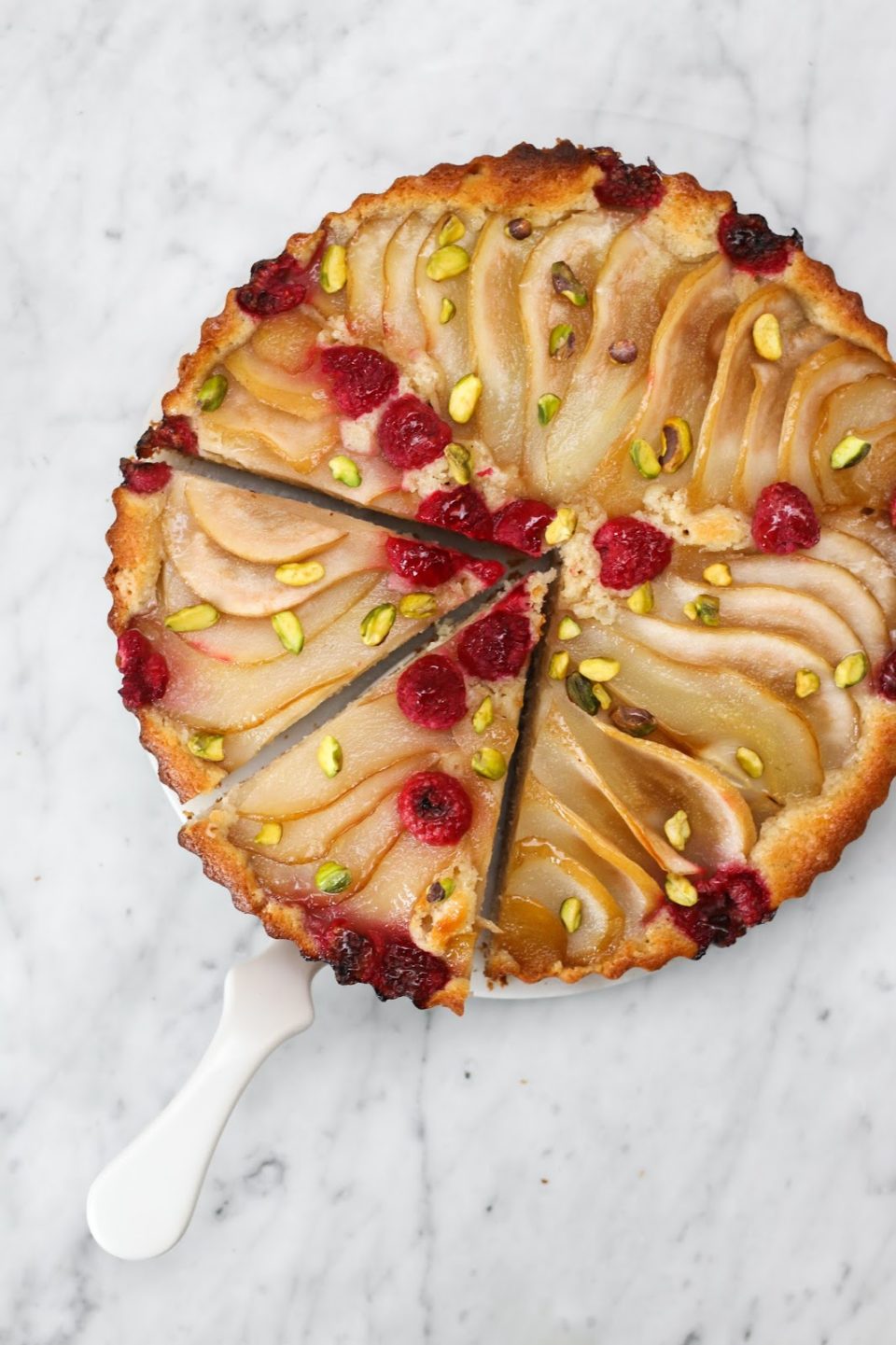 Happy baking!
Ingredients
Tea-Poached Pears
3

medium pears

,

peeled

3

black tea bags

,

(I used raspberry black tea)

600

mL

water

3/4

cup

sugar
Pistachio Cake
1/2

cup

unsalted butter

,

room temperature

1

cup

granulated sugar

2

large eggs

1

egg yolk

1 1/4

cup

all-purpose flour

1/2

cup

+ 1 tablespoon pistachio meal

1 1/2

teaspoon

baking powder

1/4

teaspoon

salt

1/2

cup

full-fat sour cream

30

mL

brewed black tea

,

cooled

1

teaspoon

vanilla

1/2

cup

raspberries

1/4

cup

pistachios

,

shelled

1/4

cup

apricot jelly

,

to glaze
Instructions
Tea-Poached Pears
In a small saucepan, bring the water, sugar, and tea bags to a boil. Simmer for 2 to 3 minutes.

Place the pears upright in the simmering syrup and cook for about 30 minutes over low heat, turning the pears once halfway through.

Pears should be tender with a knife. Allow pears to cool before slicing and placing on top of cake batter.
Pistachio Cake
Preheat oven to 350F and grease a 9-inch cake pan.

In a stand mixer with the paddle attachment, cream together the butter and sugar until mixture becomes light and fluffy. Add in the eggs, one at a time and mix until well-combined. Add vanilla.

In a separate bowl, combine flour, pistachio meal, baking powder, and salt. Whisk together.

In large measuring cup, combine the sour cream and black tea.

Add half the dry ingredients and half of the ingredients in them measuring cup to the butter-sugar mixture. Mix together lightly. Add the remainder of the ingredients and mix until just combined.

Arrange pear slices on top of the batter and sprinkle with raspberries.

Bake cake for 40 – 45 minutes, until a skewer inserted into the middle comes out clean. If the pears and berries are browning too quickly, place a sheet of foil on top while the cake continues to bake.

Once cake is ready, take the cake out of the oven. Allow cake to cool for 30 minutes before glazing. Sprinkle the top of the cake with pistachios.
Reader Interactions