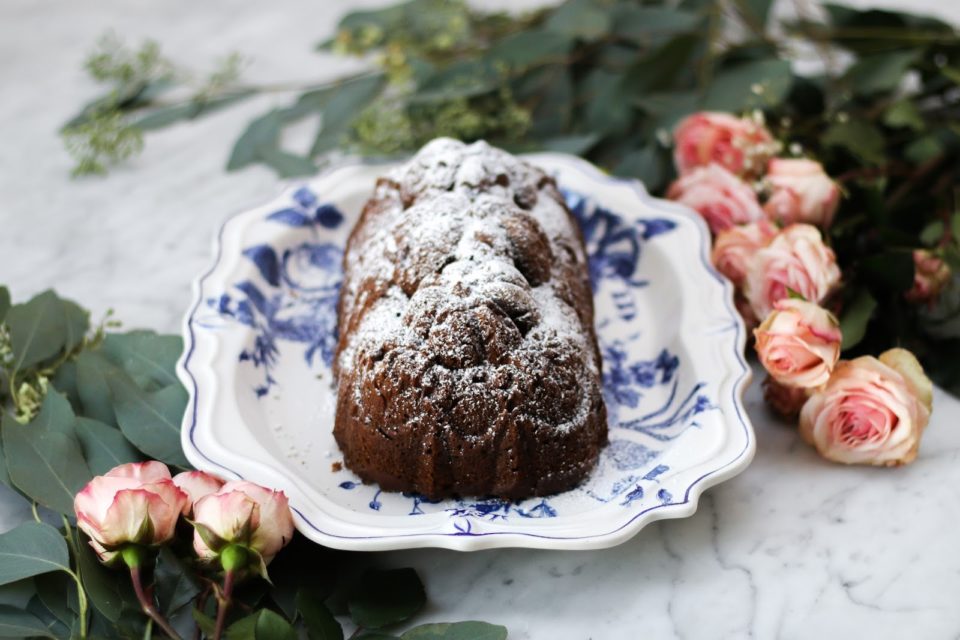 I did it. I used my super seasonal loaf pan this year! When I was purchasing this pumpkin loaf pan I told myself I can only buy it if I promise (myself?) that I will make at least one pumpkin loaf a year. I love seasonal decorative pans. I also own a lemon loaf pan from the same line that I have used…twice. I have owned the lemon loaf pan for two years so I have kept that promise to myself and am doing well in that front. I would get a lot more use out of them if I could get over the mental hurdle of using a seasonal loaf pan out of season. Is it socially acceptable to make a banana bread or blueberry loaf cake in a cake mold with decorative pumpkins. If you saw on this blog that a "blueberry earl grey tea cake" or "strawberry chamomile loaf cake" was presented in the shape of a pumpkin loaf, would you click for the recipe or would you exit my blog and question the credibility of anything I present on here.
I'll give you some time to reflect on those questions while I talk about this hazelnut pumpkin loaf cake. It is a super *moist* pumpkin cake with chopped hazelnuts (toasted, of course) that is lightly brushed with a black tea syrup. When I say lightly brushed, I mean lightly brushed. Do not go to town. We are not looking to turn the cake into a baklava consistency. We do not want it dripping black tea syrup when you lift a slice up. Just a nice light brush that adds tea flavour without overpowering the pumpkin and spices is what we are trying to achieve here. I love making simple tea syrups and brushing them on cakes for an extra flavour dimension. Earl grey tea syrup for a berry cake? Yup. Perhaps a chamomile syrup for citrus loaf. Adding a chai tea syrup to any autumnal loaf would be a dream as well.
Happy baking!
Ingredients
Hazelnut Pumpkin Loaf Cake
2

cups

all-purpose flour

1 1/2

cups

white granulated sugar

2 1/2

teaspoons

baking powder

2

teaspoons

pumpkin pie spice

1

teaspoon

baking soda

1/2

teaspoon

salt

3

large eggs

,

at room temperature

3/4

cup

vegetable oil

1

teaspoon

pure vanilla extract

1

(398mL) can of pure pumpkin puree (not pie filling)

3/4

cup

hazelnuts

,

toasted, roughly chopped
Black Tea Syrup
3/4

cup

Pure Leaf Unsweetened Black Tea

3/4

cup

granulated sugar
Instructions
Hazelnut Pumpkin Loaf Cake
Preheat the oven to 350 degrees F. Grease a loaf cake pan with cooking spray and set aside.

In a medium-sized bowl, whisk together the flour, sugar, baking powder, pumpkin pie spice, baking soda, and salt.

In separate bowl, whisk together the eggs, vegetable oil, vanilla, and pumpkin until smooth. Add the dry ingredients and mix until just combined.

Pour the batter into the pan and smooth it out using an offset spatula.

Transfer to the oven to bake for 55 – 60 minutes, or until a skewer comes out clean. Allow loaf to cool in the pan for about 10 minutes before inverting it onto a cooling rack.
Black Tea Syrup
Over medium heat, stir the mixture until sugar has melted.

Continue boiling over medium heat for about 5 minutes.

Remove from heat. Transfer syrup into a heat-safe container and let it cool to room temperature.

Lightly brush black tea syrup over cooled loaf before serving.
Thank you Pure Leaf for supporting Constellation Inspiration!
Reader Interactions