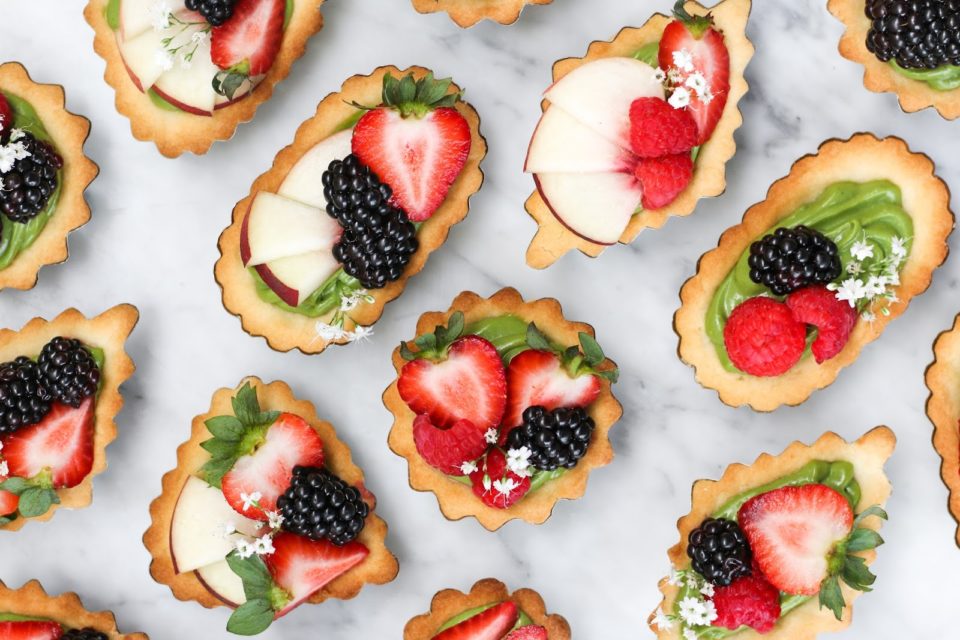 Mini fruit tarts. I love them so much and not just because they always feature the brightest and plumpest fruits placed on a velvety custard-like cream, all nestled inside a rich chocolate-lined shortbread crust, but also because of nostalgia. If you grew up in an Asian household, there is a high chance you can relate to what I am about to describe – 'a pack of 8 mini fruit tarts encased in a somewhat flimsy see-through plastic container organizing the tarts in to two orderly rows.' Oh, and do not forget that you only had to pay $4.80 for all of that. This was the expected after school snack if you knew your parents recently visited an Asian bakery. I have had countless mini fruit tarts growing up. I always wanted the one topped with a cantaloupe or honeydew ball. I liked the strawberry-adorn tart too but not as much. Kiwi and pineapple topped tarts meant I would shamelessly peel off those fruits and consume only the custard and tart shell. You will not find any kiwi-topped tarts here today.
The tarts here today are slightly different. They keep a similar aesthetic to the ones I ate growing up, but I would like to pretend that I have matured a little and that these tarts are the slightly more grown-up version of those tartlets from the bakery. I kept the rich buttery shortbread-like crust of those tartlets because you do not want to mess with that component. Instead of a vanilla custard filling though, an airier and lighter matcha mascarpone cream is piped into the tart shells. The matcha provides a nice grassiness to contrast the otherwise simply sweet filling. The matcha also gives the mascarpone cream the most beautiful colour. The tartlets are then topped with berries and slices of white peaches because I wanted to take advantage of what was season. If you are not serving these right away, I would brush a simple glaze over the fruit to prevent them from turning colour and keep them in the fridge.
These tarts are the perfect accompaniment for a cup of hot tea but they are also great if you decided to pop three (or more) of them in your mouth in one sitting. The recipe makes approximately 16 smart tartlets, but you might get more or less depending on the size of your tart moulds.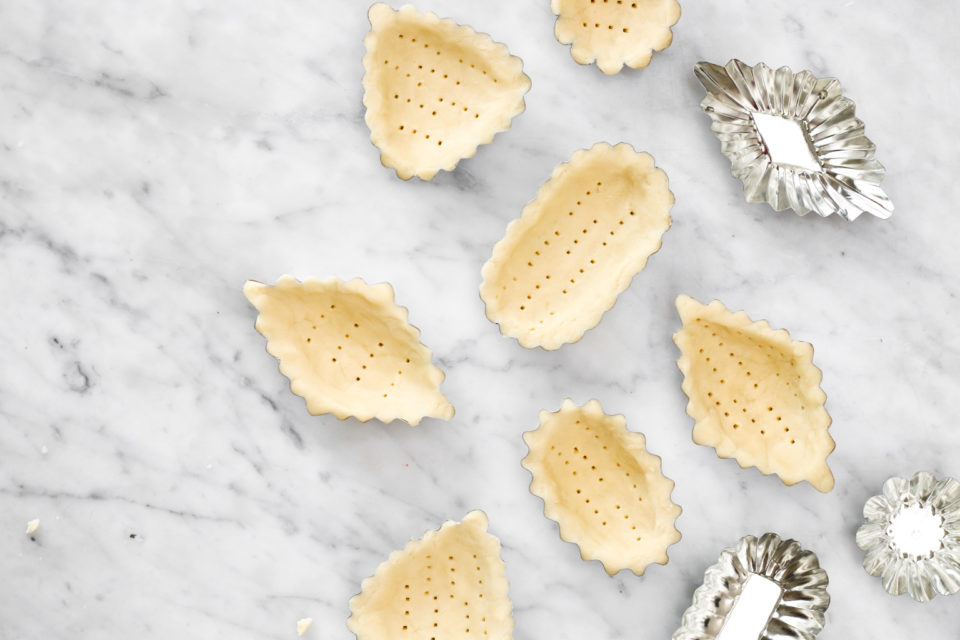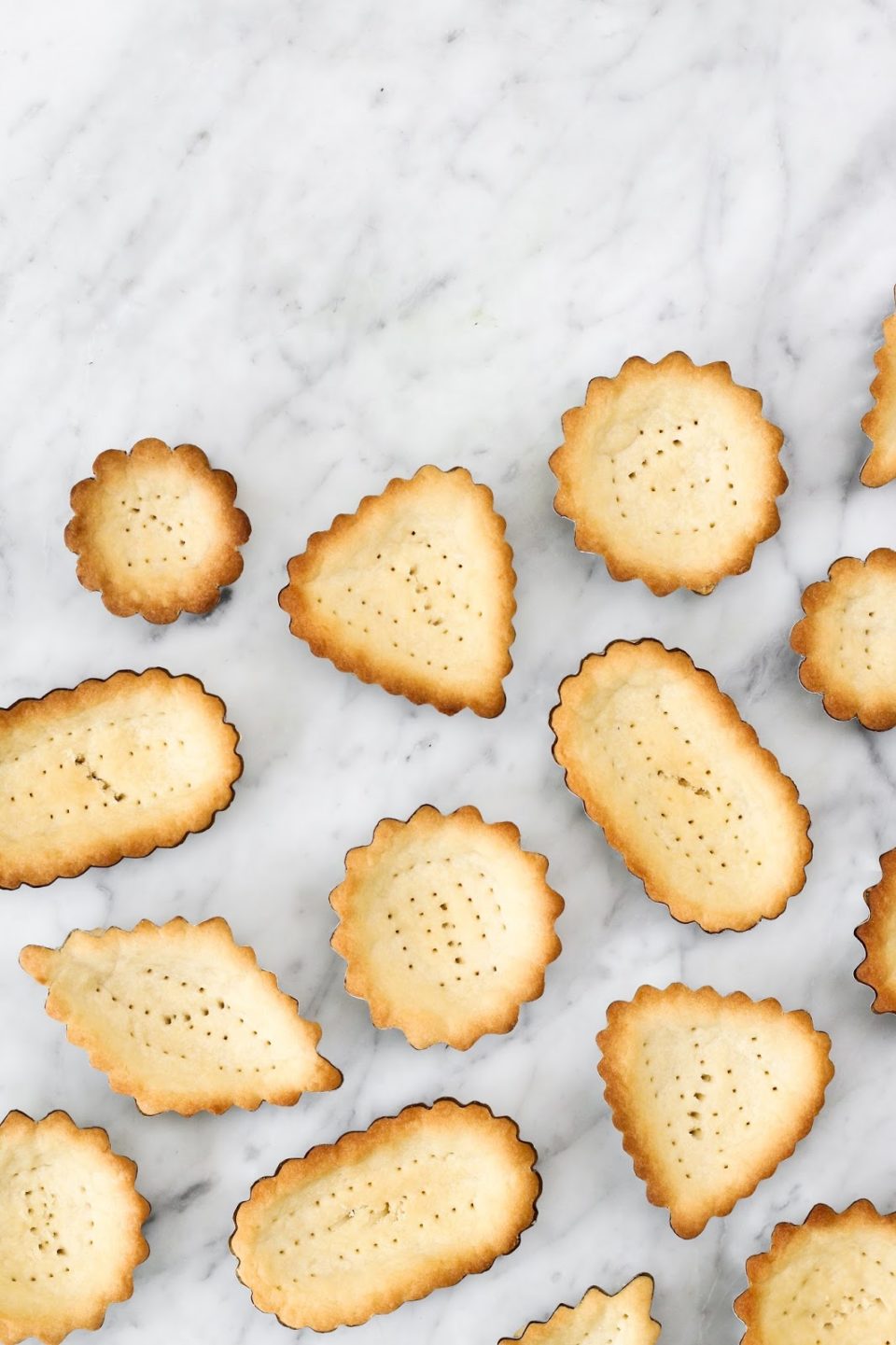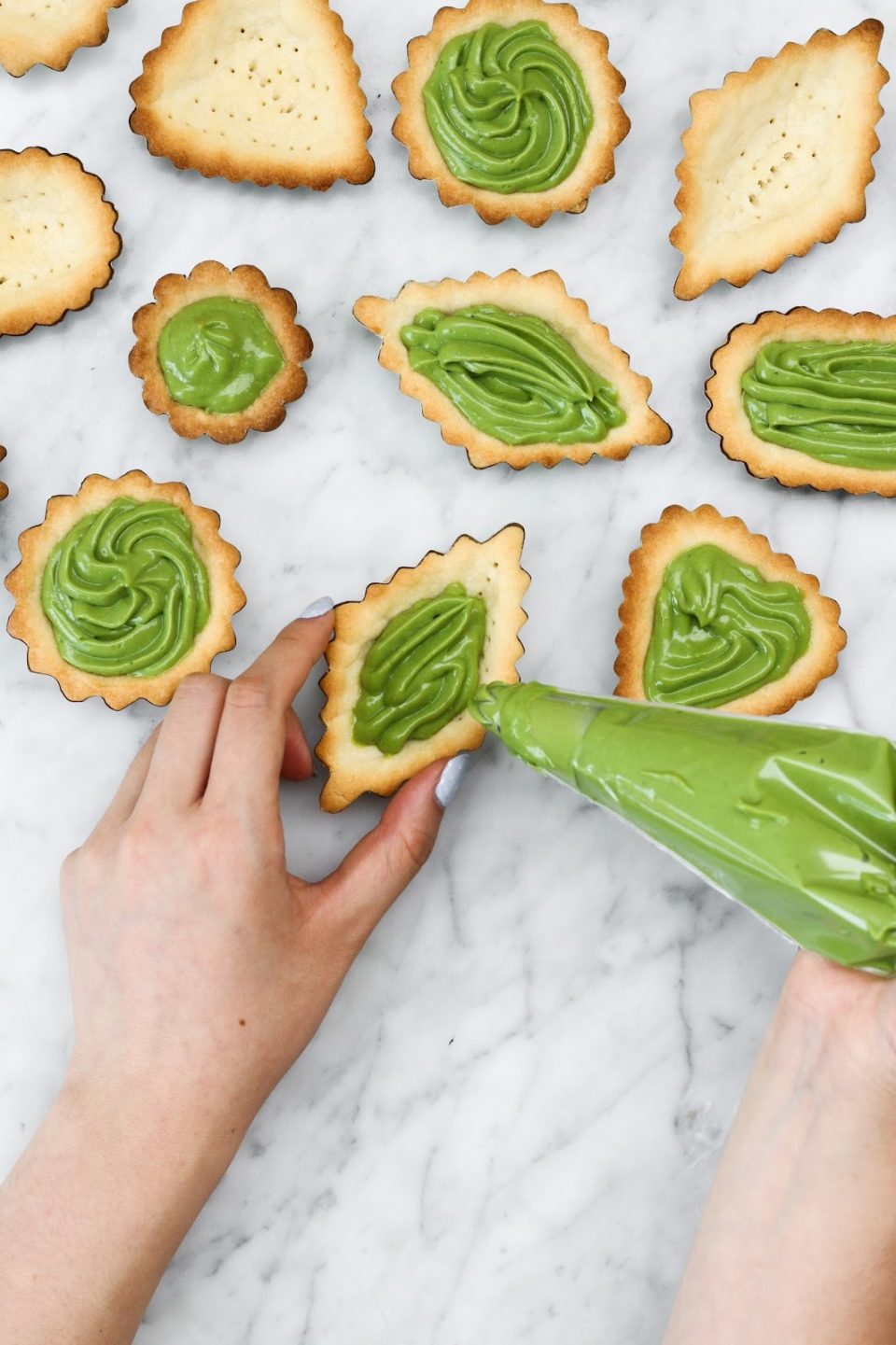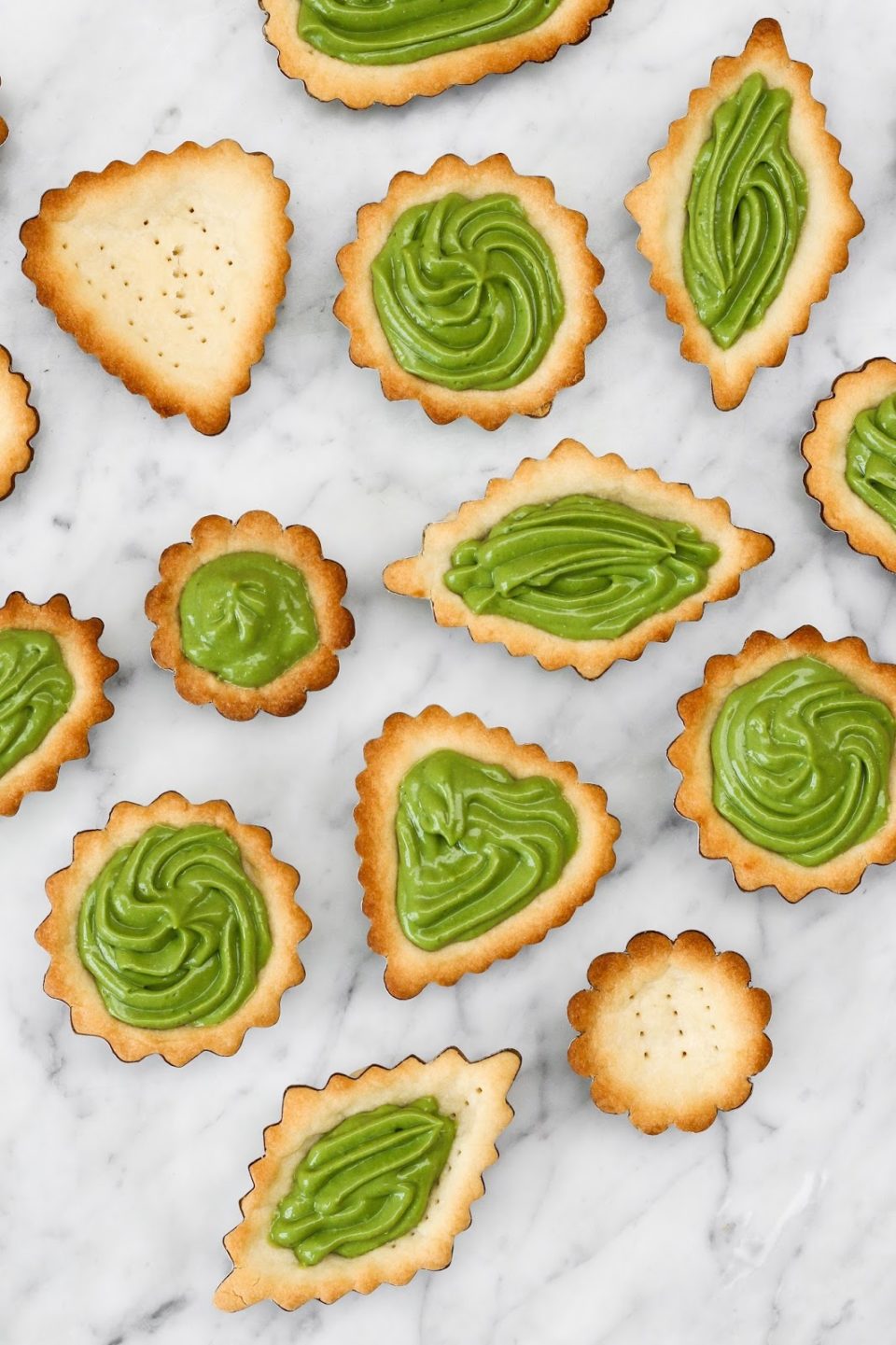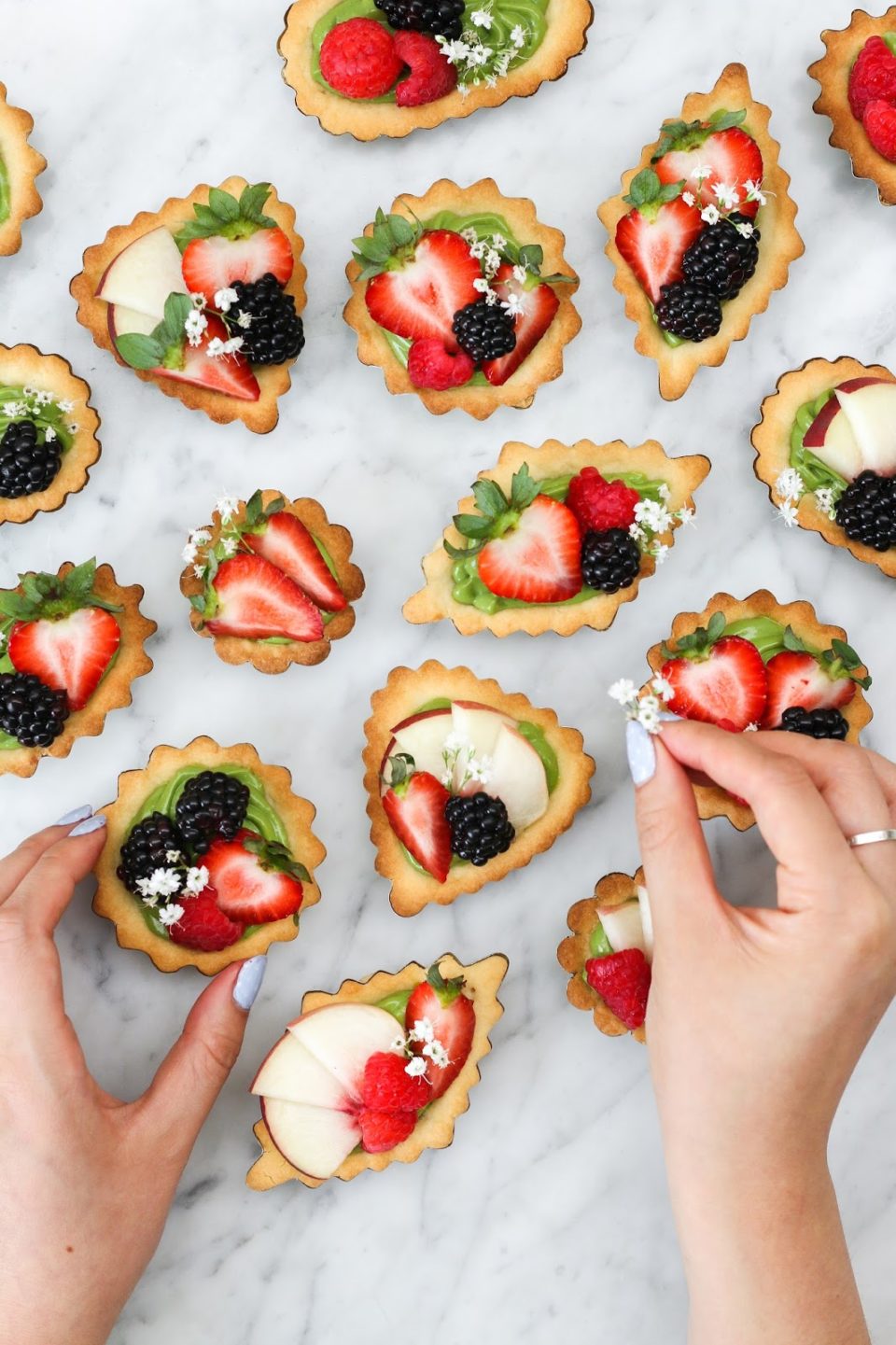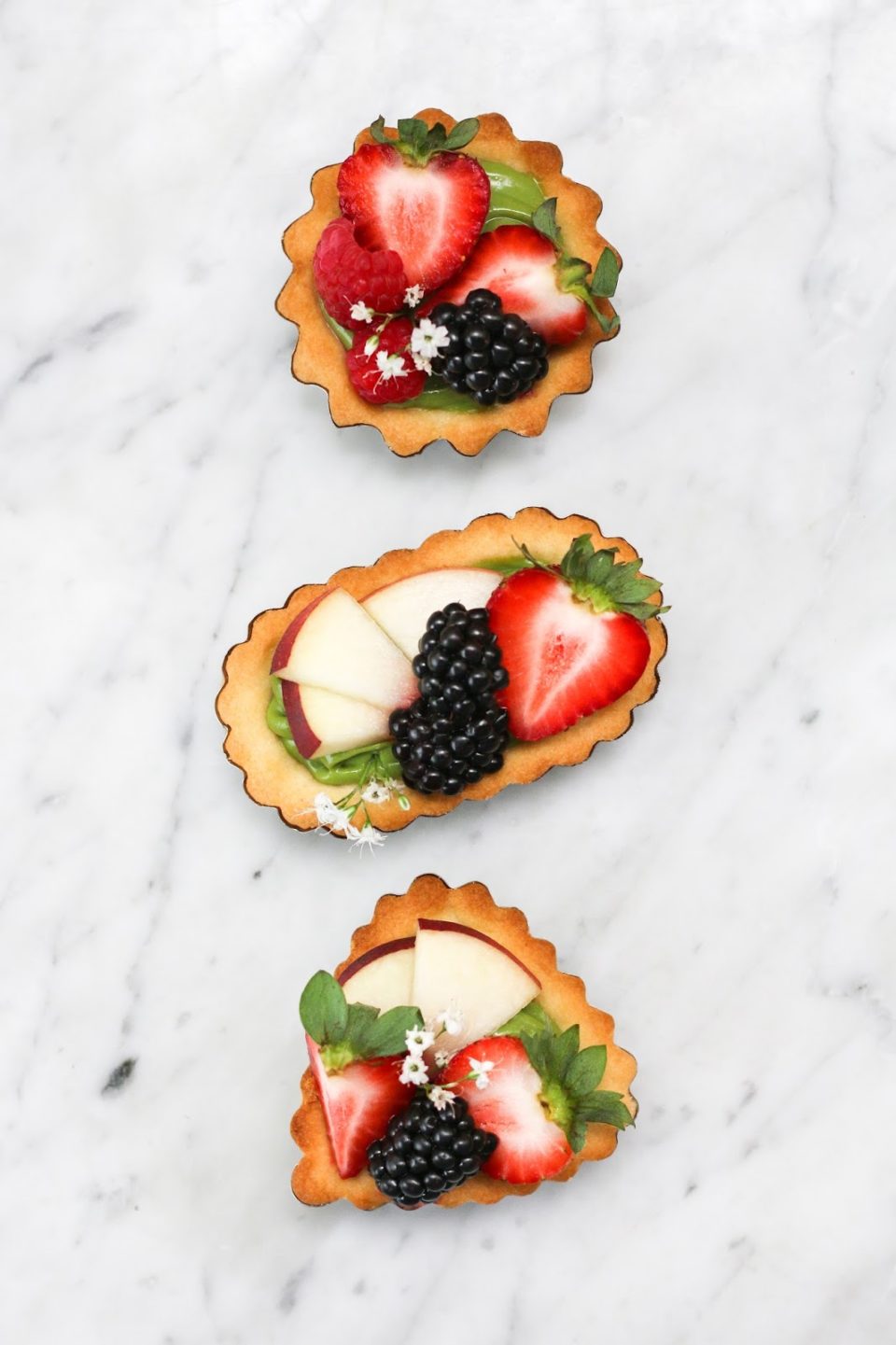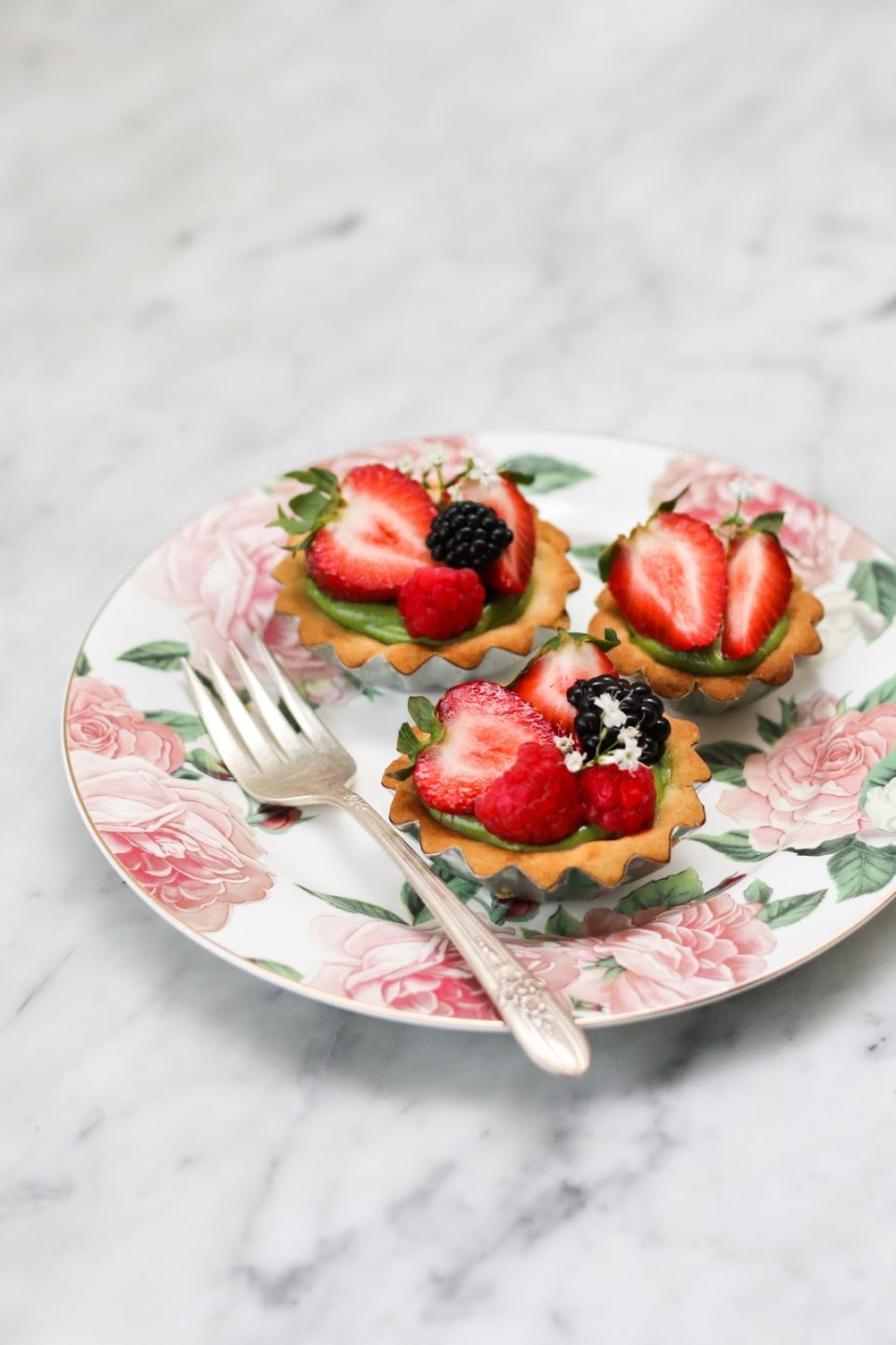 Ingredients
Pâte Sablée
8

tablespoons

unsalted butter

,

room temperature

1/3

cup

powdered sugar

1

large egg yolk

1/2

teaspoon

salt

1 1/4

cups

all-purpose flour
Matcha Mascarpone Cream
1

cup

whole milk

2

teaspoon

vanilla extract

2

egg yolks

6

tablespoon

granulated sugar

2 ½

tablespoon

cornstarch

140

grams

mascarpone

1 ½

tablespoon

AIYA Cooking Grade Matcha powder
Garnish
Strawberries

,

halved

Blackberries

,

halved

Raspberries

Peach
Instructions
Pâte Sablée
Beat the butter and powdered sugar in the bowl of a stand mixer until creamy.

Beat in the egg yolk and mix until fully combined.

With the mixer on low speed, beat in the salt and flour just until the dough comes together and there is no more visible flour. Careful not to overmix. Remove dough from the bowl and press the dough into the tartlet pans, making sure it is evenly distributed. Using a fork, prick the bottom of the tart shell to prevent the bottom from puffing up when baking.

Chill tart shells for roughly 30 minutes.

Bake the tart shells on a baking sheet at 360F until the crust is golden brown (approximately 12-13 minutes). Remove carefully from oven and let rest on a wire rack. Let cool completely before filling with cream.
Matcha Mascarpone Cream
Place the milk and vanilla in a medium sized saucepan set over medium-low heat. Bring the mixture to a light simmer.

In separate bowl, whisk together egg yolks, sugar and cornstarch until smooth.

When the milk reaches a light simmer, ladle in a bit into the egg yolk mixture and whisk vigorously to prevent the eggs from cooking. Pour the egg mixture back into the saucepan with the milk and continue to heat the mixture until thick and glossy, making sure to whisk constantly.

When the mixture becomes thick and glossy (about 5 minutes), transfer the mixture to a large bowl and cover with plastic wrap. Let mixture cool before folding in the mascarpone. Fold until mixture is smooth.

Transfer mascarpone cream into a piping bag with tip of choice to fill cooled tart shells.
Garnish
Garnish each tartlet with an assortment of berries and peach slices.
Thank you AIYA Matcha for supporting Constellation Inspiration!
Reader Interactions