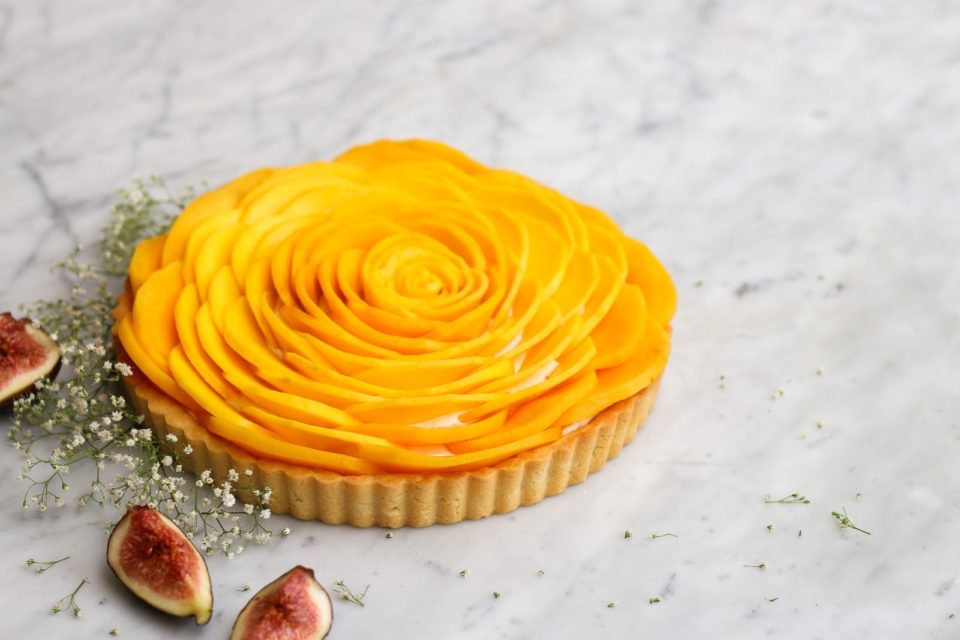 Please forgive me because I am here again with another tart. The next post you will see on here might feature more tarts. Do not get me wrong – I love making cookies, cakes, and pies but there is just something, an inexplicable something about an elaborate looking (but in reality, easy in execution) tart. It might be the rich and sandy crust. Or it might be that the sweetness of summer fruits at their peak simply sing. It also seems like the possibilities of whatever you want to fill inside the tart are endless. They are endless but it does not mean you cannot fill it with something simple like a sweetened whipped cream. Sometimes simple is all I crave. No multiple layers of sponge. No batter that requires three days of preparation. All I want is a simple treat necessitated by nothing more than fruit, unadulterated, straight from the market that morning, and a whipped cream, flecked with vanilla bean, dreamier than the most.
I am going to hang onto these summer tarts for as long as I can and I might not be apologetic about it by the time I am eighteen consecutive tart recipes in. I promise I will throw in a few autumnal tarts in the mix. I am making an Elstar apple and tahini frangipane tart today and my biggest goal for next little while is making and perfecting a pear and frangipane tart. I am obsessed with this pear tart because I had it last winter at a restaurant and I have been thinking of that tart ever since. It had a pumpkin seed frangipane filling topped with pear slices arranged like blossoming flower petals. It was served with a fig leaf ice cream but trying to recreate that might be another blog in itself. But we will see. Frangipane tarts served alongside ice cream are always worth the effort.
Originally there was going to be an even greater delay on this tart. I started running out of words to say about tarts, though my love for them will never fall short. FeedFeed reached out and asked me if I could share the recipe for this tart — so here you have it. If you stumbled upon this blog because of Feedfeed, here is a little welcome. Welcome to my little corner of the internet and I warmly welcome you with a slice of summer tart, even if the weather outside is trying to convince me that it is time to move on.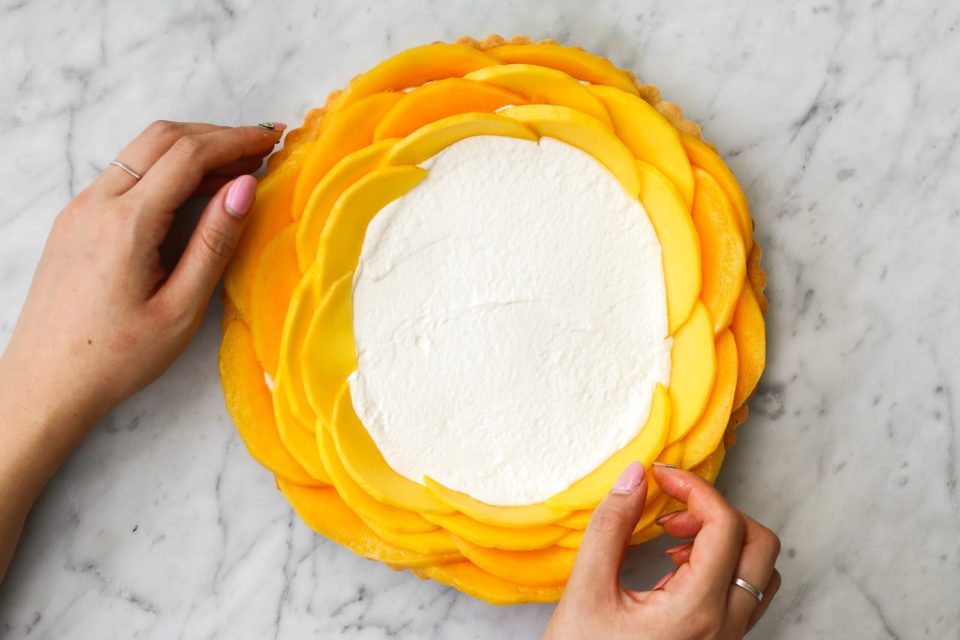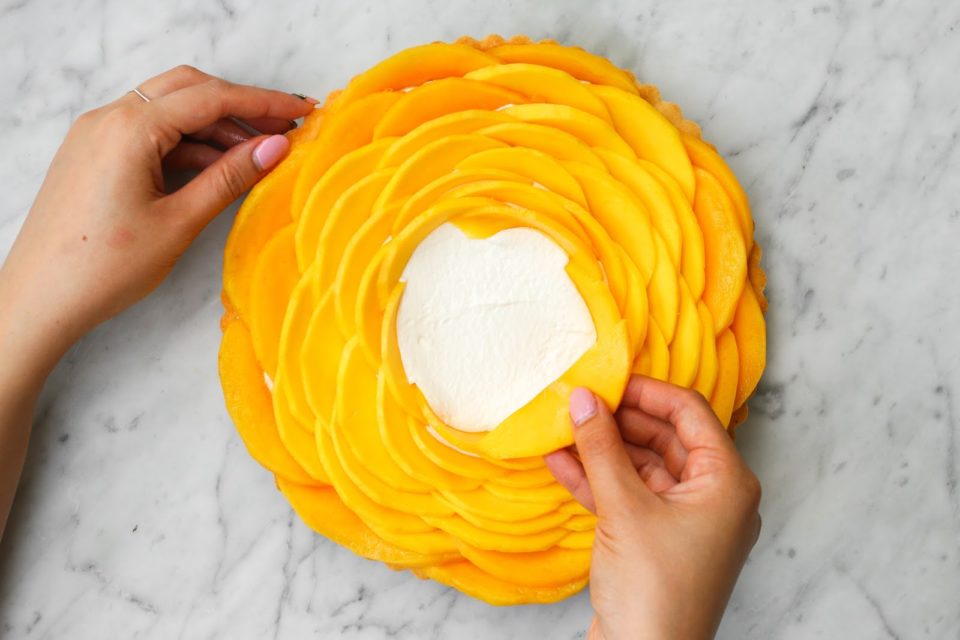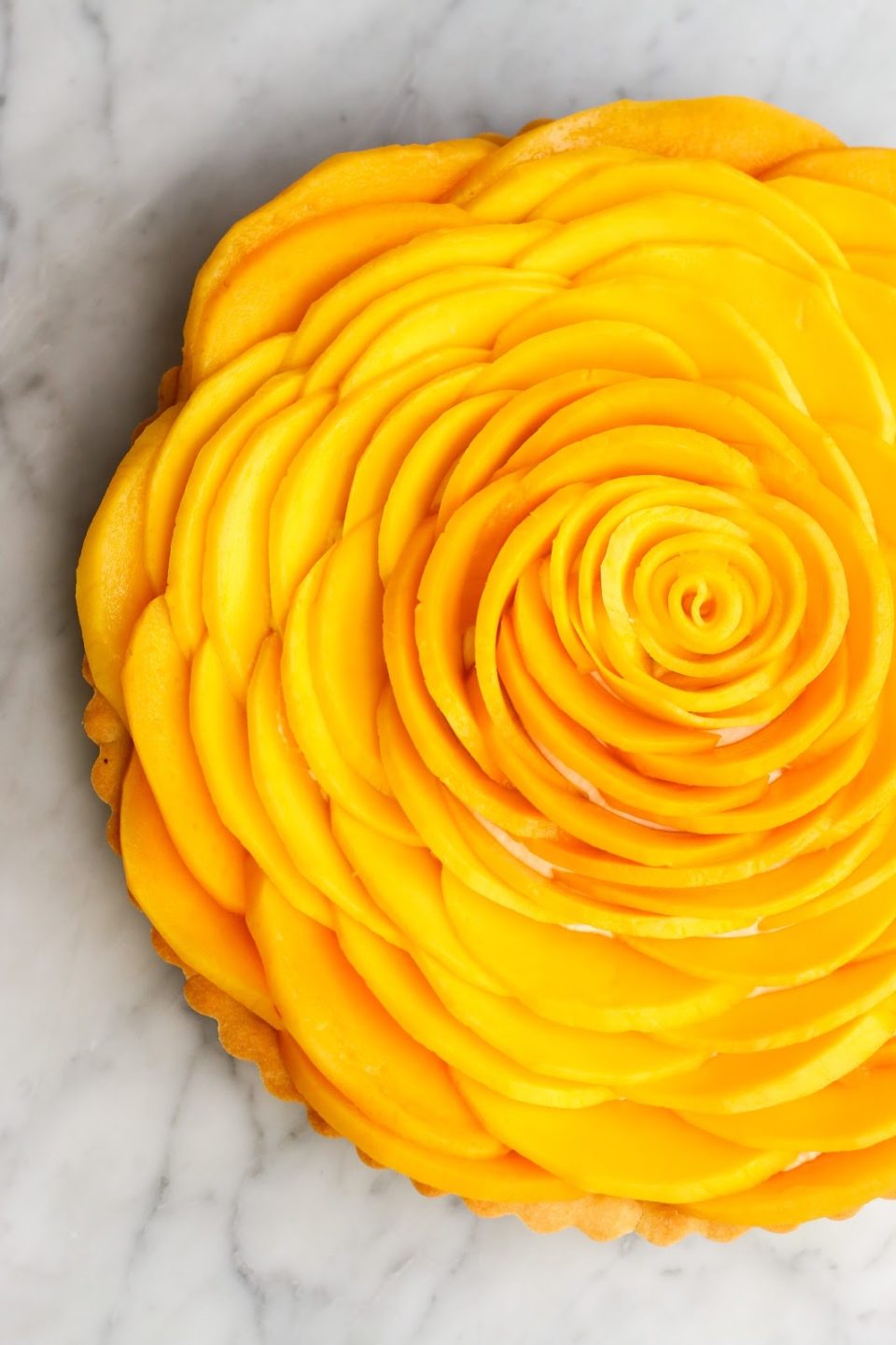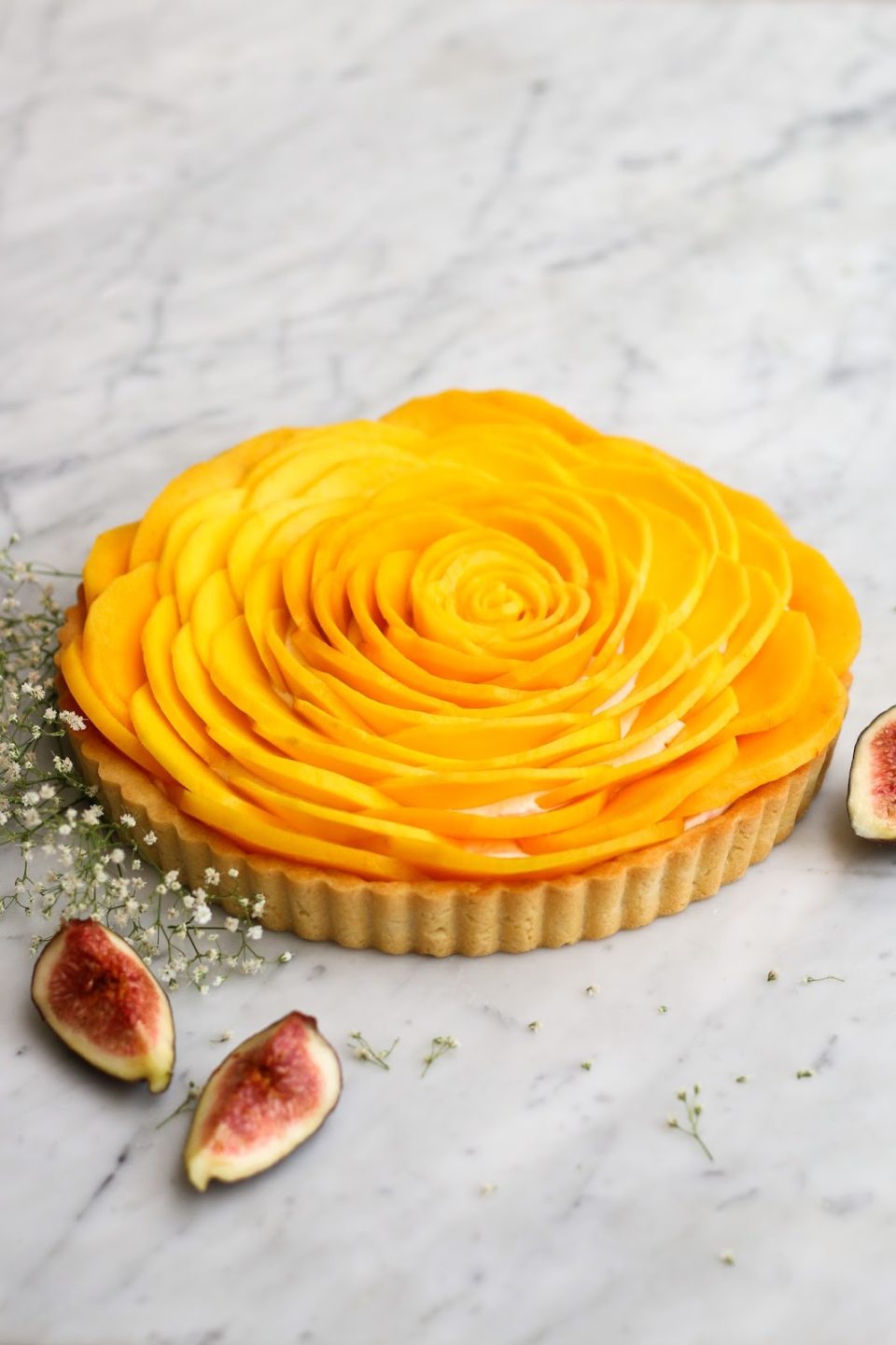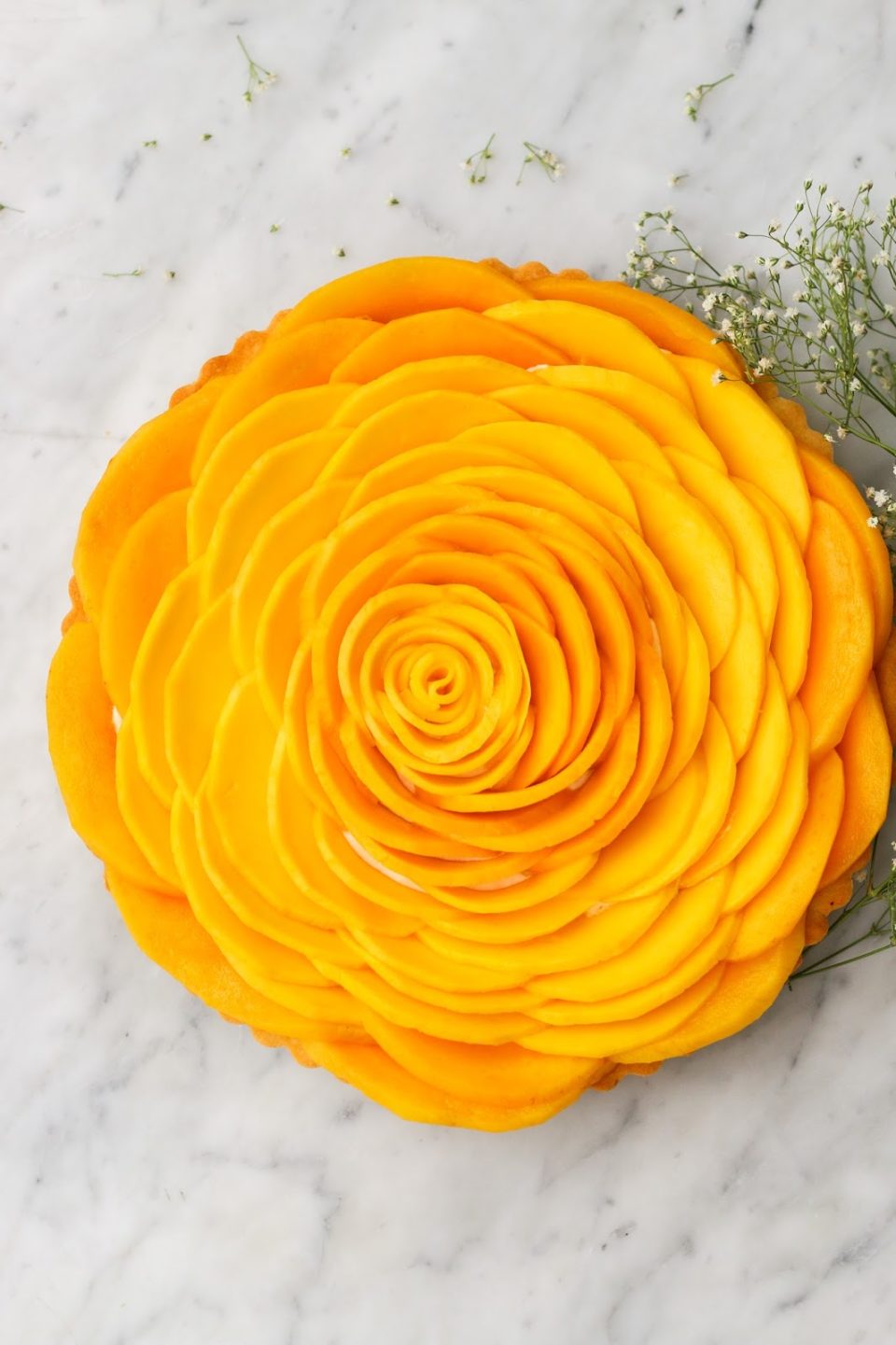 Ingredients
Pâte Sablée
8

tablespoons

unsalted butter

,

room temperature

1/3

cup

powdered sugar

1

large egg yolk

1/2

teaspoon

salt

1 1/4

cups

all-purpose flour
Crème Chantilly
1

cup

heavy whipping cream

1/3

cup

icing sugar

1

vanilla bean

,

scraped
Mango Rose
2

large mangoes

,

halved, cut into 1cm slices
Instructions
Pâte Sablée
Beat the butter and powdered sugar in the bowl of a stand mixer until creamy.

Beat in the egg yolk and mix until fully combined.

With the mixer on low speed, beat in the salt and flour just until the dough comes together and there is no more visible flour. Careful not to overmix. Remove dough from the bowl and press the dough into the tart pan, making sure it is evenly distributed. Using a fork, prick the bottom of the tart shell to prevent the bottom from puffing up when baking.

Wrap the pan loosely in plastic and chill 30 minutes.

Bake the tart shell at 410F until the crust is golden brown (approximately 15 minutes). Remove carefully from oven and let rest on a wire rack. Let cool completely before filling with cream.
Crème Chantilly
In the bowl of a standing mixer, combine whipping cream, icing sugar, and vanilla bean. With the whisk attachment, whisk mixture on medium-speed until stiff peaks form.

Keep cream chilled until ready to use.
Mango Rose
Wash and peel two large mangoes. Mangoes that are not overly ripe work best.

Stand the mango on your cutting board stem end down and hold. With a sharp knife, cut from the top of the mango, down one side of the pit. Then repeat with the other side. You will have two large pieces of mango.

Take a mango half and cut thin 1cm slices width-wise, so you get half circle slices. Save the smaller slices for the centre of the 'rose' and use larger slices for the outside petals.

After you have filled the cooled tart shell with cream, start arranging mango slices flat side down from the edges of the tart shell. Have the end of each mango slices overlap a bit. Continue building the flower until you have reached the centre of the 'rose.'

If tart is not being served right away, a simple glaze or melted apricot/apple jelly glaze should be brushed on with a pastry brush to prevent mangoes from browning.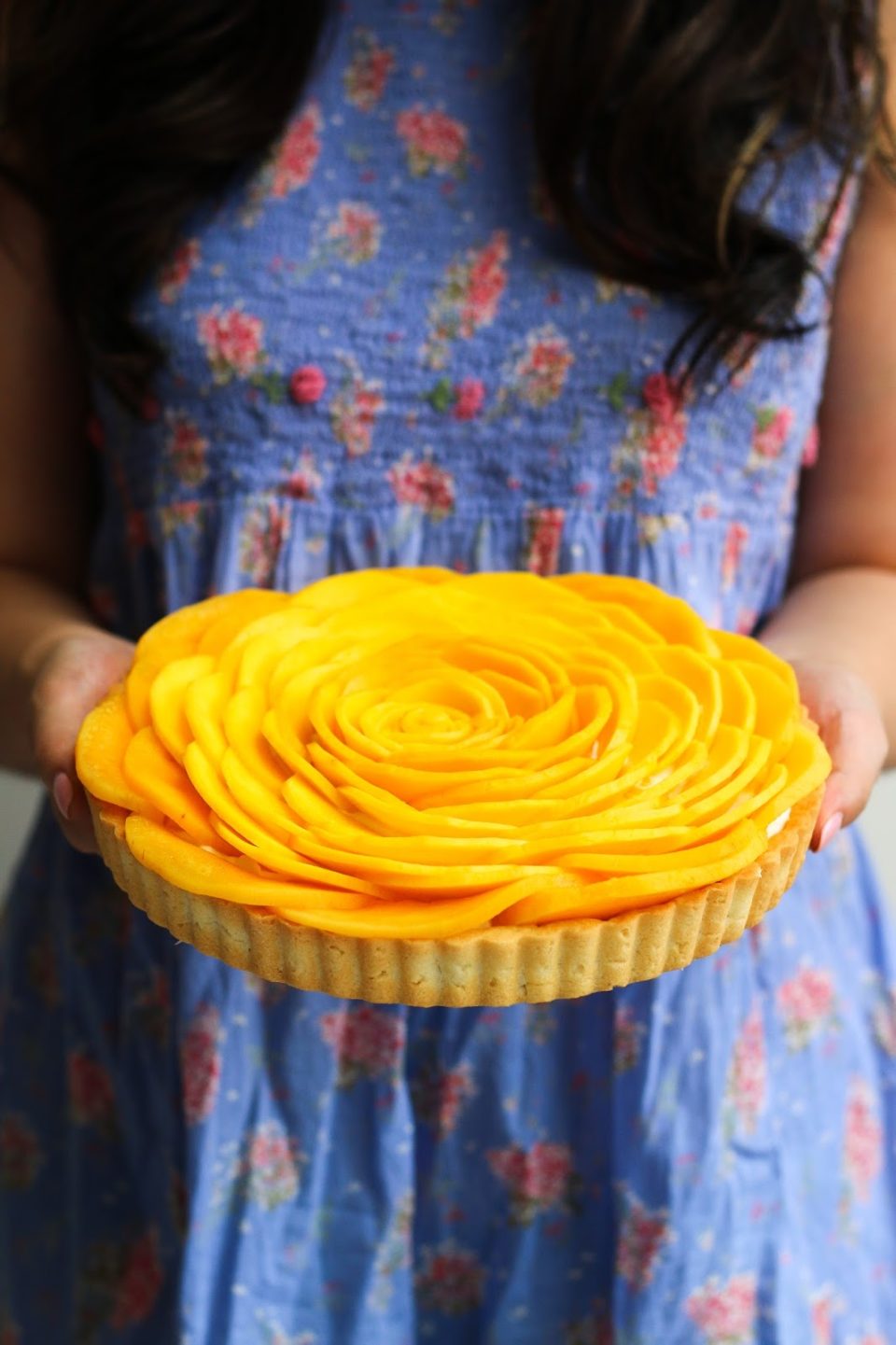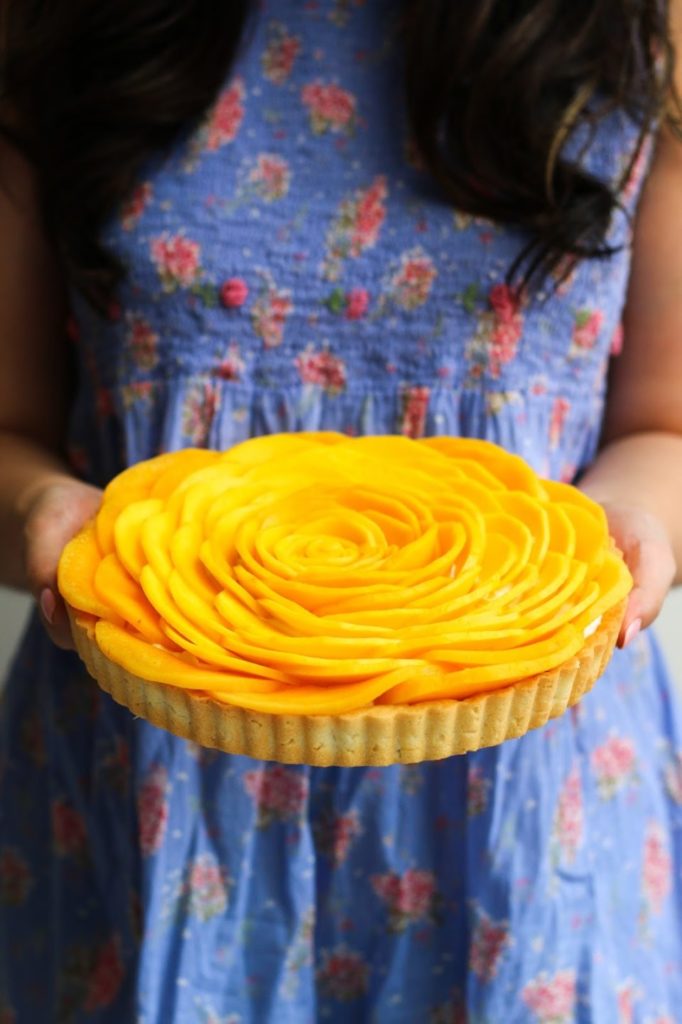 Reader Interactions