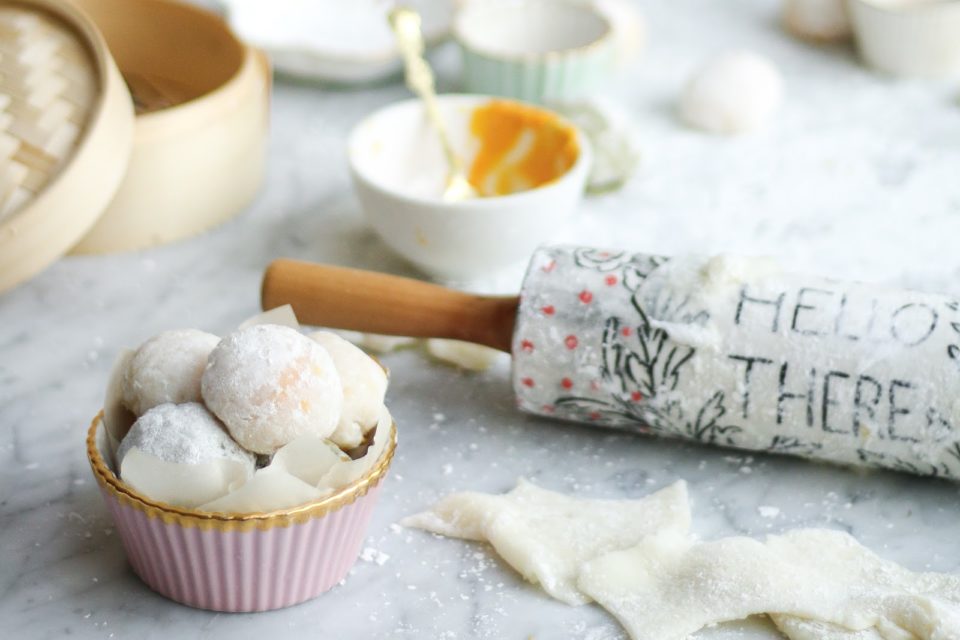 Two Red Bowls is about to become Three Red Bowls! Yay! Cynthia of Two Red Bowls is one of those people that I always throw in the #GOALS category. Not only is she a blogger with amazing styling and photography skills, she is also a lawyer. Say what?! I can barely keep my act together with my job and this blog that I try to update "regularly." I do not know how she finds the time to do it all. Her recipes always look and sound so mighty delicious (she won a Saveur Blog Award for Most Delicious Food!!) and I'm still marvelling at those black sesame rolls with coffee-milk tea glaze.
I first stumbled upon TRB when I was looking for a mochi recipe. When I was younger I use to make mochi with my mom all the time. It was one of those mother-daughter Saturday night things. Traditionally, mochi balls are stuffed with things like red bean paste, sesame, or peanut butter. As a kid, I hated any mochi with a filling. It was hard to find plain mochi, so my mom and I always made our own. I guess I was kind of a picky eater when I was younger. We would still make a half batch of peanut mochi for my dad though. As I grew up, my palate also grew up (just a little). I now like filled mochi balls, but will still crave plain mochi from time to time.
My mom always eyeballed the ingredients and was not able to give me an exact recipe for mochi. After some (barely any) googling, I found Cynthia's recipe for rosewater mochi. She cut out the mochi into cute little heart shapes and it made my heart go pitter-patter just a tad quicker. I made the recipe that same night and loved it.
When I first received Steph's email about this virtual baby shower, I was stumped as to what to make. I usually make cakes and pie…so I had not idea how to put those things inside a bowl. Then it occurred to me that it is only appropriate to make something that led me to stumble upon Cynthia's blog. To celebrate Two Red Bowls becoming Three Red Bowls, I made little mochi balls. Not filled with the traditional bean pastes or peanut butter, but a salted egg yolk custard. Salted egg yolk custard steamed buns are my favourite things to order at dim sum, so I decided to make that filling for these mochi balls. To those of you who have never had this custard, I promise you that it is out of this world. It is sweet, a bit salty, creamy, and rich. It's hard to describe what it tastes like but once you have had a taste, you will know why it is my favourite.
Congrats Bowl #1 (Cynthia) and Bowl #2 (her husband!) on your Bowl 3 (bb)!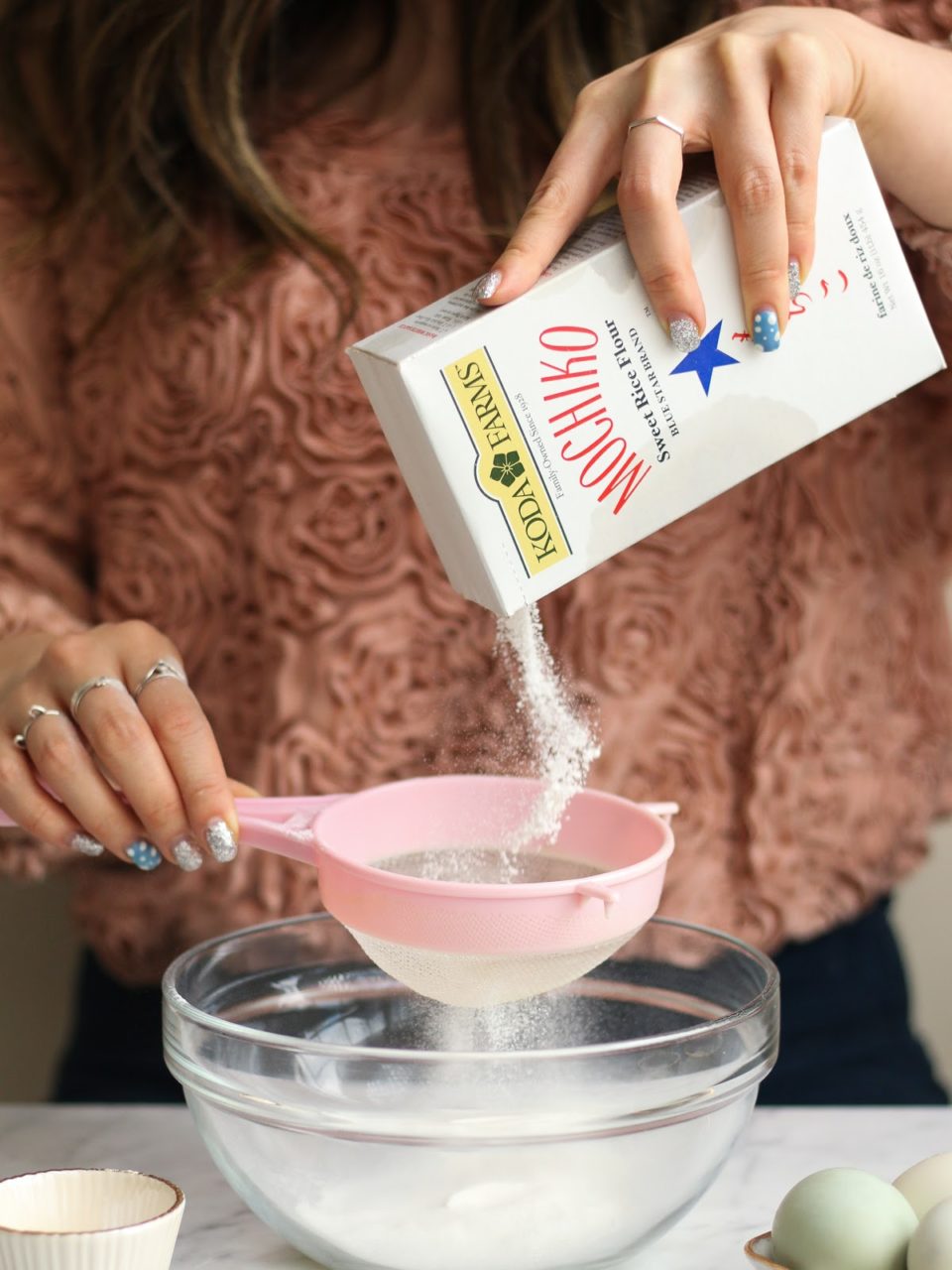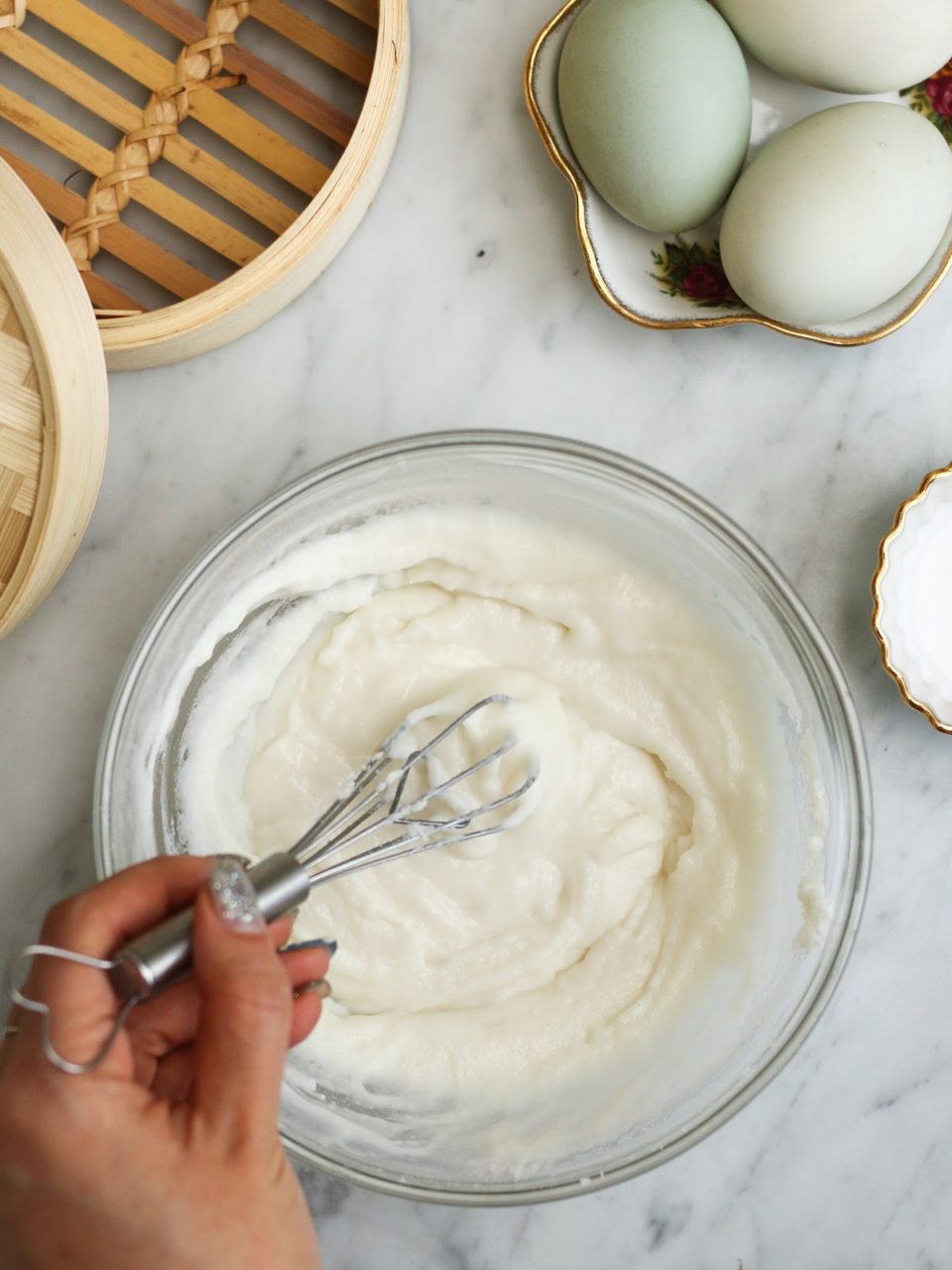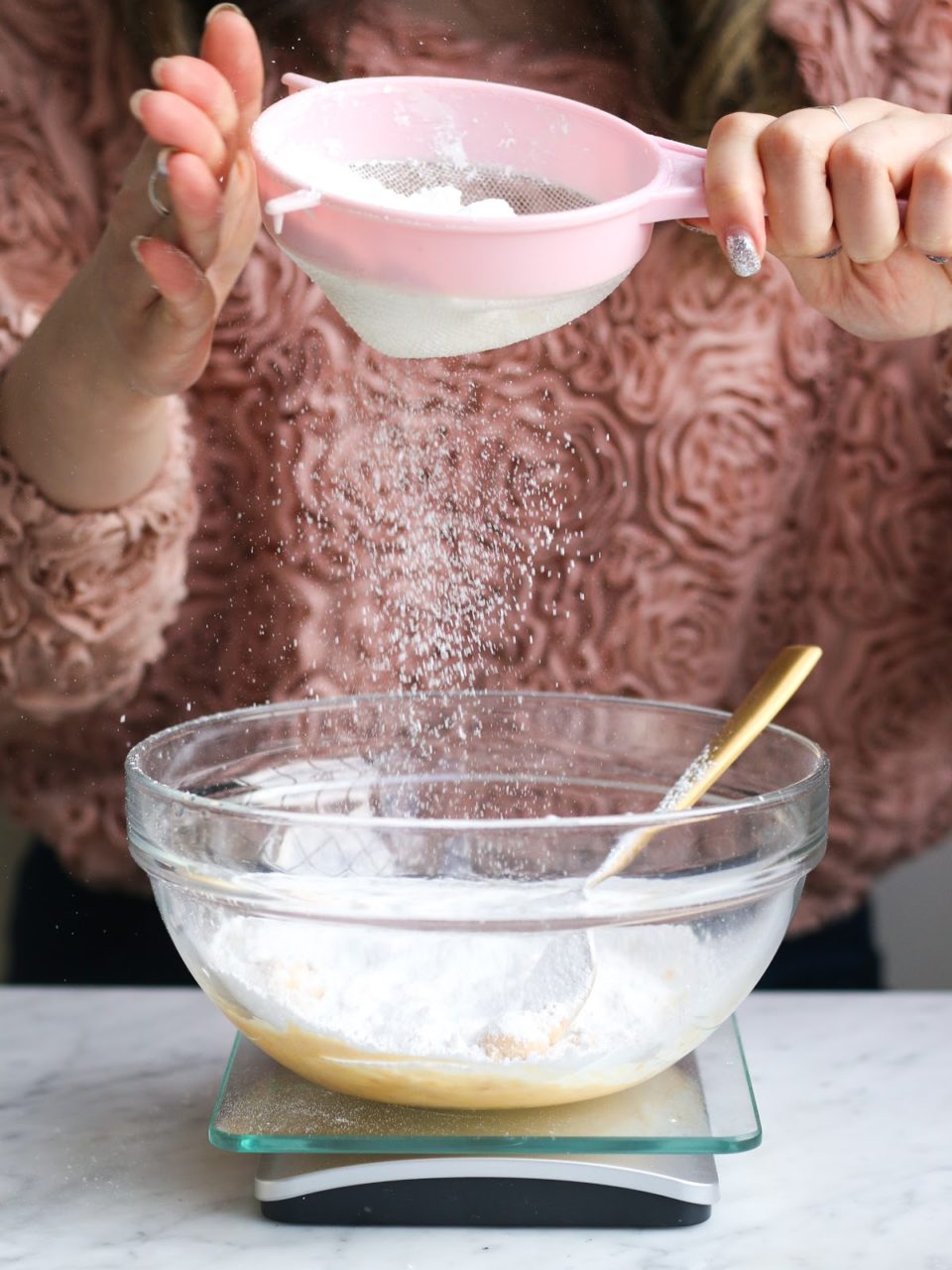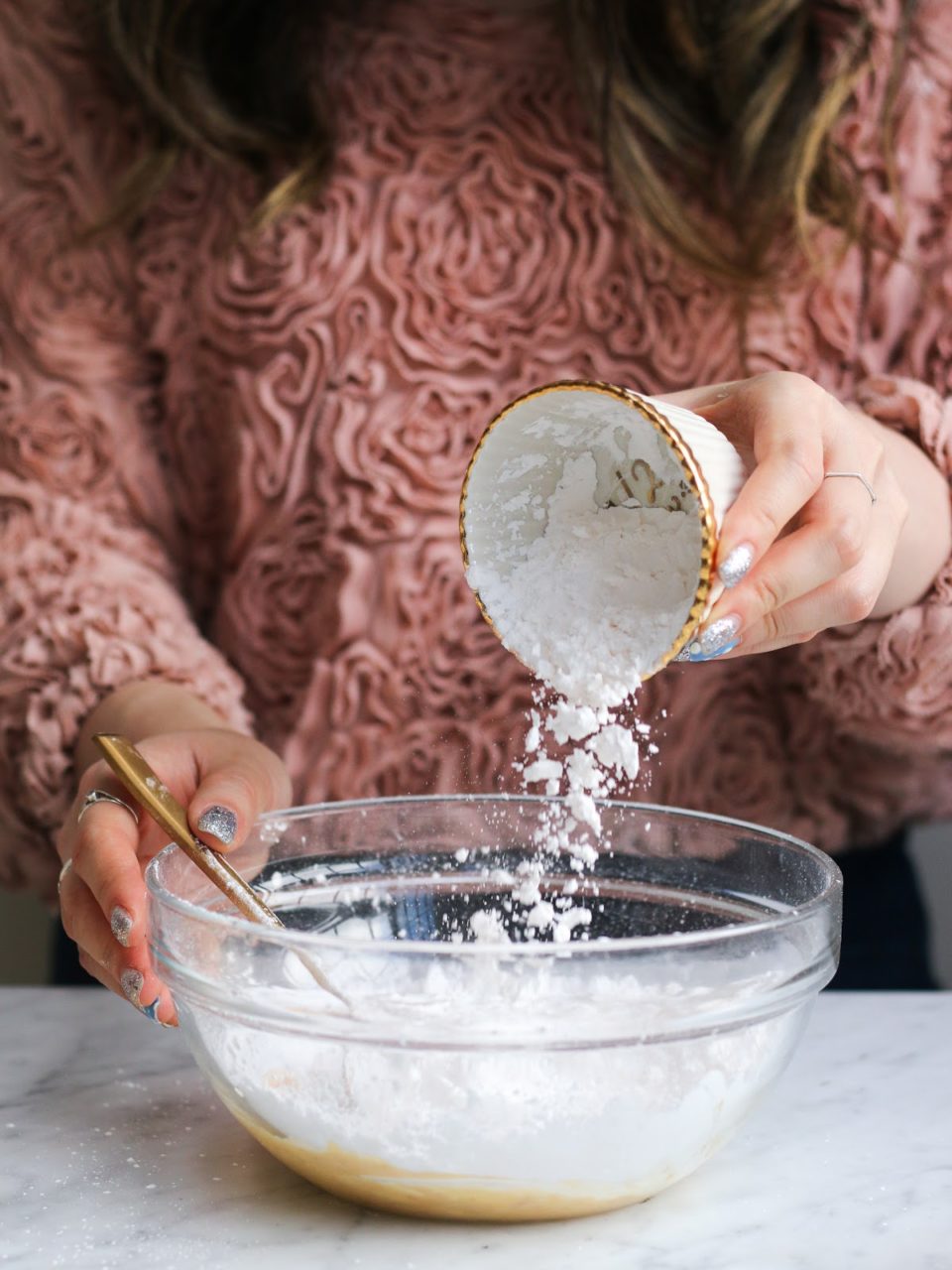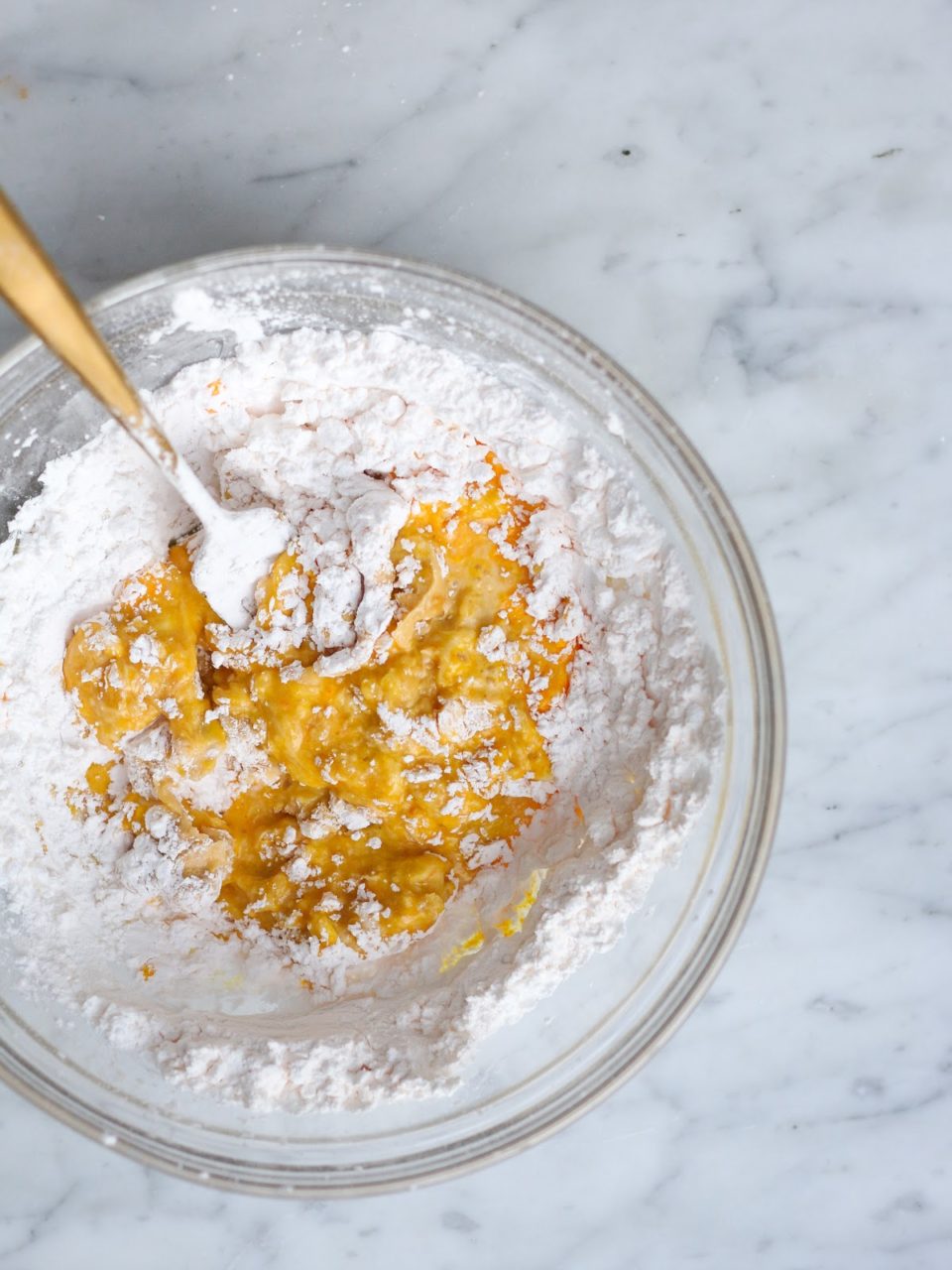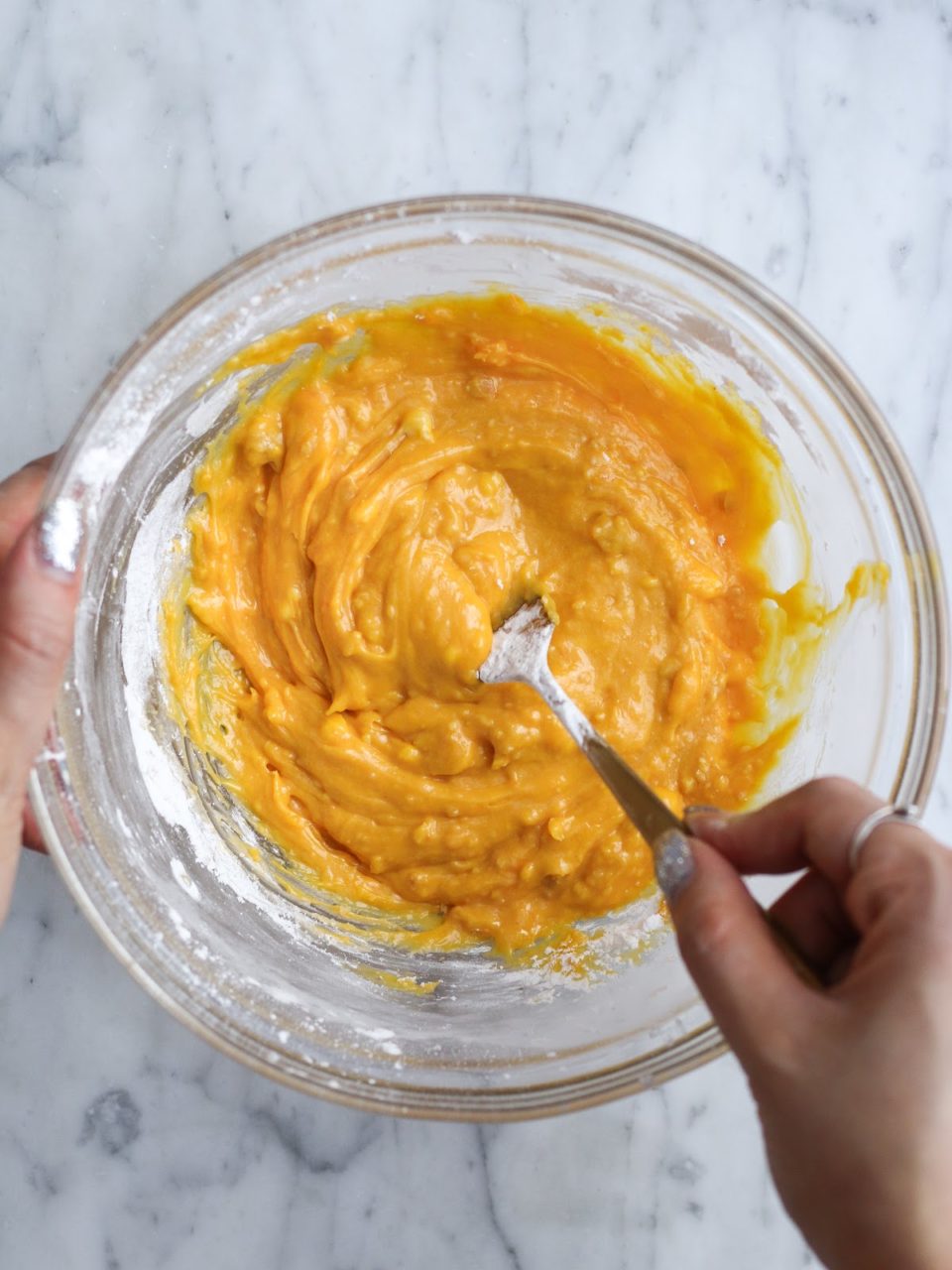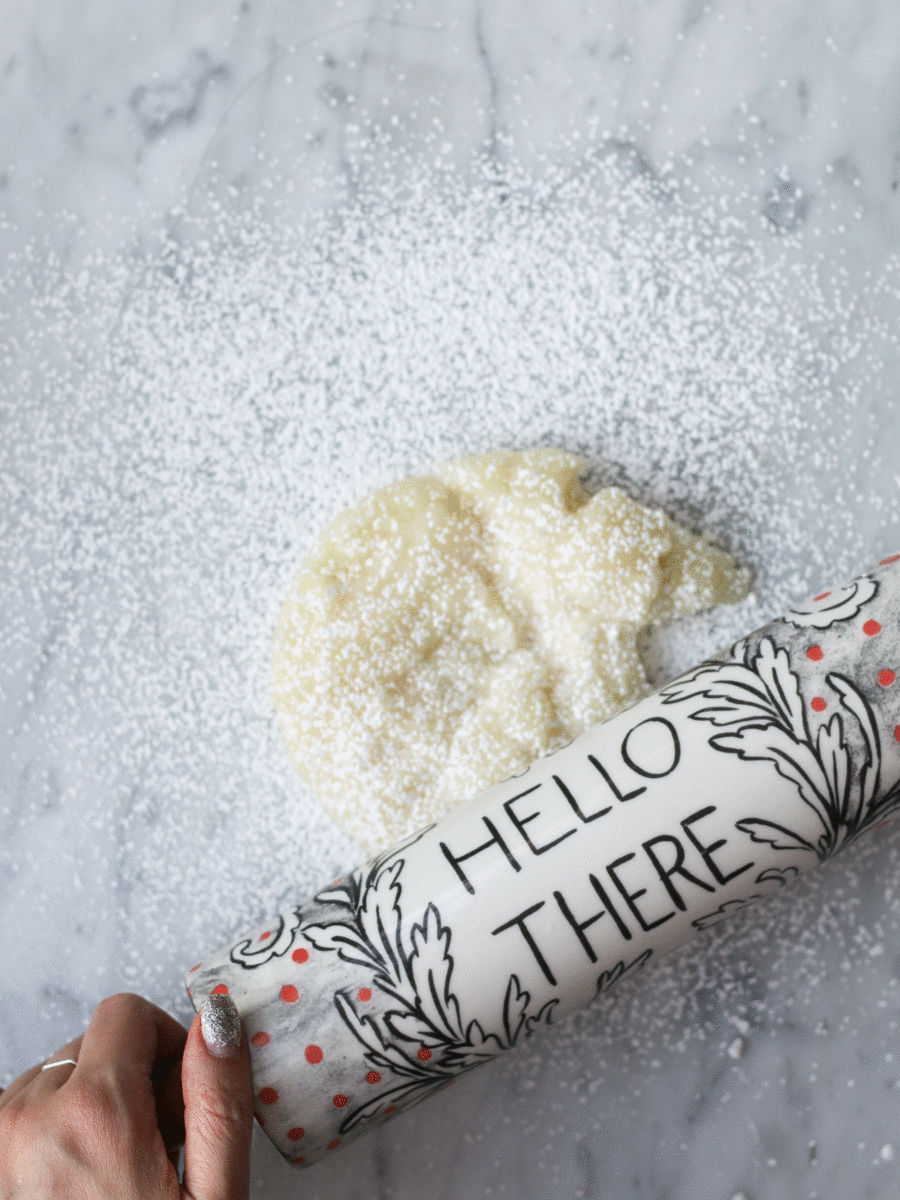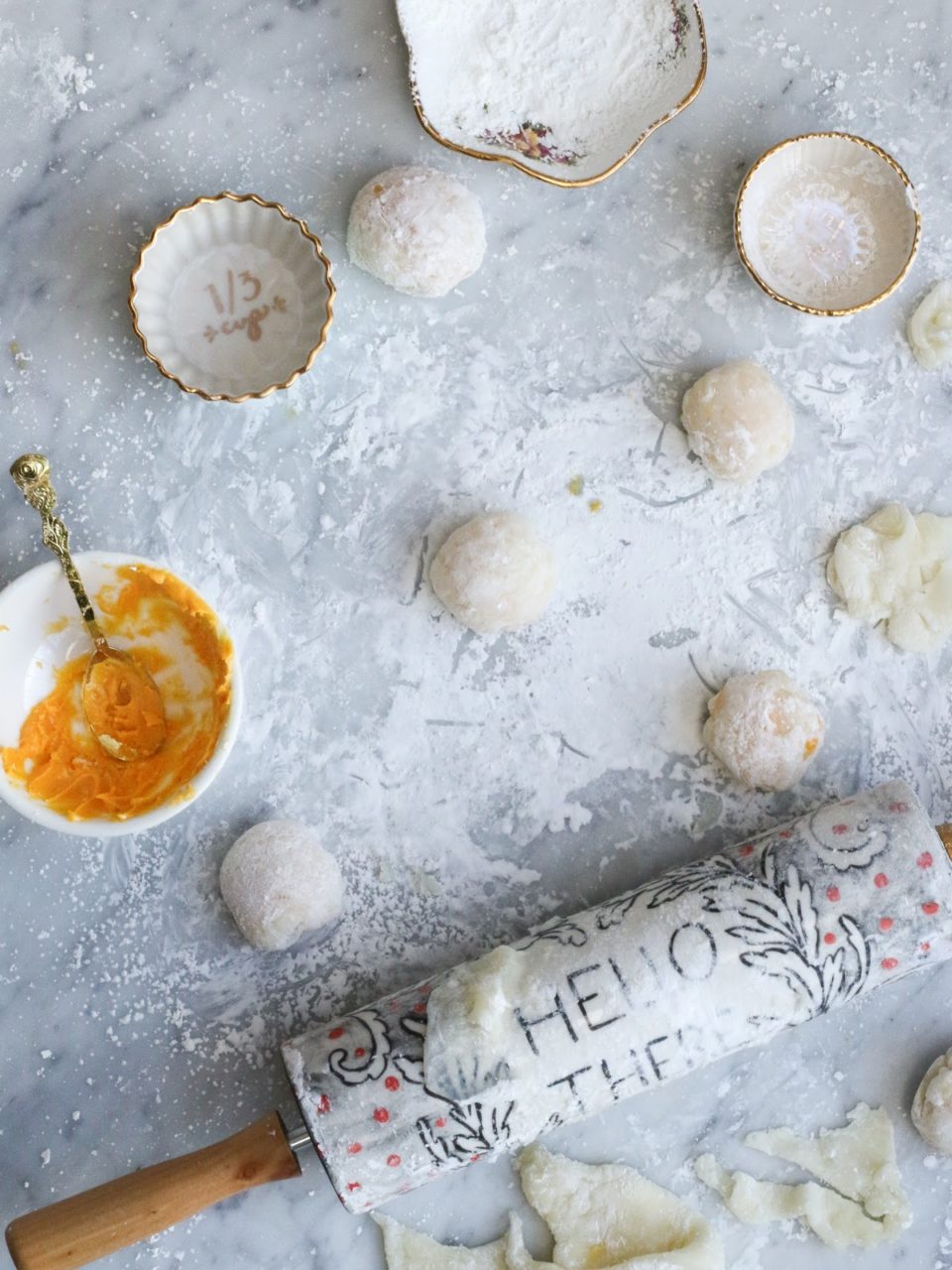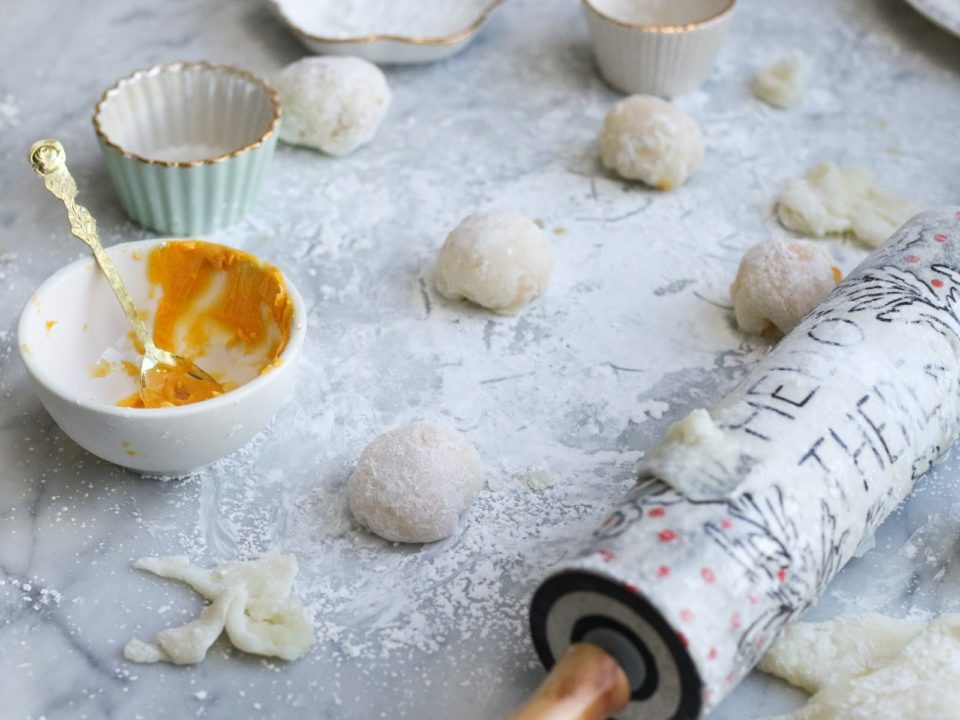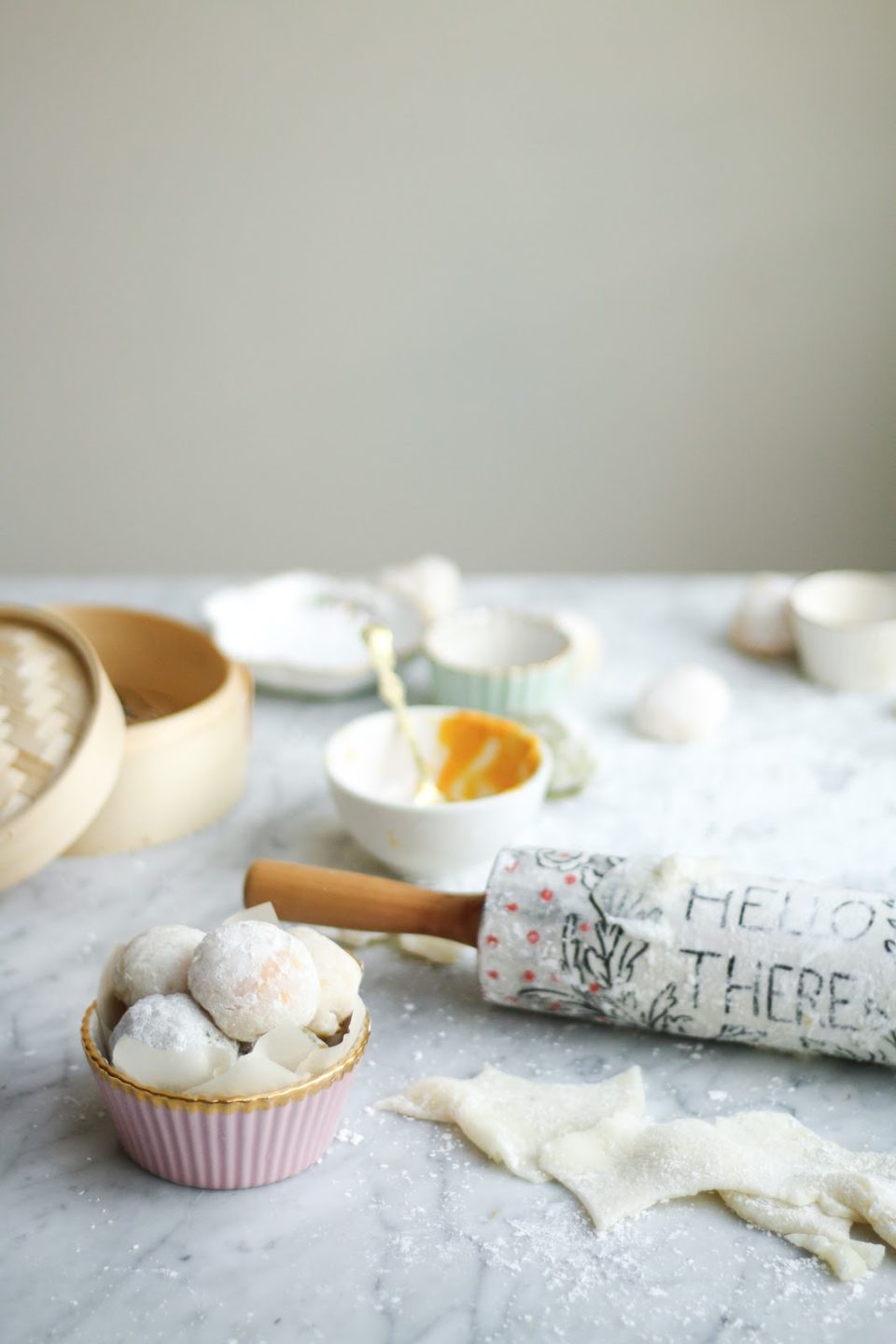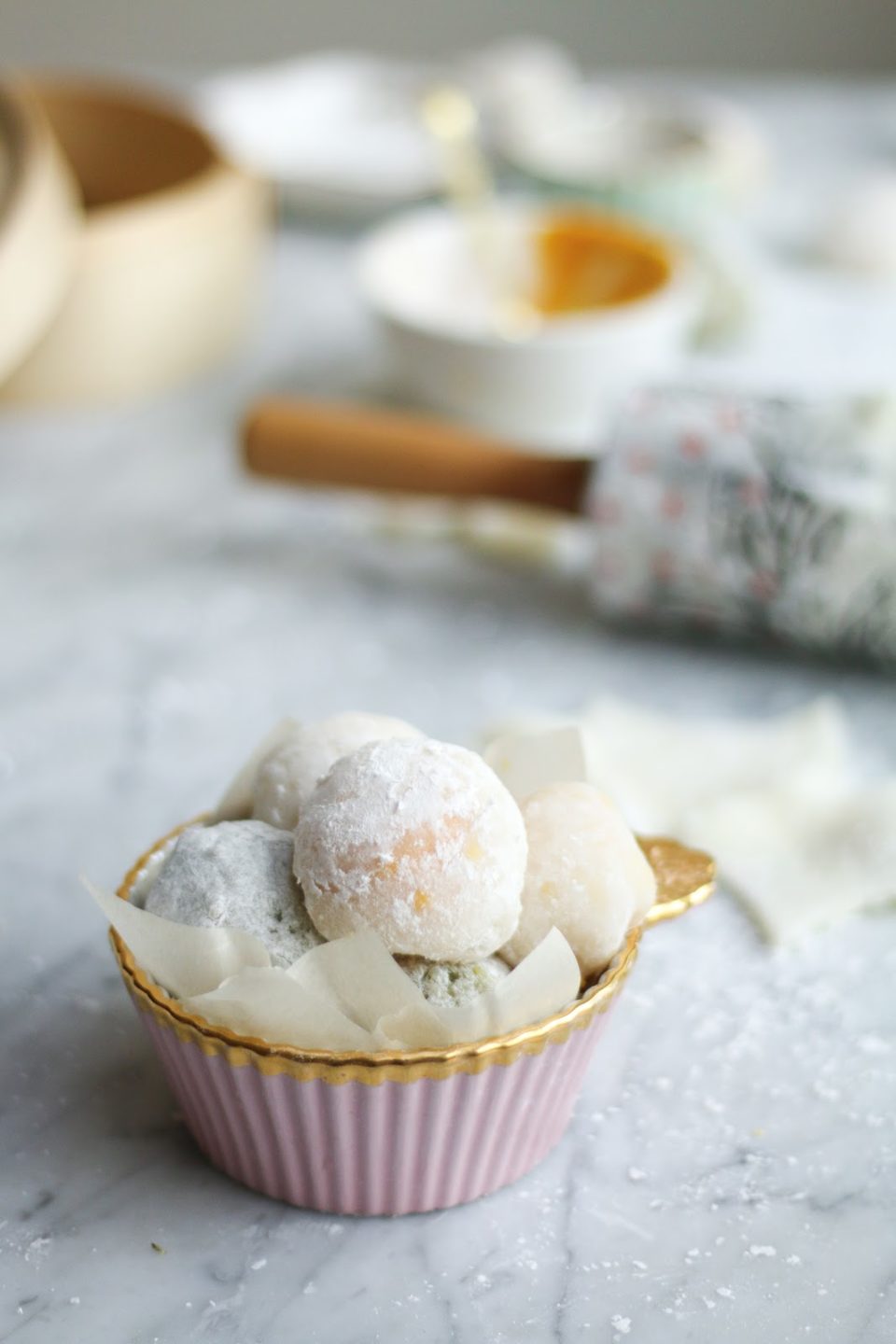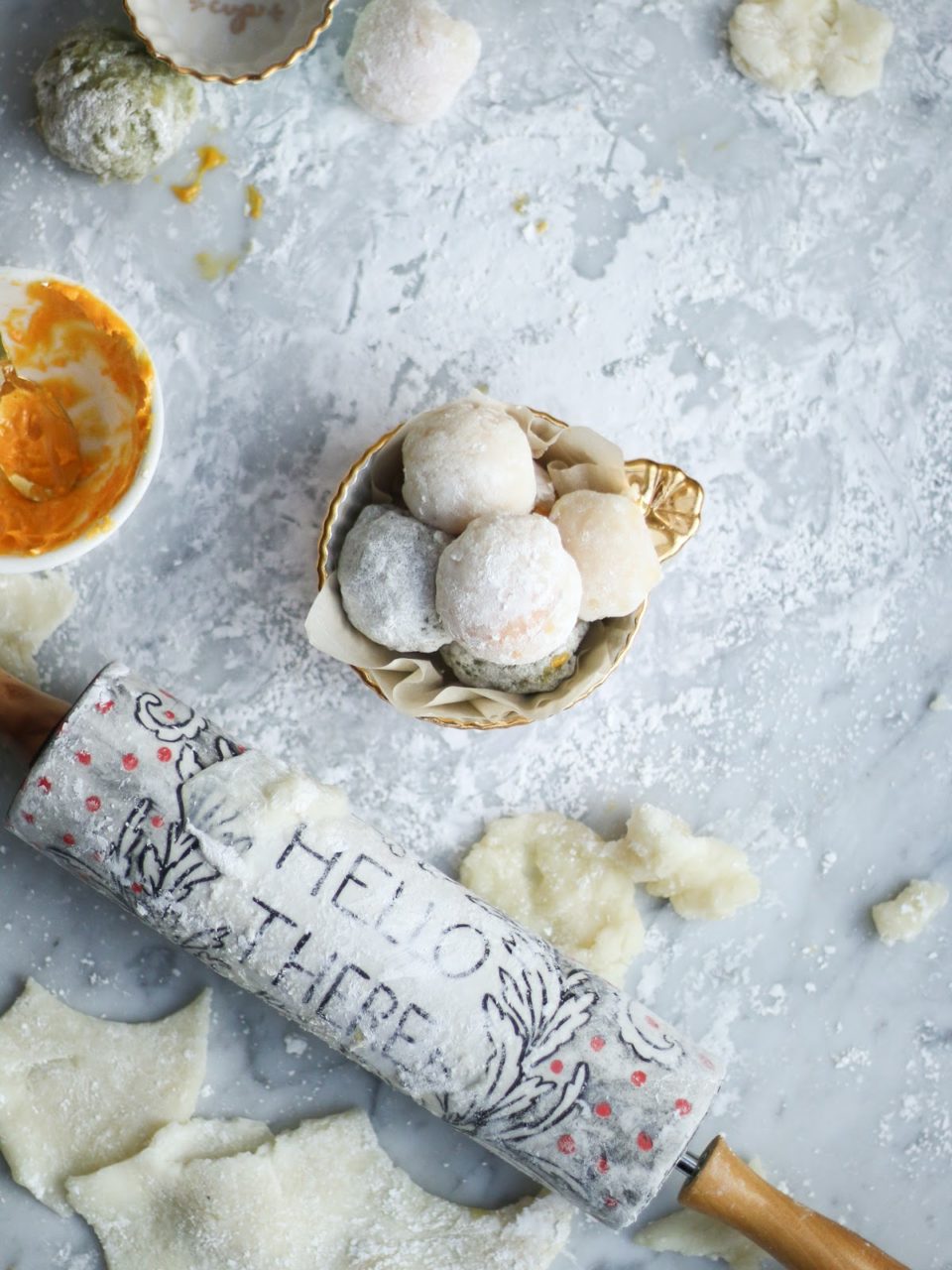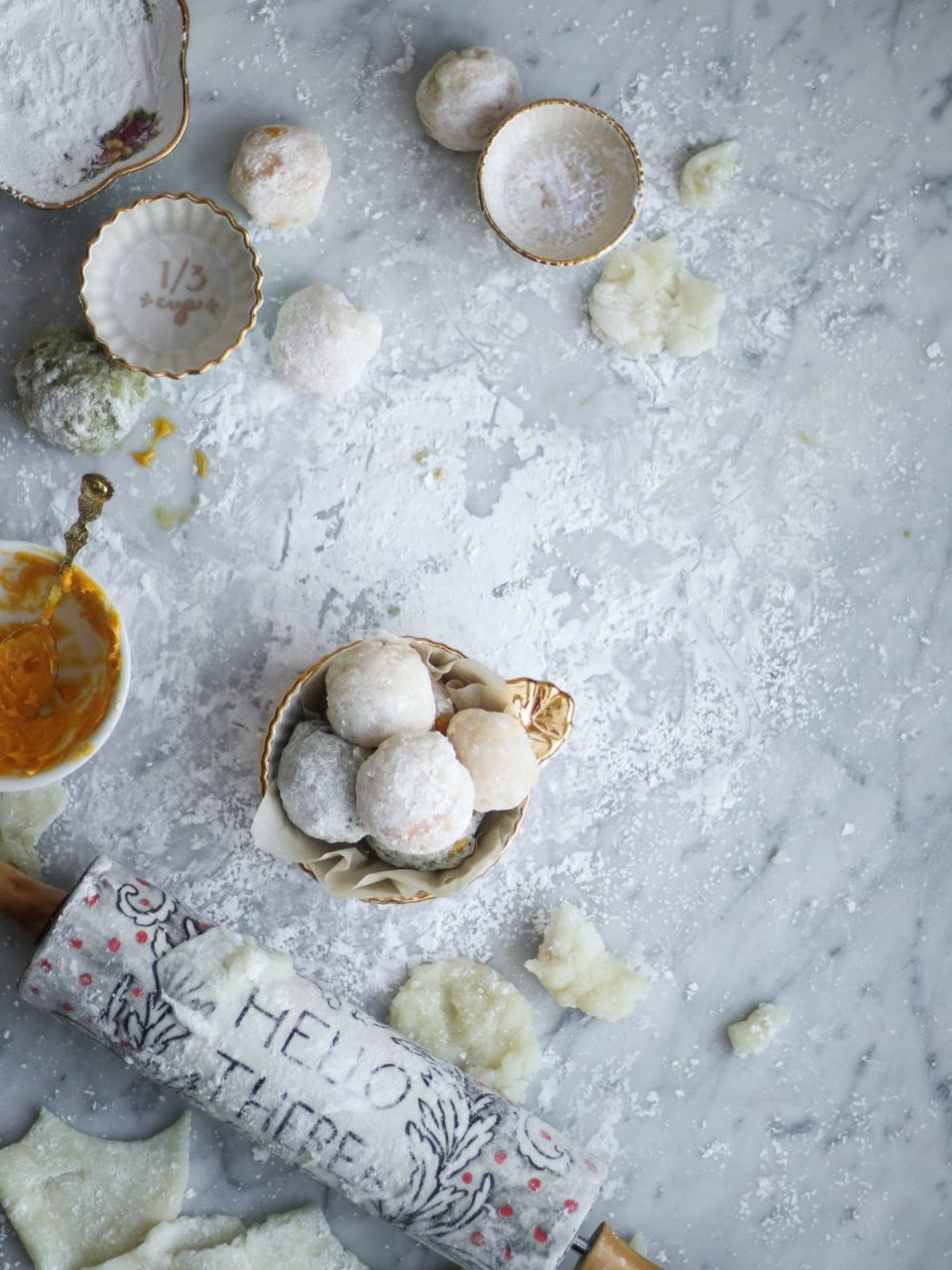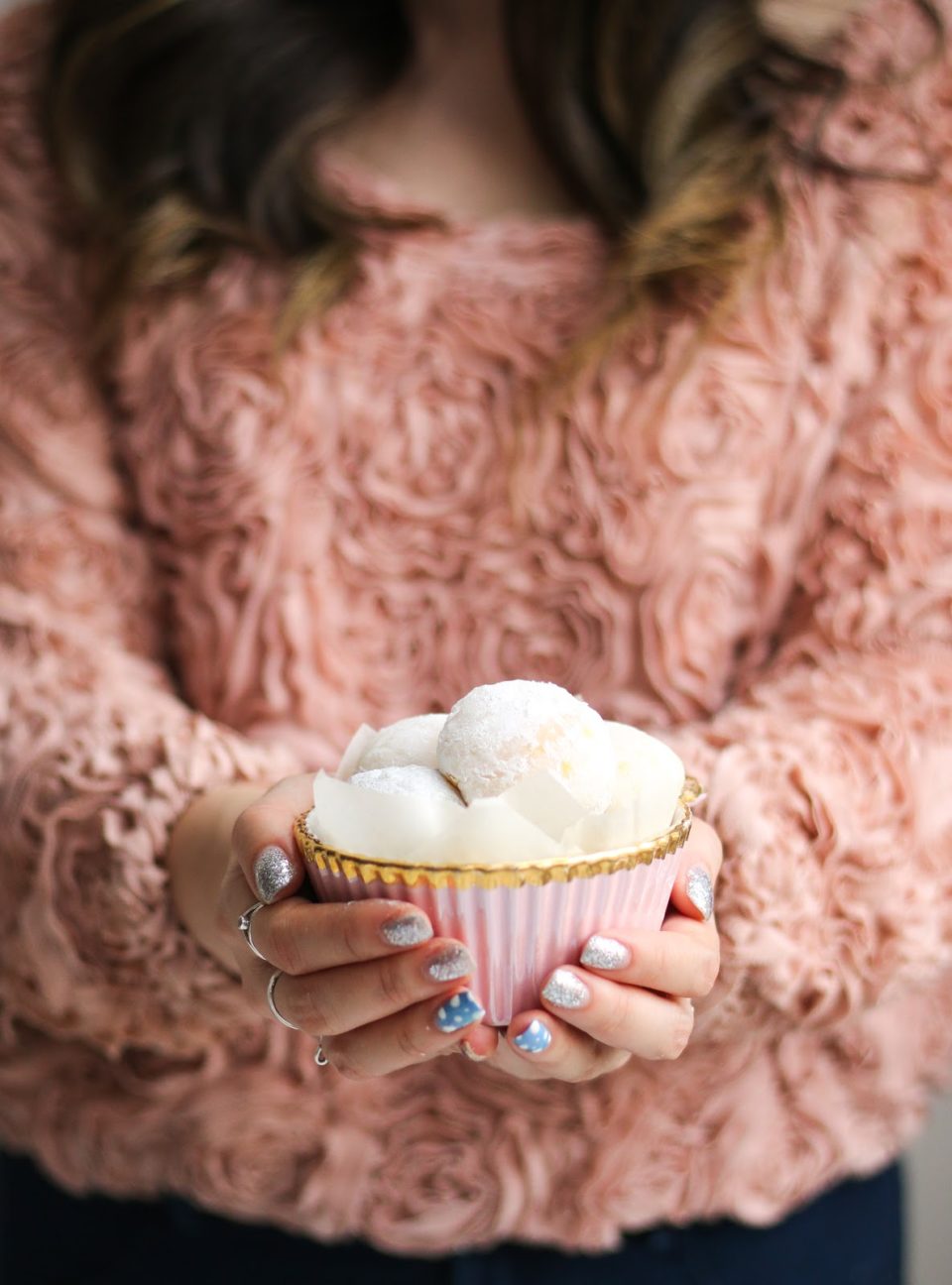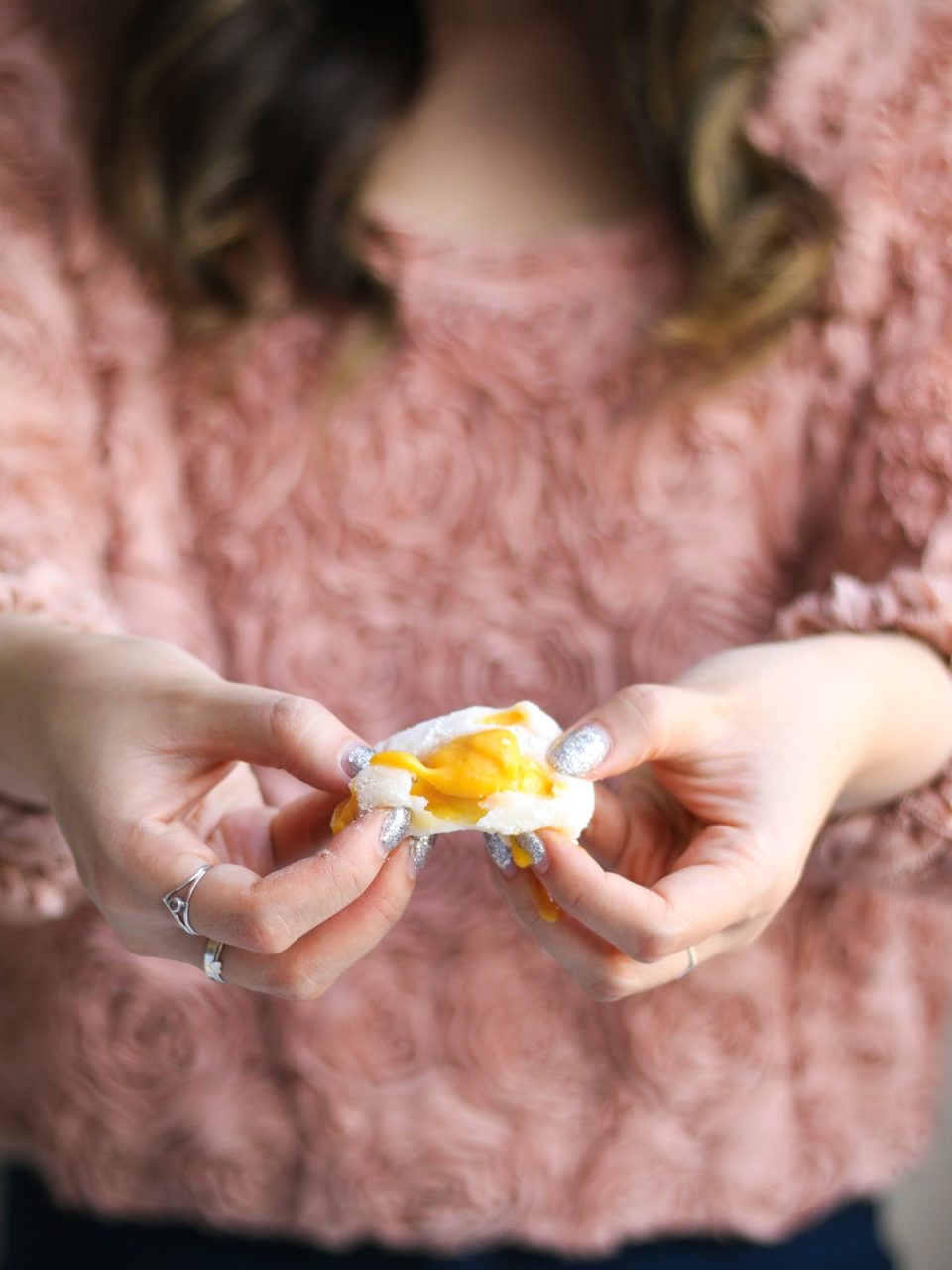 Ingredients
Salted Egg Yolk Custard
4

salted duck eggs

,

fully cooked (yolk only)

1/4

cup

unsalted butter

,

room temperature

6

tablespoons

icing sugar

6

tablespoons

custard powder

2

teaspoon

cornstarch

30

ml

full-fat coconut milk
Mochi Wrappers (Adapted from Two Red Bowls)
1/2

cup

sweet rice

,

mochiko flour

2

tablespoon

white granulated sugar

1/2

cup

water

4

tablespoon

cornstarch

,

for dusting

1/3

teaspoon

matcha powder for matcha mochi wrappers

,

optional
Instructions
Salted Egg Yolk Custard
Using a fork, mash the salted duck egg yolks into fine crumbs.

Using a spoon mix in butter.

Sift in icing sugar, custard powder, and cornstarch. Mix until well-combined.

Add in the coconut milk, a little at a time.

Refrigerate the custard filling until cold and firm. When firm, use a small ice cream scoop to scoop out and divide the custard into 12 portions.  Place the custard balls on a plate and freeze for 15 minutes until firm. (PS. Any extra filling not used for the mochi is amazing when spread on toast.)
Mochi Wrappers
Sift together mochiko flour and sugar in a medium sized bowl. Pour in the water and stir until combined.

On medium heat, steam mixture for 10 – 15 minutes until dough comes together. Half way through cooking, stir with oiled rubber spatula and cover to finish cooking. The colour of mochi should change from white to almost translucent.

Wait for mixture to cool for 15 minutes before handling mochi. Cover the work surface with parchment paper and dust it generously with cornstarch. Transfer the cooked mochi to surface. Sprinkle more potato starch on top of the mochi.

Using a rolling pin, roll out the mochi to a thin sheet, roughly a 6 x 6 square. Using a circular cookie cutter, cut out 8 – 10 rounds.

Place a chilled custard ball at the centre of the mochi wrapper. Pinch the four corners of the mochi layer together to cover the custard. Pinch the remaining corners together.

Roll mochi ball in palms to thoroughly seal and close the mochi opening. Dust with extra cornstarch and set aside, covered. Repeat untill all wrappers are used up.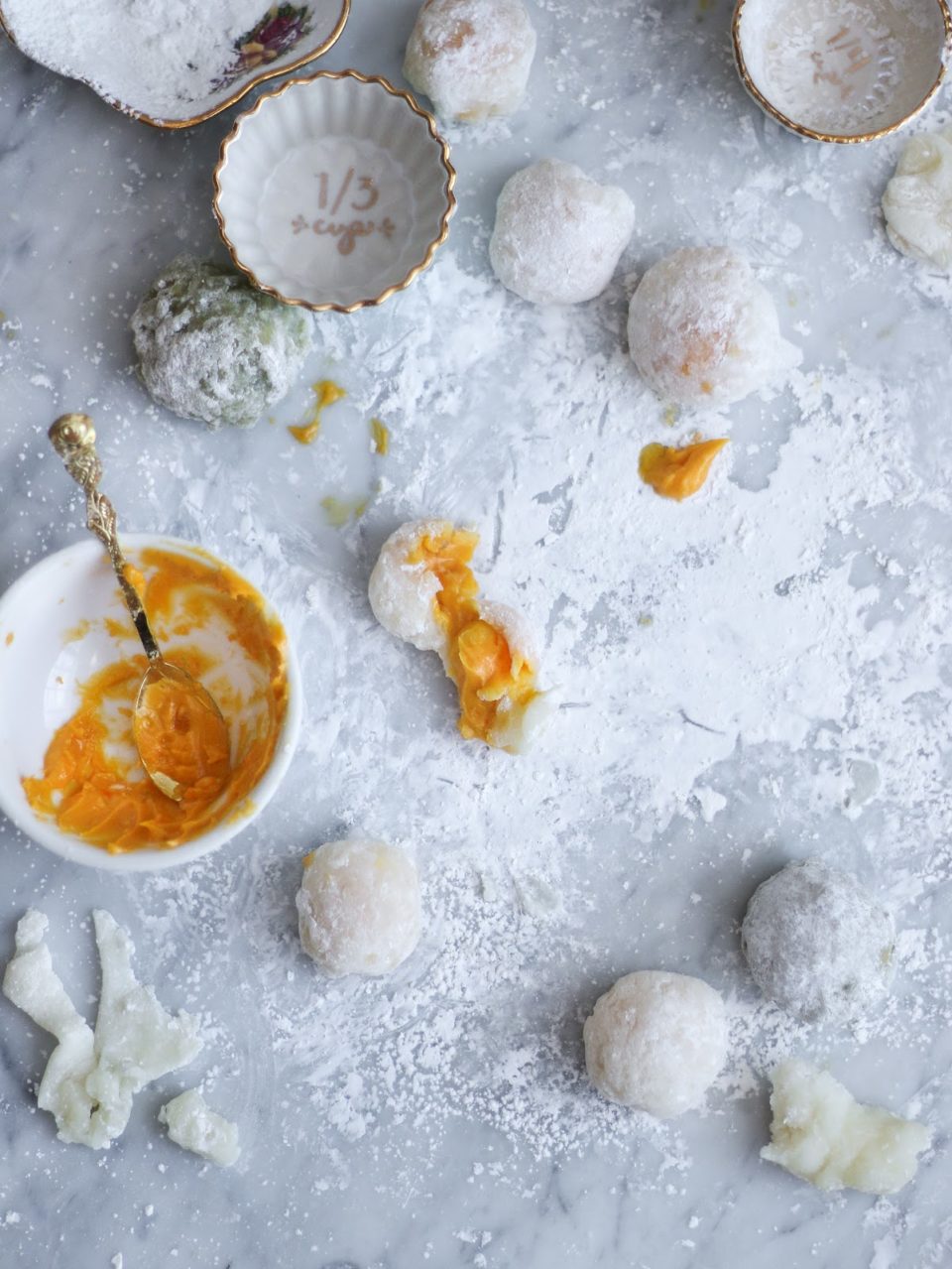 Check out all the other dishes at this virtual bb shower!
I am a Food Blog | Mac and Kimcheese Dolsot Bibimbap
Fix Feast Flair | Dishoom's Chicken Ruby Murray
The Fauxmartha | Mom Lunches
A Cozy Kitchen | Cornbread Chicken + Dumplings
Cake Over Steak | Salted Caramel Chocolate Crackles
The Pancake Princess | Stovetop Pumpkin Bread Pudding
Snixy Kitchen | Chicken Pot Pie with Chestnut Biscuits
Lady and Pups | Egg Florentine in Pullman "Bowls"
Betty Liu | Honeynut Squash Congee
Style Sweet CA | Date Bourbon Cinnamon Rolls
Warm Vanilla Sugar | Broccoli Quinoa Bowl with Avocado Sauce
A Beautiful Plate | Coconut Cauliflower Soup
Girl Versus Dough | Tomato Grilled Cheese Soup
Fork to Belly | A Big Hawaiian Fruit Bowl
Donny Tsang | Chawanmushi
Wit & Vinegar | Jerk Chicken Chili
twigg studios | Katsu Udon Soup wth Popcorn Chicken Croutons
Edible Perspective | Acorn Squash Bowls with Pears, Pecans, and Vanilla Bean Cream
Coco Cake Land | Asian Bowl Cut Sugar Cookies
Southern Souffle | Sorghum Apple Biscuits In A Bowl
The Bojon Gourmet | Smoky Sweet Potato & Lentil Tortilla Soup
Flourishing Foodie | Sweet Potato and Pumpkin Soup
What should I eat for breakfast today | Little Bowl with Creamy Polenta, Cheese, Onions and Mushrooms
Top with Cinnamon | Squash & Crispy Kale Bowls with Pomegranate and Miso-Ginger Dressing
the broken bread | Roasted Celeriac + Fennel Soup
Fig+Bleu | Cauliflower Harissa Soup
my name is yeh | Corn Dog In A Bowl
Crepes of Wrath | Mini Scallion Pancake Challah Buns
O&O Eats | Persimmon Cobbler
Chocolate + Marrow | Parsnip + Potato Soup with Crispy Pancetta
With Food + Love | Caramelized Golden Beet Soup with Fall Roots + Garlicky Yogurt
Reader Interactions