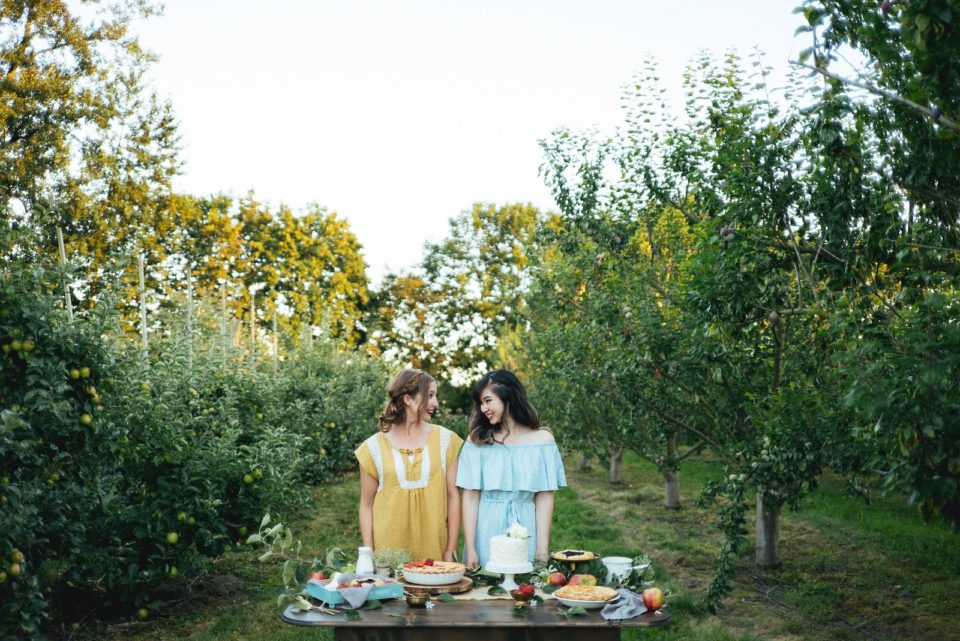 Yesterday I got a v photogenic salad for lunch, a wine writer that works close to the office gave the office free prosecco, and I had enough French food for dinner to feed an entire village. Oh and the owner of the restaurant insisted that he remake my post-dinner coffee because the original one I got was "not pretty enough." Extra PS. that coffee came with a warm pistachio apricot tart and a scoop of vanilla bean ice cream. I went home after all that to listen to the Views album in its entirety. I've peaked. I think I have peaked, guys.
Talk about peaking, this blog post is also something of that nature. This whole lets-pretend-we-are-v-kinfolk-and-shoot-on-an-apple-farm idea was something Kelsey, Victor, and I have been dreaming of for while. We finally found a date that worked with everyone and Victor drove us up to her family's farm! I requested a Drake playlist for the car ride there and Victor was totes *one hundred emoji*.
I don't even know where to begin with this post. Do I talk about how the 7pm light was nothing short of amazing? Do I talk about how Victor somehow managed to make me look like angel even though that is not the case in real life? Or do I talked about how we had two pies, two galettes, and a three layer cake in the middle or the orchard? I think the part where we drove to the orchard in these mini tractor-like vehicles called "gators" with all our pies, cakes, styling props, and Kelsey's dining table is definitely worth a mention.
Before this blogging date, I have never been to Abbotsford before. It is only a one hour drive from Vancouver but I just never got the chance to go. Now I have more of an excuse than ever to go back. Kelsey's family's farm is so lovely. They grow all kinds of apples, plums, pears, rhubarb, and pumpkin. They also have all these baby sheep and farm cats that I can snuggle with until the end of time. Well maybe not the sheep because they will probably try to eat my dress and they do smell kind of funny. I'll snuggle the cats though.
After I stopped fawning over the sheep, the cats, and how quickly pumpkin actually grew, we loaded a gator with Kelsey's dining table, all the pies and cake, all of our styling props and drove out to set up our spread in between two rows of apple trees. We took photos from 7pm to about 9:30pm and you will see the progression of the sun setting in the photos. We then had pie as a late supper and everything couldn't be any better.
Before I bombard you with the copious amount of photos, let's take a moment to talk about brown butter. I love brown butter. I don't care if you think it's overrated. I love it. I don't know why it didn't occur to me earlier to make brown butter swiss meringue buttercream. It is so. dang. lovely. You get the nutty flavours of the brown butter but because it's a swiss meringue buttercream, it's still very light! I'm obsessed.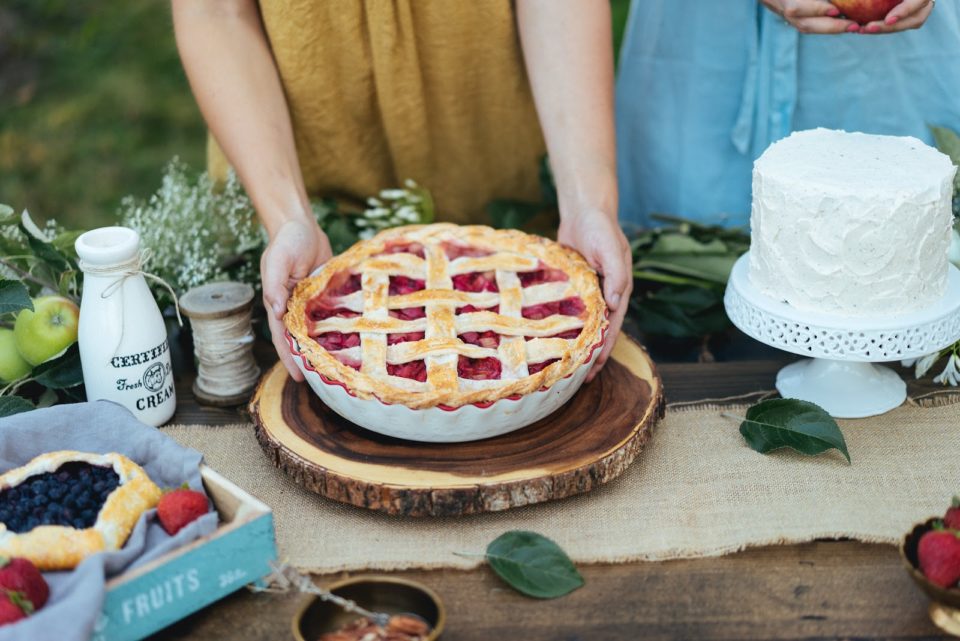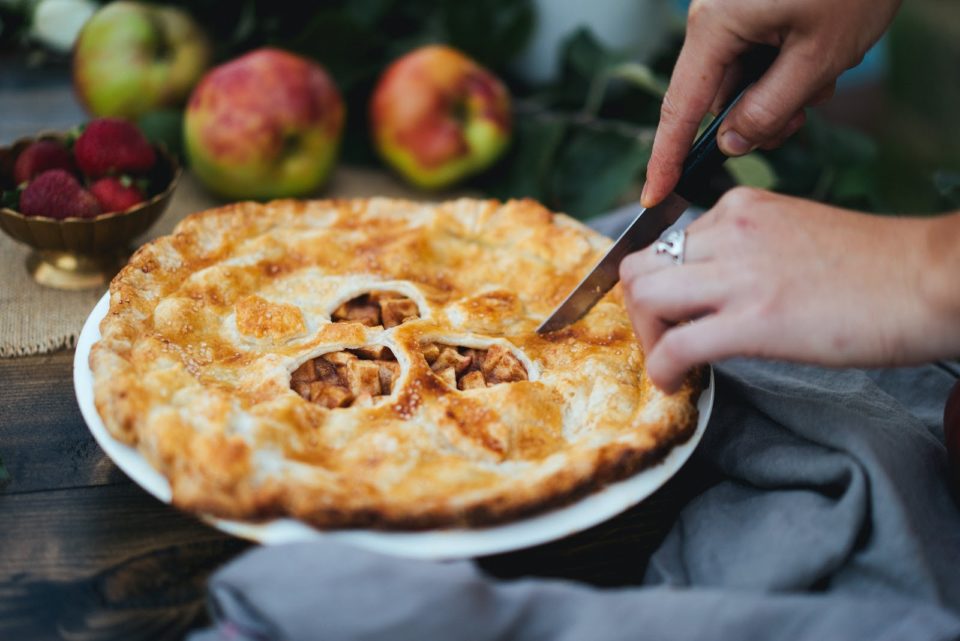 Ingredients
Brown Butter Apple Cake
1 1/4

cup

brown

,

(unsalted) butter

1

teaspoon

vanilla extract

1 1/2

cup

granulated sugar

4

large eggs

2 1/2

cups

all purpose flour

4

tsp

baking powder

1/4

teaspoon

salt

1

cup

milk

2

medium apples

,

peeled and diced
Brown Butter Swiss Meringue Buttercream
4

egg whites

1

cup

granulated sugar

1

cup

brown

,

(unsalted) butter, cubed, at room temperature
Instructions
Browning the butter (*make ahead):
Start melting butter over medium heat. Use a pan with a light-coloured bottom so you can keep track of the colour. Swirl the pan occasionally to be sure the butter is cooking evenly. As the butter melts, it will begin to foam (~5 minutes).  You can tell the butter is browning because dark golden flecks (browned milk solids) will appear in the melted butter, which will start to smell nutty and toasty.

Once you're happy with the level of browning, pour the butter (scrape every bit of browned milk solids and all) into a bowl. If you were to leave the butter in the pan, the residual heat would continue to cook/burn it.

Preheat oven to 350F and grease three cake pans.

In a medium sized bowl whisk together flour, baking powder, and salt. Set aside.

In a large bowl, cream together the brown butter and sugar. Once fluffy, add vanilla and eggs, one at a time until well incorporated. Add in half the milk and half the dry ingredients. Gently mix together before adding the remaining halves of both.

Very gently fold in the diced apples.

Evenly divide batter into cake pans and bake for 30 – 35 minutes. Let the cakes cool in the tins for 15 minutes, then carefully turn them out on to a wire rack to cool completely.
Brown Butter Swiss Meringue Buttercream
Place egg whites and sugar into a stainless steel or glass bowl, and place the bowl over a sauce pan of simmering water. The bottom of the bowl should not be touching the water. Continuously whisk the egg whites and sugar together until sugar has melted.

Remove bowl from heat and beat mixture on high until the egg white and sugar mixture is white and fluffy.

Once the mixture has cooled a bit, start adding brown butter gradually. This is the part where you have to trust that the buttercream will turn out. It might look kind of lumpy and not buttercream-esque, but just keep on mixing.
Photography & Editing || Victor Yuen
Kelsey's Blog || The Farmer's Daughter
PS. I have a second blog post drafted up for all the other photos from the orchard shoot that I cannot wait to share!
Reader Interactions