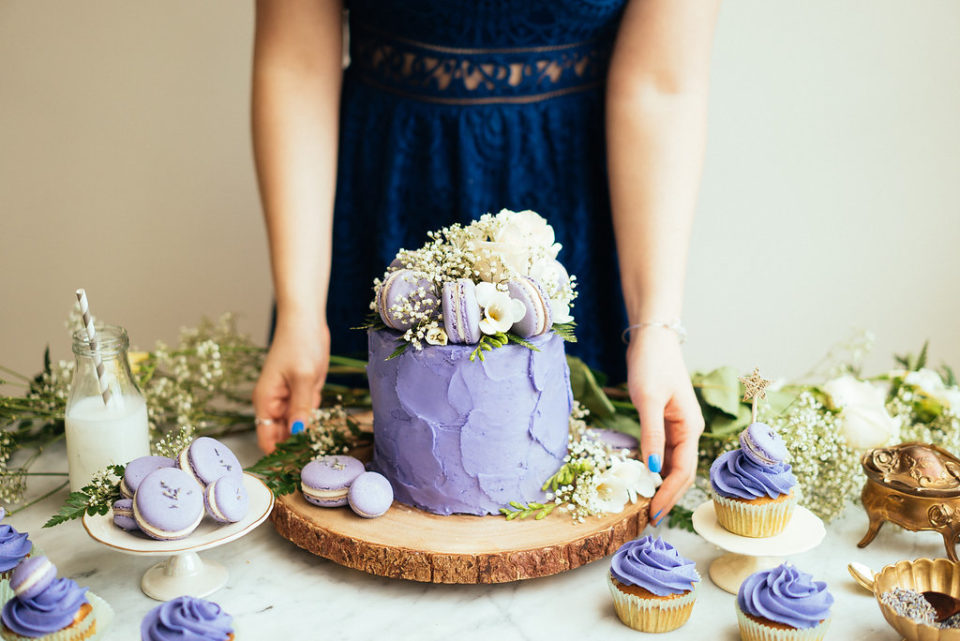 Oh my, hi! The cake is completely frosted! I have a special guest! I invited a stranger over for a sleepover! There are also macarons! And this cake has four layers! I'm just full of surprises in this post!
I have been a huge fan of Kelsey's blog, The Farmer's Daughter, for a long time. She blogs about rustic apple pies with lattice tops, cute outfits she wears on her family's farm (when she's not too busy being attacked by the pigs), and DIY projects that are beyond cute. We live about an hour and half drive away from each other and three weekends ago, she decided to drive over to Vancouver for a baking date! We had a slumber party at my house and did all the girly things – we baked, we painted our nails, and got coffee + donuts the next morning. It was our first time meeting but it seemed like we have been friends for the longest time. To be honest, I was quite nervous before we met. She seemed so cool and I'm just here…being me.
We started discussing what kind of cake we wanted to make a week or so before she came over. We knew we wanted something floral and topped with macarons. We decided on a four-layer lavender earl grey cake with buttercream covering the sides. Kelsey and I wanted our cake to look "rustic" (aka. even if we mess up, it will look intentional) so we used a technique for the buttercream that was new to both of us. Using a small icing spatula, we left the stroke marks evident on the cake, instead of smoothing it out.
The cake recipe is below and you will find the lavender macaron recipe on Kelsey's blog, here!
PS. Things to be excited about in this post:
1) The super even cake layers – nothing is as exciting as cutting into a cake with perfectly symmetrical layers!
2) The set of customized flatware from Taudrey – they were generous enough to send me a set of golden fork and spoon that I got to customize myself! The fork says #cake and the spoon says #bakewithamy!
3) Getting the last bouquet of cream coloured roses at the store for this post
4) Coincidentally wearing matchy matchy dresses with Kelsey
5) The edible gold pixie dust sprinkled on top of the cake and macarons
6) The gif towards the end!
I hope you enjoy this post as much as I enjoyed making the cake and working with Kelsey and Victor!
Ingredients
Earl Grey Lavender Cake
410

g

unsalted butter

,

at room temperature

2 3/4

sugar

6

large eggs

,

at room temperature

4 1/2

cup

all purpose flour

1

tbsp

earl grey tea

,

finely ground

1

tbsp

baking powder

1

tsp

salt

400

ml

milk

2

tbsp

earl grey lavender tea

,

alternatively, use 2 tbsp earl grey tea and 1 tsp culinary lavender
Lavender Buttercream
1 1/2

cup

unsalted butter

,

at room temperature

4 1/2 – 5 1/2

cups

icing sugar

1

tsp

culinary lavender

,

finely ground

3

tbsp

milk

Few drops purple food colouring
Instructions
Earl Grey Lavender Cake
Preheat oven to 350F and grease four cake pans.

In a small sauce pan, steep the earl grey lavender tea in the milk over medium heat. Once milk comes to a soft boil, remove the saucepan from the heat and let tea steep for 5 minutes. Set aside.

In a standing mixer with a paddle attachment cream the butter and sugar together. Gradually add in the eggs, one at a time.

In a separate bowl, whisk to combine flour, baking powder, finely ground earl grey tea, and salt.

Add half of the dry ingredients to the butter-sugar mixture and mix on slow to combine. Gradually pour in the milk and add in the remainder of the dry ingredients. Mix until just combined.

Divide the mixture evenly among the four prepared cake pans and bake for 35-37 minutes. Check for doneness a few minutes before the 35 minute mark by using a toothpick – if the toothpick comes out clean, you're good to go. You can also test for doneness by gently pressing your finger on the cake – it should spring back up.

Tip: I like to use an ice cream scoop to portion out my cake batter into pans to make sure each pan gets the exact same amount of batter. This is extremely helpful especially when you only have two cake pans and want to make sure you have enough batter for the second batch of cake rounds. I used a standard ice cream scoop and put seven scoops of batter into each 6-inch pan. I had enough batter left over for six additional cupcakes. Cupcakes require less cooking time, roughly 16 – 18 minutes to bake.
Lavender Buttercream
In a large bowl, cream the butter until it is pale and fluffy. Add the icing sugar, one cup at a time. Add ground lavender. Beat until smooth and fluffy. Add in the three tablespoons of milk, one at a time, mixing between each addition. If buttercream is too thick, add half tablespoon of milk at a time until desired consistency is reached. Add in a few drops of purple food colouring and mix well.
Ring & Pretty Things || Foe and Dear
Customized Gold Flatware || Taudrey
Reader Interactions