Let's start off this post by talking about the cake catastrophe of 2016. I feel like the word 'catastrophe' does not fully describe the state this cake was in before it actually looked like this. Kelsey and I were so close to cancelling our little photo date with Victor at 3:00am the night before we were going to shoot this cake. Thinking about it makes me shudder. Let's back track just a little.
A little disclaimer: You can totally skip the next two paragraphs if you are not interested in the backstory of this cake. It just a whole bunch of rambling. I promise I will not be offended.
Kelsey and I had SO much fun on our last collaboration together that we wanted to meet up as soon as humanly possible to bake together again. So we decided that she would come back to Vancouver around mid-March for another cake date. We loosely planned what we were going to make. We knew we wanted to do a carnival themed shoot with a funfetti cake, some homemade animal crackers, cotton candy, and caramel corn. Kelsey and I met up in the afternoon on a Saturday and decided we would start baking earlier this time because we ended up staying up until 2:00am the last time we baked. Things were off to a good start – we got a the cake layers in the oven at a reasonable time and we started making the brown sugar cookie dough for little cookie pops relatively earlier as well. Kelsey even brought over homemade corn chowder (with potatoes, bacon, and the works!) along with some biscuits from scratch for dinner. The first two cake layers turned out fine so we put the third and fourth layers in the oven. Then things started going downhill. The oven decided to go full crazy and drop to a super low temperature halfway through the baking process so the last two layers came out completely raw. I ran out of eggs so I had to run to the store at 10:30pm. We started decorating our cloud cookies with cotton candy and the cotton candy started to melt due to the moisture in the icing.
Then things got even more…hilarious. Kelsey and I decided to try something new by forgoing the flowers for the cake but instead do a Katherine Sabbath style ice cream cone on our cake (I love her stuff!) along with white chocolate drips down the side. The ice cream cone turned out well but it was totally not our style – especially not the 50 different kinds of sprinkles we threw on the cake. Also, it was kind of a rookie move on our part to do white chocolate drips for our cake because it turned out looking like melted candle wax. At this point, it was already 1:50am and we contemplated either a) throwing out the cake and baking a new cake or b) trying to salvage it. Kelsey and I decided to go with the latter – we scraped off the white chocolate and rationed the remaining icing we had and re-iced the entire cake. We finished the cake at around 3:00am. The lesson learned from this cake disaster is: stick to what you're good at and don't make it look like a unicorn vomited on your cake. If you ask Kelsey really nicely, maybe she will show you the photo she took of our original ice cream cone cake. Please, don't show me that photo though.
/endrant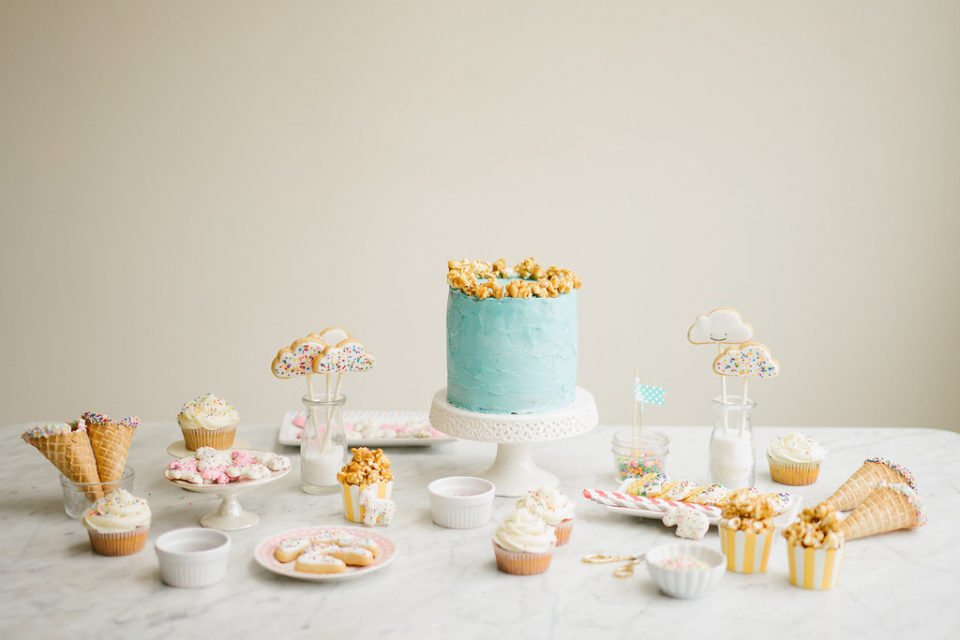 I am so glad we decided to continue making the cake and make the shoot happen! I love the way our little cake spread turned out. It is indeed a bit different than my/our usual rustic and floral cakes but this carnival-themed cake is so cute and whimsical! We didn't want the waffle cones we had for the original cake for to waste, so instead we dipped them in chocolate and sprinkles to liven up the spread. The waffles cones made great holders for Kelsey's homemade caramel corn, recipe c/o her grandmother. I hope you enjoyed our little cake disaster story and hope that this funfetti cake puts a smile on your face : )
(PS. I am keeping my fingers crossed that our next collaboration will take place on Kelsey's family's farm! We will make all the rustic pies and galettes and take photos in the orchards while wearing pretty dresses hehe.)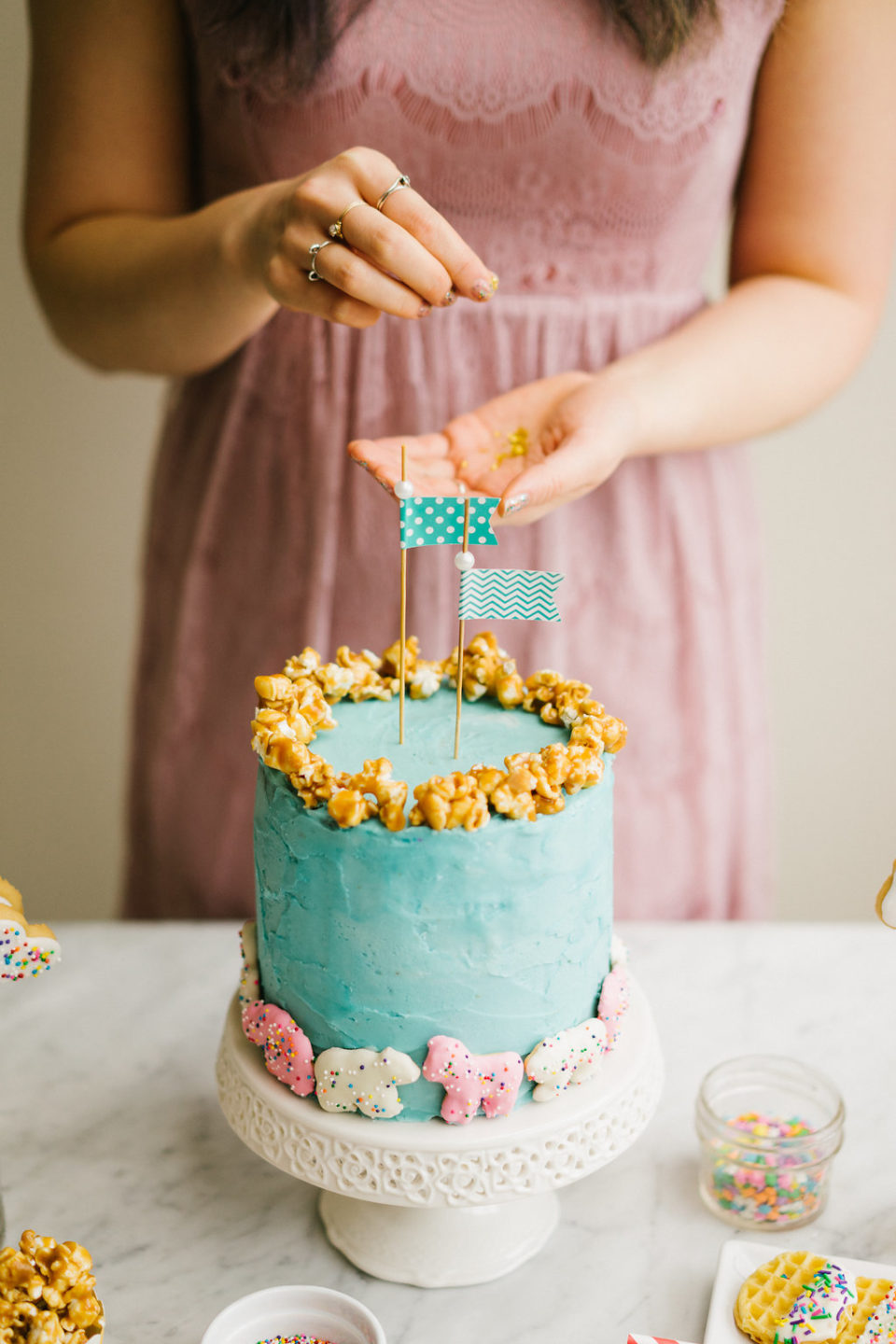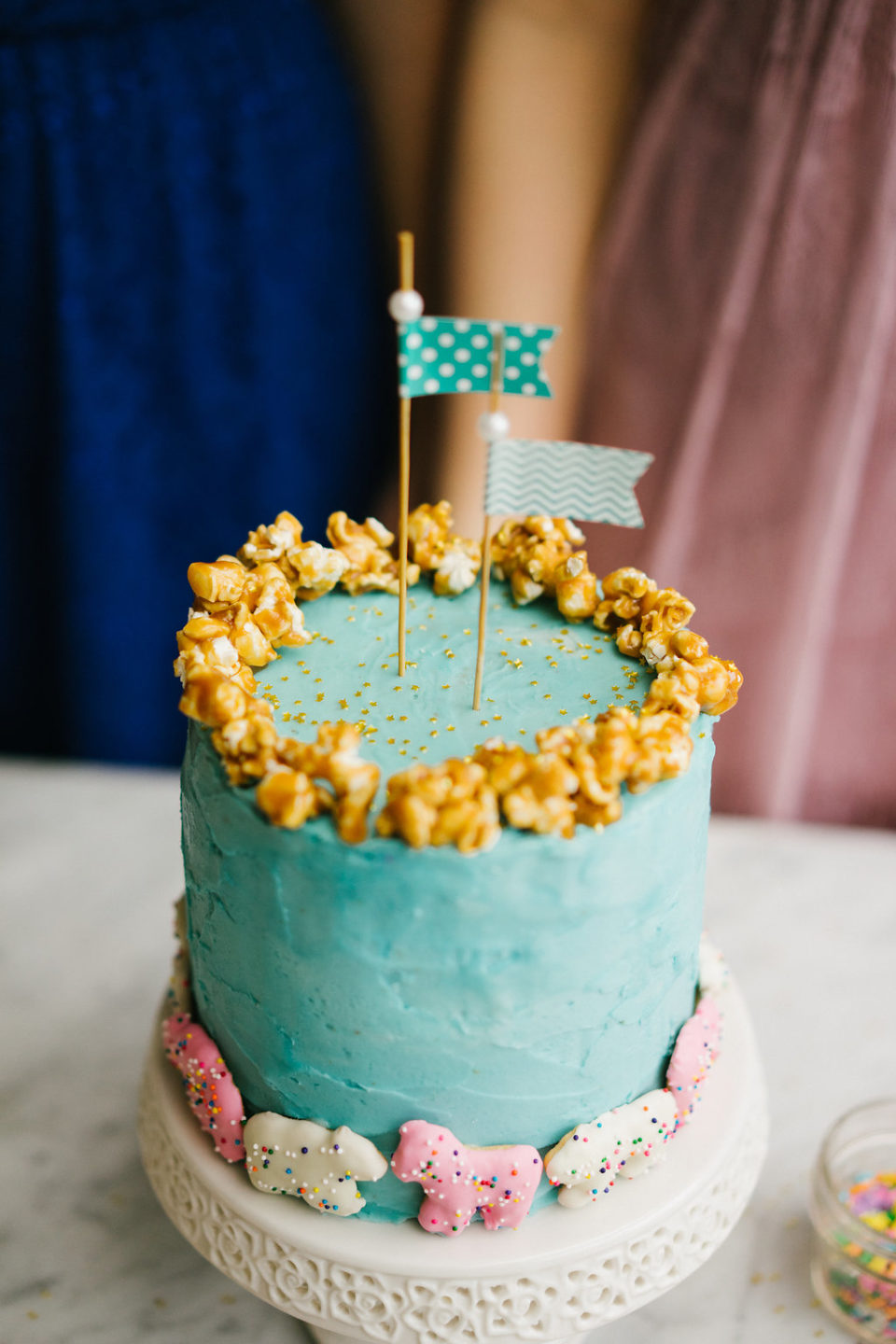 Ingredients
Funfetti Cake
410

g

unsalted butter

,

at room temperature

2 3/4

cup

sugar

6

eggs

1

tbsp

vanilla extract

4 1/2

cup

all purpose flour

1

tbsp

baking powder

1

tsp

salt

400

ml

milk

1/2

cup

or more! sprinkles
Vanilla Buttercream
3

cups

icing sugar

1/2

cup

unsalted butter

,

at room temperature

3

tbsp

milk

1

tbsp

vanilla extract

Few drops blue food colouring
Animal Crackers, Caramel Corn, Brown Sugar Shortbread Cookies*
Instructions
Funfetti Cake
Preheat oven to 350F and grease four cake pans.

In a standing mixer with a paddle attachment cream the butter and sugar together. Gradually add in the eggs, one at a time. Add the vanilla.

In a separate bowl, whisk to combine flour, baking powder, and salt.

Add half of the dry ingredients to the butter-sugar mixture and mix on slow to combine. Gradually pour in the milk and add in the remainder of the dry ingredients. Mix until just combined.

Gently fold in the sprinkles.

Divide the mixture evenly among the four prepared cake pans and bake for 35-37 minutes. Check for doneness a few minutes before the 35 minute mark by using a toothpick – if the toothpick comes out clean, you're good to go. You can also test for doneness by gently pressing your finger on the cake – it should spring back up.

Tip: Nonpareil sprinkles are more likely to "bleed" in a cake batter. The colour of nonpareil sprinkles just don't stay on the sprinkle that well. Jimmies (the longer, tubular sprinkles) don't bleed as easily. You can also use confetti quins!
Vanilla Buttercream
In a large bowl, cream the butter until it is pale and fluffy. Add the icing sugar, one cup at a time. Add in the three tablespoons of milk, one at a time. Add vanilla. If buttercream is too thick, add half tablespoon of milk at a time until desired consistency is reached. Add in a few drops of blue food colouring and mix well.
Notes
Yields: Four-layer 6 inch cake + 6 cupcakes (recipe can easily be halved!)
*Find the recipe for the animal crackers on Kelsey's blog! For the brown sugar shortbread cookies, we simply omitted the rosemary in her rosemary shortbread cookie recipe. 
Ring & Pretty Things || Foe and Dear
Cloud Cookie Cutters || Cookie Cutter Kingdom
Reader Interactions